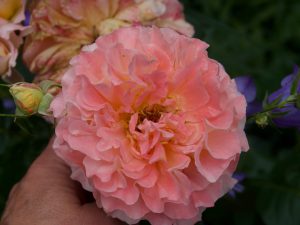 Well, Wednesday was supposed to be our travel day, with an outbound flight from Lincoln to Chicago that was to leave at 6:05 pm. But storms in Chicago resulted in the cancellation of that first flight, and the domino effect was rather dramatic, with United personnel being about as unhelpful as I have ever seen them. Thankfully, we had booked the flights through a travel agency, and they spent the subsequent 5 HOURS sorting out the mess and getting United to rebook us for the next day. So since we hadn't even left Lincoln, we were able to put Kai up at Kati's house, while we slept on our own futon (rather than kicking Davianne, the cat sitter, out of her nest in our bedroom).
We then tried our luck again on Thursday, leaving Lincoln Airport on a 12:55 flight to Denver, where the airline struggle continued—Lufthansa was supposed to get us to Munich, but United had messed up something and there were only two tickets visible, not three. To their credit, they resolved it by putting me (the one whose ticket had vanished) on standby, but needless to say, United is not my favorite airline at this point. We had a smooth, on-time flight to Munich, with Kai writing notes for a movie/soundtrack review of The Greatest Showman, while Mark and I mostly slept (I did watch The Shape of Water, and Mark the original Blade Runner). We got to Munich around 10:30 am Friday morning, and caught our connection to Düsseldorf without any hitch, arriving at 12:40 pm. Because we had lost a travel day, we got Kai a new train ticket directly to Berlin, where he was to meet his dad later that day, and Mark and I traveled to Osnabrück on a different train after we'd seen him off. (With the help of his DS, Kai was very patient about the whole thing, but his odyssey continued, as he and his dad were bound for Athens the next evening and hit more delays! They were finally in their hotel at 4 am in the morning. But since it means 10 days in Greece, it's hard to feel sorry for him!)
We were FINALLY in Osnabrück at about 4 pm, to Imke's great delight, since she didn't know when to expect us. It was glorious to be the in her beautiful apartment, finally not moving, and we sat in the sun room (even though it was overcast) and looked out at her garden, including her roses in full bloom. She fed us a lovely, simple evening meal and wasn't surprised that we drooped rather quickly. We settled into the guest room after much-needed showers and were asleep by 8:30!