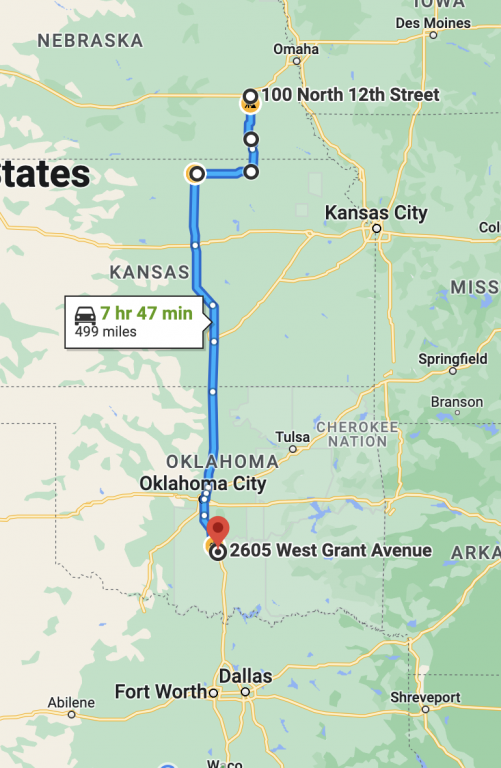 Today is the day! For the first time since 2017, Mark and I are going on a road trip: a loop that leads south to Houston and elsewhere in Texas, then west to New Mexico, back north through Colorado, and eventually east through Nebraska to get back home to Lincoln. We'll be visiting friends and seeing some old haunts and new places, and we're just excited to be road tripping again.
The first leg of our journey got us just shy of 500 miles toward Texas, to a nondescript hotel in Pauls Valley, OK, a bit south of Oklahoma City. The trip was uneventful-a little bit of traffic at times, sunny with a bit of wind with temperatures in the 80s-but with a classy picnic from our little cooler at a rest stop in central Kansas just north of Salina: salad with homemade vinaigrette, ham and cheese sandwiches on the last of my sourdough bread (half of my starter went into the freezer, just in case the fridge portion does not survive our absence), and our favorite road-trip staple, hardboiled eggs. Mark is the designated driver, but I am the designated reader (since the GPS takes care of mapping needs)–I read him some e-mails and news, but mostly, we kept ourselves entertained re-reading the Hitchhiker's Guide to the Galaxy, even as we are terrible at following Guide advice; we didn't even bring our own towel.
We checked into our hotel at 5:30, and had fries and ice cream at a Baum's, a burger / ice cream fast-food chain plus convenience store that is apparently a popular regional operation; they also sell their own Baum's milk, cheese, and other dairy products alongside the (good, but rather sweet) ice cream. We took a loop around the hotel since I was quite stiff, but this spot is the typical close-to-the-Interstate wasteland of motels, gas stations, and chain restaurants, so it was predictably uninspiring. We are clearly not quite in vacation mode yet, because we spent the rest of the evening on our computers, just like we do at home. It'll be an adjustment, but we are ready for this break after a long semester!