A Tribute to Stan Kirby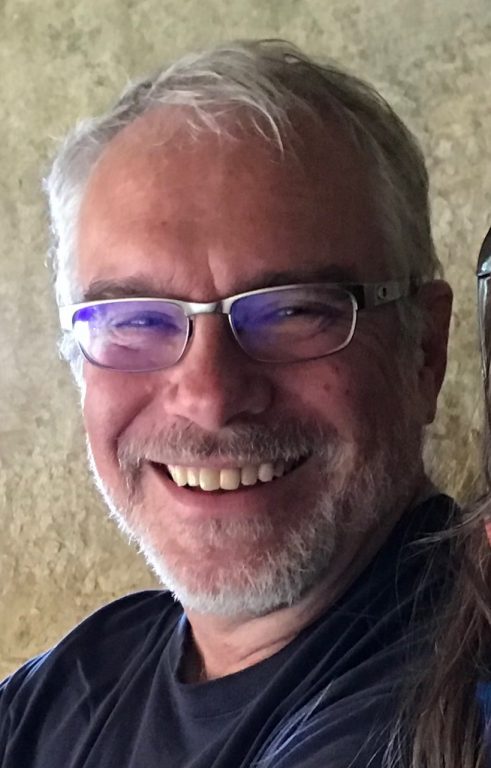 Three short weeks ago, Mark and I spent a lovely four days (June 1-5) with his cousin Stan and his wife Kathy near Boulder, Colorado, which are included in the road trip blog. Of course Mark has known his cousin (who was, like Mark himself, the youngest of three brothers) all of Stan's life–and Kathy since she and Stan met in college, at UNL, back in the 1980s. Since I waltzed into Mark's life rather late, I only met them a very few years ago, at a family function the purpose of which I have long forgotten, but they became instant friends. We immediately had so much to talk about. We later visited them multiple times in Colorado, including on our 2014 and 2017 road trips. Kai got to meet them when a teenager and absolutely adored Stan (a novelist! with ANIME figurines in his office!), and in the mid-2010s, after his second novel launched, Stan came to Hastings College for a mini writers' conference that a colleague from the English department and I organized.
It was a matter of course that they hosted us on our road trip this year, as they had before. They took us on that glorious hike on the Sleeping Lion Trail near Lyons and drove us to the mountain village where they got married. We walked their neighborhood trails both together with them and without them, we had yummy meals together, and talked about life, the universe, and everything: about local bird and plant species they knew everything about (and if not, looked things up immediately, just like we do), about traveling adventures and mishaps, about vivid family memories and future plans. In the mornings, Stan would go off to his computer and write; he was working on a young adult novel, the first time he was trying his hand on this genre; his two published novels are science fiction (Iapetus) and crime (Vienna). It always impressed me that he was undeterred when it came to writing, even though he had completely lost faith in the publishing industry, and of course, I completely connect to to the urge to write daily (and to try out new genres and styles) because that is the way we both think, process, make sense of the world (even if the world doesn't make sense).
Ever since I first met them, Stan and Kathy have been huge role models for making the choice to live your best life and doing what you love and think is important, in spite of major health setbacks, and doing so as a loving and caring couple: in their case, with Stan writing fiction and Kathy doing important environmental science work (from which she had recently retired), traveling the world together to hike, bike, and explore, and spending time with friends. I am so very grateful we had this time together in early June, although thinking about it now is gut-wrenchingly sad.
Last Wednesday morning (on Jun 22, 2022), Stan was killed in a bicycling accident when he lost control of his bike on gravel. A full life cut short in a split second, an incredible loss to all of us: to Kathy (after spending 36 years with the love of her life), his family, his friends, his readers known and unknown. I am so grateful for each and every time we met, and for everything I have learned from his approach to life–to his vocation as a writer, his loving devotion to Kathy from the time they met in college, and his whole outlook on life. I loved his sense humor and his ability to spot the positive even at times when things were hard, and his determination to savor life to the fullest. We are all so much better off for having known Stan.