Tuesday, August 9
After (literally) being stopped in our tracks yesterday, we tried again—and today's beach excursion was a resounding success! The weather was even more gorgeous than yesterday, and perfect for a trip to the seaside.
In a repeat of yesterday's attempt, we left after breakfast and took the train to Lübeck and then to Travemünde, a beach resort that is another 20 minutes outside the city of Lübeck, at the mouth (Münde/Mündung) of the river Trave into a bay of the Baltic. We got there without any hitches around 12:30, and the cool thing was that the train station is only a hundred yards or so from the beach promenade. So we could start on our beach walk/hike right away.

Peter and Andrea's excellent suggestion was to walk along the beach for a few miles and then walk back on top of the sandy cliffs (Steilklippen) that are a hallmark of this coastline. So we went past the sandy "beach beach" that has lifeguards and has the famous German beach baskets, then along a pier fortified with boulders that had a boat ramp for the sail boats that dotted the bay, and past the dog beach and the nudist beach (sunbaked white-people without tan lines are an interesting concept) and then for about 3 miles along the natural beach, with the occasional bleached tree and even some collapsed brick and concrete structures that had slid or fallen down when pieces of the sandy cliffs above us eroded. Andrea and I were definitely in our happy place, with my feet in the water until the beach got too pebbly, walking along the beautiful Baltic shore.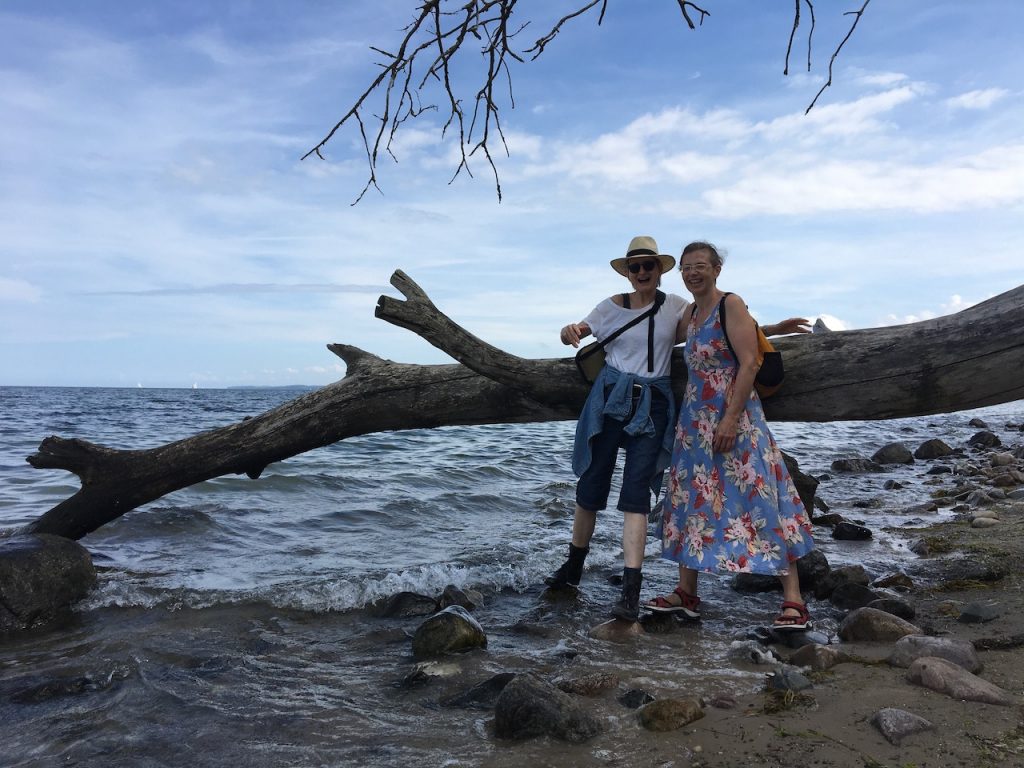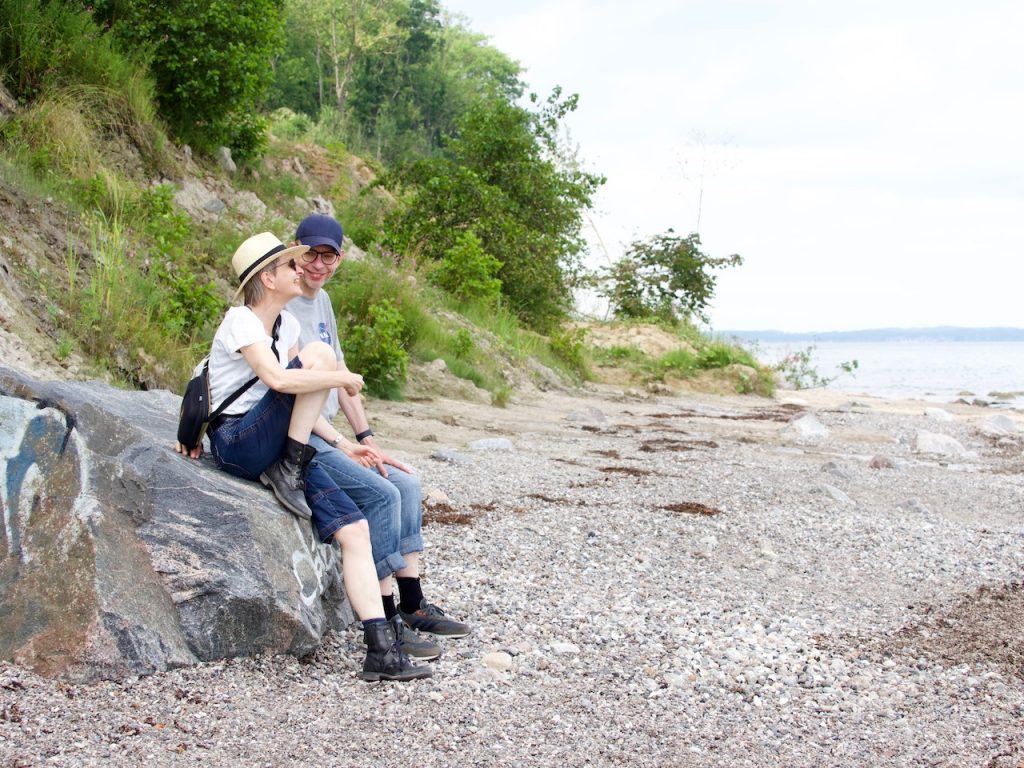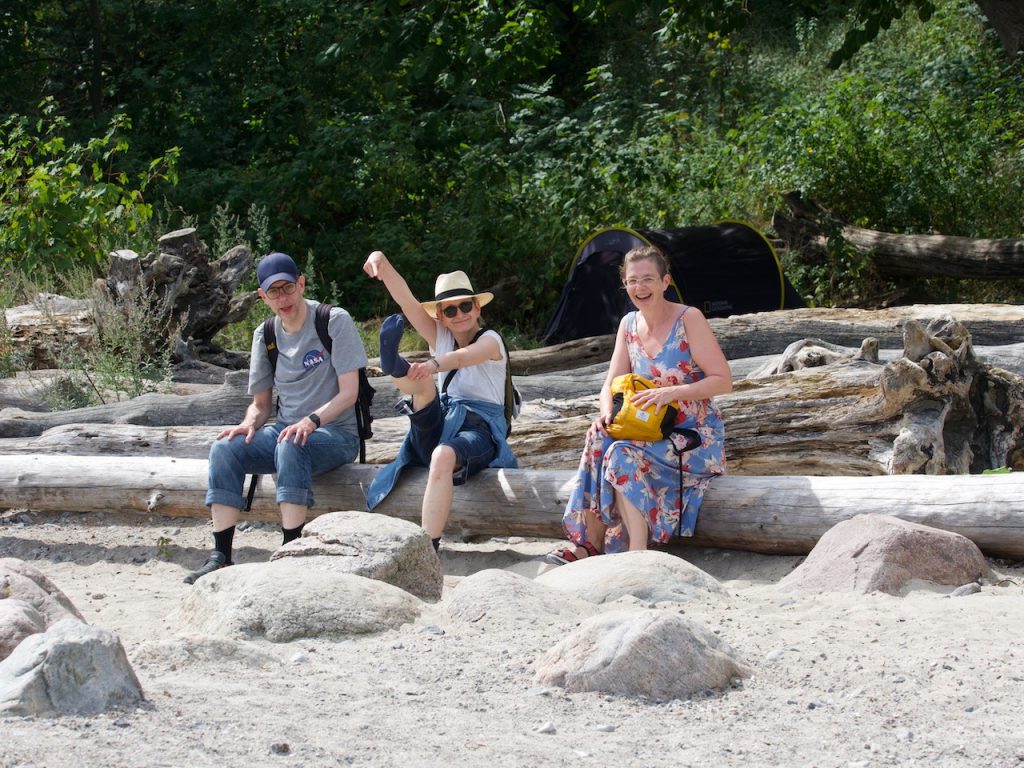 As we were taking photos along the way, Andrea restaged a couple photo she shot of Mark and me 10 years ago on our first joint trip to Germany—at a different Baltic beach less than 20 miles east from where we were today. That seemed very fitting since our "dataversary" is coming up tomorrow (August 10).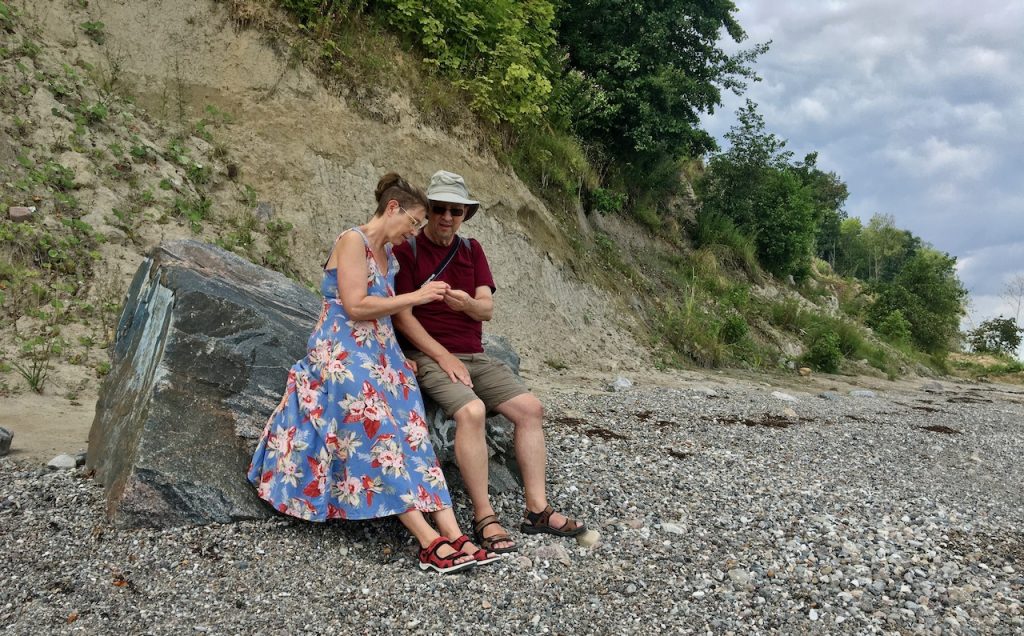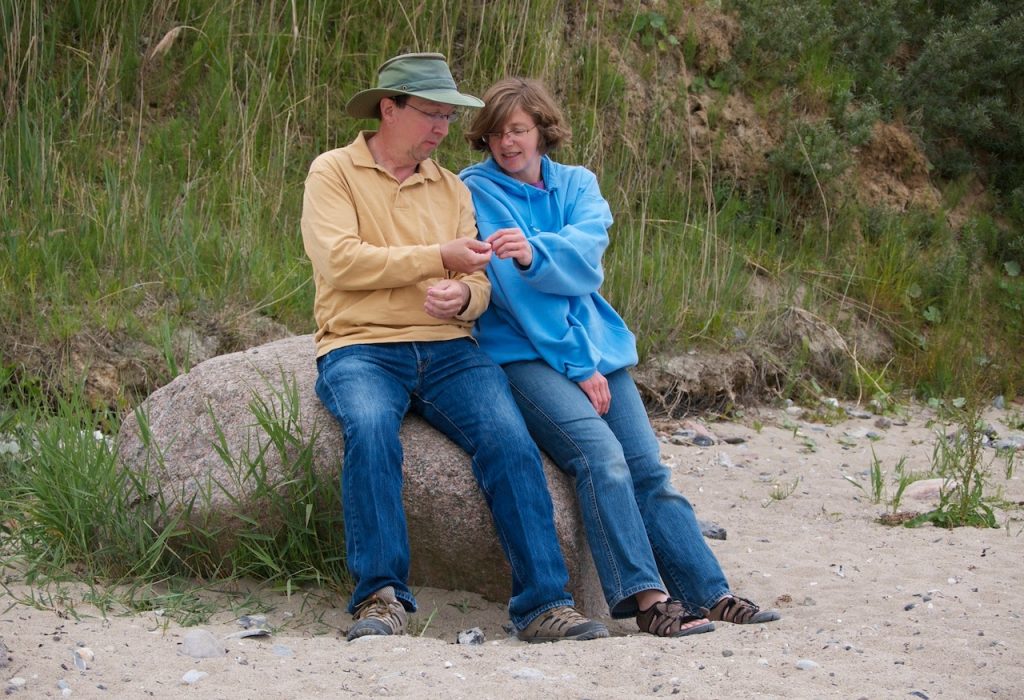 About 3.5 miles from town, we took a staircase leading up to the top of the cliffs, and walked back on the nice, well-kept trail up above. The views were fabulous, and there were little patches of shady forest so we kept nice and cool even as the day got quite warm. There was a cafe about half-way back to town, and we had coffee and cake outdoors (not to mention a restroom break). Then we walked the rest of the way back to Travemünde (7.3 miles total according to Mark's GPS), and before we left, checked out a little light tower that marks the spot where huge ferries enter the Travemünde harbor that connect this area to various Scandinavian and Baltic ports —we saw one of them go past before we took off to go home.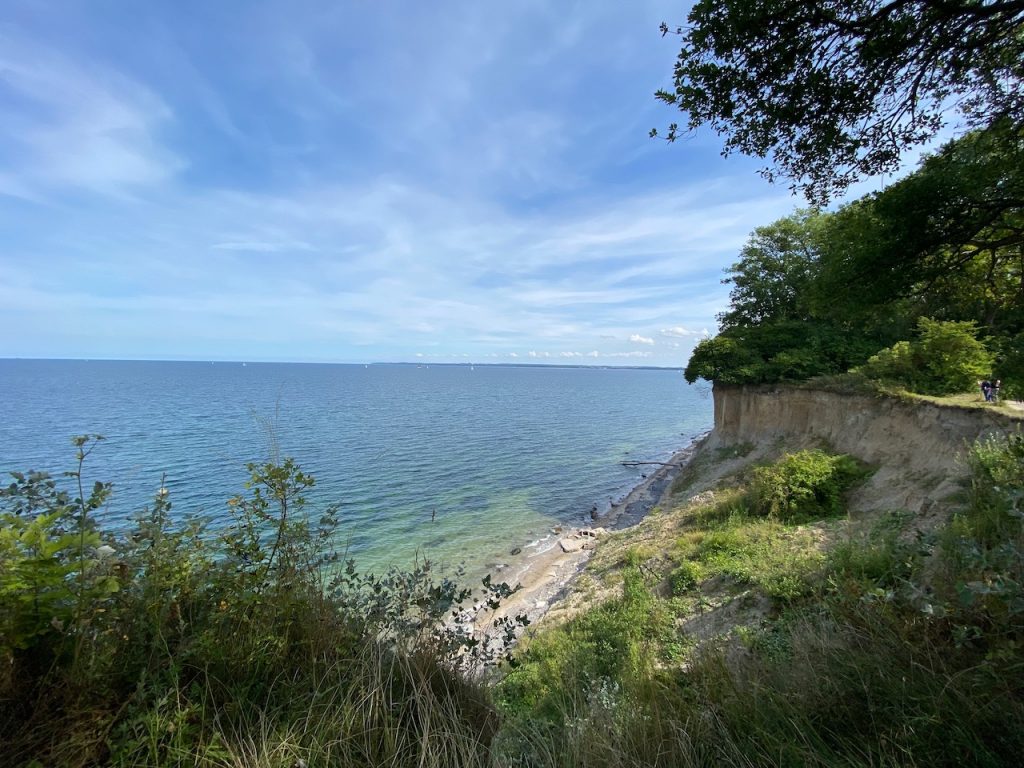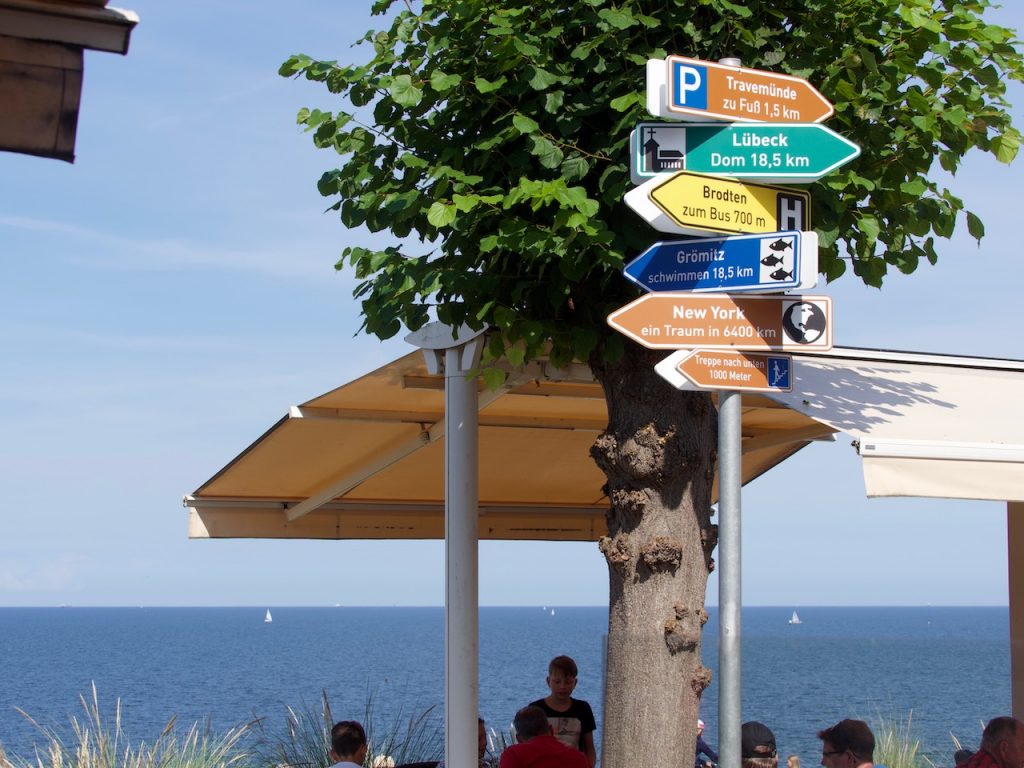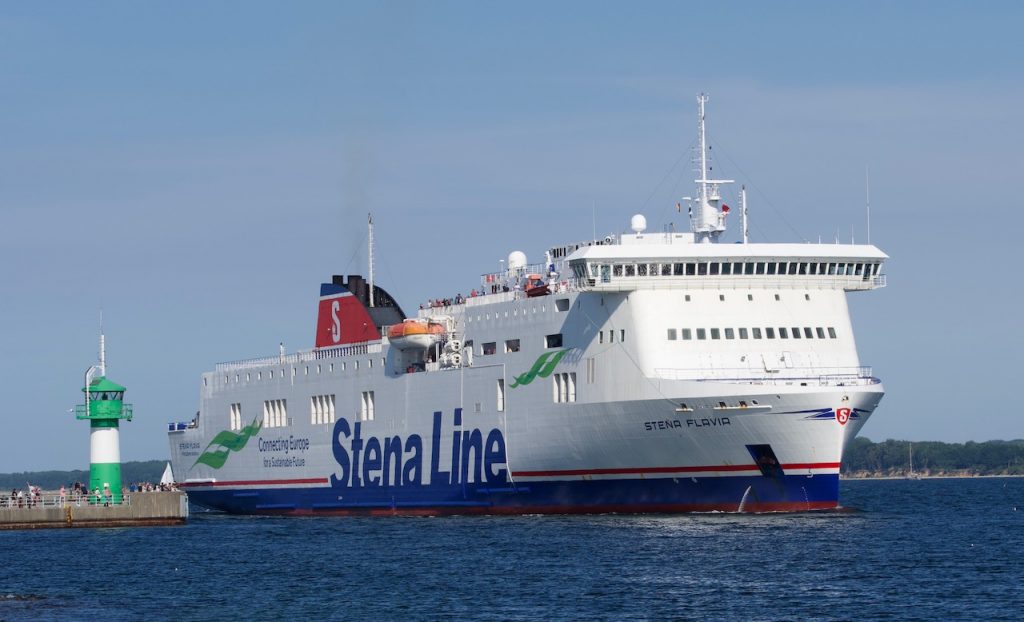 We had a couple of minor slowdowns on the way back, but we were home by 8 pm, a little tired but mostly just happy. A perfect day! But we were starving when we got home. I made a quick pasta dinner with salad while Peter ran some errands and Andrea started some laundry and her packing for tomorrow, since we are all taking off together for Osnabrück in the morning. Mark and I packed things for 4 days into ONE little suitcase and took showers before we called it a day.
---