Sunday, August 7:
Well, I was up very very early, so my sense of what time it is is still very shaky. Mark slept better, but I can attest to the fact that he snored quite a bit! We got up around 7 am and after Mark had his routine yogurt-and-almonds breakfast, we went for a little walk just because it was so beautiful outside (although cool–starting out at 50 degrees in the morning!). We just wanted to get a bit more oriented and went back into the nearby park to explore it a bit more. The most exciting part was finding ripe blackberries, which grow wild in the parks here everywhere and are delicious. We came back around 10 am after about a 3-mile walk, and then had a late German breakfast / brunch (?) with Peter und Andrea.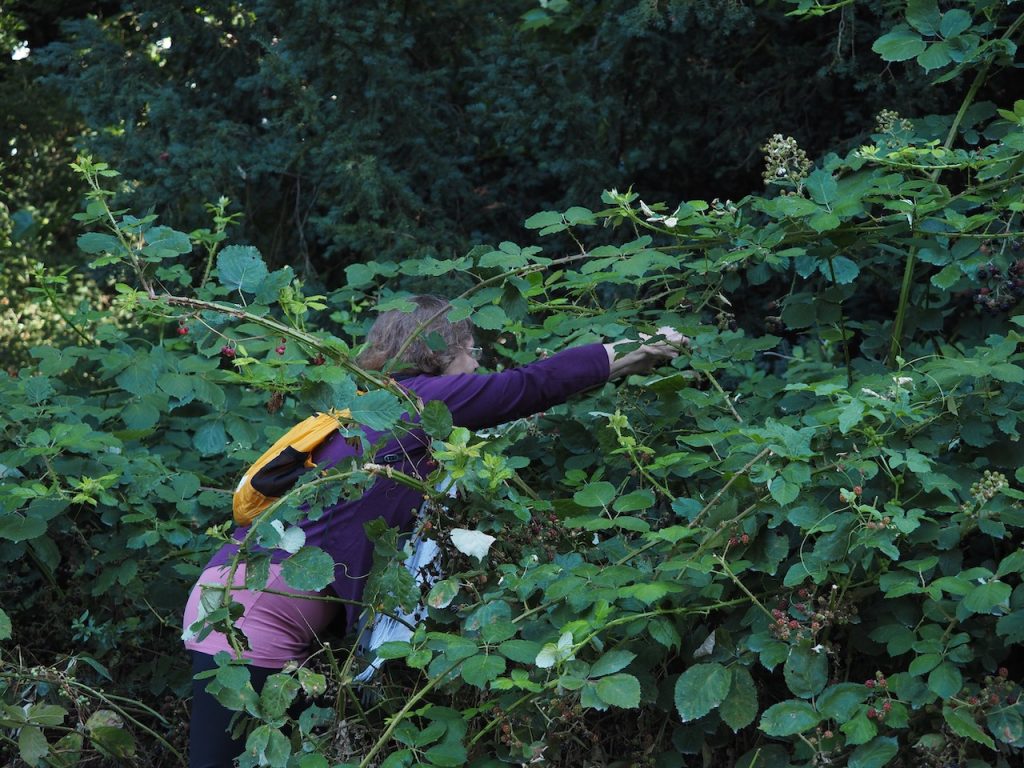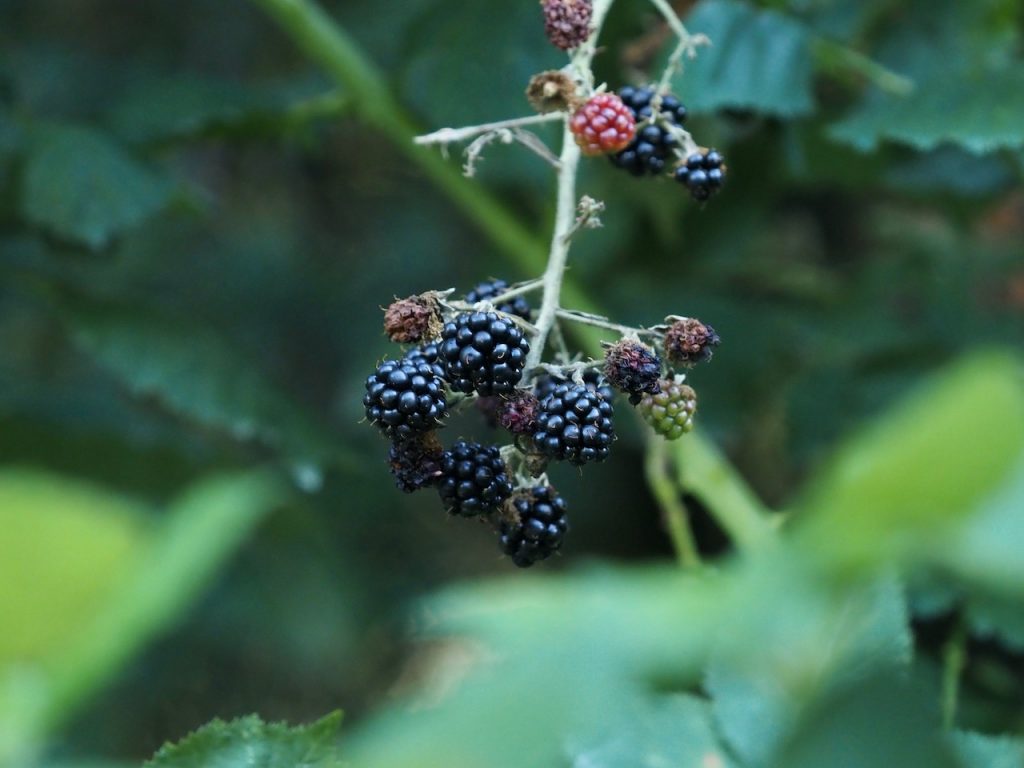 But the idea of just hanging out and having a relaxed day went right out the window once Peter and Andrea suggested an excursion. We went to a small town named Stade that's about 30 miles from Hamburg and (relatively) accessible by train and even S-Bahn (a sort of regional train system in the Hamburg metropolitan area), in an area near the river Elbe that used to be marshland and is now famous for its apple and cherry orchards–the only large fruit orchards in Northern Germany.
It took us a while to get out there, because the trains only go out every hour, and our route was a bit circuitous on the way out. So we spent an extra half hour in a truly unexciting suburb called Harburg, which is mostly a hub for changing trains and where most people live "because it's easy to get out," as per Andrea and Peter. But once we got to Stade around 1 pm, we had a great time. Stade "downtown" is an old town center that was preserved as it was in the 19th century, on a little island surrounded by moats and a small tributary of the Elbe, with a "green belt" of public park looping around most of it where the city used to have fortifications. There was even a portion where some some historic buildings from the regions had been moved, "museum village" style, and we got to admire the intricate Tudor framing on one of them, and a traditional windmill as well.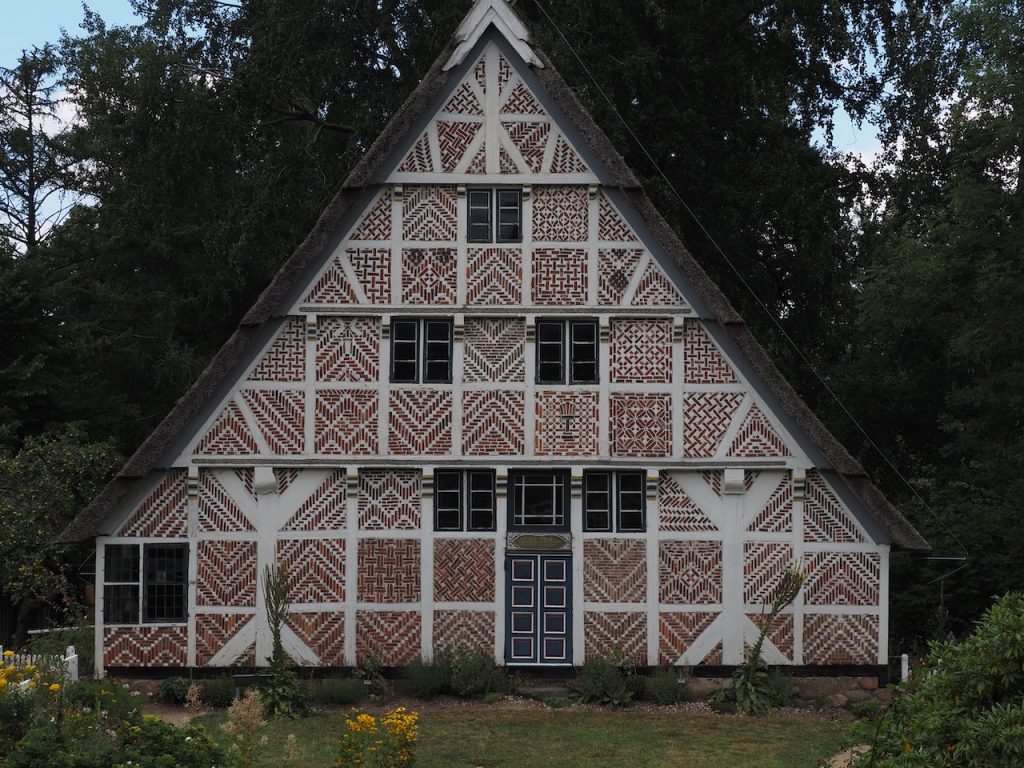 In the downtown area itself, there are some lovely historic town homes from the 17th, 18th, and 19th centuries, now beautifully renovated, and a teeny tiny harbor, in which archaeologists have apparently found items in layers going all the way back to 994 CE, when the Vikings conquered this area and started this city on a tributary of the Elbe that apparently made for an excellent trade route through the marshes of this area. So Mark took some veritable picture-postcard photos of the harbor and the houses.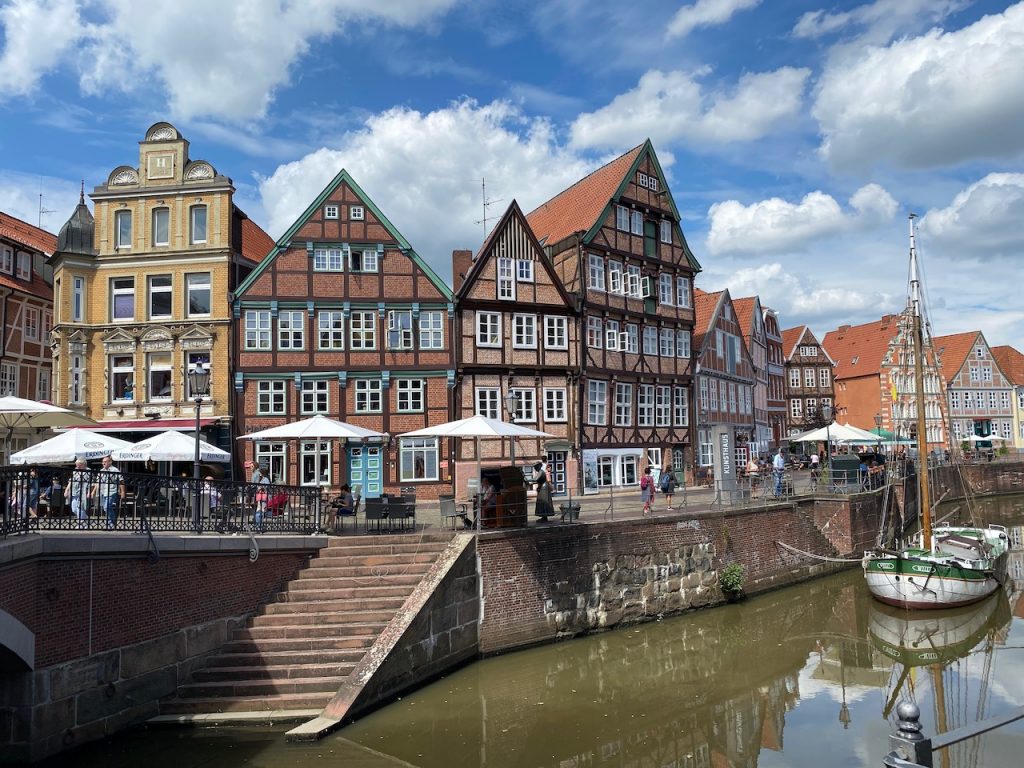 One of the classic Gothic brick (Backsteingotik) churches so common in this area, St. Cosmae et Damiani was open for touring and actually had a couple of truly unexpected features: a 17th century organ built by a very famous organ builder, Arp Schnitger, and a baroque onion-dome steeple that one rarely sees in the North. As it turned out, there was a guided tour of the tower, promising a great view, so we climbed up and got to see Hamburg in the far distance, the red-tile roofs right below us, and also the amazing set of church bells in the tower, which was also architectonically interest. One of them, with very intricate patterns, had dates of 1658 and 1659 (perhaps cast and re-cast; we are not bell experts) on it. The guide was very nice, very knowledgeable, and answered all of our questions.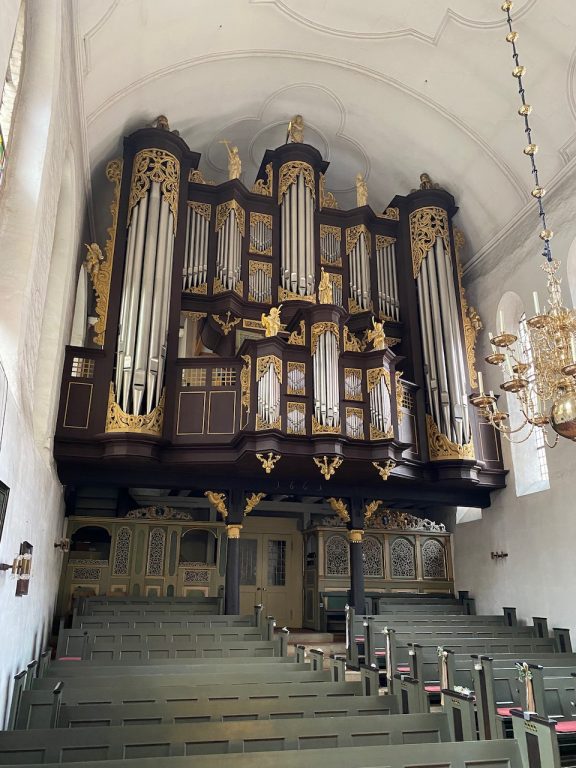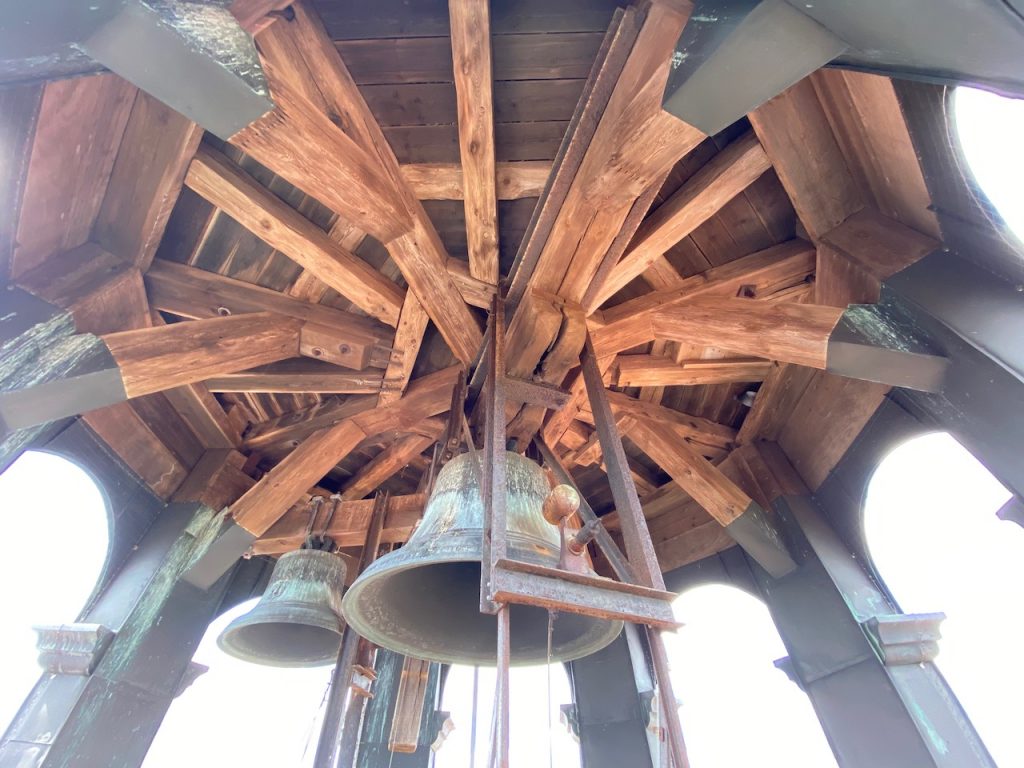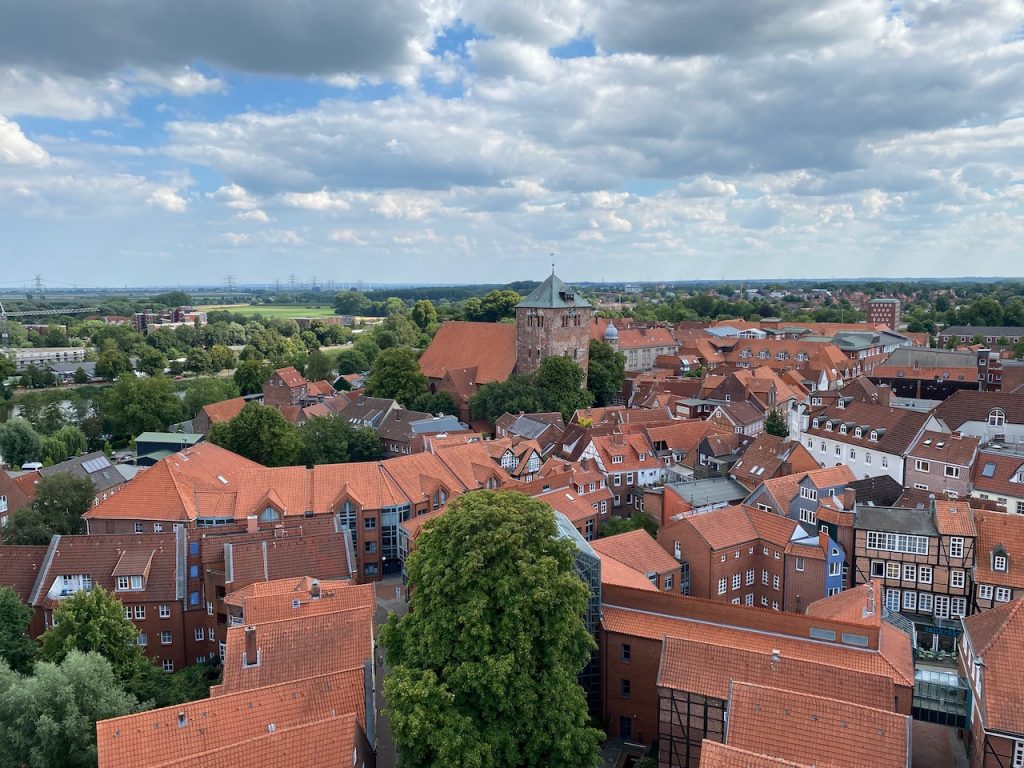 Our last celebratory act was to have our first gelato in an Italian cafe–very yummy, but not nearly as good as we're used to at our favorite gelateria (in my mom's home town). Then we found our way back to the train station and took public transport home–which took about 1.5 hours from start to finish. It was pretty crowded, since it is Sunday and of course everyone is taking advantage of the 9 Euro ticket.* (At various times, each of us dozed off for a while.) Andrea and I quickly threw some salad and tomatoes with mozzarella and basil together, and heated up some ciabatta bread–and there was our dinner. We were all pretty tired by this time and apart from chatting for a little bit, did not do anything else that evening. Let's see what we get up to tomorrow!
A super cheap summer fare that was instituted this year by parliamentary decree in Germany (to make people use their cars less and become less dependent on Russian oil and gas). For each month, everyone who buys the ticket can use all public transportation and all regional rail networks. So the trains are pretty crowded, especially on the weekends, and it was stuffy with our masks and all the people.