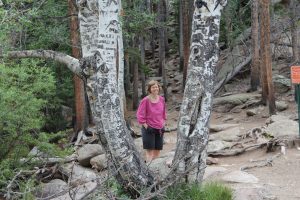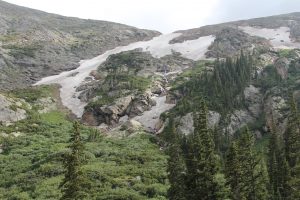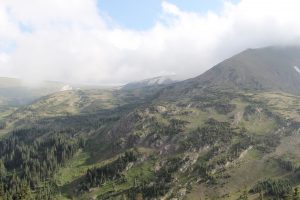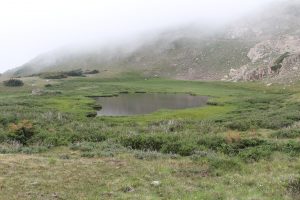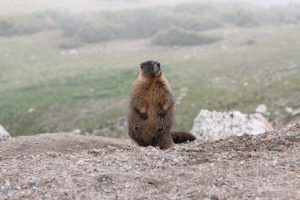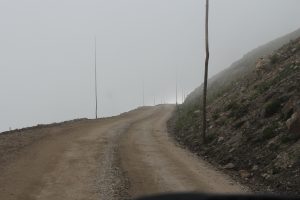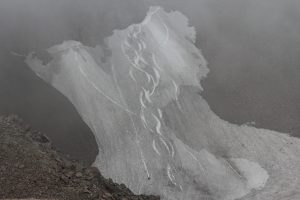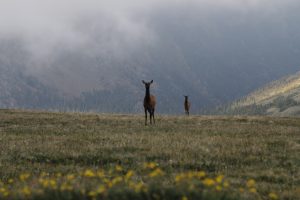 We got off on an early start around 8 am from Lincoln and made very good progress, with a stop in Ogallallah for McDonald's (without dessert! we are trying to discipline ourselves) and a brief stop in Julesburg just to stop. It was very pleasant travel weather–never got about 82/83F and then dropped later as we gained altitude in the Rockies. Lots of pleasant conversations (a serious one about the circumstances under which we'd get married [financial/health reasons; unsentimental things like that] and how this trip feels like a honeymoon without the marriage bit, and a dreamy one about the perfect camper van to rent next summer for an extended trip East), and just general happiness. For about three hours, we also listened to a Carl Hiaasen novel, which was fun and is to be continued), but when we got into the mountains, we stopped to just enjoy the fabulous landscape up Thompson Canyon.
We got to Estes at about 4 pm and checked into the Discovery Lodge, where Mark had stayed on his own last June. And although he'd driven all day, we still went up to Rocky Mountain National Park and took the Old Fall River Road, a 9-mile one-way dirt road with switchbacks that got us from 8200 to over 12,000 feet, above the treeline. The 9 miles took about an hour (more because of our stops), and was gorgeous. We stopped along the way to take pictures and little walks, boh at the place were a huge dam built in 1902 up in the mountains broke in 1982 and created a huge fan of boulders as it flooded Estes and came to a stop further down the canyon. It looked really cool both from close by and further away. The longest hike we took was about a mile up a little peak (across from Marmot Peak) where we found someone's (recently placed) time capsule, and we could both feel the altitude a lot! But we got out multiple times to photograph everything from these incredible surroundings to the little tiny wildflowers and the wildlife we saw–a couple of elk and several marmots frolicking about.
At the end of Old Fall River Road, we meet up with Trail Ridge Road again and went back down (a little faster on a paved road with few switchbacks!) to Estes, parked downtown and found ourselves some very nice pizza and some ice cream for dessert. Estes had been just packed with people earlier in the day and even at this time, almost 9 pm, there were still lots of families milling about. I think it's a bit over the top with the stores and the tourism, but not so crowded that it's totally unpleasant, and of course we thoroughly enjoyed not having to mill around in the little craft stores and what not–especially NOT having to go into the full-blown, five-display window Cornhusker/Go Big Red store that we walked by on the main drag! We couldn't imagine that the store would make any money, even with the many Nebraskans who come to Colorado to be tourists–they tend to have their Husker gear already! So we decided it must be a tax write-off. We got back to the hotel around 9:30, took showers and went to bed after a long, busy, happy day of driving.