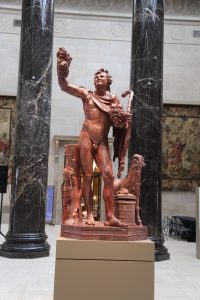 We slept really well last night and got up fairly early, walked to the nearest Starbucks for coffee/juice and scones, and then got ourselves packed up and checked out before going to the Nelson-Atkins Art Museum. We were able to leave the car at the Holiday Inn and just walk the block and half there, which was wonderful, especially since it was still relatively cool and we had time and leisure to look at the lovely sculpture garden that is part of the museum. It is pretty lavish and has a large number of Henry Moore sculptures everywhere, as well as a very fun Claes Oldenburg set of gigantic badminton shuttlecocks (four all in all), inspired by the fact that the sculpture garden reminded him of a gigantic badminton lawn, with the museum itself as the "net" in the middle. There was also a gigantic stainless steel tree that I liked quite a lot. 
We went into the museum right at 10 am, and spent about 4 hours there, including a half hour in the lovely atrium café, where we had salads and sandwiches. Their permanent collection is very nice and strives to be representative—there was a little bit of everything and everybody, and we sped up and slowed down just as we liked things. The ancient Egyptians and the Romans (including a beautiful Egyptian-Roman portrait painting on wood, and this very striking head sculpture of a man who looks like he has had a stroke) and then the late nineteenth century were more interesting to us than most of the paintings in between, although there were some interesting pieces of decorative art. 
The modern/20th century collection had some cool pieces as well, as did the photography section, and the special exhibit, the only part of the museum for which they charge a fee, was really intriguing. It was an exhibit of paintings by Frida Kahlo, Diego Riviera, and modernist / contemporary Mexican art. There were some very striking pieces there, including paper doodles by Frida that I had not seen before, as well as a number of the classic surrealist self-portraits that she kept doing. I thought that the contrast between Kahlo's and Riviera's art was intriguing, and a few of the more recent pieces were as well. The most entertaining and eye-catching modern artwork was a video composed of security-camera films taken at the National Portrait Gallery in London that capture a fox that an artist let loose in the gallery. It was really fun to watch the animal try to figure out what to do in this space (eventually, he curled up on a table and slept), but of course it also has exactly the effect it should have—made me realize how much we really run around in these exhibit spaces like trapped foxes, pacing them restlessly, checking out things, wandering on, always watched by the cameras. 
After the special exhibit and the moderns, we did dutifully look at the second floor, with US-American art and the museum's Asian collection. Mark really likes Chinese art and statuary, and there were some very beautiful (and very old) pieces that I would have liked to have learned much more about, especially because there was a whole room dedicated to the Buddhist/Indian influence/influx into China and I couldn't even say when all of this cultural meshing took place. But we were really getting a bit overloaded and decided that we just needed to come back to KC some day for another visit to the Nelson-Atkins and also to the Kemper museum of contemporary art across the street. That one delighted us by having a smaller version of Louise Bourgeois' mother spider in front of it—after we had seen the giant version in Hamburg last year. 
But for today, we called it quits after 4 hours, walked back to the hotel/car and took off for Lincoln around 3:00 pm. We got back without a hitch around 6 pm, unpacked and started some laundry, and had a light dinner at Panera Bread across the street. And now we are done with our road trip for the year – almost exactly 5000 miles, and some wonderful adventures, both planned and unplanned. We both had a great time, learned and saw a lot, and really had absolutely no hitches anywhere along the way—from the car cooperating to the weather only getting in our way for perhaps a day and a half, from spending time just by ourselves to socializing with friends, it was just fabulous. The tiny bit of sunburn at the beginning faded soon, and so chigger bites from Arkansas and one lost chapstick are really the only hitches that came our way. We loved the ocean and the mountains, the hiking, swimming, and the driving as well, and just like last year, we just did so well traveling as a couple—we made a great travel team, and Honeymoon # 2 was a great time. We'll just have to have a third honeymoon next summer.