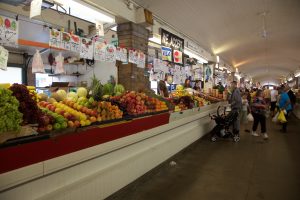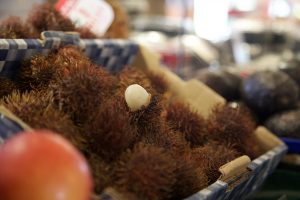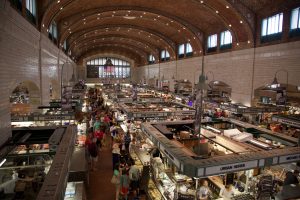 We took it fairly easy in the morning, getting up about 8 and having
breakfast from our stash of yogurt and green tea in the room; we consulted
the weather that was coming our way and decided, against initial plans, to
push on through to Cleveland, rather than stopping in Toledo (I have friends I thought we might go see in both places). Again, we drove most of the day, but this time, always a bit ahead of the rain, so it was much more pleasant.  We had perfectly decent "freeway Chinese" somewhere on the way through Indiana, and once we were in Ohio, decided to take a slightly slower route, along lake Erie, rather than continuing on the I-80. So we went a little North in Toledo, and made our way through Sandusky etc., along the lake shore, which was actually very pretty where we could see it (in many places Road 2 and Road 6 were still too far from the actual shoreline. Sandusky was very cute, and we loved seeing the little old-style motels and cabin rentals still in business that have gone under in so many other places. But we didn't get out of the car until we had made it to Cleveland's Museum of Modern Art. My friend Paul, who is a Cleveland native, and whom we'll meet tomorrow morning, had the insider tips we needed–i.e. that the museum is open until 9 pm on Fridays, and that it's free!
We got to the museum a little after 5, had dinner at the museum cafe (very
nice, as in most museum restaurants–Mark had a roast beef sandwich and I had an Indian curry with chicken and lentils), and looked at the rooms and
pieces that interested us most. The museum has a nice cross-section of art
from around the world, nothing that rocked my socks off, but some neat
representative pieces (maybe I would have appreciated them more if it hadn't been the end of the day?). I liked the mid-life Matisse that I saw, and a funny Max Ernst, and there were some design/craft objects that were
interesting, too. Mark liked a Matisse painting I hadn't known, The
Windshield, On the Road to Villacoublay, from 1917, because it was such a
good road trip picture and fit our mood. The best part was actually the
space, since they solved the old building/new building problem of so many
art museums with a huge atrium with a glass ceiling over the plaza between
old (1916) and new. I also liked the "Gallery One" space, which has some
electronically enhanced exhibits, including a wall of touch screens where
visitors can tap on individual pieces to get more information on them. That
was fun!
We left at about 8:15 and found our way to the ice-cream place in the
vicinity that Paul had recommended–Mitchell's on Uptown St. We even
managed to get free parking for the half-hour that it took us to have what
was truly marvelous ice cream. (I had hazelnut ice cream that tasted just
like really good "German"-Italian hazelnut gelato–very nice!). The GPS
then led us reliably to our hotel, which I had found en route through
Wikipedia. It looks a bit sketchy from the outside, but we have a
spectacular view of the downtown skyline, and the room is just fine. Time
to turn in!