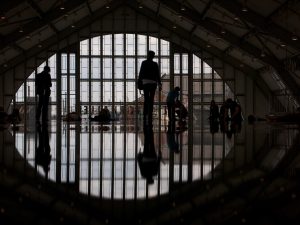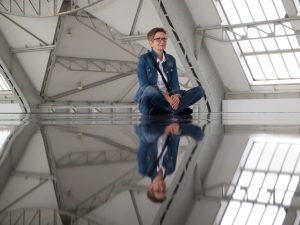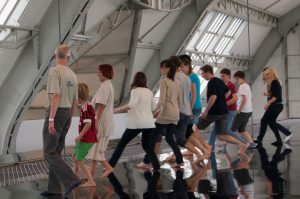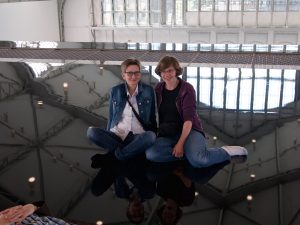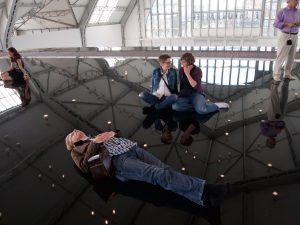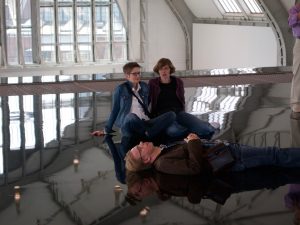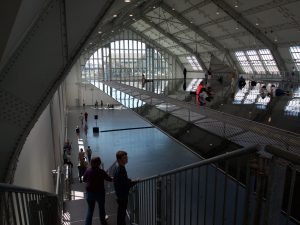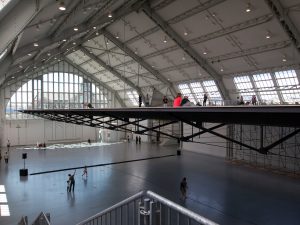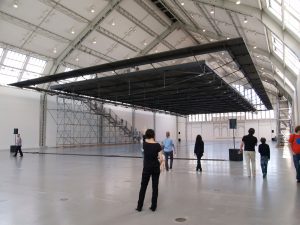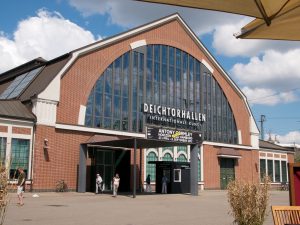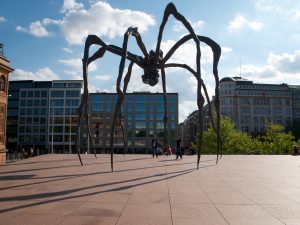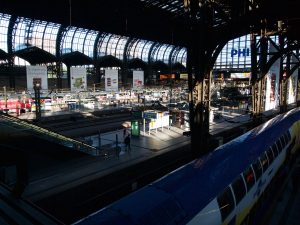 We all slept in a bit more than yesterday and then had a lovely breakfast on Andrea and Peter's balcony again. We then left for the city to have our "art day" — we first went to the Deichtorhallen, two former covered market halls for wholesale trade that are now a contemporary art exhibit and a contemporary photo exhibit. The photo exhibit didn't do much for me, but the art exhibit was one huge installation that was definitely memorable. At about 7 meters off the ground, the artist had installed a huge walkaround surface–a wooden platform covered with black resin to create an almost mirror-like effect, suspended from steel cables. It seemed like that would hold our (and everyone else's) attention for 2 minutes, but walking around and sitting and lying on this big mirror that vibrates and swings as people walk around on it, hop, roll, and play music under it is just really, really intriguing.
So we had a very good time with that. We also loved the cafe there, where we had Flammkuchen, and then we went on to the Kunsthalle, Hamburg's main museum. The permanent exhibit was a bit much for us–a little bit of everything, so we could hardly take it in, and I had of course seen it before — I liked to revisit the Emil Nolde paintings, a Degas pastel, the Christian Schad painting of Egon Erwin Kisch and a handful of other, interesting pieces. But the special exhibit was the last 15 years of Louise Bourgeois' work, and that was quite a lot of fun — especially the gigantic bronze spider outside.
After we decided we'd had enough, we went through the nearby St. Georg quarter and had dinner there–I had a buckwheat pancake with mushrooms and a very nice sour cream-based sauce, and Mark had a lovely salad. We said good bye to Andrea and Peter at the train station after a lovely weekend, had an uneventful train ride home and even caught the bus right away, so we were home before 10 pm.
We were tired though, and only briefly said hi to everyone and goodnight.