Today was our last morning in Houston–we packed up our things, checked out, and drove to a Denny's on Washington Ave. to meet Lisa, another grad school friend, for breakfast. That was a lot of fun, and we chatted and then followed her to her carpet store, which she has run (and I assume, co-owned) since 1994, when she and another Rice grad student started to sell rugs from his home country, Iran. "Prince of Persia"/"Postmodern Traditions" is now a consolidated store that sells both traditional and very modern-looking rugs. We came along to admire not just the rugs, but also her cats, four of them, who all live in the rug store. All were rescues and two of them cannot see, but they are all as happy as cats could be with all these fabulous surfaces to lie on.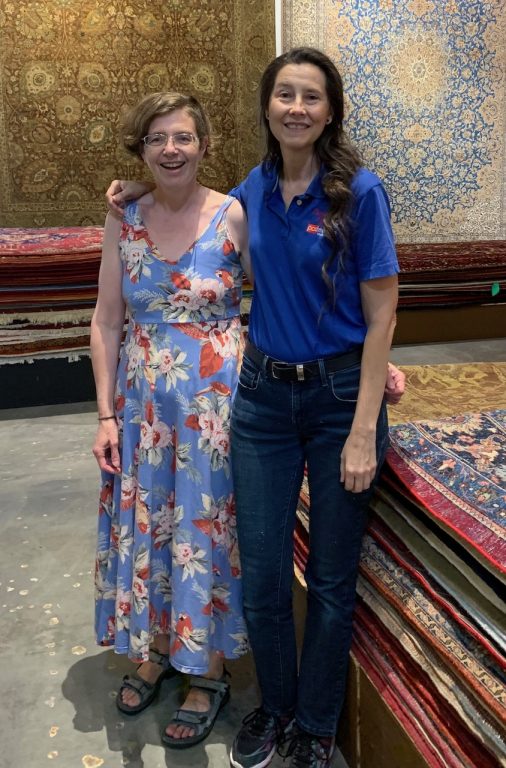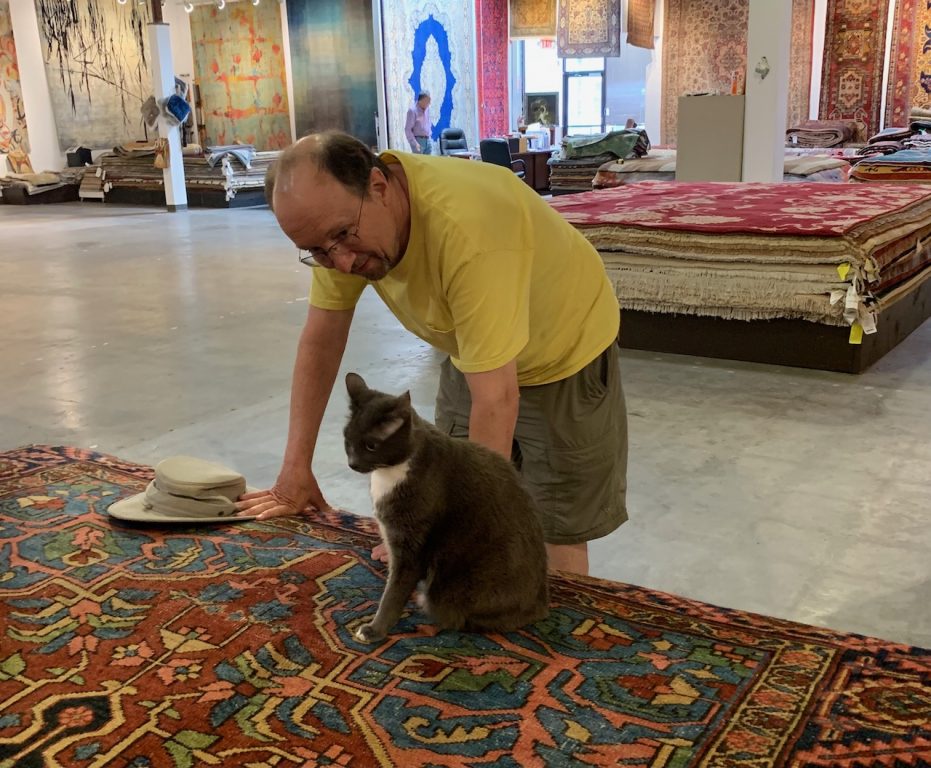 After our visit, we went for a long (2-hour) walk along Buffalo Bayou–Lisa had recommended a municipal parking lot off Sabine St. as a starting point, and that was perfect. We walked about two footbridges down on the one side, and then back up on the other, overshooting a bit to catch a third footbridge. It was not (yet) too hot and on the mostly shady pedestrian path, it was lovely to walk along the bayou and occasionally see signs of how important they are for flood control, like branches that had gotten caught on the underside of bridges and overpasses. I can't believe that I so rarely walked along the bayous–I can only remember a very few ramblings on Braes Bayou and nothing else! We were just always and forever busy with our coursework and never went anywhere.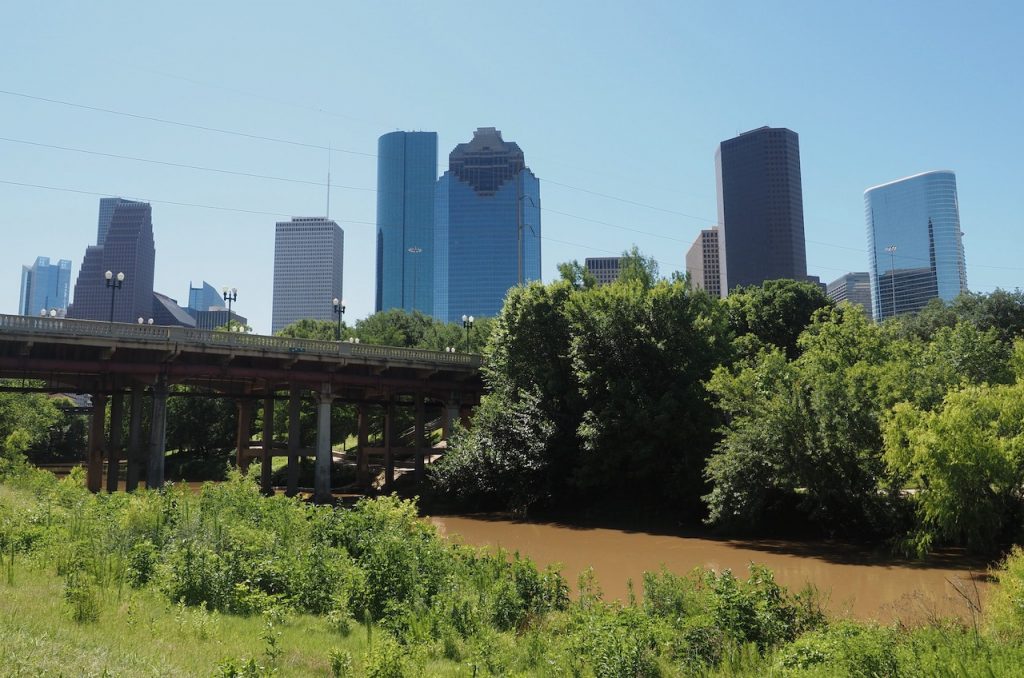 Around 12:15 or so, we made it back to our car and then drove on to the Raven Grill, on Bissonnet near Rice, where we met with Bruce's former grad advisor, Keith and his wife, Maggie, who were good friends when we were still in Houston, and with whom I had lost touch a little while ago. Keith just retired from Rice at the end of the spring semester and so we talked a lot about university life past and present, as well as about travel (and sitting out some planned trips because of the new rising Covid numbers). But we also talked about politics, of course, and foremost on everyone's mind was the horrific school shooting in Uvalde, TX, just the day before. Despite this dark turn that the conversation inevitably took, it was so good to see them and talk to them over lunch outdoors on a shady terrace with fans overhead.

About 2:15, we took off, though, because we still had our drive to San Antonio ahead of us. It's about 3 hours on a good day, and we had a few slowdowns and Google Map-suggested detours to avoid them, so even though we left Houston about 2:30 pm, we actually didn't get to the hotel until a little after 6 pm. We checked into our hotel and basically left right away for the Riverwalk and find a nice place to sit and eat. The hotel is directly on the Riverwalk, but a few blocks South of the busy, restaurant-studded part that basically started out as an oxbow in the river, so when we walked out into what looks like a flood-control park, I could practically hear Mark think: "What exactly is so special about this river? Why are we here?" Even the normally busier "village" ("villita") area that we hit first was very very quiet. Only when we got to the main loop and began to see lots of tourists, newly also on colorful little barges getting tours from the loquacious barge drivers, did it become clear how busy and urban the area is. I had been a couple of times before, and although the Riverwalk was much expanded since that time (in the early 90s!), the feel was what I remembered it: touristy but very inviting, a cross between Venice and Amsterdam, but with Spanish and Spanish-adjacent architecture (lots of it brand new and towering overhead) and winding paths along the river. I don't mind that the waterfalls, bridges, grottoes, and greenery are carefully arranged and manicured–what would you expect from a landscape that starts with flood control? I was just so glad to be able to walk somewhere AWAY from cars and crosswalks (as we had to for three days in Houston, and also in Galveston), where pedestrians rule! And although it wasn't choc-a-bloc packed like I know it can be, it was quite busy. We walked around about half the loop, then had dinner at one of the less busy Mexican restaurants right by the river (food was so-so, as one might expect, but it was the oldest of the restaurants, so at least it was "historic," right?), and walked around some more, catching a glimpse of the Alamo at the main square above the river, and at the other end of the big Tower of the Americas with the revolving restaurant on top. We picked up little bits and pieces of the history of San Antonio from the boat drivers' stories for their passengers, and as it got dark, we got to see lots of beautifully illuminated spaces all along. We got back to the hotel at about 9 pm, and with the two long walks today and the long drive, we were definitely quite tired!