This morning, we spent a bit more time in the lovely Hoboken vacation rental that has served us so well, packing up and working to get our photos and journals into blog form. But we also went for another walk to the water front and wandered around the promenade a bit more north of the campus of Stevens University, which sits above the Hudson river just three blocks east of our abode. It was already quite hazy–an air quality alert was in place all day, because of the smoke from massive wildfires in Canada, which is making the national and international news, with the air pollution in NYC reaching dangerous levels later in the day). Then we walked back to the apartment, checked out with our two little wheelie suitcases & backpacks at 11, and found ourselves an outdoor café to sit and have an early lunch on Washington St in Hoboken. It is not crowded here and reasonably quiet for a busy street (apart from occasional delivery trucks unloading) and even at a sidewalk table we didn't think we ran the risk of experiencing what we witnessed yesterday on our walk from Times Square to the Port Authority bus terminal: a guy walking by an outdoor table at a fast clip, taking a spring roll right off of someone's plate and stuffing it right into his mouth! Whoa.
In fact, this whole area of Hoboken, between Washington and Willow going toward the PATH station is beautiful (and very gentrified—as Mark pointed out, the conversations we overheard at the cafe precisely matched the avocado toast I had with a side of house granola and yogurt ($15, plus $6 for an iced latte; Mark paid about the same for his scrambled eggs on toast with ice tea, presumably because the dish included fancy-sounding "chimichurri"). But with our last $40 meal behind us (vs. $2.99 for an admittedly totally boring triangular ham and cheese sandwich yesterday), we took our last PATH ride from the beautiful gilded-age railroad station.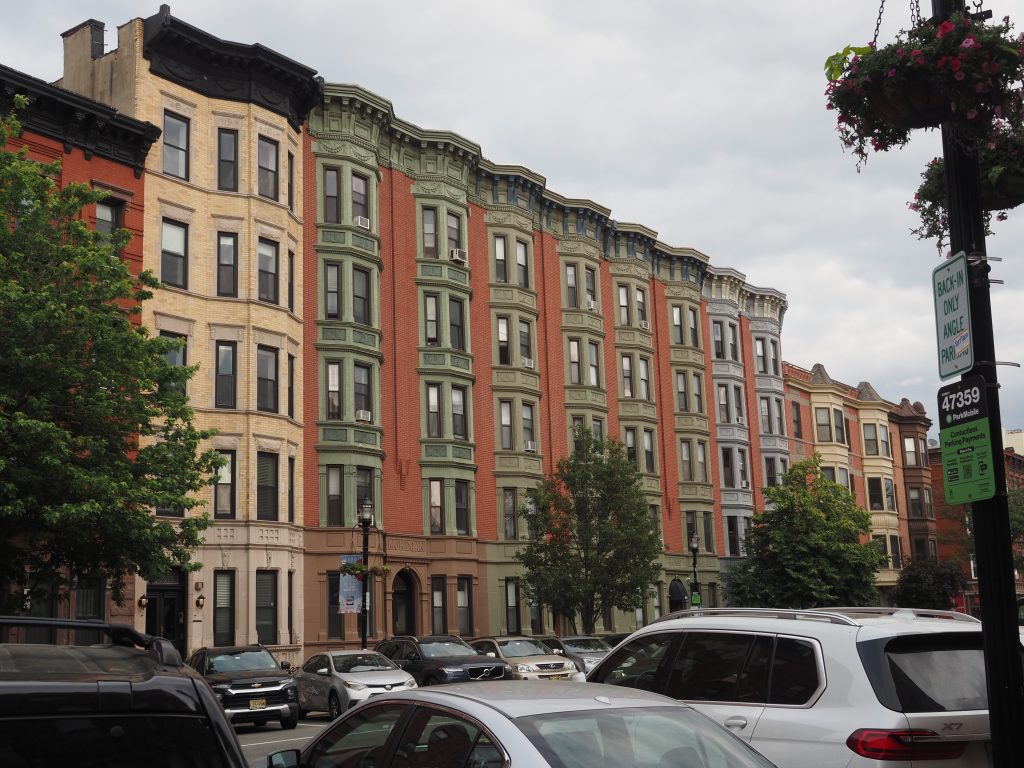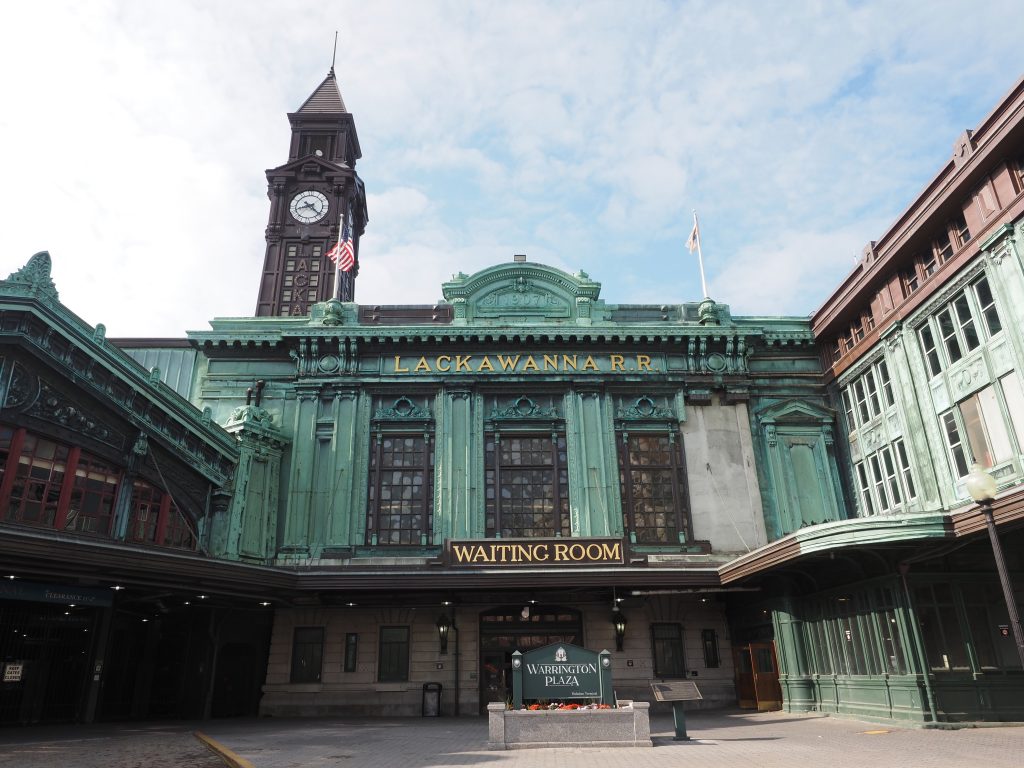 Once on Manhattan, we walked once more past the Stonewall memorial park on Christopher St. to the subway station at Washington Square, where we took the subway for the last time, and then the free bus to La Guardia—all for the price of a $2.75 subway ticket, and in less than 50 minutes (not counting 12 minutes on the PATH). Not everything about NYC public transportation is wonderful (the Byzantine pricing system for all the different companies that run various buses, ferries, and trains other than the metro ins unbelievably challenging if you are a tourist—I am appreciating Hamburg's and Berlin's and now generally Germany's ticketing system all the more). But sometimes you really get a lot of mileage out of one humble single fare. All in all, we spent about $100 on transportation here between the two of us—not cheap, but still the best option by far. Certainly, cars are just a nightmare here. We saw "per half hour" parking rates of $12+ advertised, and I am still puzzled that anyone living on Manhattan owns a car.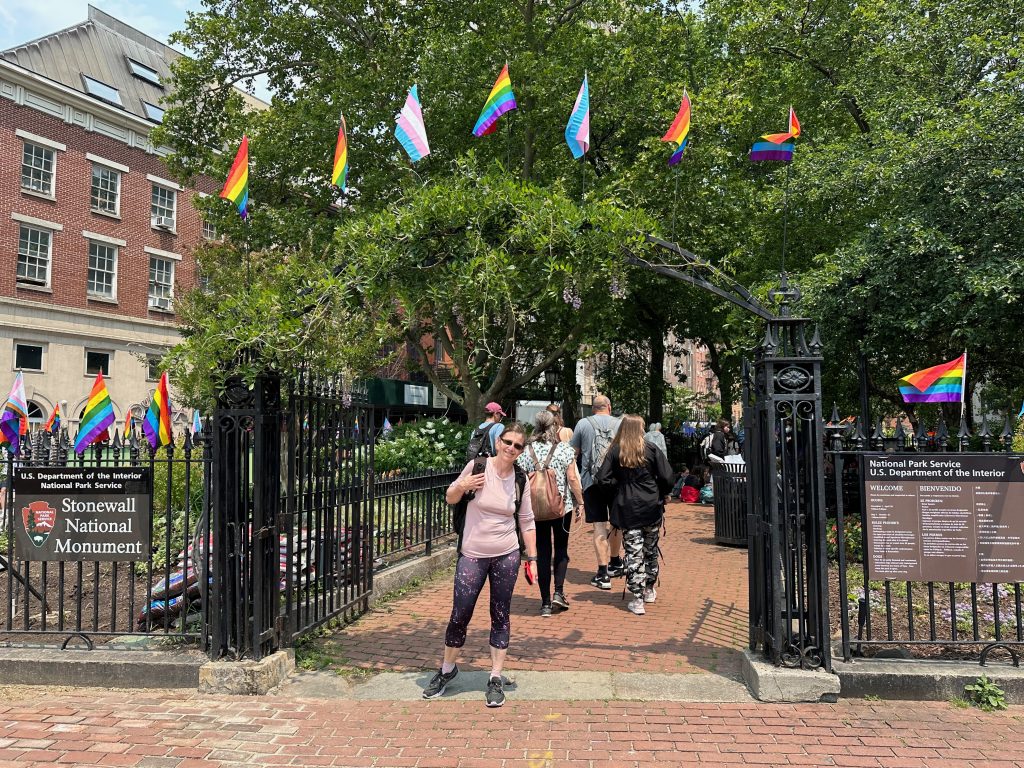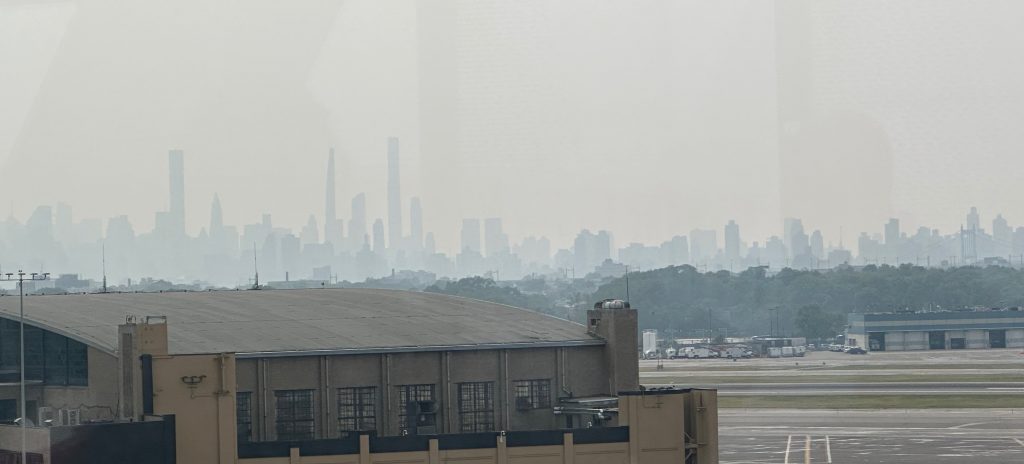 We were at the airport very early (not running any chances, and also having already run out of steam for more adventures). So we just sat and worked on our computers (me on our blog) for a few hours. For the record, we got two more overpriced NYC food items in: a piece of Junior's New York cheesecake and bagels (although maybe the ones we had would not pass muster with bagel aficionados). It remained hazy, and even though it started raining while we were waiting for our flight, that did not clear the air. After a string of great weather days since we left for Boston almost two weeks ago, it is bizarre that this red-alert "weather / climate change day" with the worst air pollution NYC has seen in decades was our departure day. We boarded our plane around 6:30 for a nonstop flight to Omaha, and with that, our Boston & New York adventure is done! And what an adventure it was.