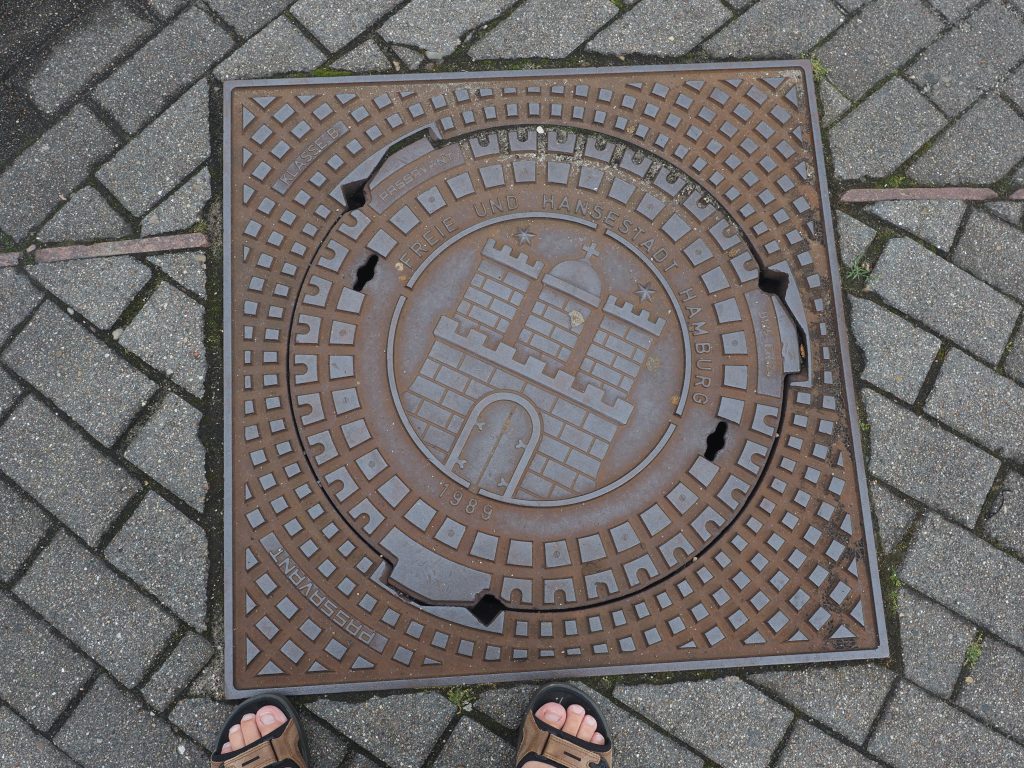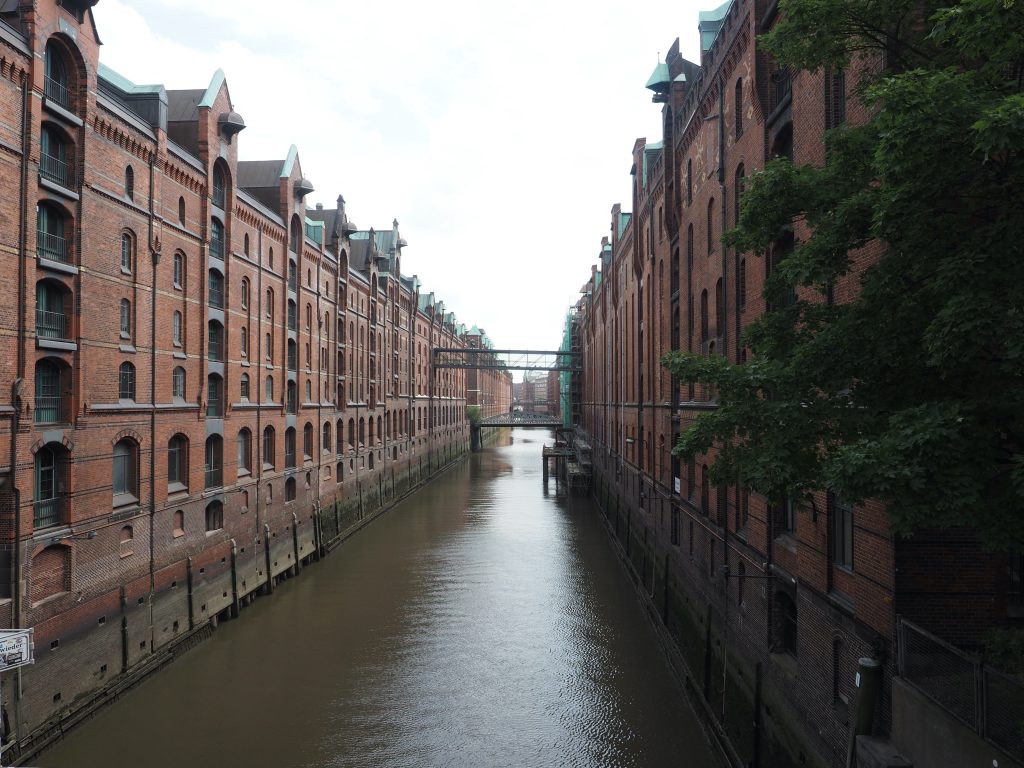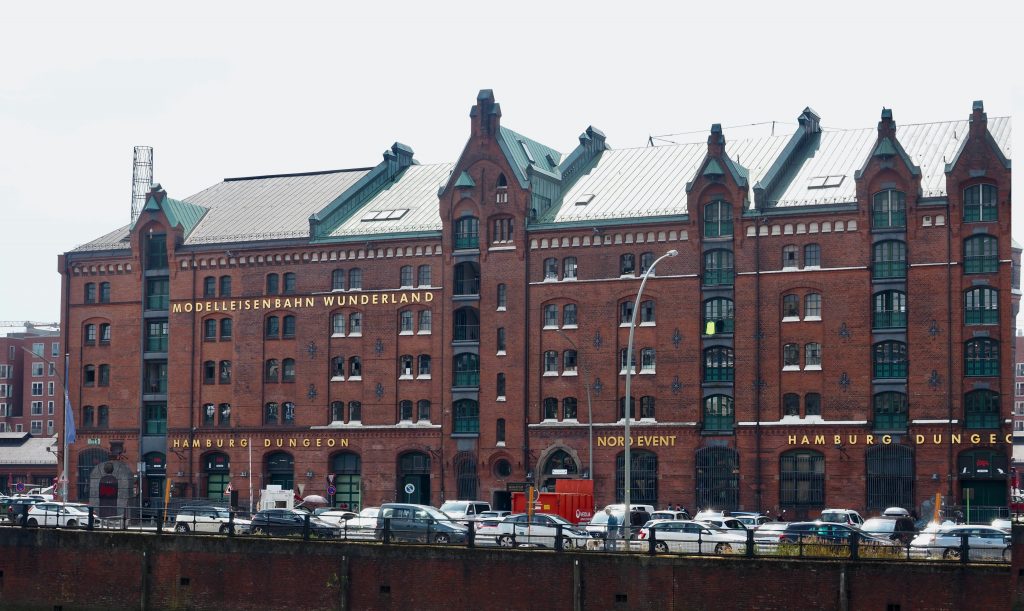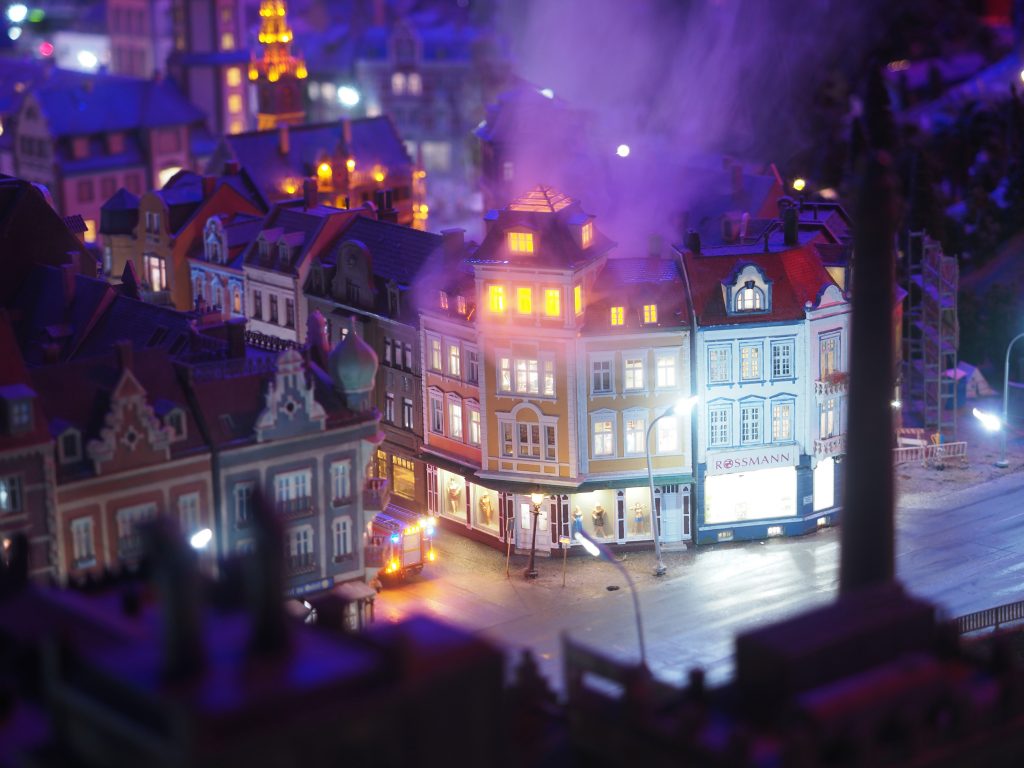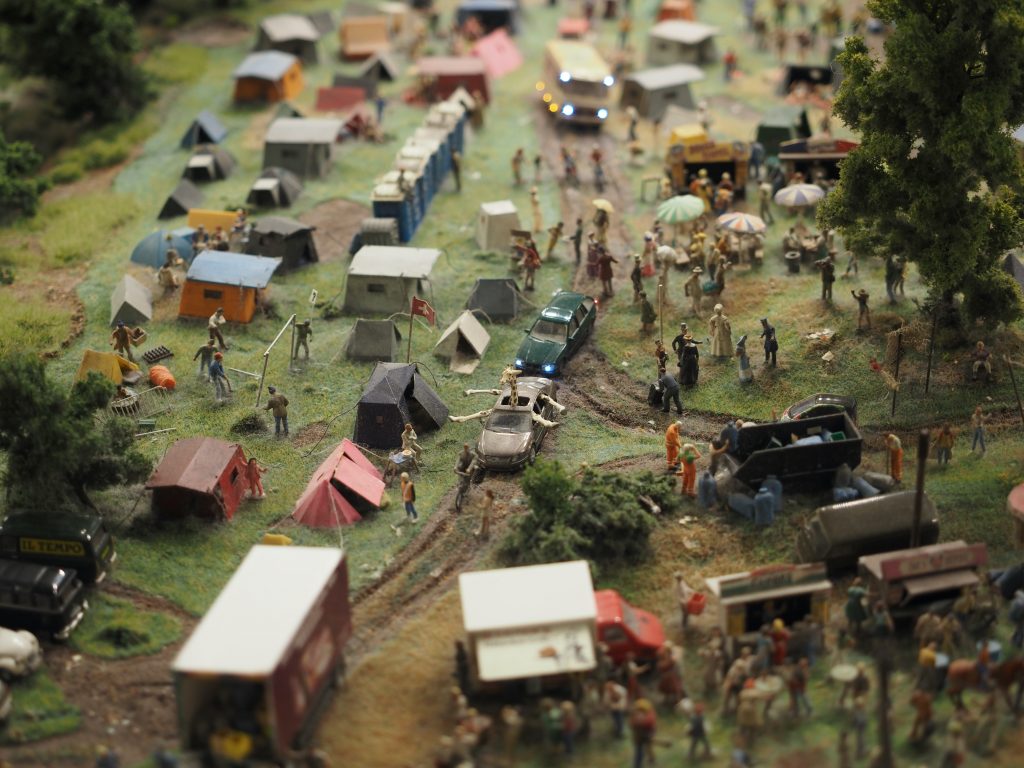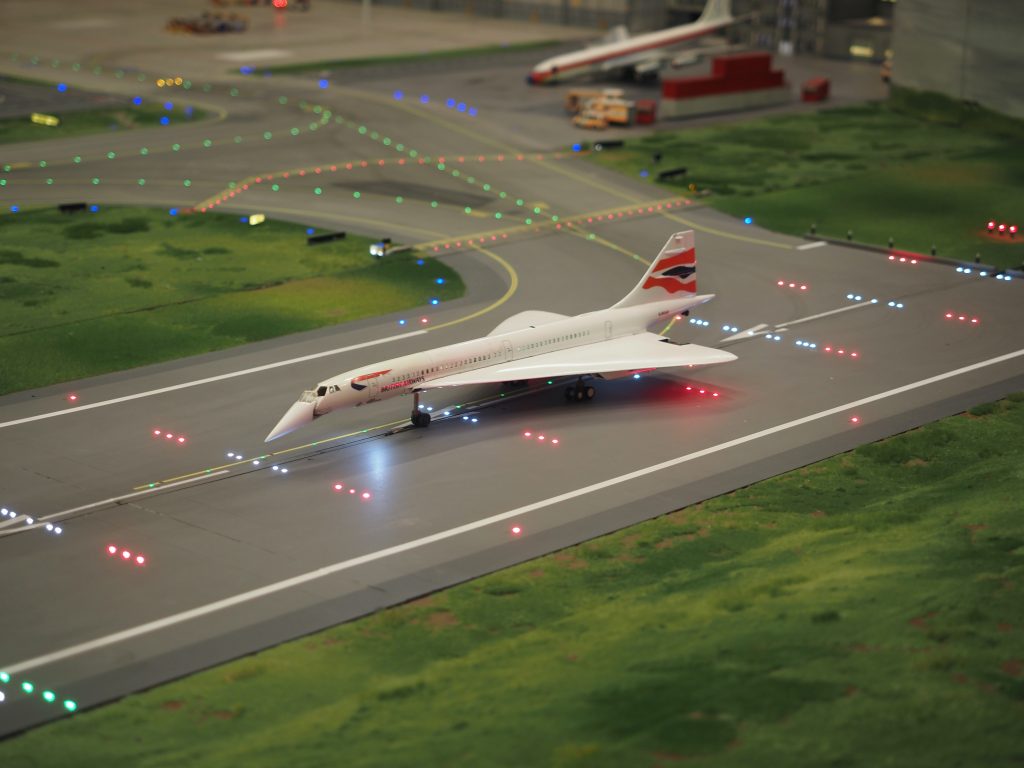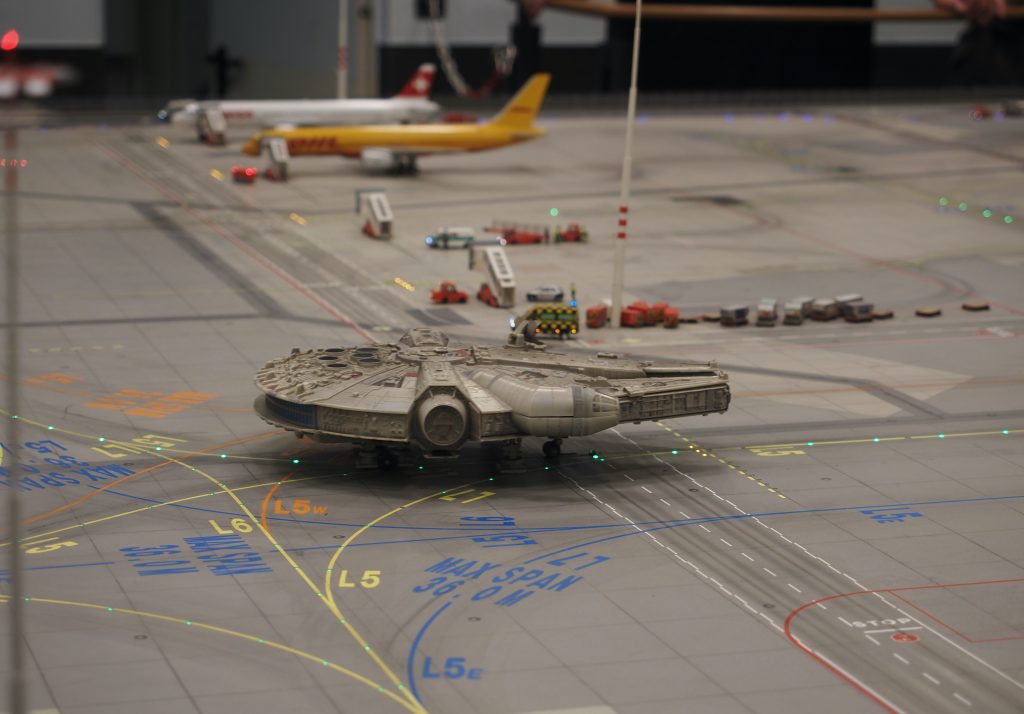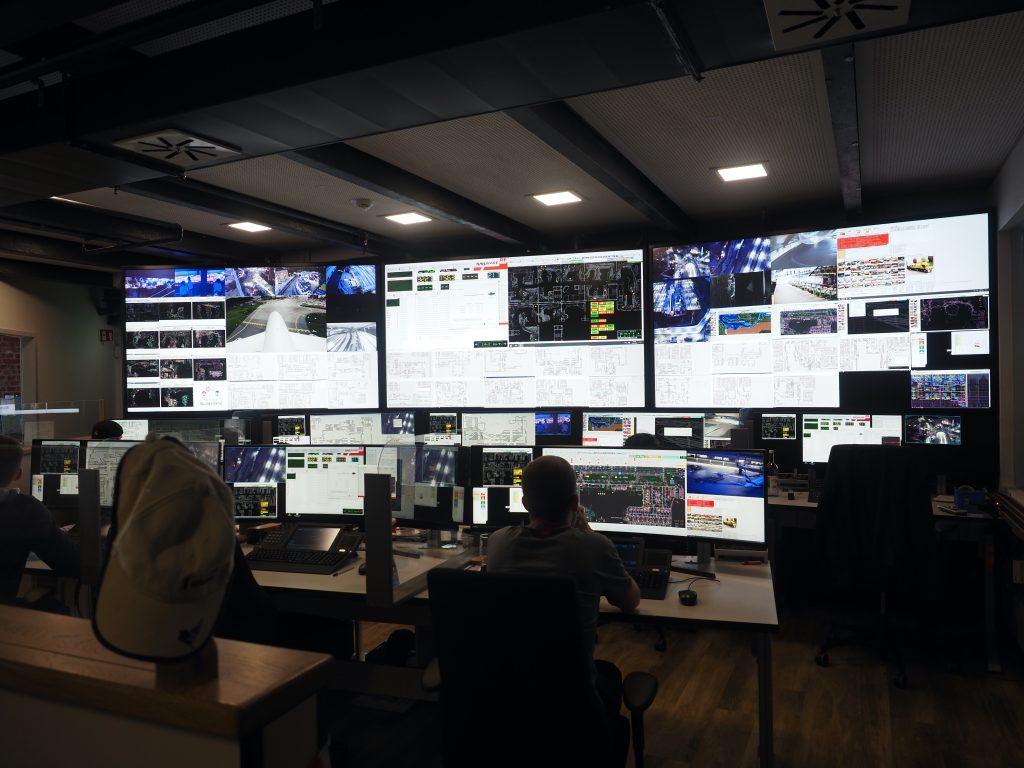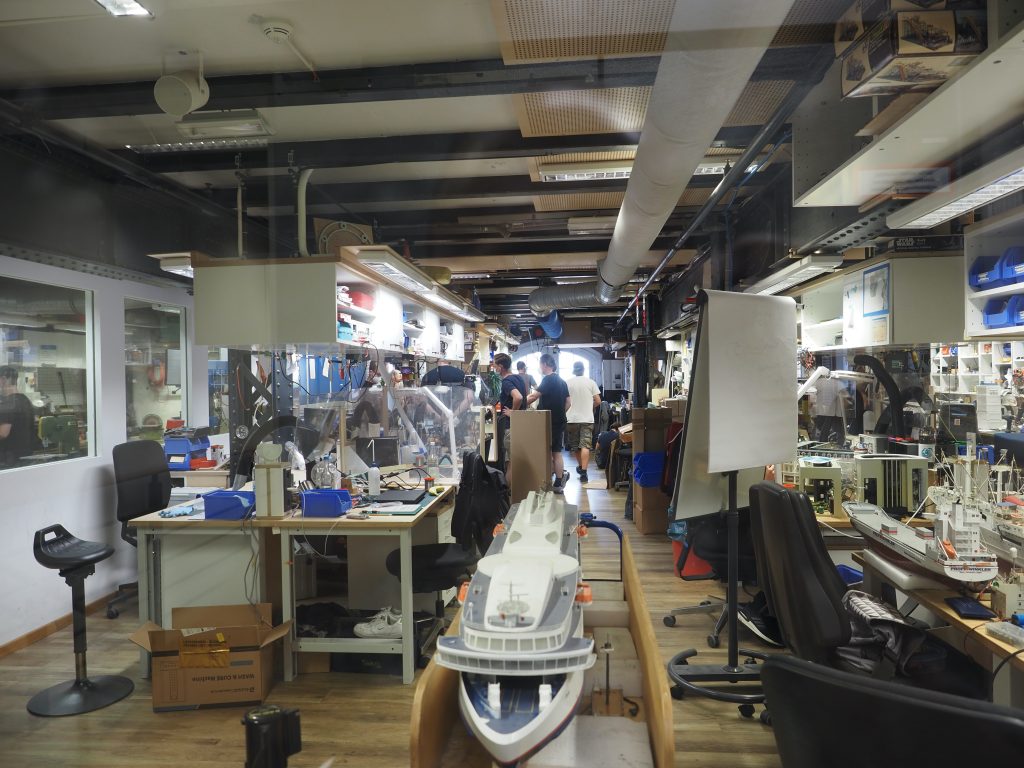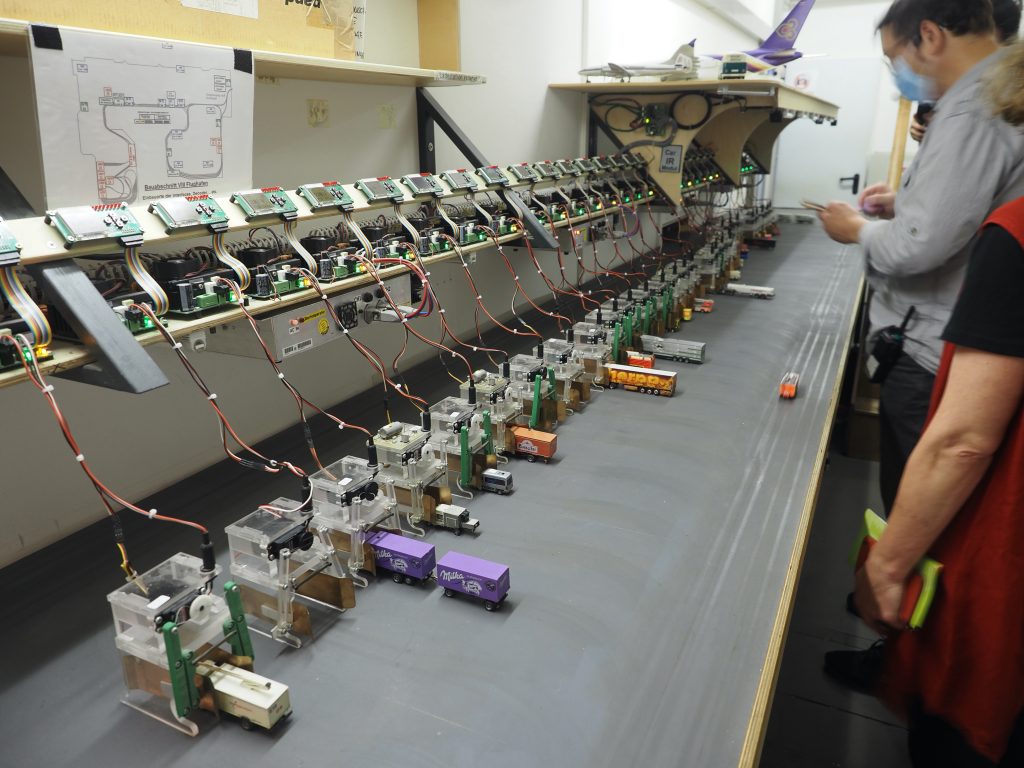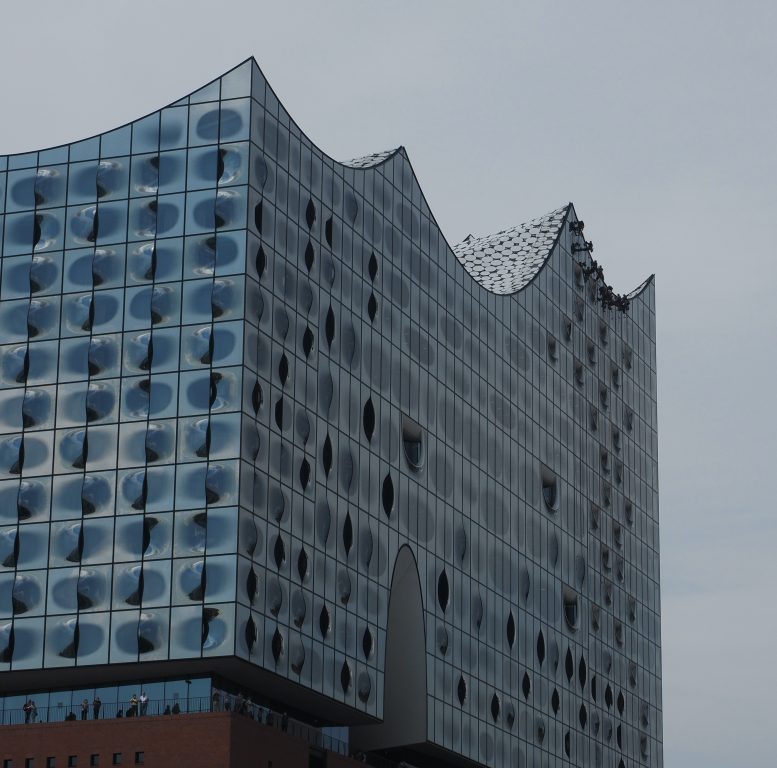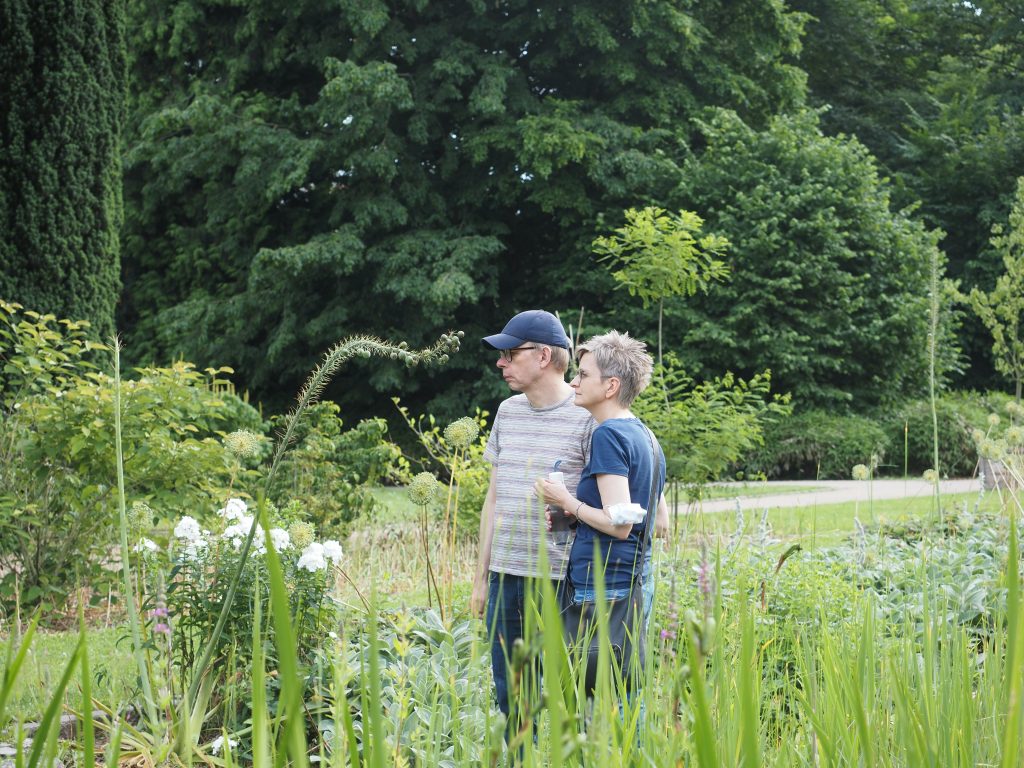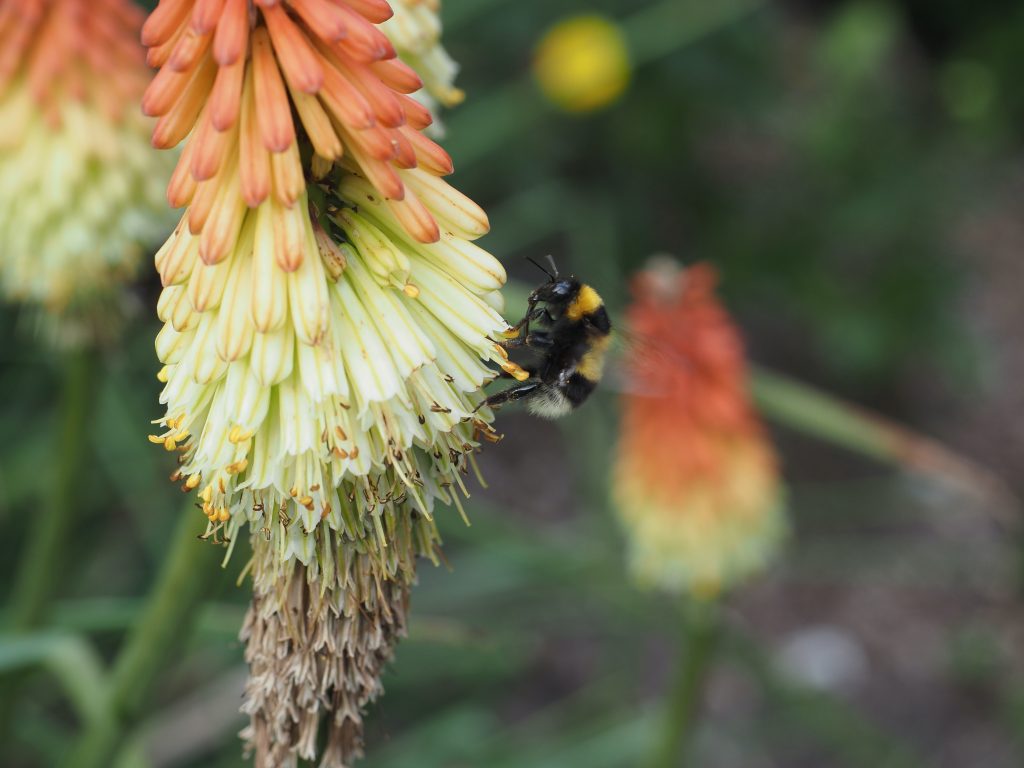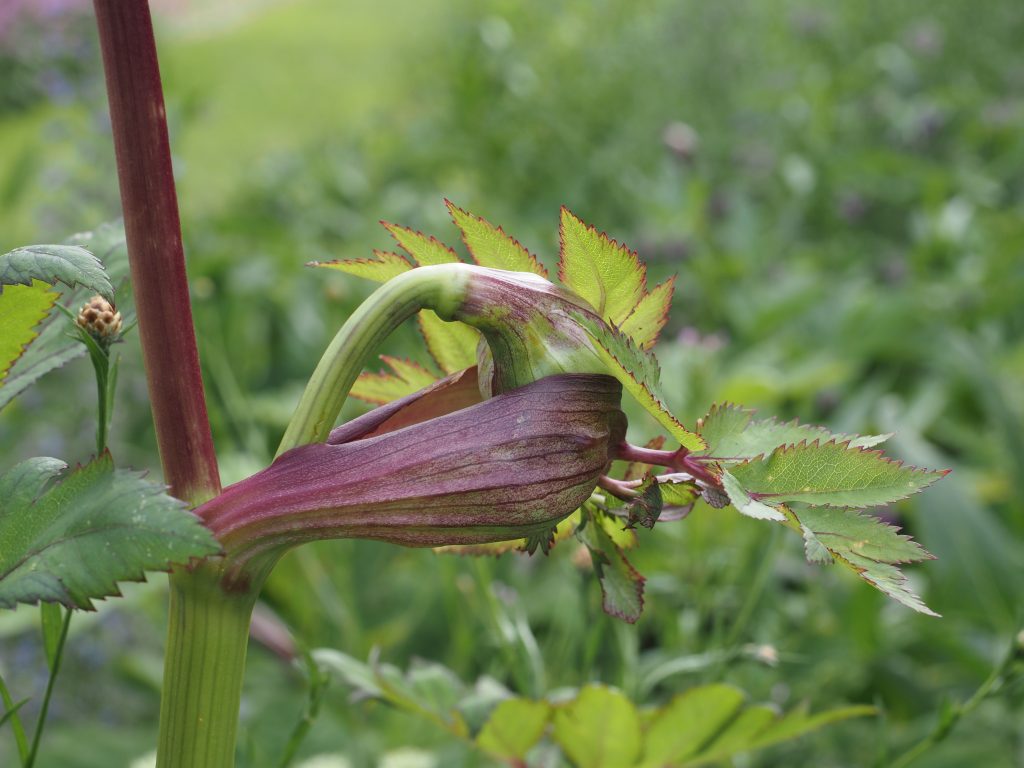 Today was a busier day that I had anticipated! We slept very well–I even fell back asleep after I woke up at 5:30, despite the fact that I hadn't even taken my melatonin! We actually used our alarm to make sure we were up by 7, and that was a good thing! We had a tasty but slightly rushed breakfast, because we needed to be off shortly after 8 to get to the famous Hamburg warehouse district (the Speicherstadt) by 9 am (everything we do here is by public transport, and we have a tourist ticket for the whole week). This district is where one of Hamburg's key attractions is located–the Miniatur-Wunderland, the largest model railroad in the world, over two connected stories of one of the beautiful brick warehouse buildings, now all spiffed up for businesses and apartments, for which the Speicherstadt is famous.
The "wonderland" started as a fairly modest model railroad with commercially available models (which they still use for trains and cars and thousands upon thousands of tiny people, but buildings are now mostly designed and made in their own model shop). But it became a thriving and ever-growing attraction for Hamburg, and is about to have its 20th anniversary this fall. Despite the huge dent that Covid-19 made in its operation and income, it is still expanding, now into a building across the street, with special permission to build a walkway (for people and train tracks) to add more continents and countries (thus far, they have various European countries and the US). They have their own YouTube channel with constant updates, and followers around the world. We have been twice and were not at all sure whether it would already be open again, but Mark e-mailed them and was able to book the behind-the-scenes tour in English that he has been wanting to take for a long time–at 9:40 am on a Monday morning.
The tour was not as tech-oriented as an electrical engineer would want, but still really interesting: the guide took us through back doors and employee paths behind some of the model landscapes and showed us (and a Japanese couple with a teeny baby who slept through everything) all kinds of details: where the extra trains are kept when they are on break, where the little battery-operated cars are recharged (an amazing system) and how the airport with actual airplane "take-offs" and "landings" works. We also saw how they created quite an amazing "flowing lava" effect for the eruption of the Vesuvius that happens in model Italy four times an hour or so. Most of the tour was not quite technical enough for Mark, but some of his burning questions about how things worked were answered, and we had a really good time. Afterwards, we also walked around the Wonderland again–there are always new things to discover, both "easter eggs"–funny little model scenes with the teeny tiny people and cars–that we previously overlooked, and new added models and landscapes (the Provence and Monaco are about to be opened). So we were there until after 11, and then we walked around the warehouse district a bit, admiring once more the big sightseeing attraction at its end, the Elbphilharmonie, today with a group of people who were learning to rappel down the entire length of the building!
It took us a bit to find a reasonably fast way to get back home by public transportation, because the local app that we used for the purpose was a bit confusing, and I got much grumpier about this than I had anticipated, because I was concerned about our delay in getting back to Andrea and Peter's. Also, it was not just sunny, but also hot and humid–none of which are typical traits of Hamburg weather! But eventually, we made it home a little after 1 pm, and had a lovely pasta dinner with zucchini and feta in a creamy basil-lime sauce that Andrea had cooked for us.
Then it was already time to leave again–Andrea and I, who already met in elementary school but became thick-as-thieves friends at age 14, met up with another former high-school classmate from Fürstenau, our hometown, who now lives in Hamburg and whom neither of us had seen in a long, long time. I had become Facebook friends with her a few years earlier, and her dad was technically my dad's landlord for many years (they were fairly good friends), but I don't know her that well. We met at a cafe/restaurant near the Museum of Work in Barmbek, a former working-class neighborhood of Hamburg that is now quite gentrified, but not obnoxiously so, and we sat for a couple of hours and tried to catch each other up on 20+ years of very different lives and paths since our school days. That was fun. Andrea and Barbara have more connection to Fürstenau than I do, because their parents lived there all their lives. Both lost one parent about five years ago (Andrea her dad, Barbara her mom), with the other one still living in Fürstenau, and we talked about both past and present over coffee and lemonade. It was really nice to chat, and the time just flew by, so it seemed like no time had passed when we left after 5 pm to meet up at home with Mark and Peter. They had had the best intentions to work (Mark) and nap (Peter) but instead spent the entire time chatting, too, while we were gone. We then all went for a walk through the neighborhood parks together, enjoying the green everywhere and the cooling temperatures (it had been quite hot today, with one quick but intense downpour while we were having coffee). When we got back, I set up the dinner ("Abendbrot") table while Peter and Andrea went to get some groceries and supplies, and we finally ate at 8 pm–very late for us, but it worked out just right! I am so enjoying the lovely soft cheeses that are just a staple part of these meals, and also the fresh tomatoes and cucumbers. Not to mention that we bought another big basket of strawberries and had those with some cheesecake for dessert. Yum.
Now we are sitting on the balcony, as it is still cooling down but only slowly getting dark, at 10 pm. Even though we can only see other apartments and warehouses, there are also mature trees sandwiched in between these, and we can hear the birds singing their evening songs. It's so great to be here with our best friends.