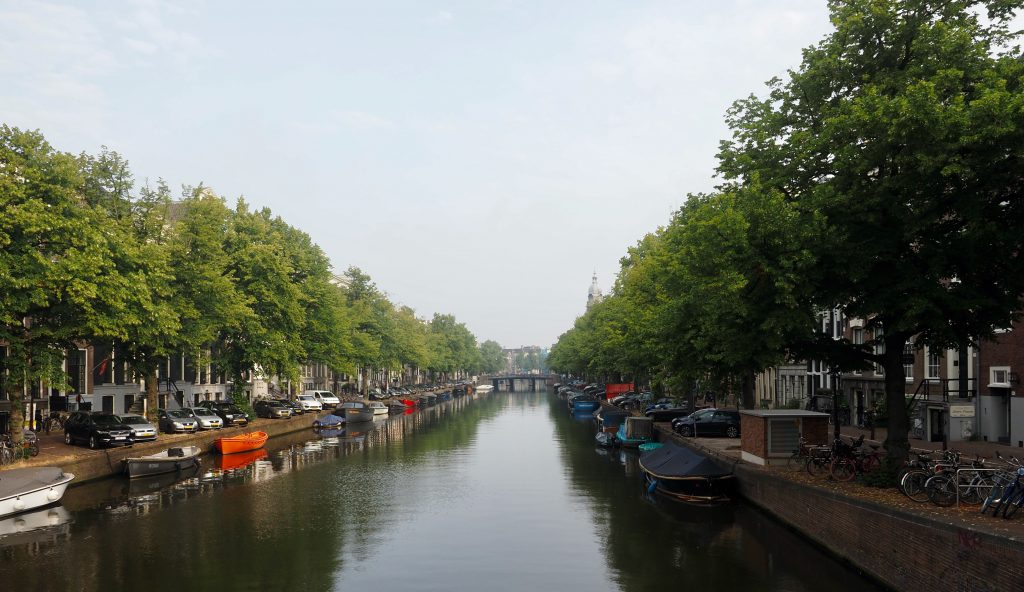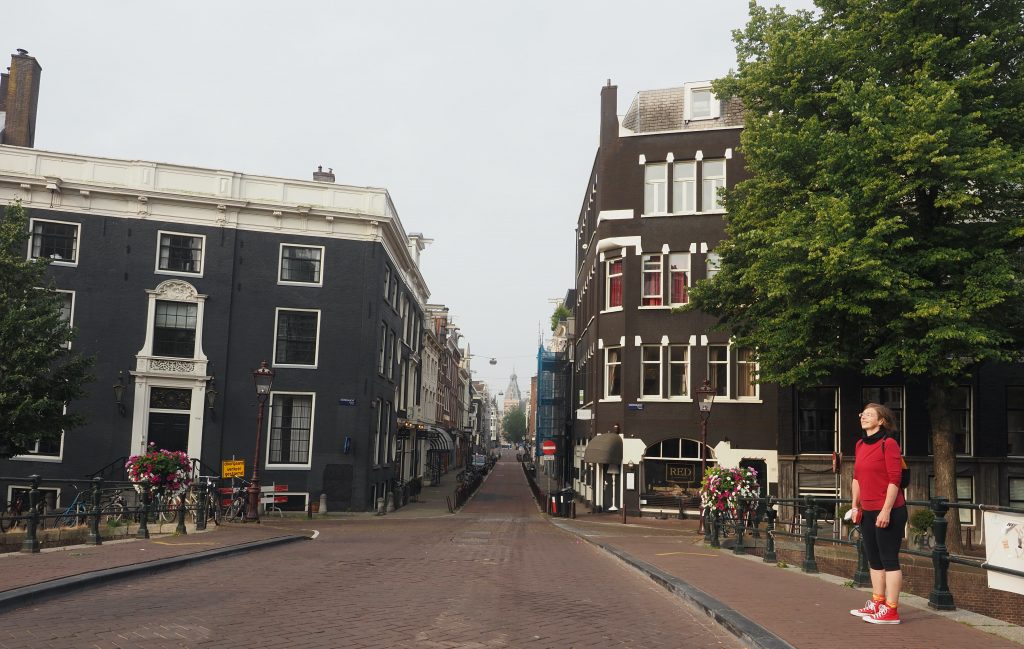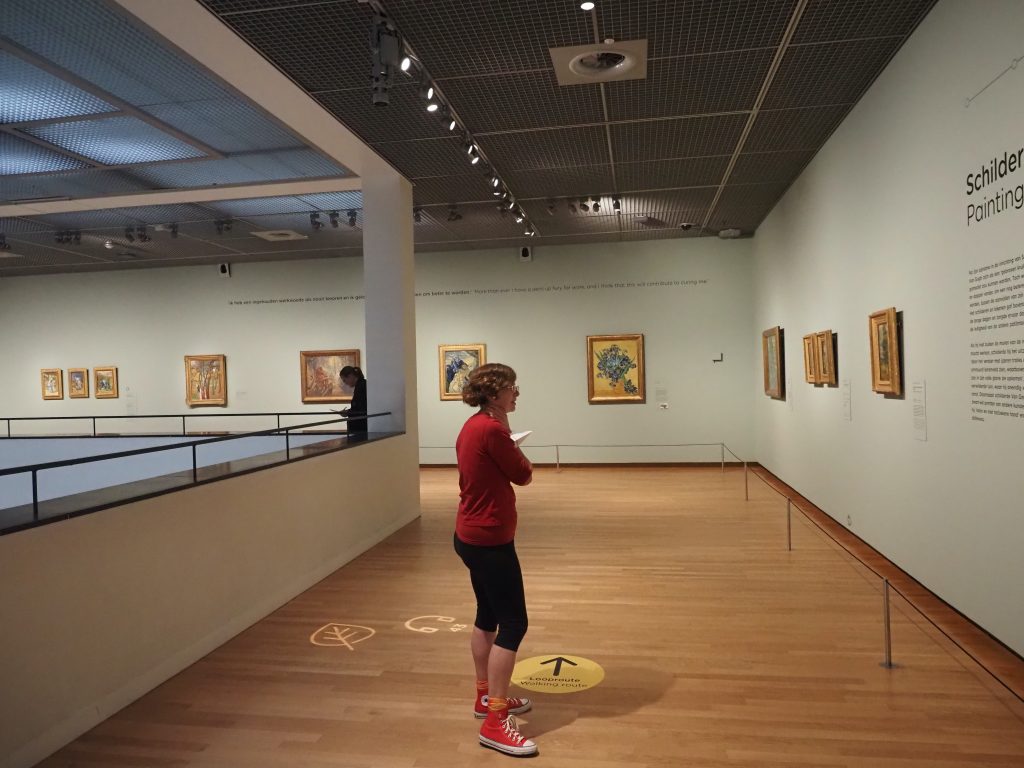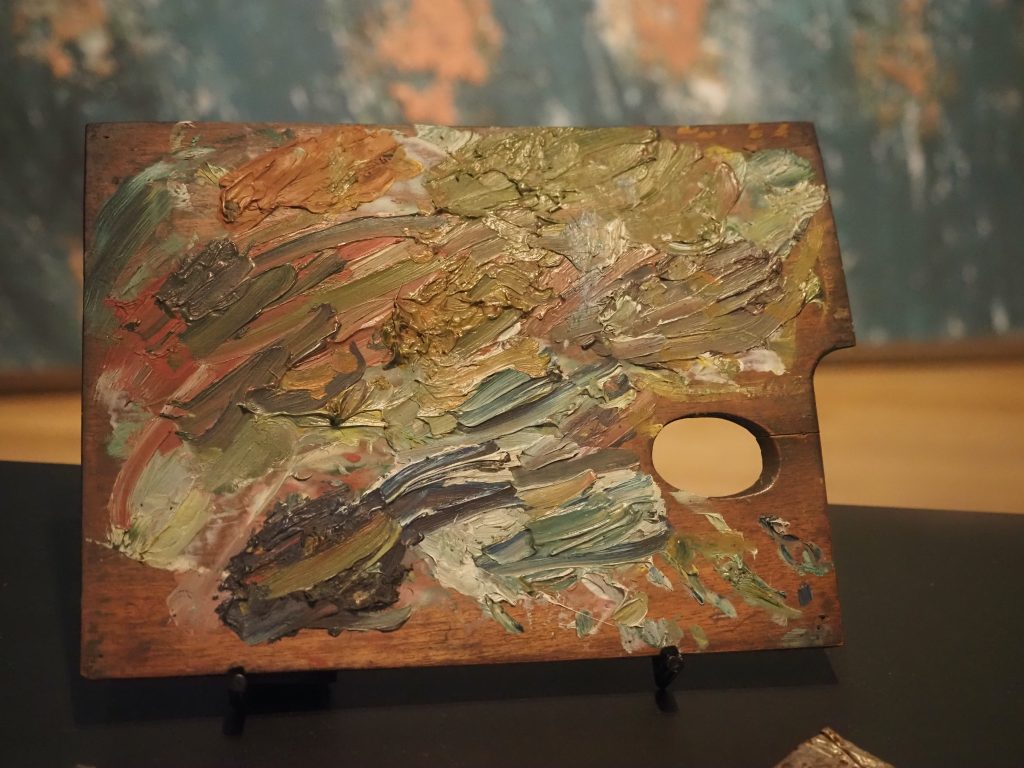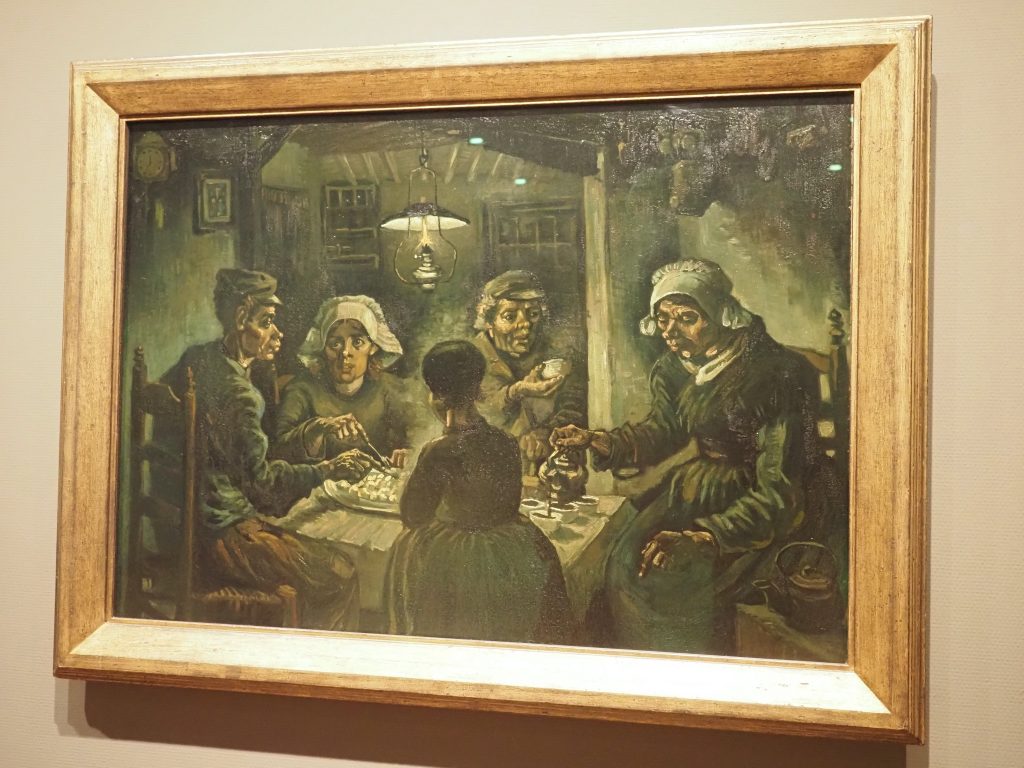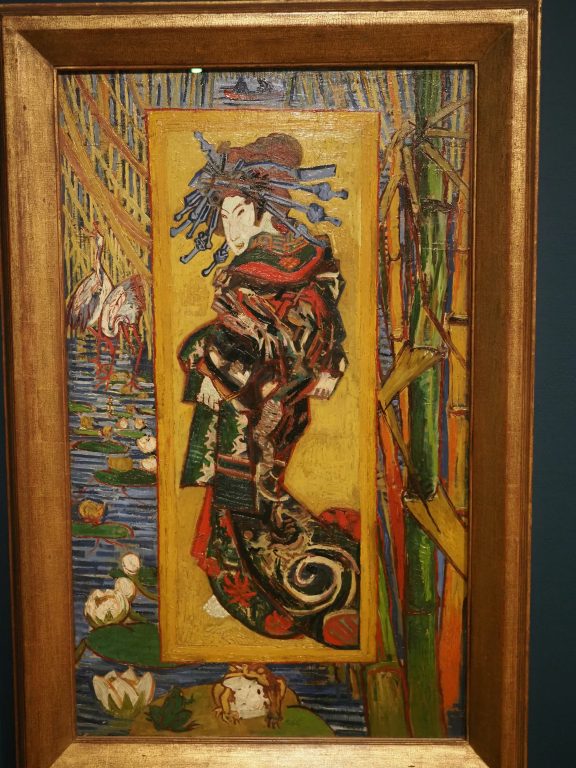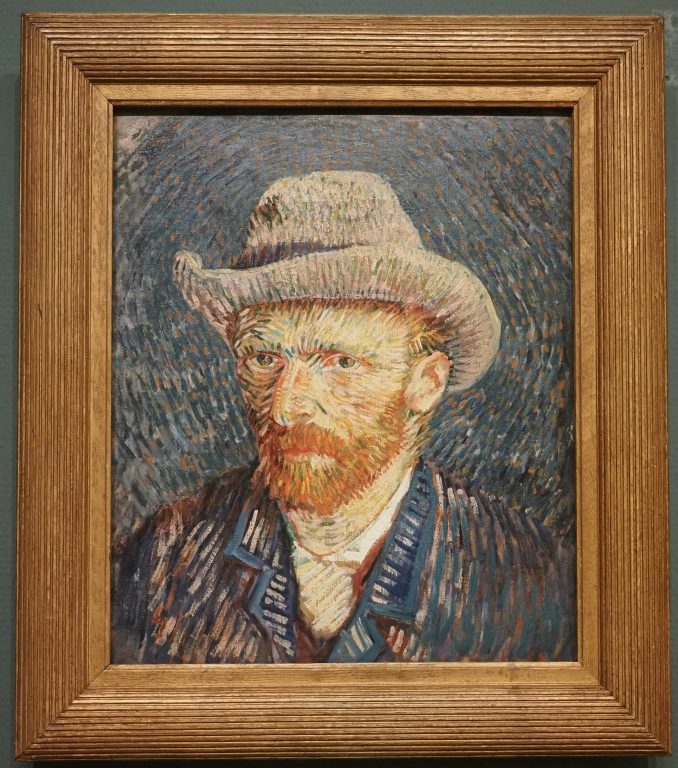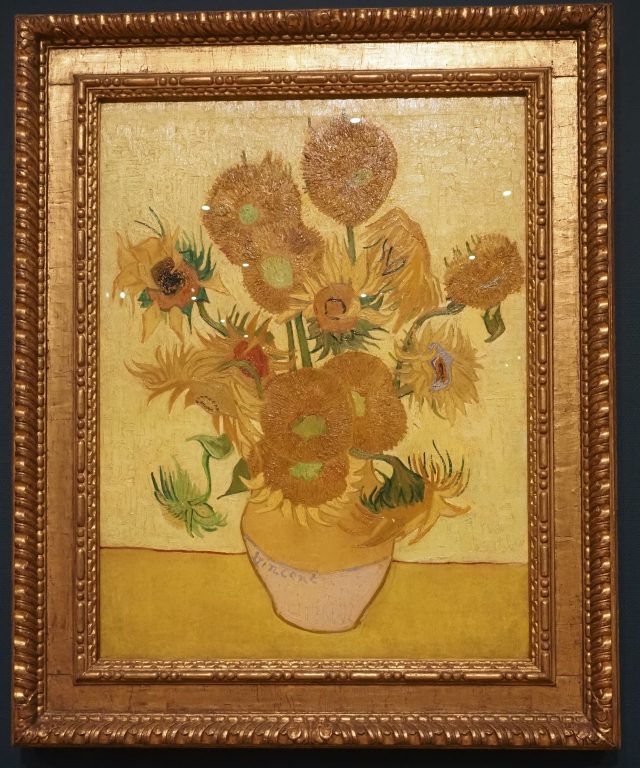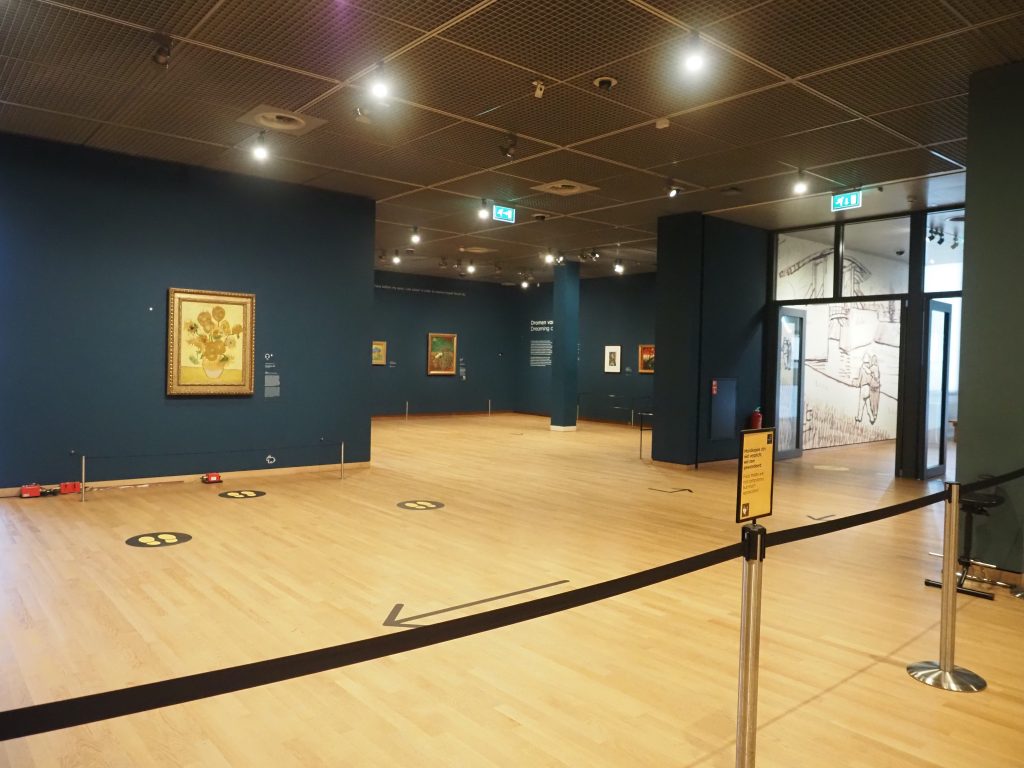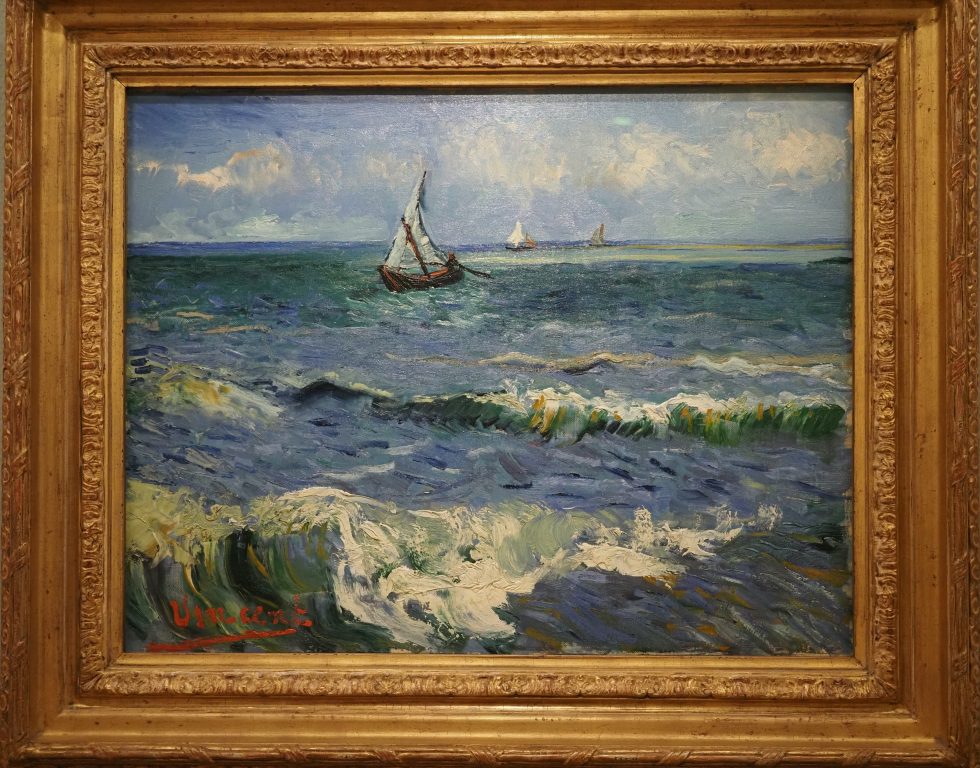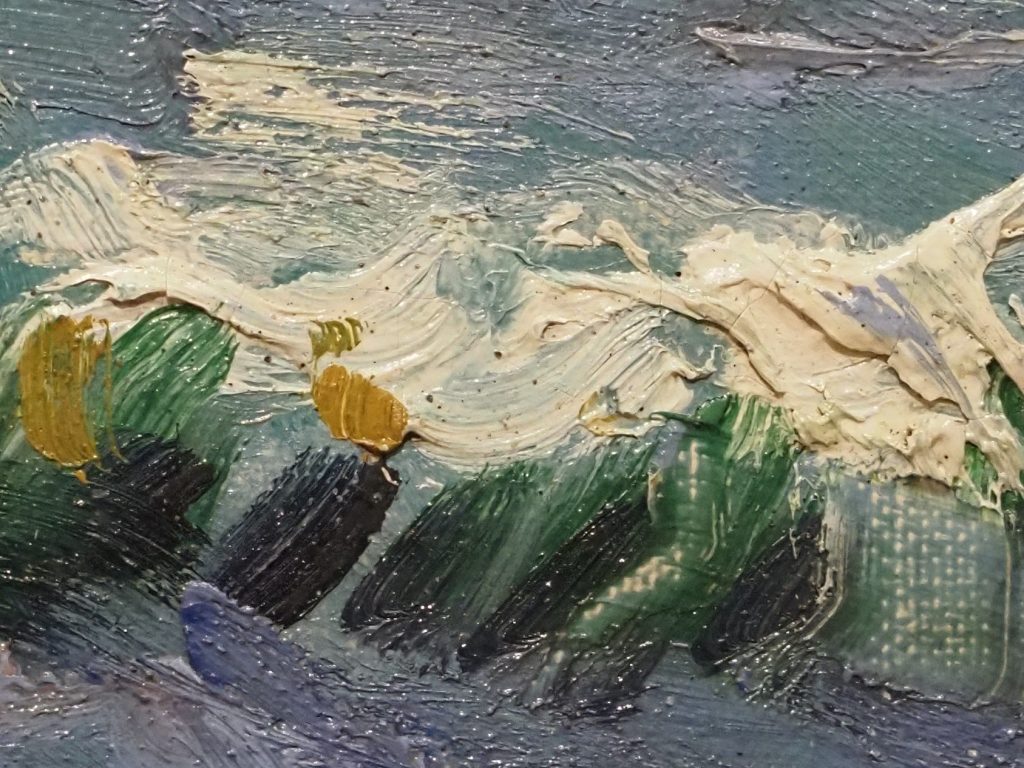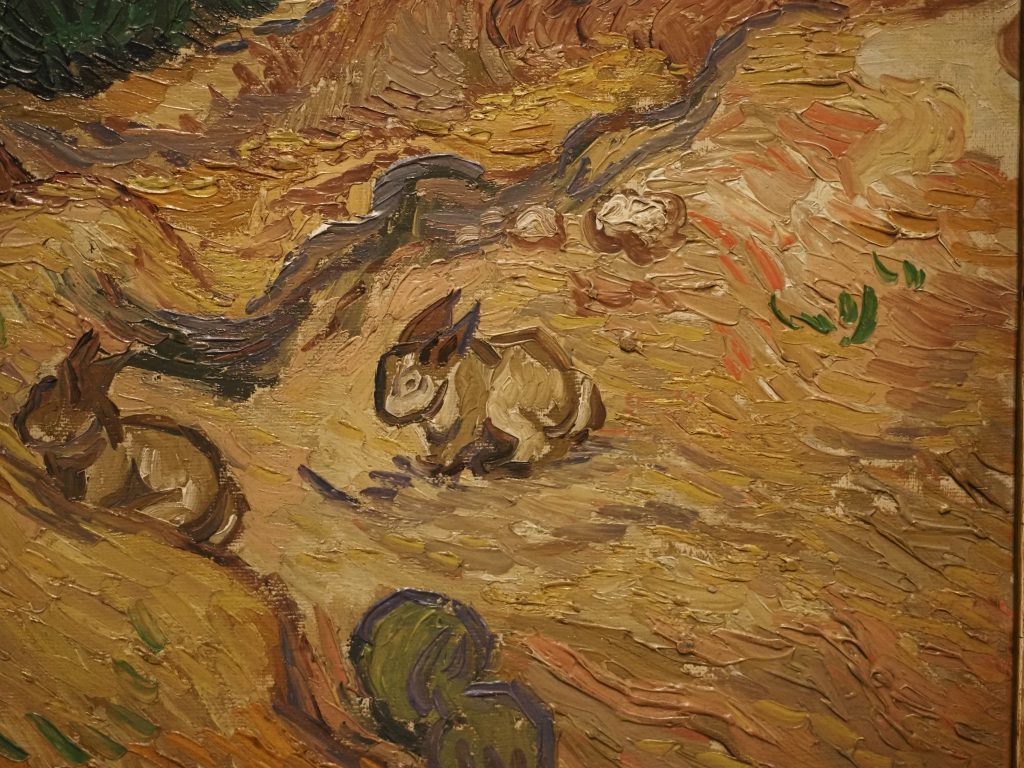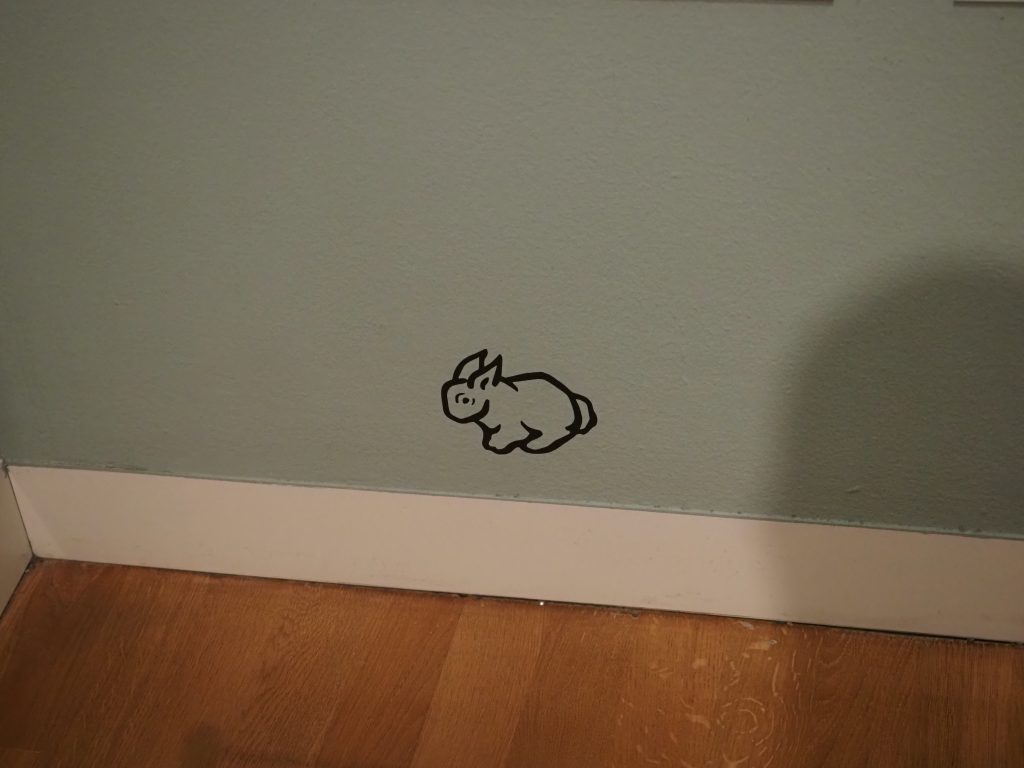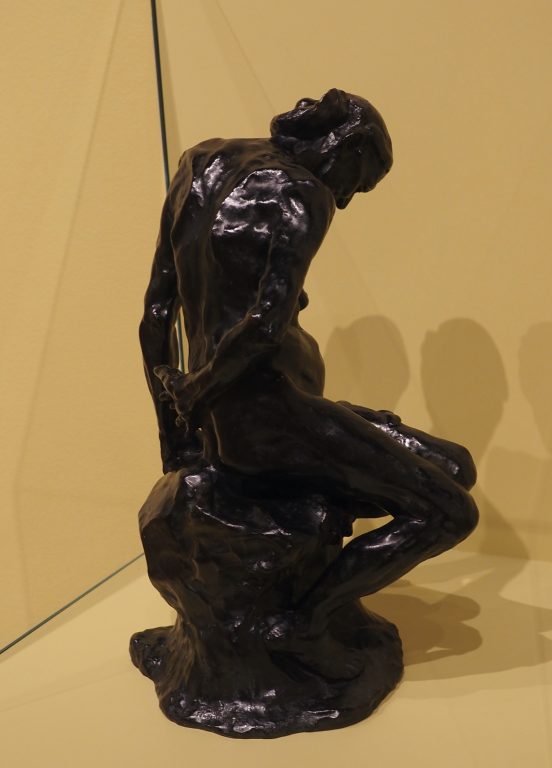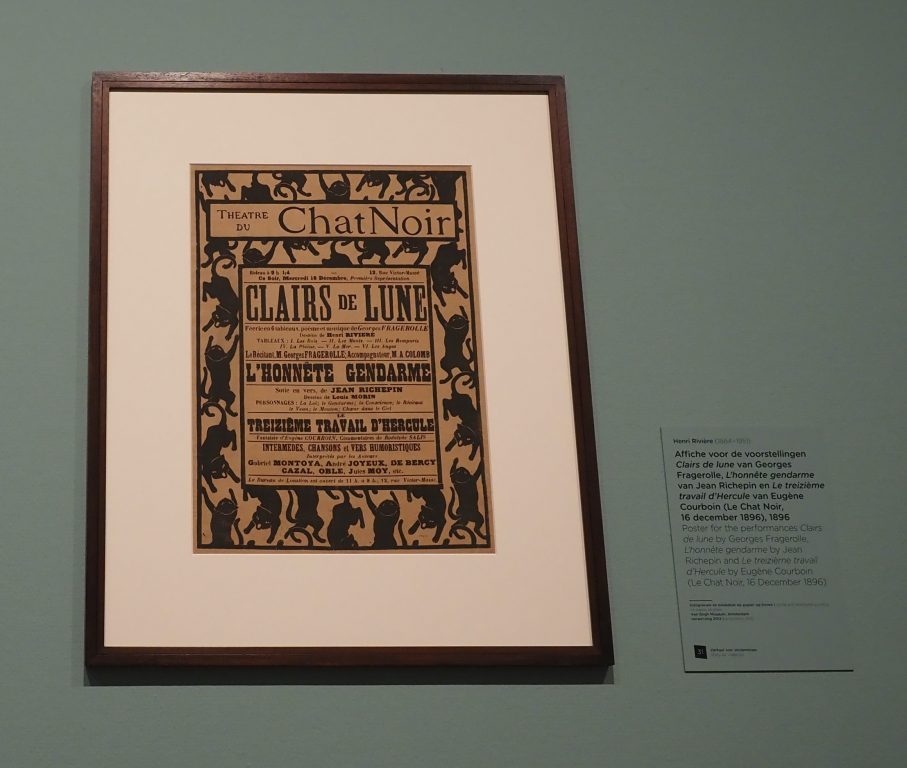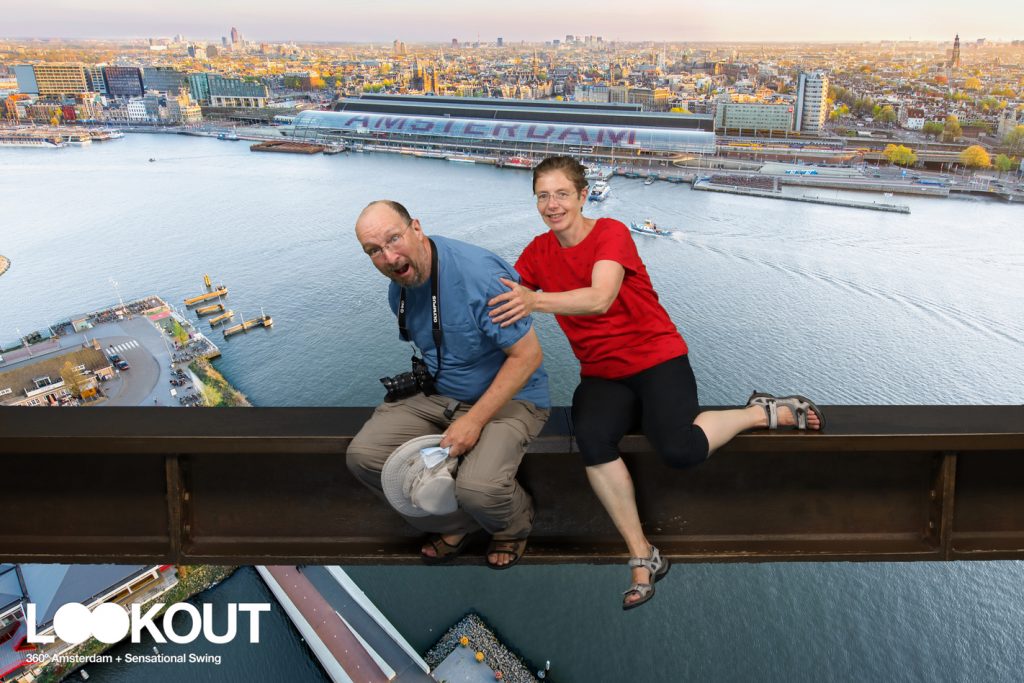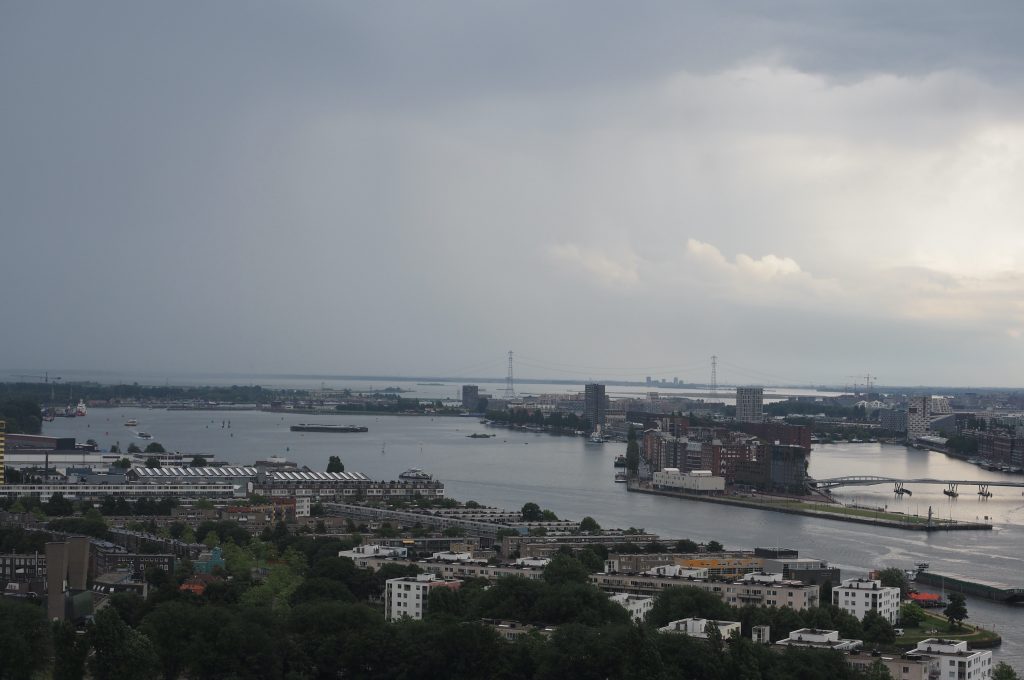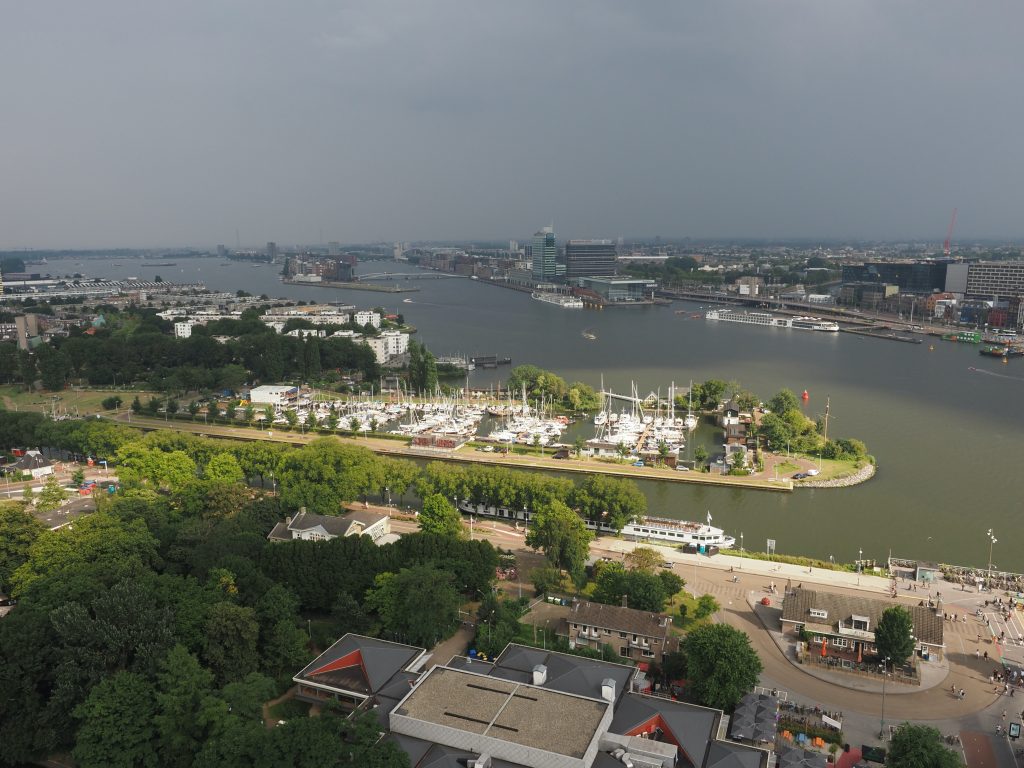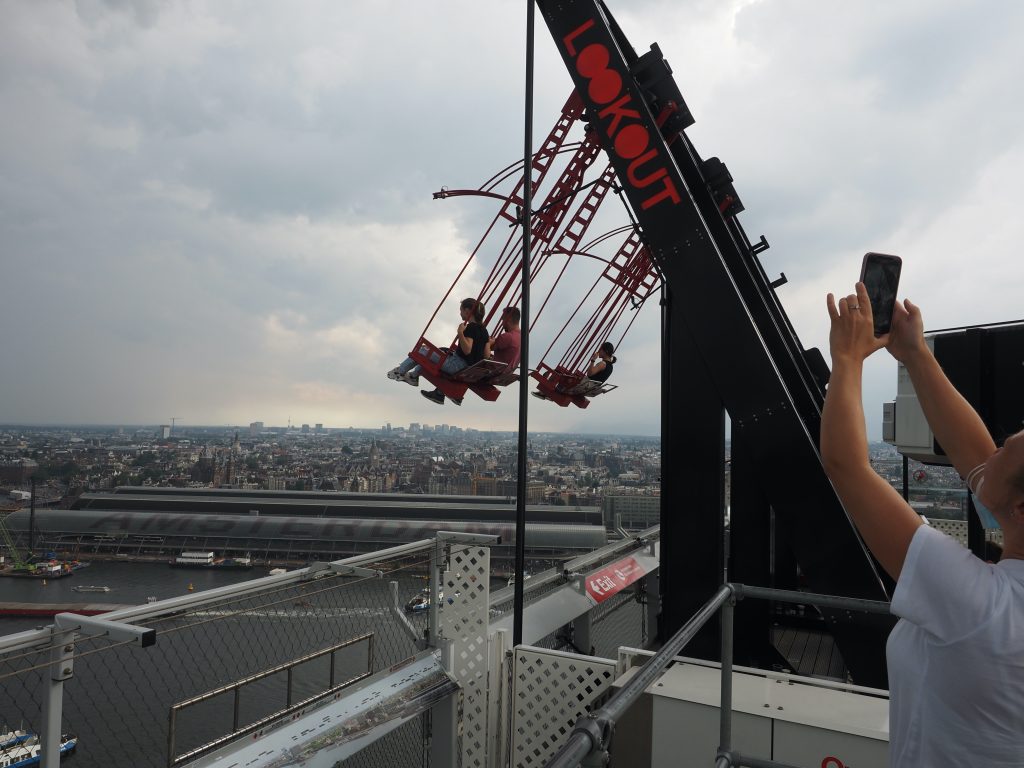 We woke up in Amsterdam! It was very exciting. We had last been here together in 2016, when we combined our Germany trip with a conference commitment of mine, and we were determined to use our weekend here to do all kinds of things we hadn't had time to do–although if possible without massive crowds (or with masks).
Today, we woke up around 6: 30 or so this morning to a bright and ALMOST sunny sky, and got up a little bit after that; I again enjoyed the "gentle rain shower" in the shiny new bathroom with the walk-in shower, and we had tea and yogurt with granola for our breakfast before we took off for today's first main tourist event: We had gotten e-tickets for the earliest time slot for the Van Gogh museum, 9 am. It is a 30-minute walk from here to the Museumsplein, where all the big museums are. You walk all along the canals, and the walk alone was worth the ticket price–the early morning lights, almost no one on the streets–no pedestrians, no bicyclists, no mopeds and no motorcycles. It felt like Amsterdam was all ours, and it was such a huge contrast to last night's packed streets. We walked right past our hotel from the last trip to Amsterdam, at the Muntplein, and then on through the streets with the art galleries and fancy cafes (Spiegelstraat).
When we got to the Van Gogh museum, we still had a little bit of time to walk around the general area, and then we were the second set of ticket holders to go in, after a Japanese couple with two little kids. It was quite empty for the 2 1/2 hours we were there, which is, of course, a completely different experience from the usual, because you could actually stand all by yourself in front of a sensationally famous painting like Van Gogh's Sunflowers or his Bedroom in his Yellow House in Arles, and be all by yourself! The museum now has a loop walk that you have to follow, but when you are basically the first, like we were, that puts you ahead of even the covid-mitigated crowds. It was a good visit–the museum is very well designed, starting with a biography and self-portraits by Van Gogh, and then going roughly chronologically–the early, dark Dutch peasant paintings (most famously The Potato Eaters), the work from Paris (nicely accompanied by work done by painters he knew, like Toulouse-Lautrec and Gauguin and so on), and then from Arles and from the insane asylum at the end of his life. There were lots of little information stations, many with interactive digital displays, where you could see before-and-after details of restoration projects, colors adjusted and not adjusted for fading–even a reproduction of one painting with very thick impasto and one where sand had blown into the paint that we could see under a microscope. Mark loved the sideline things especially–the palette with paint tubes, the box full of balls of wool that Van Gogh used to test color contrasts.
TL/DR about the art at the Van Gogh museum
My knowledge of Van Gogh is only skin-deep for an art historian, but I enjoyed seeing some of the works that I have seen so many times in person and also in context–paintings by realists, impressionists, and other post-impressionists, as well as Japanese ukiyo-e prints were used to show how he was working with and transforming older models. Of course, it was also fun to see the ways he recycled not only motifs but also materials–two portraits were displayed so that you could see the paintings on the back; there were digital versions of his sketchbooks to "page" through on touch screens, and one painting of the garden of the painter Daubigny was painted on a dish cloth. I still like the paintings best that push the colors and shapes most towards expressionism–the Bedroom and the very late painting of the wheat field with the foreboding (or not foreboding, as the signage pointed out) crows and dark sky. The bookshop seemed to be more about gadgets with the cherry blossoms and the purple lilies (pillows, mugs, handbags, scarves, … ), judging from a glance as we walked by.
We also went to the "Here to Stay" exhibit in the new, oval-shaped entrance building, which featured recent acquisitions (with audio commentary by various curators that we did NOT listen to). A few more were sketches by Van Gogh, but mostly they were pieces by other artists that made clear where some of his ideas came from: nudes by various artists of the 1880s–a beautiful Degas pastel of a woman sponging herself off, and also a little Rodin of an old woman, which I had Mark photograph partly because he was such an influence on "my" Meta Warrick Fuller. I also discovered the impressive starkly laid-out black and white woodcut print series Intimités by a Swiss artist named Vallotton, from 1897-98, which had both a comic-strip vibe and a bit of a Beardsley flavor: https://www.vangoghmuseum.nl/en/prints/person/5694/vallotton-felix. We tried to refrain from taking photos in this part of the museum, because we weren't supposed to, but Mark shot one image of an 1896 poster for a Chat Noir theater performance with the camera on his back.
~ End of Van Gogh digression ~
After we had seen our fill, we left and walked back toward the canal rings of the inner city, again enjoying the views along the canals–there is just something about the width of the streets that allows you to see the houses properly without adding the traffice that you would normally get) and had an outside lunch/brunch of a very simple omelette and Dutch apple pancake (which is just like a German pancake, except with the beet-sugar molasses rather than cinnamon and sugar for sweetness). We then walked the streets some more, including along the Singel canal, the "center ring"–a bit busier than earlier in the day, but still doable and gorgeous. Again, we enjoyed watching people (especially bicyclists, including those with more than one kid as passengers on their bike), looking for the most crooked and narrowest canal houses, and admiring the flowers and shrubbery that, although in pots, make up little tiny front yards for some of the houses–currently with tons of hydrangeas, which love the temperate and humid climate. Eventually, it got full-on sunny and warm enough that we started walking in the shadow of buildings since we did not expect to be that warm, and we walked back to the hotel for a little break (with air-conditioning for Mark!).
The next adventure wasn't so exciting: Covid-tests at 4 pm, required for our flight back, but with our appointments all set up (made on-line before we left) and a testing center within 3 minutes of our hotel, it was really not a big deal. Fingers crossed that we have not been dragging along a breakthrough covid case that is so light we don't even notice it! We are supposed to have results back within 24 hours via e-mail–let's hope that works as well as it's advertised.
After our test, we went in search of Belgian fries, which are like Dutch and like German fries, really, but sometimes a little thicker in cut and therefore famous. The key is to have them with ketchup and a creamy mayonnaise, which for me embodies the "real" taste of French fries. We shared a large portion and thought it would do for an earlier dinner (but truth be told, we later had all of the trail mix my mom had given us for our trip, because it didn't quite hold us over!). Then we headed across the Ij, the body of water that forms the Northern limit of downtown Amsterdam–with the harbor to the one side and a large inland body of water on the other. There is no bridge across to the other side (cars use a tunnel, and pedestrians and bicyclists use free ferries that take about 5 minutes to cross and go all day back and forth without any wait time. We'd been over there before to see the EYE, the ultramodern film museum and art film movie theater, but this time, we decided to do something else–go up to floor 22 of the "A'dam" (short for Amsterdam) tower that has a viewing platform on the top (also swings that go over the edge–guess who didn't really want that experience? I am all for looking down from great heights, but my biological instincts keep me from being directly OVER those great heights). We had a really good time on the top deck until a brief rainstorm came through, but there is a glassed-in portion just below, and we even got to watch a short time-lapse computer simulation of the growth of Amsterdam's canals between 1500-1700, which was fascinating (and accurate, made by the city museum's historians and archeologists). We stayed for almost two hours and then went back to our hotel for a bit (and gobbled down aforementioned trail mix).
We ventured out after a short rest in the hotel room, because we had decided that for once and for the first time in each of our lives, we would go watch a live sex show (Cirque de Soleil's erotic show doesn't count; we did see that together, but it is quite harmless). Don't worry, there's no detailed description to follow, but since we are only two blocks from the red-light district and walked through it multiple times of day, we got curious enough to do a little research online about the kind of show that travelers on various sites like trip advisor recommended as couple-friendly, not violent and not outrageously sexist–unless you think of the whole red-light district thing as sexist, which it arguably is, but the sex workers here have fairly good protection against financial exploitation, as far as I know, and I hope the artists who perform get a decent cut of the ticket price). We even found an interview with two of the artists, a couple, who have performed in this particular show for over a decade (MULTIPLE TIMES A DAY, enough said). So we picked this show. It had both female strippers and straight couples, but no male strippers and no same-sex couples (I think at some point the sizable LGBT community in Amsterdam put a stop to exploiting same-sex erotic displays for thrill-seeking straight tourists, along the lines of "Yes, I am and no, you can't watch"). The advice was sound, and since it was also not crowded (lots of seats blocked because of Covid restrictions, self-imposed by the establishment), we had a good time, and what we saw was what you would expect, but also gave us things to talk and wonder about. I still don't understand why women would take every stitch of clothing off, but leave ther high heels on. (If you are curious about anything else, you can ask us.)
And after all that, we made our way back to the hotel when it was still light outside (sunset is still not until almost 10 pm). It was certainly a very Amsterdam day, even without pot and without drinking, and with a covid test in the mix.