Our day started early again: by 7:30 am we were on the road to find a good hiking spot. We had one in mind that was fairly close (we really wanted to spend just a couple of hours, while it was still lovely and cool), but it looked disappointing as we approached it, so we decided to go through the San Augustin pass across Las Cruces' backyard ridge, the Organ Mountains, and approach the same spot, Baylor Pass, from the other side of said mountains. We drove about 45 minutes to a wonderful little campground/trailhead called Aguirre Springs (don't hold your breath, there is no water anywhere here; it has not rained for weeks) and hiked a very easy 4-mile out-and-back trail to Baylor Pass. It was wonderful to look up at (small-ish) mountains and down into ravines and across the valley to the West, with a peek at the White Sands (gypsum dunes) in the distance. We also had fun spotting lizards, butterflies, and the occasional bird in the plentiful desert vegetation that can withstand this level of draught and still bloom–which never ceases to amaze me. At the pass, we got the gale force of the powerful winds that are usually blocked by the mountains, and a beautiful view of the valley that Las Cruces sits in, framed by cliffs.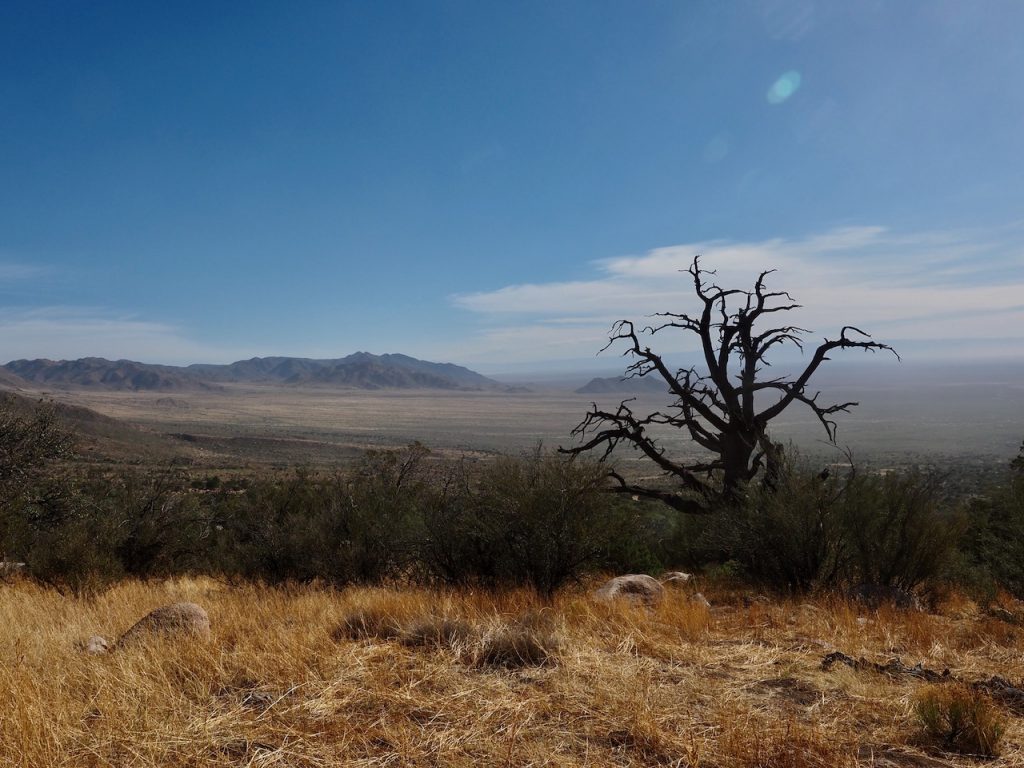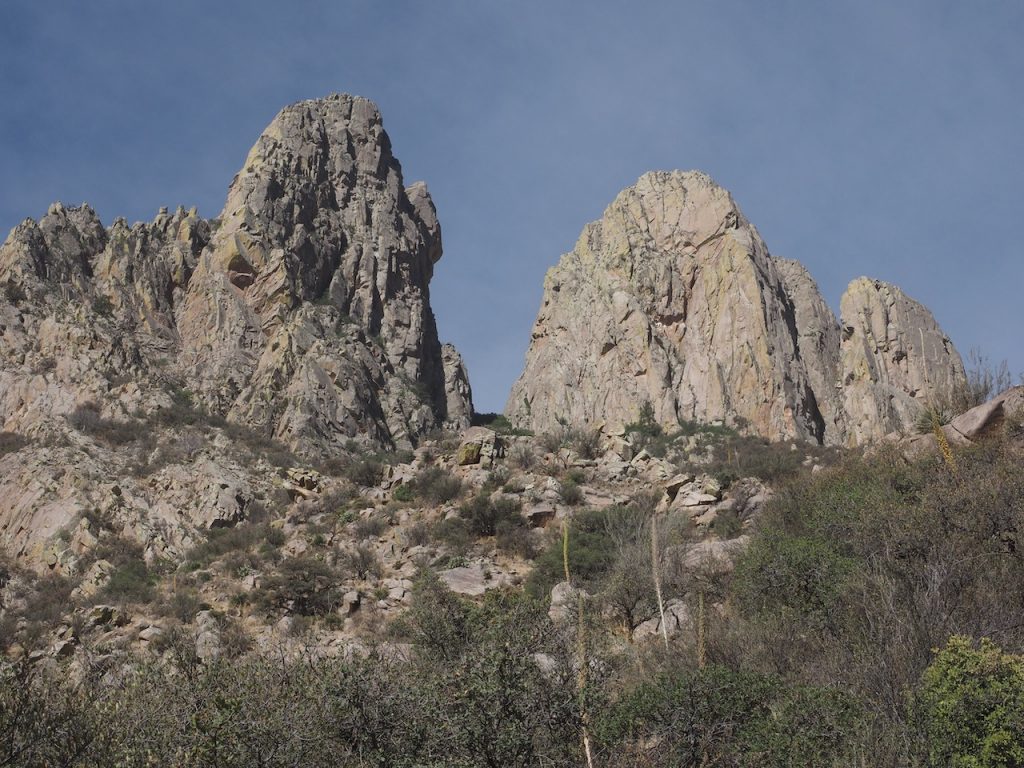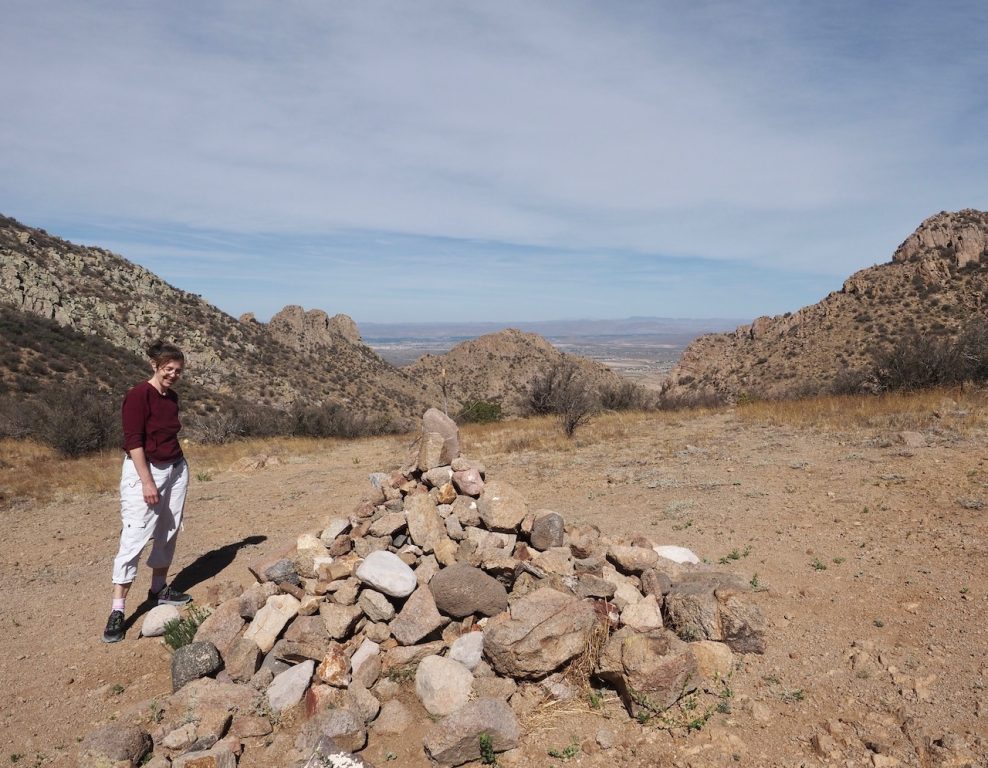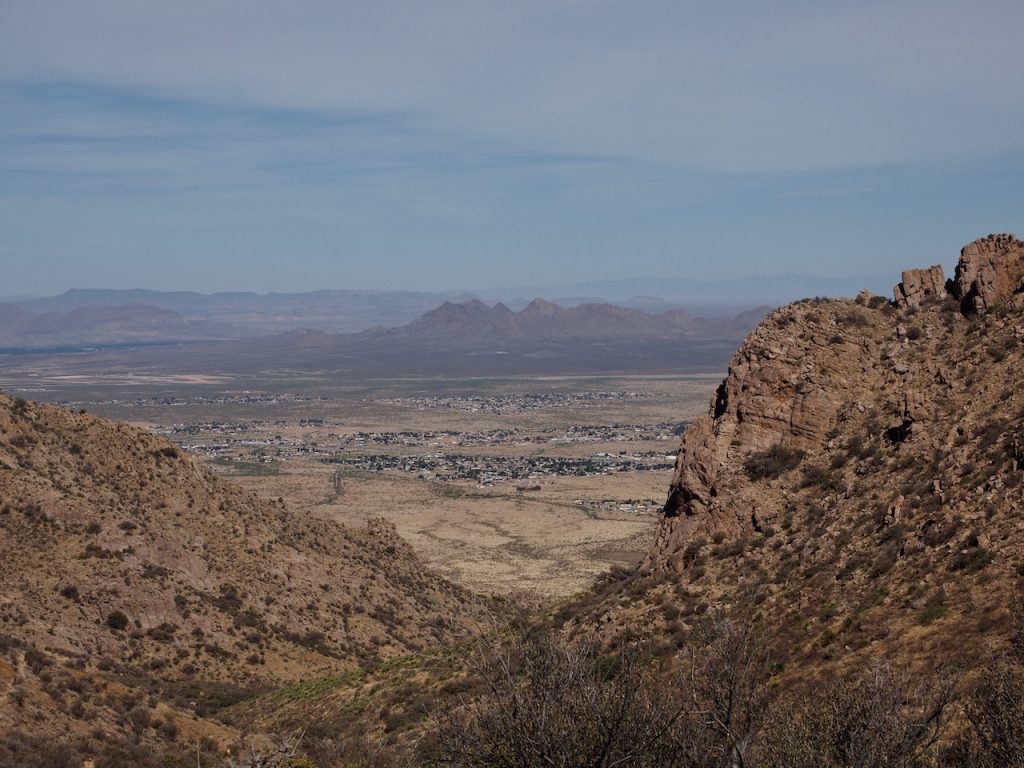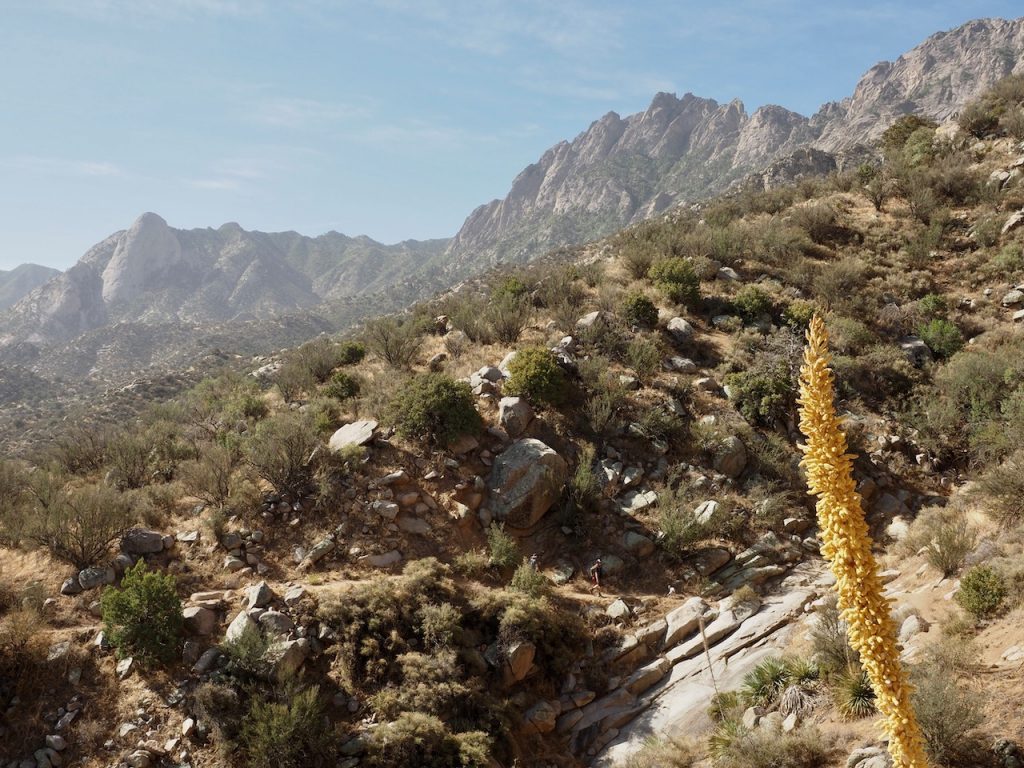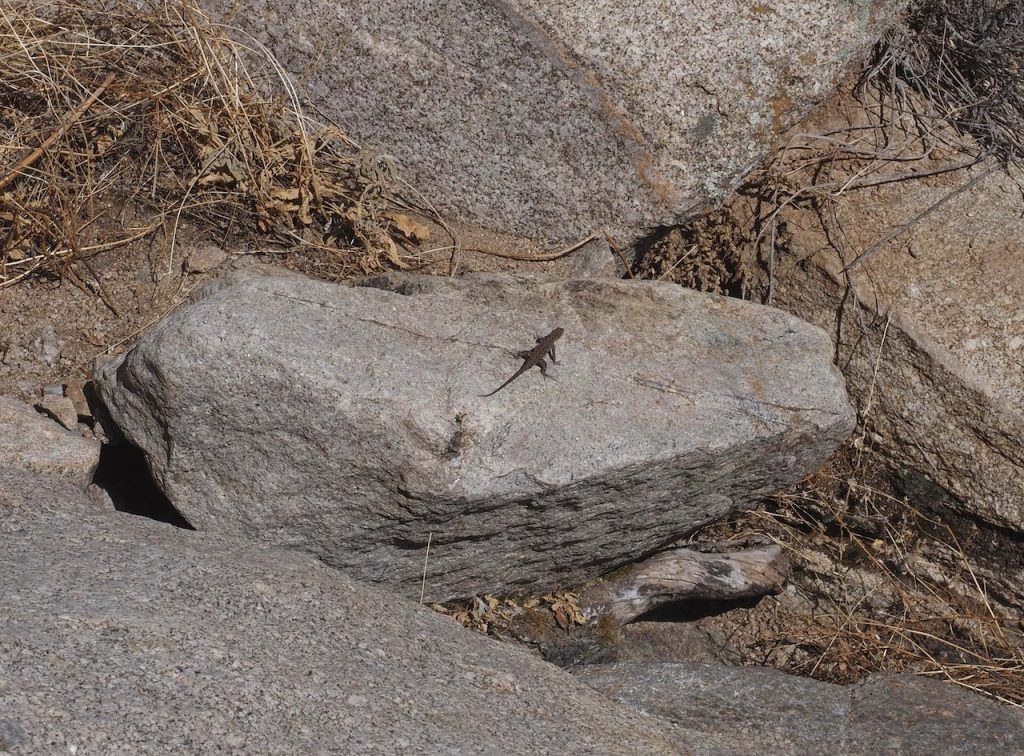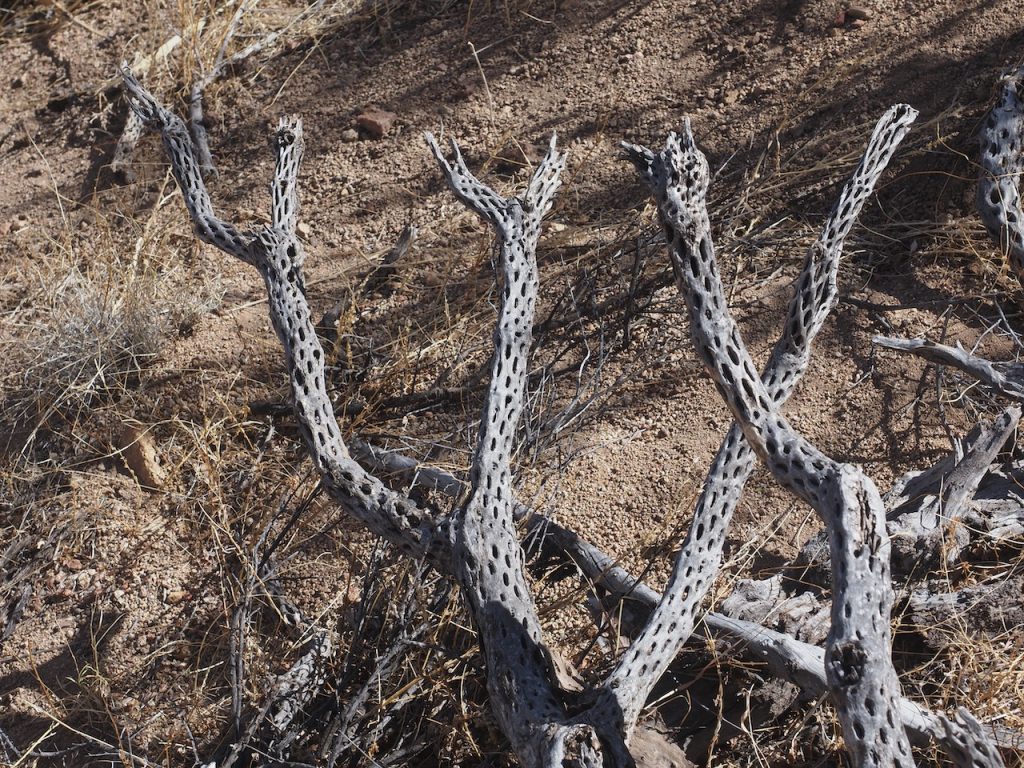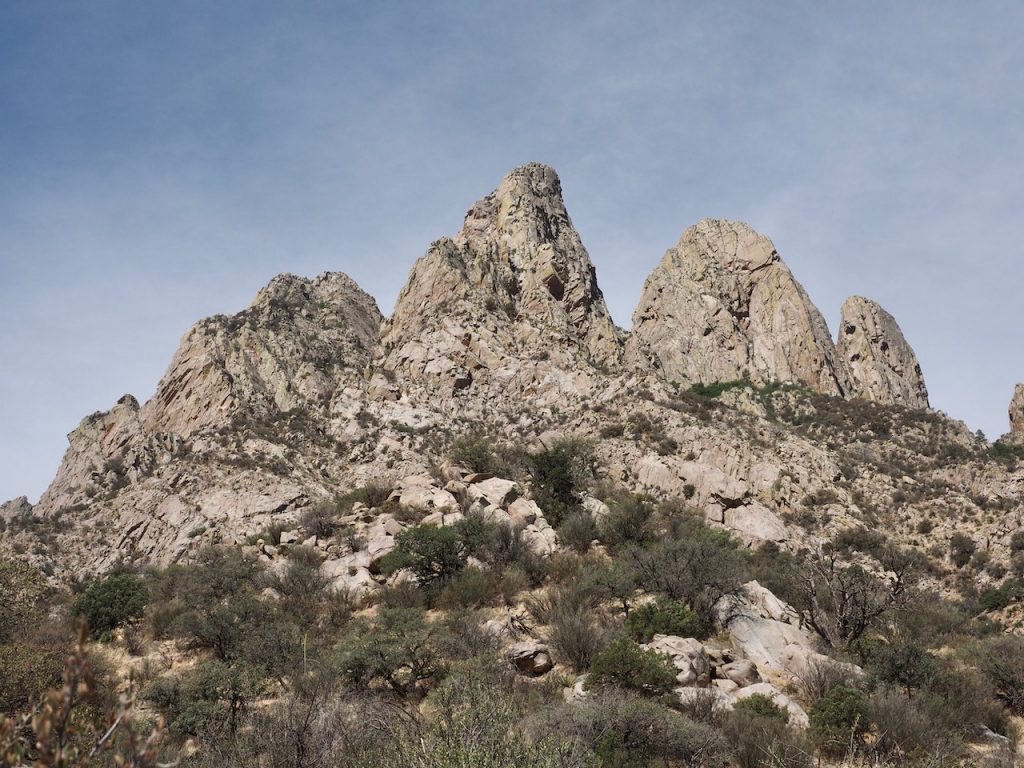 There were few hikers around (which surprised us a little); by the time we returned (it took us about 2 1/2 hours), we had probably encountered a half a dozen. Truth be told, though, our hiking skills have atrophied a bit. We brought the essentials–two big bottles of water, sun screen, sneakers rather than sandals, and of course Mark's Tilley hat, which is always part of every trip. But the next-most-important things all got left behind: granola bars, walking sticks (which are in the car!) and some bandaids in case of skinned knees or cactus pricks–thankfully, we needed neither the bandaids nor the walking sticks, but jeez! We felt like we had our training wheels back on after five years with only the lamest, flattest hikes around Lincoln and the Platte (not named this for nothing).
It was only about 10:30 when we returned, and so we just picked up minimal set groceries for a simple lunch at home–melted cheese on ham, which we put on our friend Randy's incomparable bread, with a few slices of tomatoes and cucumbers. I washed out a few pieces of clothing (we were not to realize until our departure that we had access to a washer and dryer outside of the casita, near the owners' other rental). They dried super quick outside in this heat, as Mark took a little nap. Around 2 pm, we ventured out into the heat (lower 90s, but felt mercilessly hot), on a mission to have gelato and sorbet again. We also caught the tail end of the market that happens every Sunday on the Mesilla town plaza–but there were really only tchotchkes and some honey for sale, and although it was quite a bit busier than the day before on the plaza, it was still just the usual window shopping thing that we are not really into. We decided to cool off a bit more at the casita and didn't go back outside until about 3:30, and then we drove the mile or so from our home base to the Rio Grande, or, as it is more usually known, the Rio Sand, and walked right into completely dried out bed. We learned from our friends that there is only one major water release per year for the Rio Grande, in June, and that it is exclusively for irrigation purposes–all the pecan tree groves and even, I was surprised to learn, water-sucking cotton fields–and once it is gone, it is gone. It was very striking and pretty depressing to see a permanently dried-up river bed; we also took a quick peek at the campus of New Mexico State University, which looked like a typical land-grant campus to us, except in adobe instead of the midwestern brick.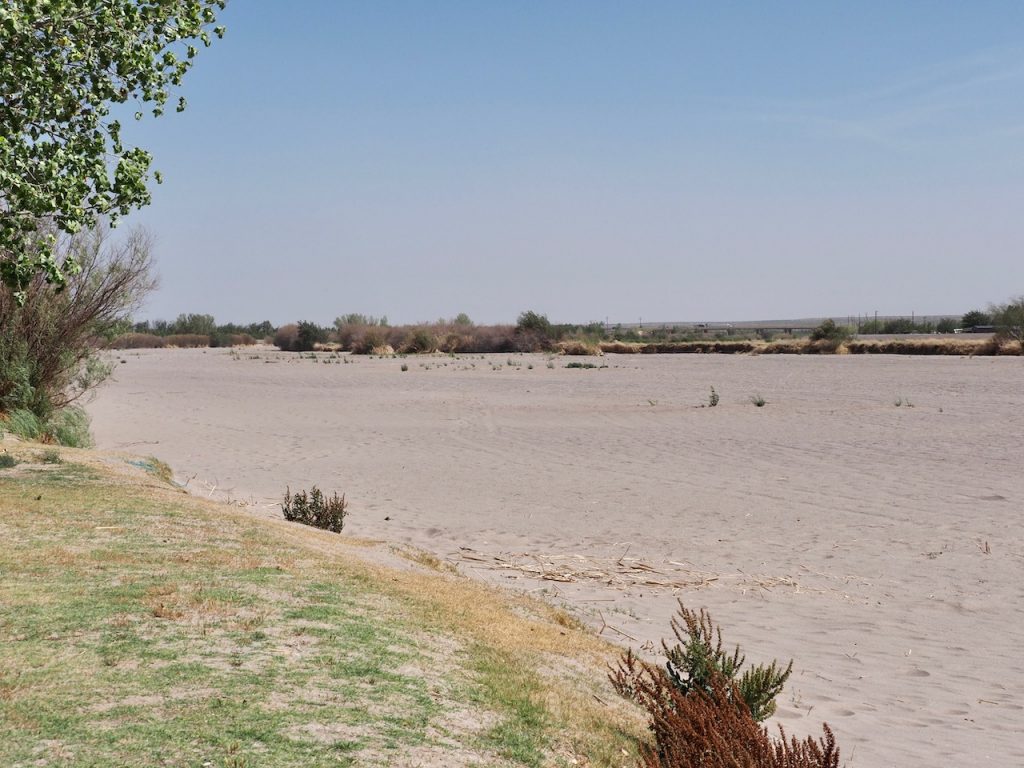 Then we found our way to our friends Randy and Laurie's beautiful house in the suburbs (which, again, are very typical suburbs, except with lovely one-story adobe houses rather than 70s ranch homes and McMansions! Much more aesthetically pleasing! Theirs has a lot of light and a gorgeous patio with garden boxes and pots, where Laurie and Randy grow their own herbs, vegetables, and flowering plants. They made us a fabulous meal–buttermilk-brine roast chicken, a potato salad with fresh asparagus, green beans, green onions, radishes, and fresh dill, a melon salad, and roast carrots with cumin. So we ate and talked ("about God and the world," as the Germans say) and learned a whole lot more about the history of New Mexico and its flora and fauna (road runners! we saw one today, actually), and came away with even more tips for current and future visits. We stayed until about 9 pm, but I was fading fast and want to be ready for tomorrow's adventure.