It was pretty chilly and rather gray in the morning when we woke up in our old-fashioned (and slightly stuffy) motel room, and we took it slow packing up and catching up on some of our usual morning routines. But by 9 am, we were ready to check out and drove through the Garden of the Gods, getting out at the center of the park and walking around for a little bit. It didn't amount to a hike–I am still not quite up for that with my tailbone, and it was also quite chilly (in the 40s after the 80s and 90s!), but it was still really stunning. Mark and I had both been to the Garden of the Gods before, but neither of us remembered the formations being so big! They are beautiful and the geology is amazing. Of course, we had to take photos at Balance Rock, but unlike the other tourists milling around, looking somewhat chilly but determined to get their turn, we didn't take one where we held up or pushed the boulder. At about 11:15, we left the Garden and went to "Adams Mountain Café" nearby (in fact, only two minutes down the road from the motel where we had stayed), to meet with our friend Steve, who took time over his lunch to catch up with us. He's a former colleague from Hastings, who now works here in Colorado Springs, and we restaged a spontaneous lunch we had with him and his wife Karrie when we came through here 5 years ago on our last road trip that also took us to Colorado Springs somewhat at the last minute. This time around, only Steve could join us, but it was great to catch up over vegetarian lunch/breakfast (I had an omelet and stole almost half of Mark's orange-almond French toast). Around 1 pm, we said our goodbyes and set off for the Boulder area.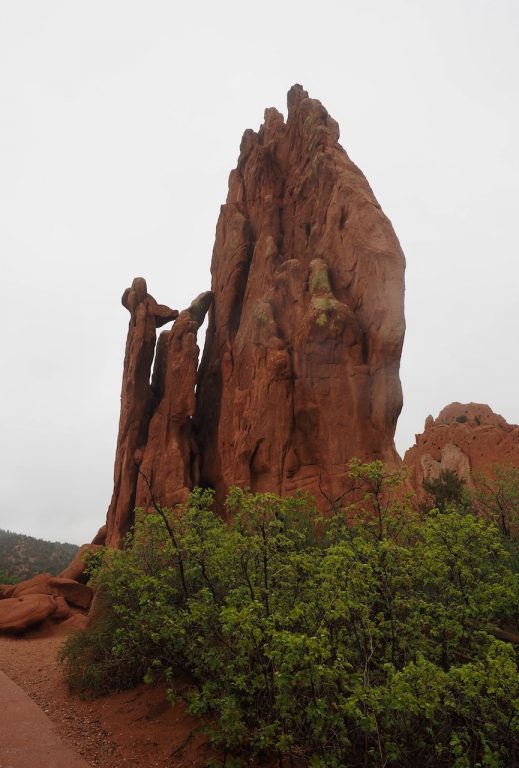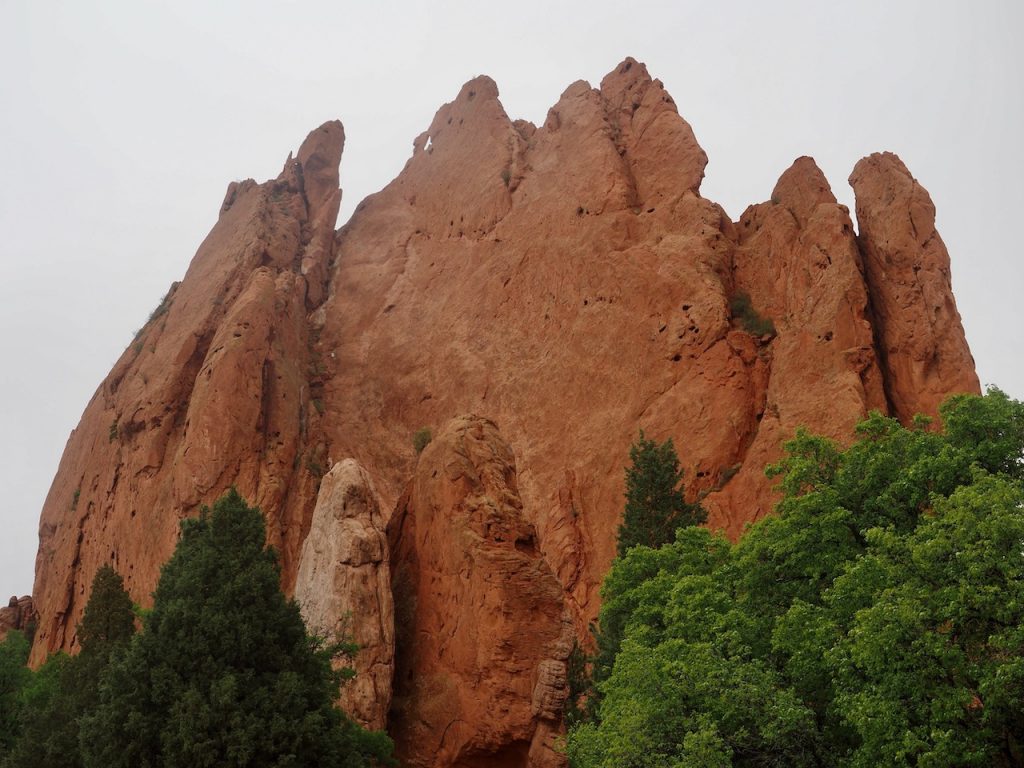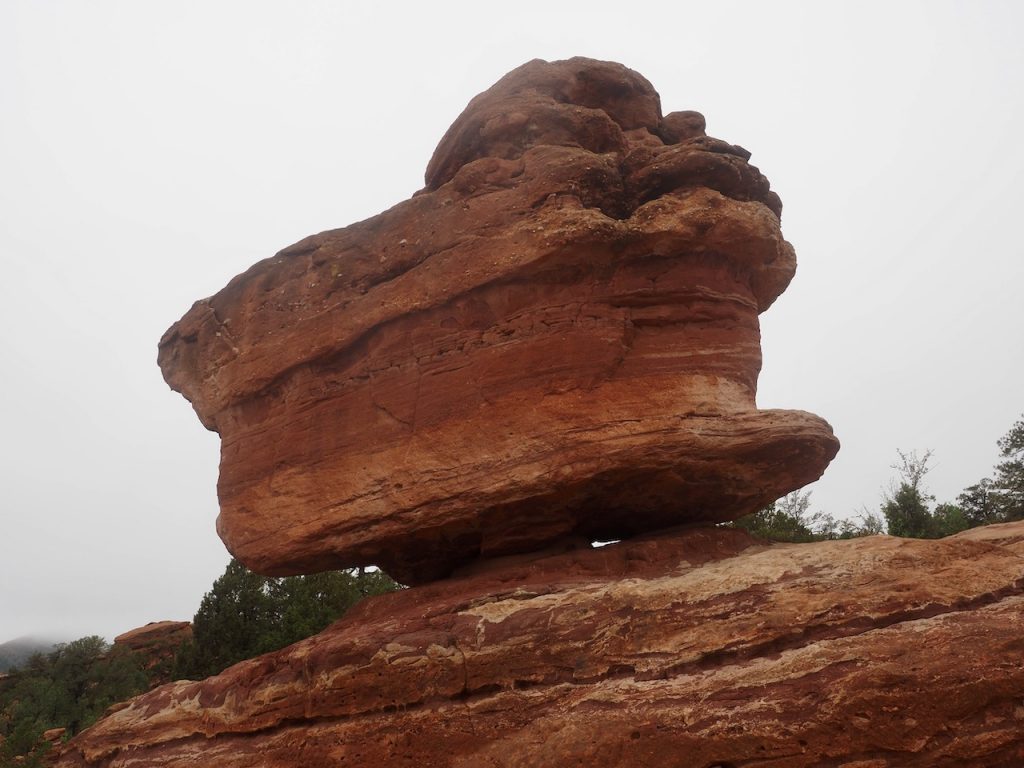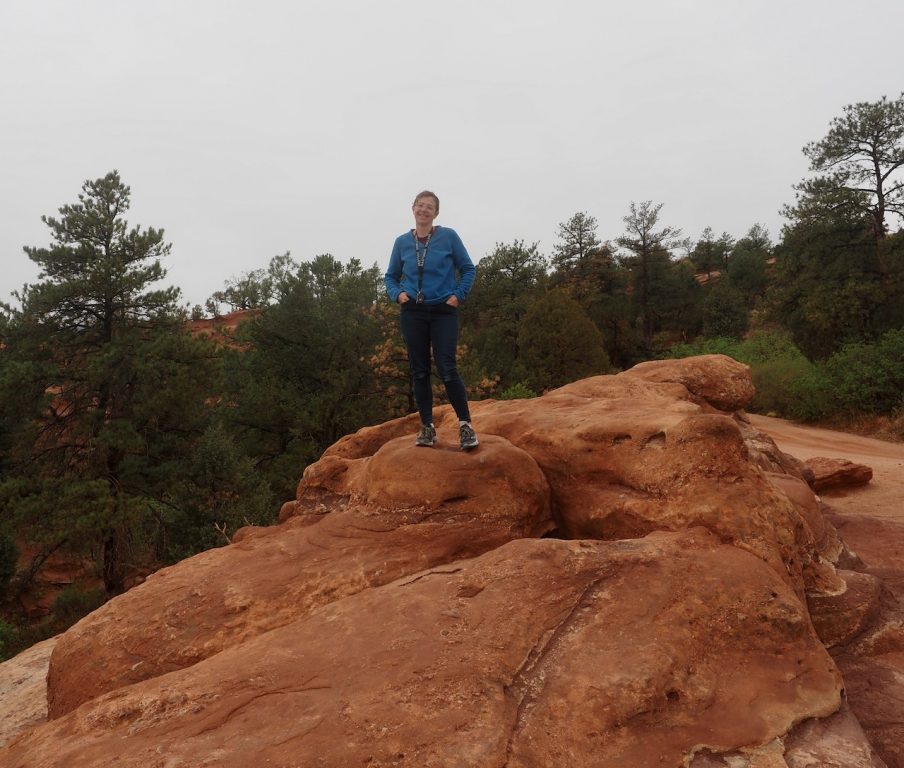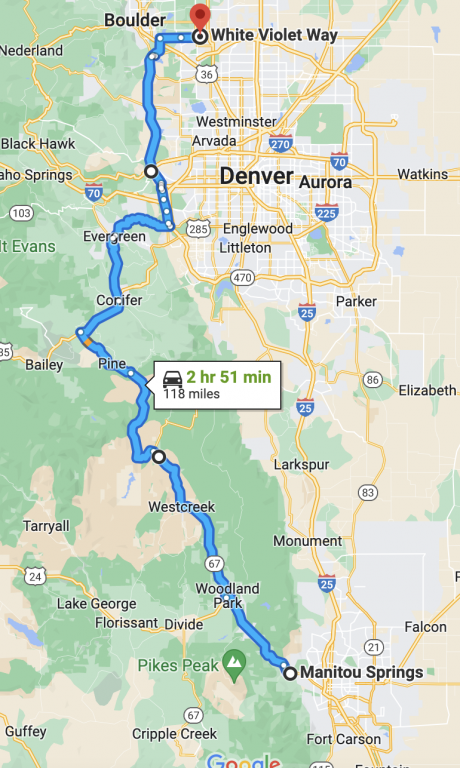 We had decided to forego the short route to Denver (and thereby avoid the always-horrible traffic in the entire Denver area) and take the scenic way through the easternmost roads North through the mountains (again with the help of Google Maps), and we ended up having a wonderful and varied drive. We started out in damp, gray, low-hanging clouds (i.e. light fog) driving up to about 8,000 feet, but just past Woodland Park, the clouds ripped open and we drove for about an hour through the most glorious sun-flooded mountain landscape, with huge boulders and rock faces, and creeks flowing through beautiful green meadows, the taller mountains or the plains to the east occasionally visible in the background at a scenic turn of the road. We got out a couple of times, and enjoyed the sun and the balmy 65 degrees.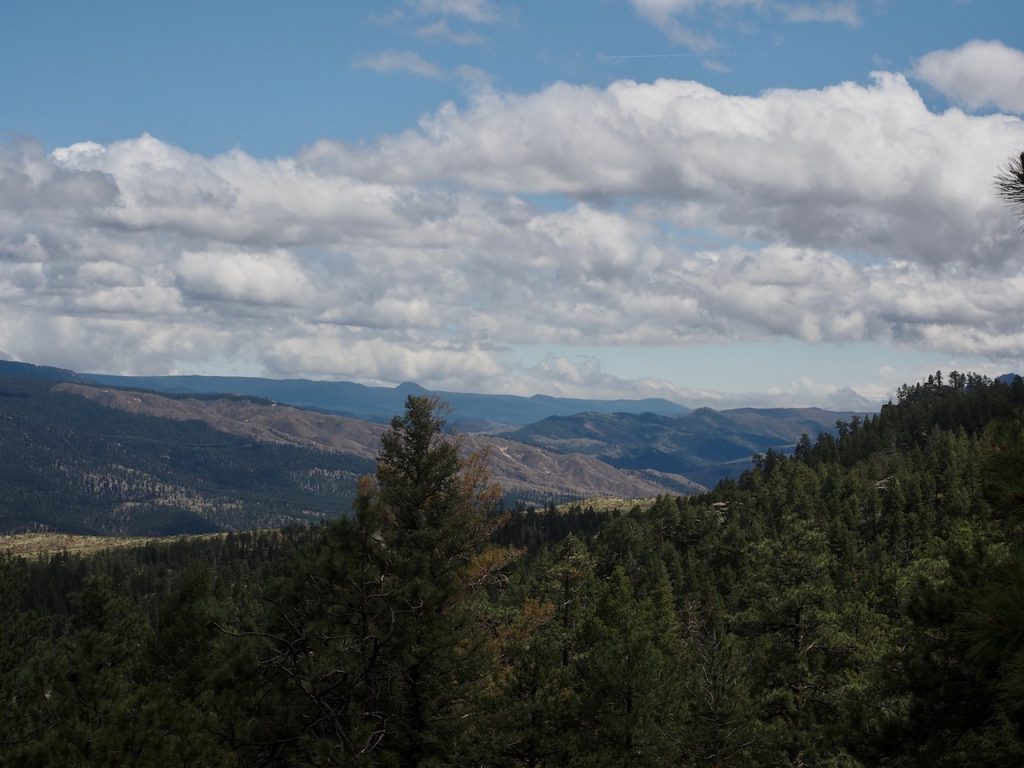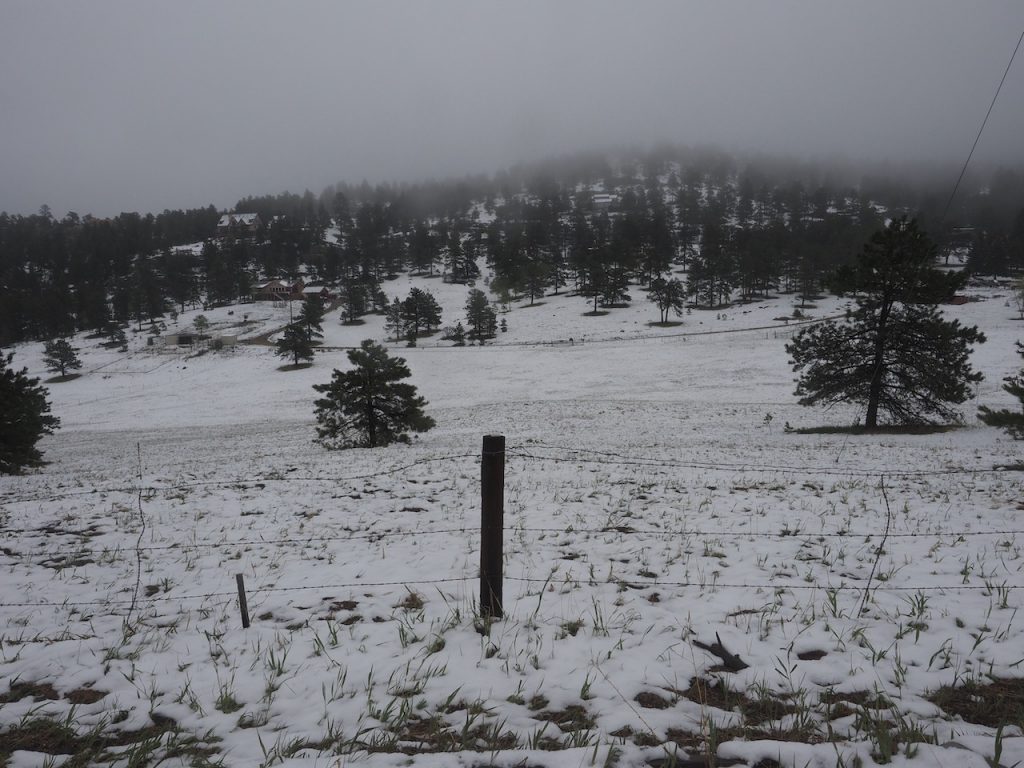 And then, a few miles on, by the time we got to a little hamlet called Marshdale, it was foggy again, at 42 degrees, and a belated winter wonderland–there was a blanket of snow over the green grass, with the tender green leaves of the new aspens looking absurdly out of place. It was just a stunning contrast.
Once we were past Golden, CO, and within half an hour of our destination at a much lower altitude, the weather settled into an evenly overcast and a little chilly late-spring day, and we drove back into the plains by Boulder, to what is basically the "suburbia town" of Louisville. For people who are not familiar with Boulder (which we have visited regularly for decades), it has a broad green belt where nothing can be built, but inside that green belt, space for private residences has become so sparse and so expensive, that former "nothing towns" in the area, like Louisville, Lafayette, or Marshall, became enormous new developments with their own elaborate infrastructure. This is where Mark's cousin and his wife live, and where we are going to stay for the next few days. We stopped at a big grocery store a few minutes from them and picked up some dinner ingredients, so that when we showed up on their doorstep around 5 pm, we didn't come empty-handed. I made a big charcuterie board (I had found some really good cheese) and a salad, and we had that and then some angel food cake with strawberries and whipped cream for dinner. It was delightful, but even more delightful was the great conversation with Stan and Kathy, whom we hadn't seen in a long time–last time we were here, they were on vacation, and we were basically housesitting rather than hanging out with them. But tonight, we got to talk about old family photos and stories, and had a really good and relaxing time–and I even got our accumulated laundry done!