We had a fun day with Stan and Kathy today! It's always amazing to go exploring with friends who know an area as well as they do this part of the Rockies, which they have hiked, biked, snowshoed, cross-country skied and who knows what else! We took off at about 8 am and drove to a hiking area called Button Rock, where there is a reservoir (serving the city of Longmont) that has some very well-developed hiking trails. We took one called Sleeping Lion Trail that went up and then back down across a ridge, with some beautiful views from the top, and then also up to the top of the reservoir dam, around by the reservoir's emergency spillway and back around to the trailhead. The reservoir was quite a ways down (Stan estimated 30 feet) because it has been so dry; there was a clear "bathtub ring." That seems especially mindboggling because this dam was only saved during the heavy flooding in 2013 by the use of that spillway, so that most of the town of Lyons was flooded and cut off (I remember the images of helicopter rescues). We all remembered that dramatic flood, and yet, now there is a moderate drought here (with a severe drought just east of the area around Lyons). At the very end of our hike, we stopped to watch a group of four female rock climbers who were very impressive to watch, although I would totally not ever try this at home… not even if I were 26 and not 56! Our total hike was just 5.6 miles, but with lots of ups and downs at around 6,000 feet, and it was just a blast.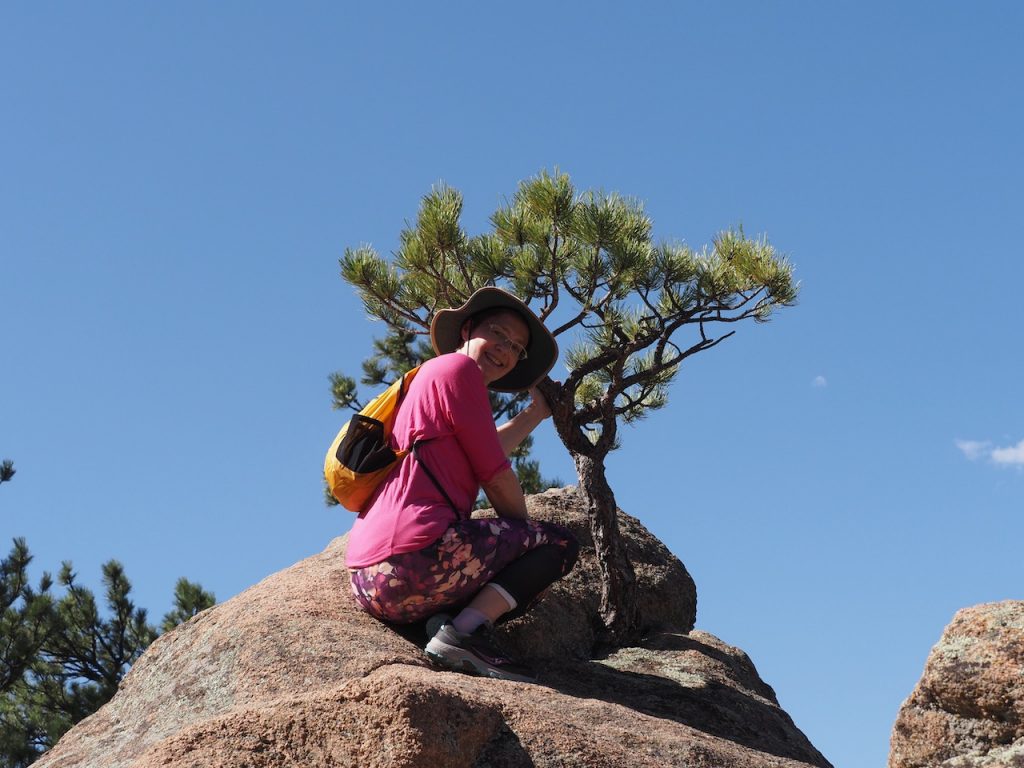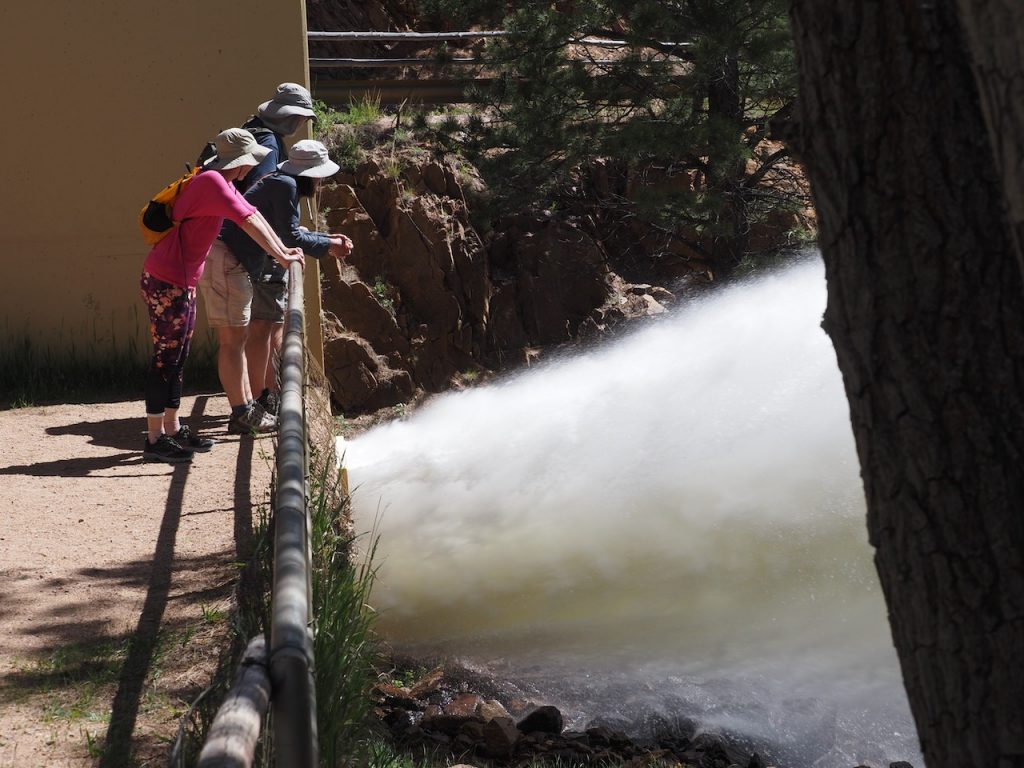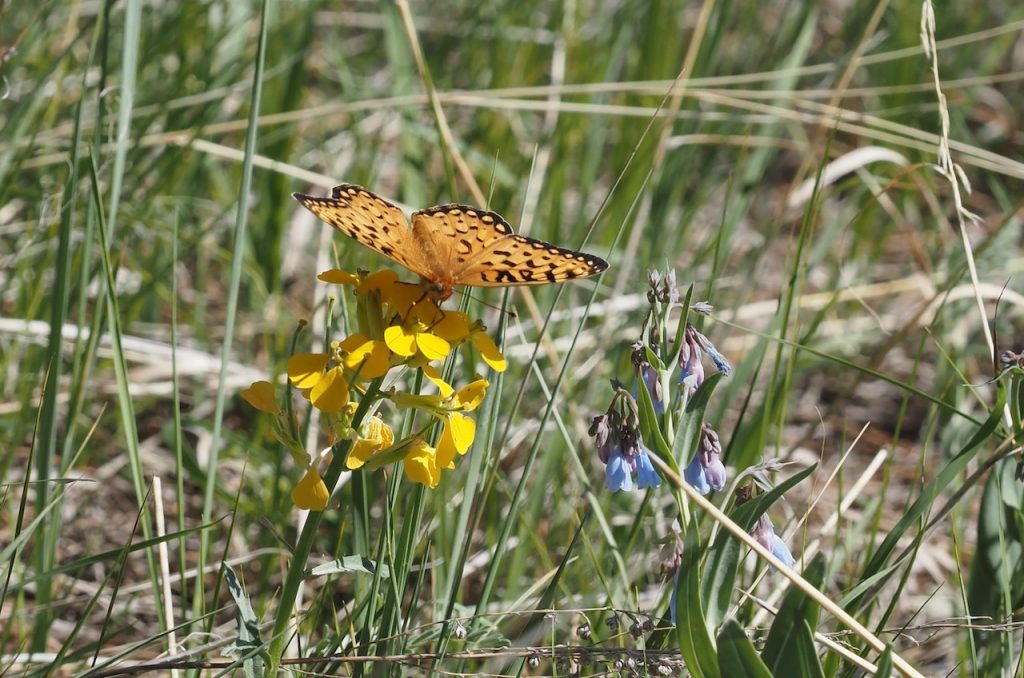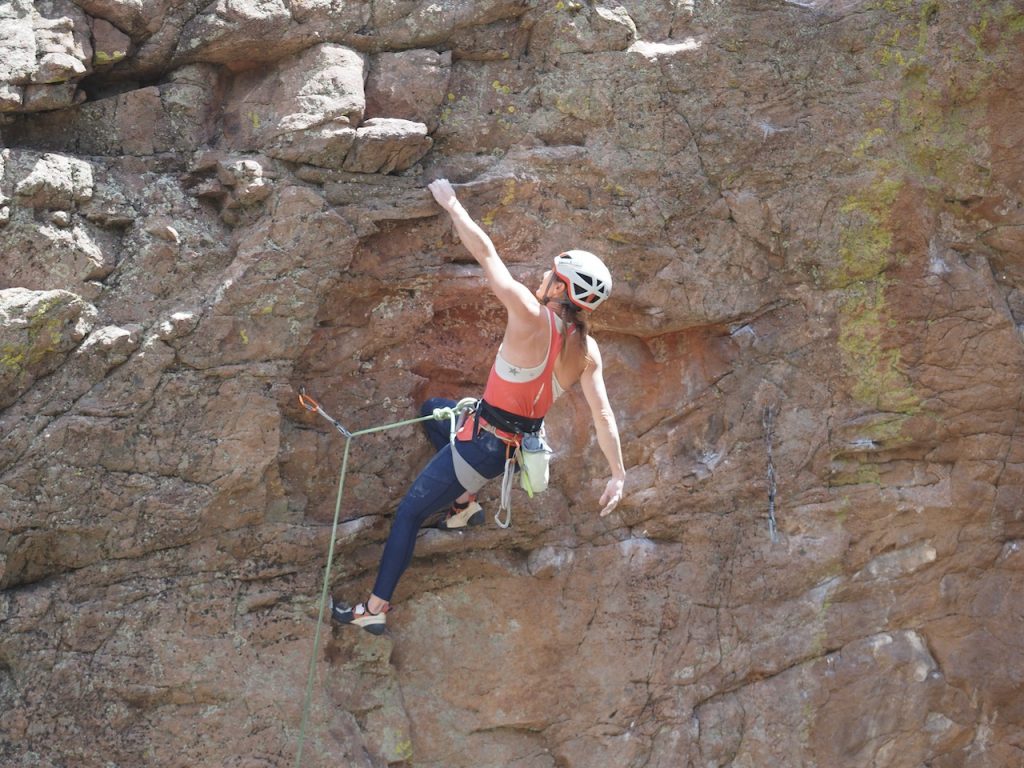 Then we drove to the teeny town of Lyons and had a lovely light Mexican lunch at a place called Mojo's and drove along the peak-to-peak highway (72) for some more views and a quick look around Brainard Lake, which is still closed to vehicles, but there were plenty of hikers and bikers around. We didn't walk down the 2 miles to the lake and back, but we poked around a little bit and Stan and Kathy came up with some new ideas for future hikes. There was still quite a lot of (rather dirty) snow around, even though it was balmy and 65 as we were walking around. We drove through Ward and along the edge of Boulder back to Louisville, and they showed us where the Marshall fire had raged back in January, when over 1,000 homes were destroyed in a matter of hours (they live only about a hundred yards from where the evacuation route began).
We all rested for a bit and baked a couple of Murphy's pizzas for dinner; later, Kathy took us over to the "Sweet Cow" ice cream shop in the teeny downtown of Louisville (we'd been there before, 4 years ago, and it was pretty much just as crowded). As we walked past a pavilion in the city center, I suddenly heard someone call my name–it was Benjamin, who was in Louisville for a musical rehearsal and was having his dinner while waiting for his bus back home. What a surprise! On the way home, we picked up some fruit for breakfast with Jacquie tomorrow, and I am pretty much going to call it a day now.