Monday, August 15
(Click on photos in "albums" to see large versions!)
How many gloriously perfect days can there possibly be in one single vacation? Today, we went on our biggest, most extravagant adventure yet—a day trip to the island of Helgoland. Andrea and Peter went about 5 years ago and recommended it highly, so I had booked the four of us seats on a big jet-propelled catamaran for today over a week ago. The boat took off from Hamburg's harbor at 9, so we took our usual array of buses and subway trains to get through Hamburg at 8 in the morning, and then had a fabulous, if long, day: 3.5 hours going out, 3 hours there, and 3.5 hours going back. It is one of these wonderful excursions where the path and the destination are truly equally important and exciting. For Mark and me, it was also the first-ever visit–although I've discovered that strictly speaking, I was present on the island when my mom went there in the fall of 1965, when she was pregnant with me.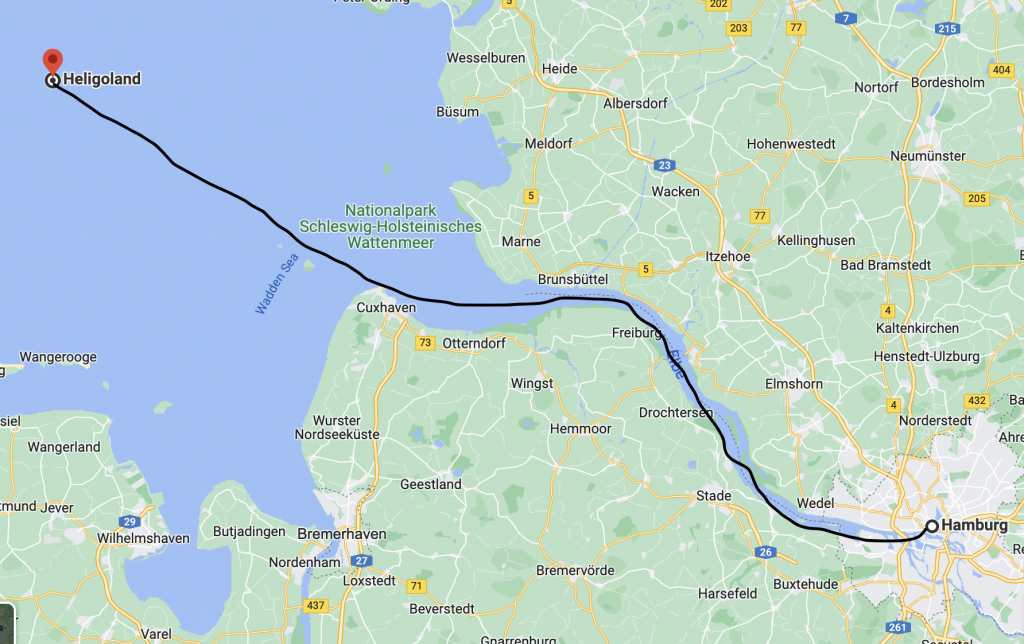 The first hour and a half, the boat traveled along the Elbe River, which connects Hamburg to the North Sea. We had absolutely glorious weather, and although we had seats in the main cabin that were a little weird (there was a Covid barrier that divided one seat from the other three, and many jokes about separations and jail visits), we spent 90% of our time outdoors, as did many other passengers. Not only was it wonderful out in the sun and wind, but we also didn't have to wear masks outside. Peter and Mark were both photographing everything, and Peter was shooting video as well.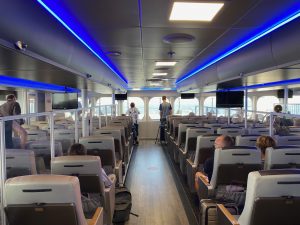 Once we left the harbor itself and got past the last neighborhoods of Hamburg along the river banks, we could see all kinds of interesting sights on both sides, as ports and industrial buildup alternate with tributaries and nature preserves, with dykes grazed by sheep on the one side, and marshland and mudflats that precede the dykes for flood control. There were two famous nuclear power stations that saw massive protests in the 1980s, but one was turned off more than two decades ago (Stade, which we saw, and the other just at the beginning of this year. It might be turned back on if the energy situation in Germany doesn't improve—the crisis triggered by Russia's war with Ukraine has especially affected Germany, because they were quite dependent on Russian natural gas. After about an hour and a half, we docked in Cuxhaven, the port on the south bank of the Elbe, to take on more passengers, and headed about 40 miles west to the deep sea, past a teeny island (Neuwerk) that people can reach by horse-and-carriage ride across the mudflats that form at low tide on the Atlantic coast of Germany and stretch out for miles into the sea, and a sand bank that is a major bird preserve.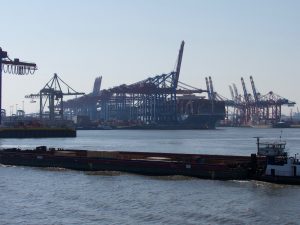 After another hour or so (about 3:30 hours total), we arrived at our destination: Helgoland, a teeny island beyond the ocean shelf in the deep sea, fiercely contested as a strategic outpost between the British, the Danish, and the Germans until 1951. It is only 0.7 square miles (1 square km) INCLUDING an additional little sandbank next to it, and currently, only about 1,400 people live here year round. No cars except a couple of electric taxis and emergency vehicles, and mini trucks for deliveries. What makes it distinctive among the many little islands on Germany's coastline is that it is basically a big, tall rock of red sandstone way out beyond the continental shelf in the deep sea—something Germany has absolutely nowhere else, with a special micro climate that makes the island unique and attractive to many bird species. But this unique location and height also made it, sadly, a crucial and contested military outpost (see below). The walk around the island is only a couple of miles atop the high cliffs, so we (and a bunch of other day trippers) went past the little harbor town with its tourist shops and looked down from different vantage point and views at the striations in the rock, down at the sea, and also at the birds that were belatedly raising their young (the main nesting season is May and June, when the island is flooded with "Lummen" and "Basstölpel" and other birds I hadn't ever heard of). The tip of the island consists of a separate rock, the "Lange Anna," which used to be connected to the island by an arch that collapsed in the 19th century. On the east side of the island, there is a lower level and a sandy beach, so we walked down a very long set of stairs to stick our feet into the water and practice skipping stones. Then we climbed back up and completed our trip round the island on the high level (the highest point on the island was 61 meters, so ca. 180 feet, above see level, so "high" is relative).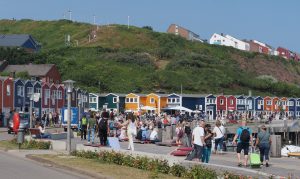 Andrea made sure we stopped at every lookout, and I insisted on stopping at every informational display—they came in pyramid shapes and in chronological order, so that I now have a shallow but serviceable historical context So I know now that massive herring swarms first made people come out to the island to make their living by fishing several hundred years ago, that they stayed because of the oyster banks, which vanished when a big military harbor was built in the 19th century. Now it is mostly the lobster that is caught here that's famous, but the years from 1800-1950 must have been pretty sucky for the 1,000 or so people who populated the island (at the most).Embroiled in multiple wars and international conflicts from the Napoleonic Wars to World War II, the inhabitants seem to always have gotten the short end of the stick, even though from the 1870s to the early 20th century, there was a burgeoning tourist industry. The low point was when after being heavily bombed late in WWII by the Allied forces (if for good reasons, because this was a strategic naval /air defense point) the British decided in 1947 that the island ought to be blown up so it could never have military value again. That didn't work, but it took another four years for the Germans and the British to negotiate the return of the island to Germany. Now it is again just a tourist attraction, and people come for day trips or for short vacations–given how teeny the island is, it's not like any visitors spend weeks and weeks. But a stay in one of the many vacation rentals or small hotels would make for a slightly more relaxed trip, including the option to go out to sea and visit the gigantic offshore wind farm (a friend of mine actually left the island as we arrived after 5 days there, and we saw each other's boats from a distance–"waving" to each other via WhatsApp). But in all honesty given how teeny the island is. I thought that one long day was just about perfect for a visit.
We were terrible tourists, though, in terms of contributing to the local economy, because all we bought in the island were two bottles of water. True to form, we had brought our own sandwiches ("belegte Brötchen"), plus cookies and chocolate. But we did purchase coffee, apple cake and ice cream on the boat on the way back, after our three-hour stay on the island, during which we didn't want to lose any time sitting around in a cafe! The ride back was fun, too—some clouds came up after perfectly blue skies earlier, which made the light really interesting, and we saw some of the huge container ships that go up and down the Elbe really close by. We stayed outdoors for a good portion of the return trip, but as we approached Hamburg, we went inside to sit a bit, but eventually stood outside in a slight drizzle (not enough to make a difference in terms of the drought that is plaguing even the far north–more on that tomorrow!)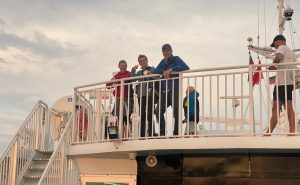 We didn't get back until almost 9 pm. Once we were back on land, we briefly stopped at the main station to find some cheap quick noodles at the food court (always open) and then got home just before 10. I went to bed after rinsing off, but the others stayed up a little longer with a well-deserved Beck's beer each and talked photography. (I'm just profiting from the results! It certainly felt like a perfect day all the way through and we were all so, so happy we went!