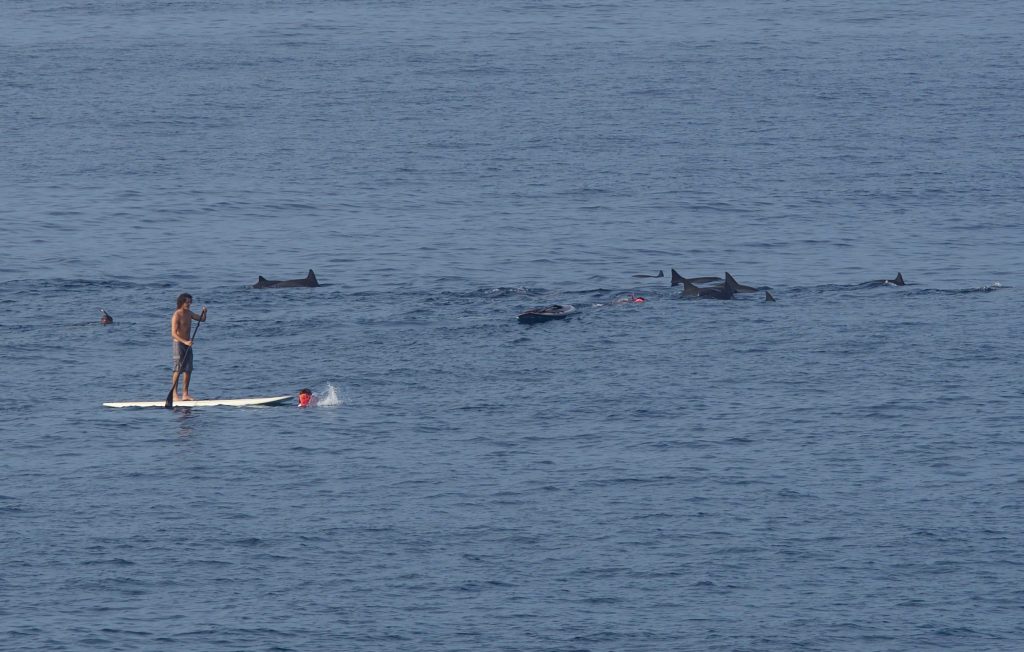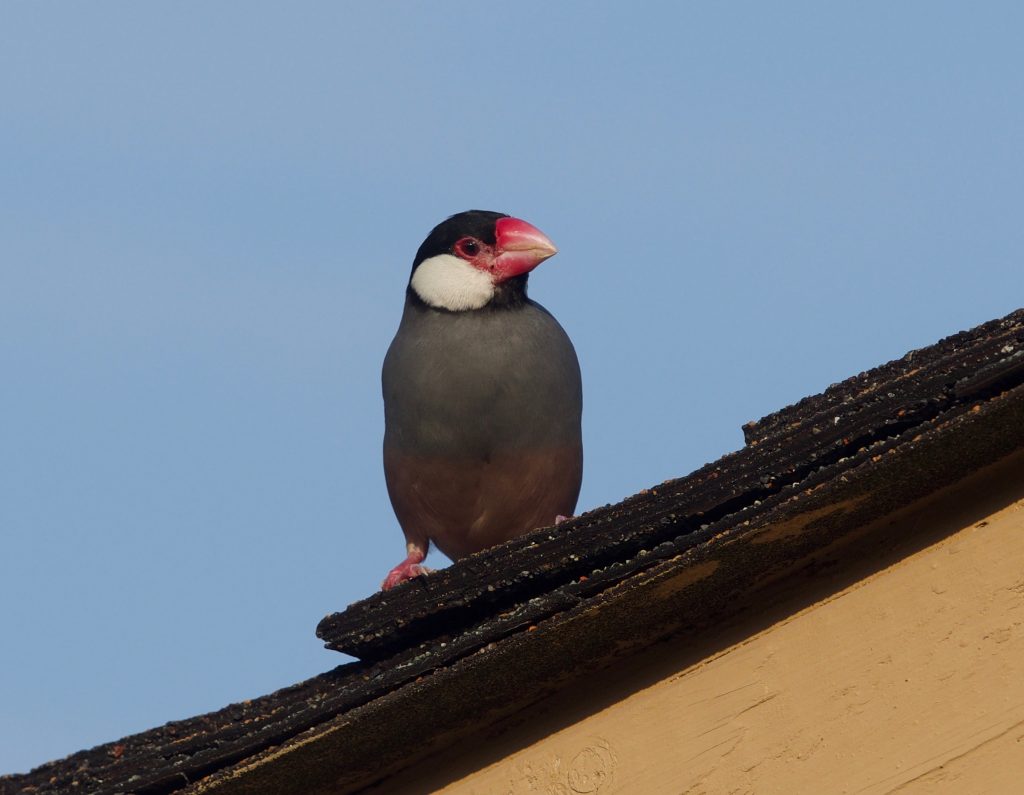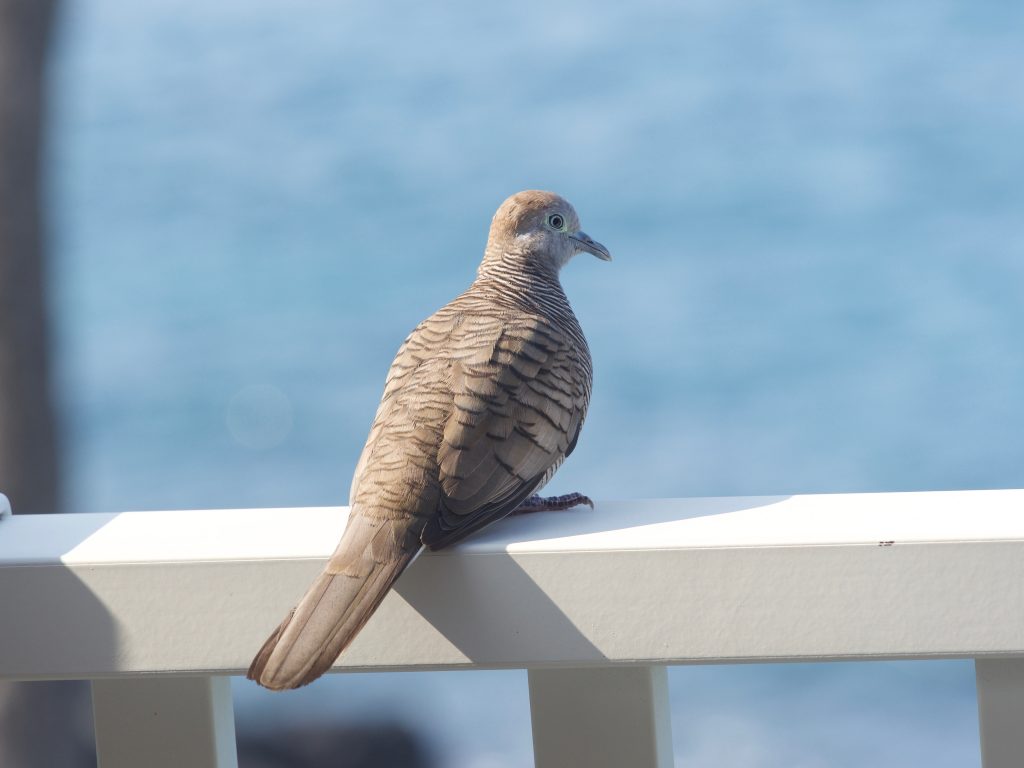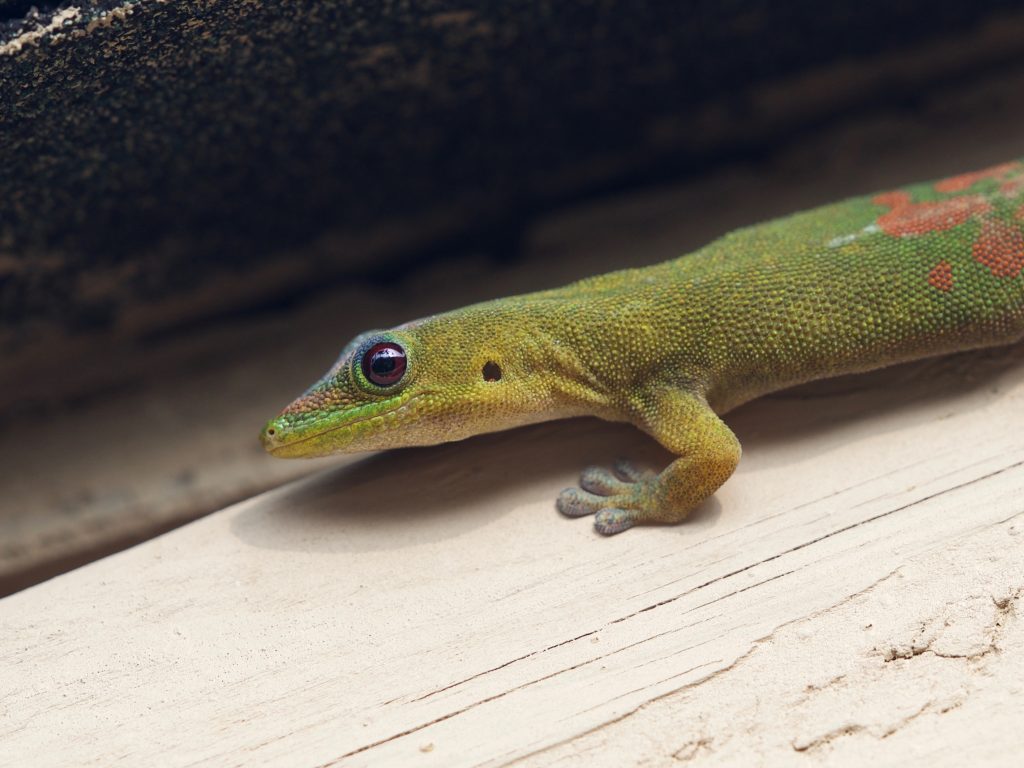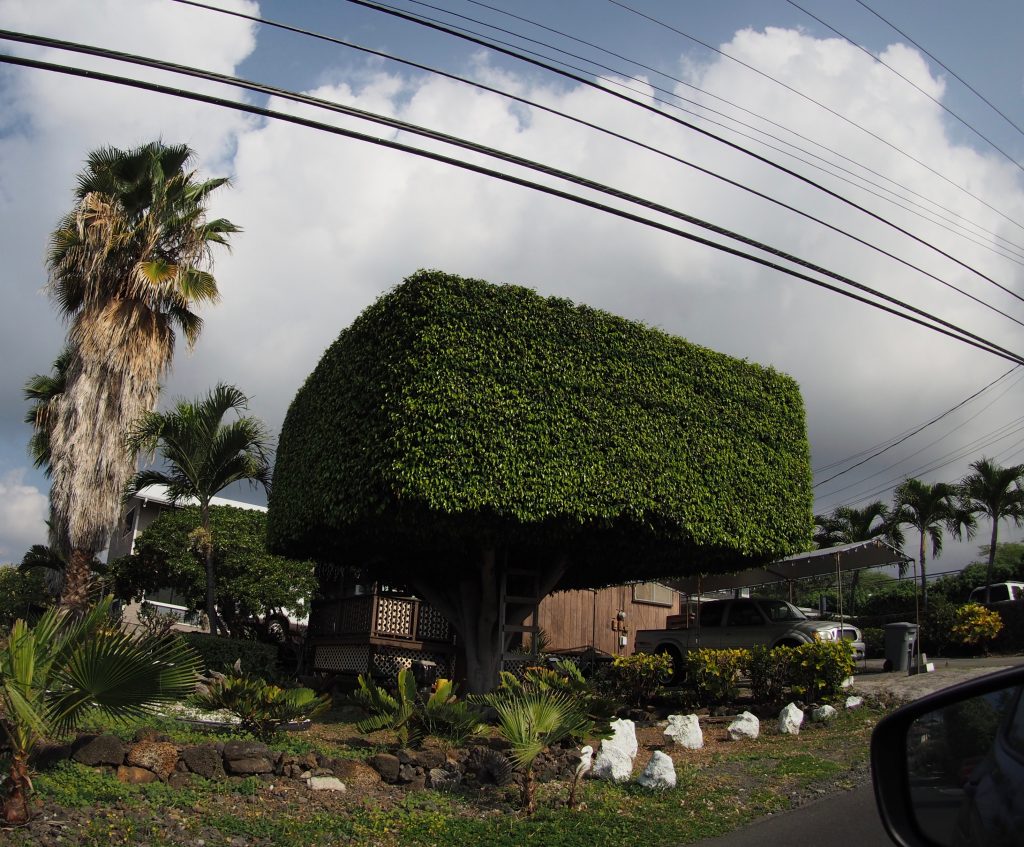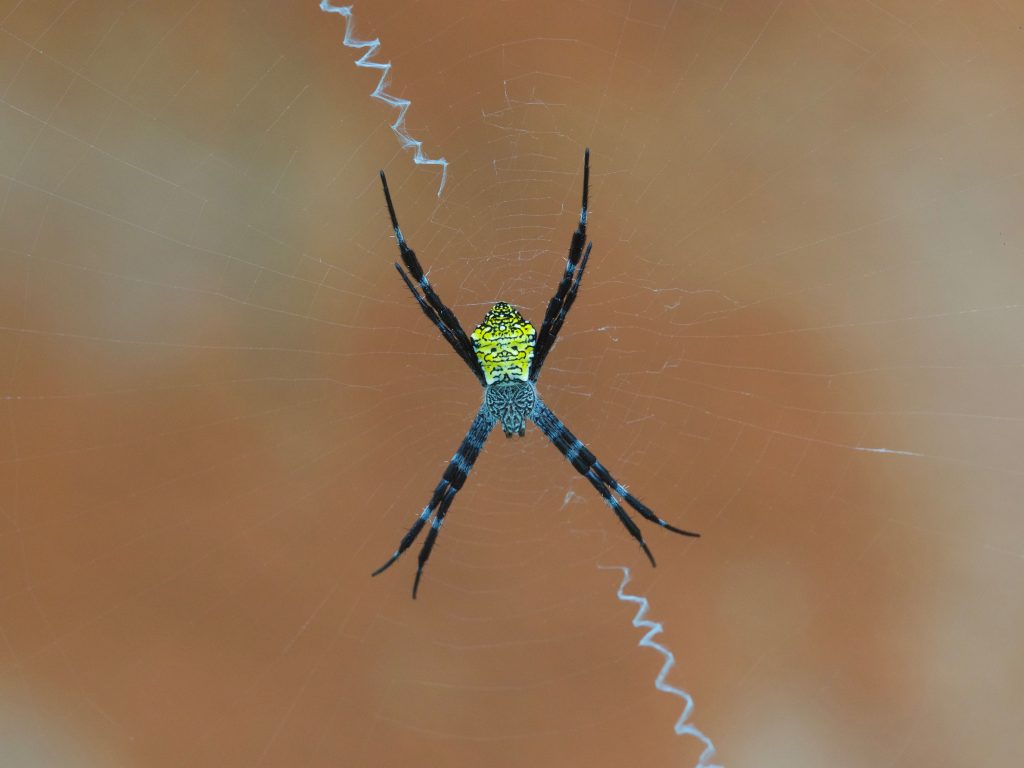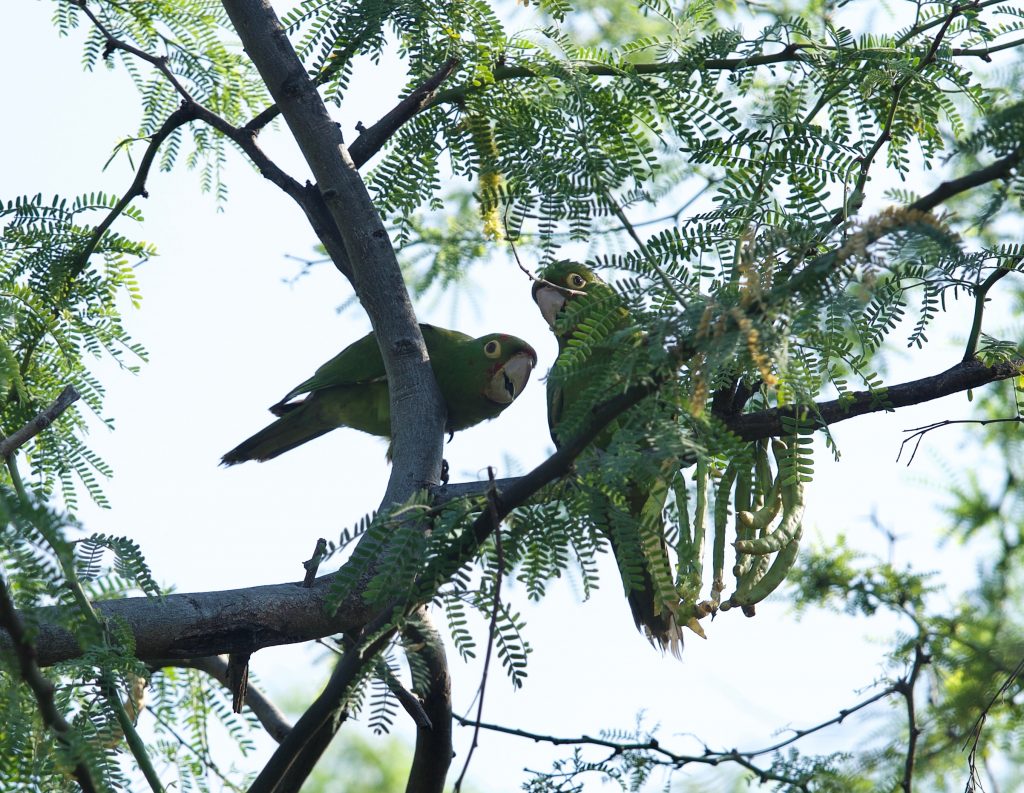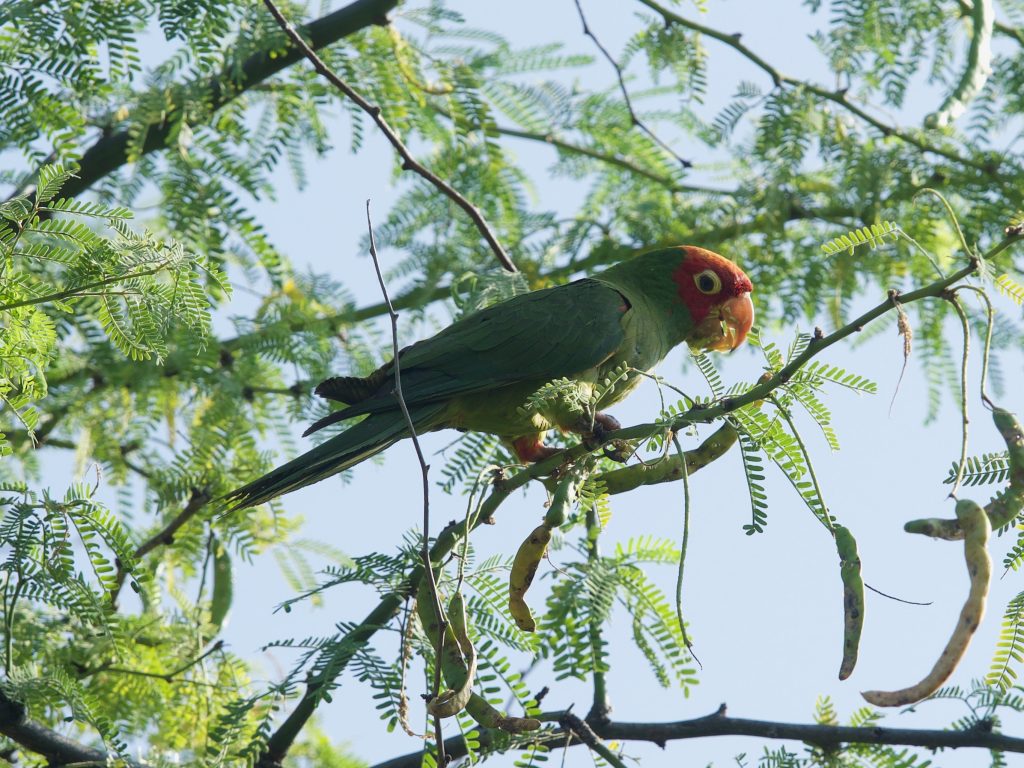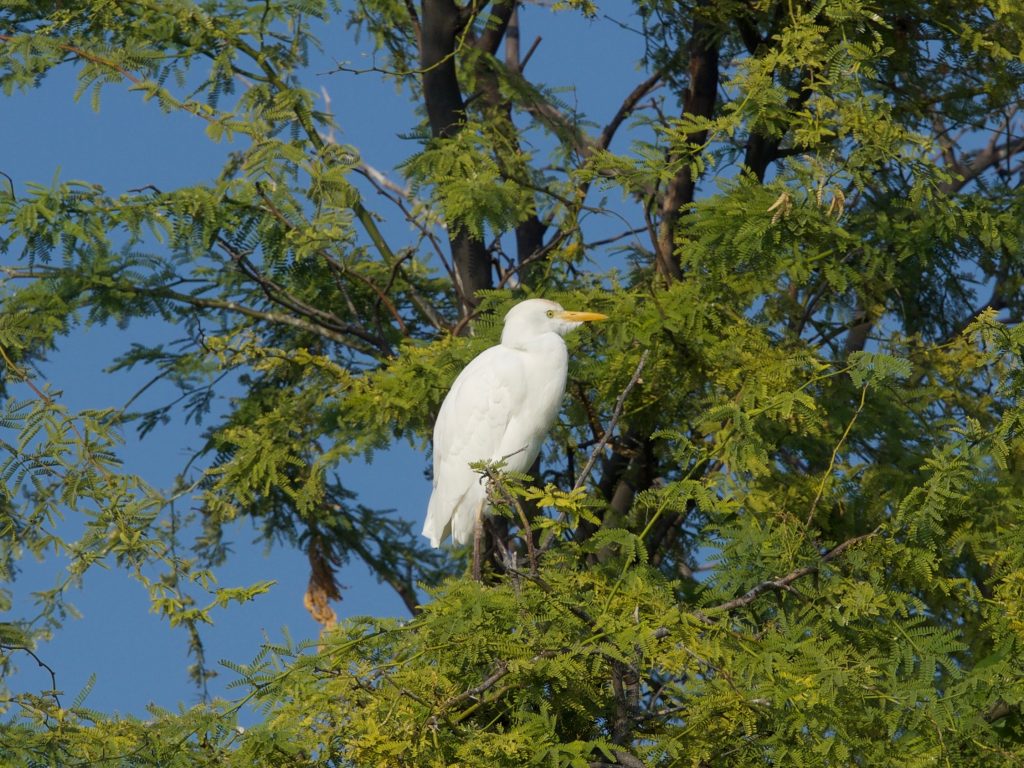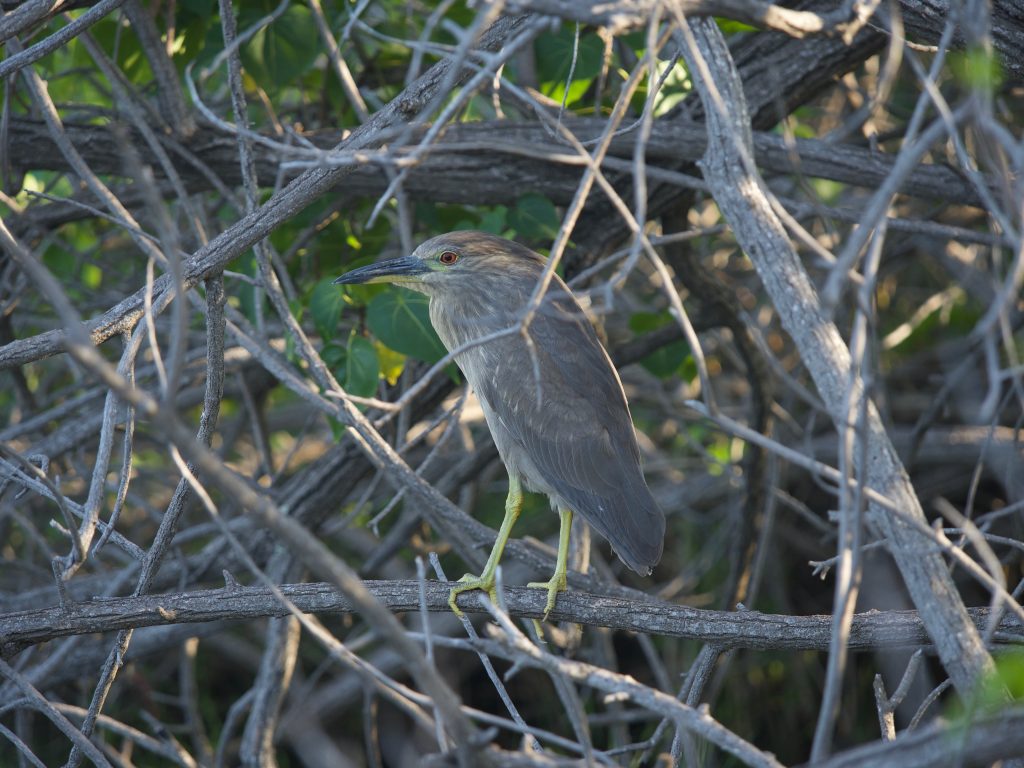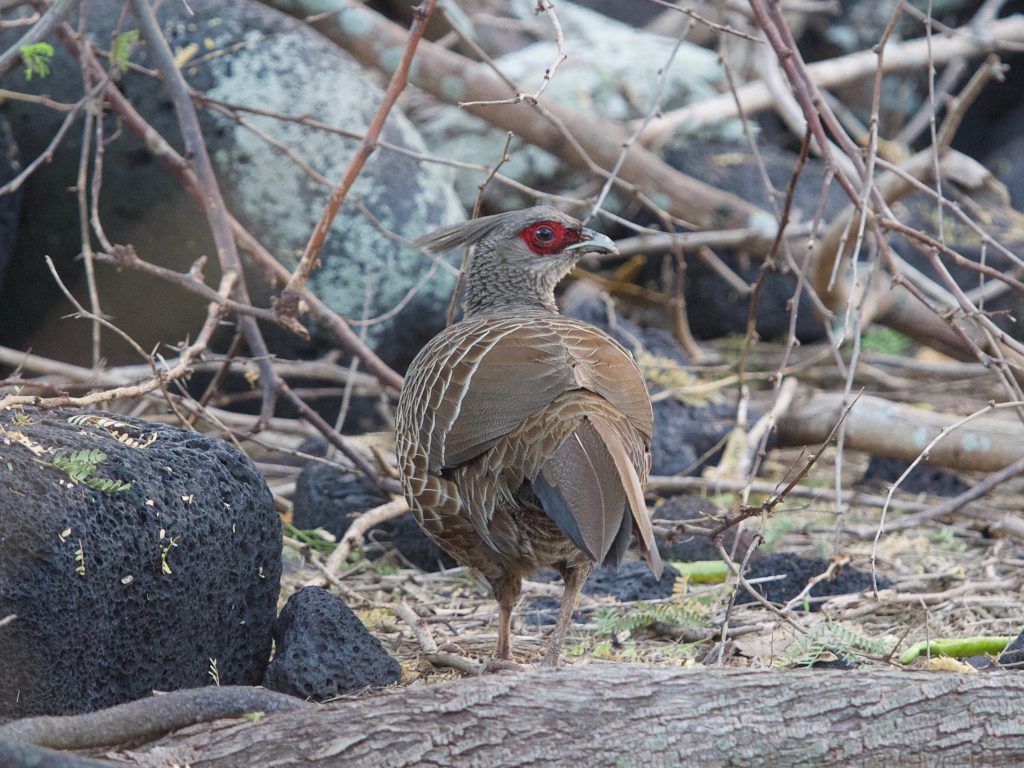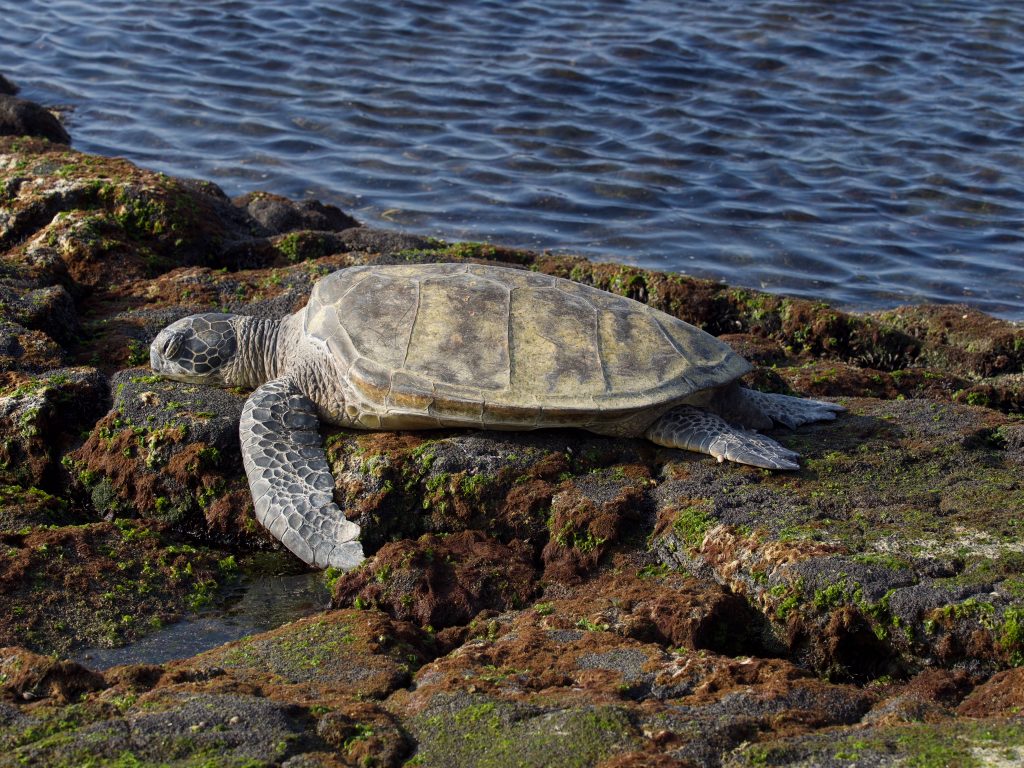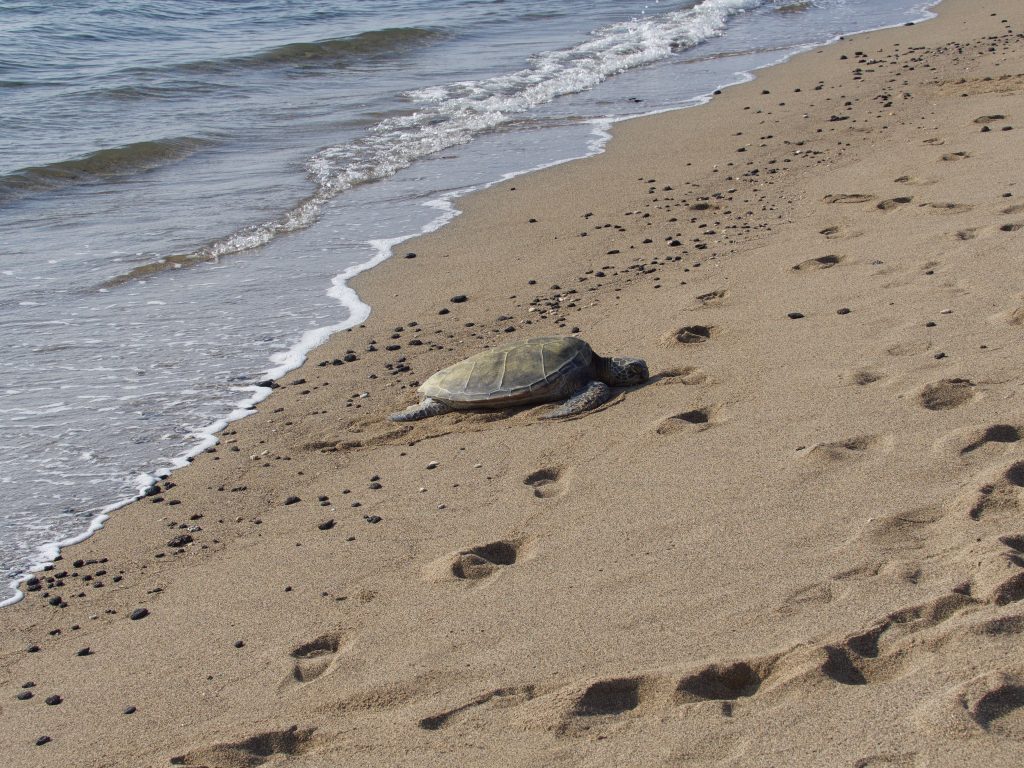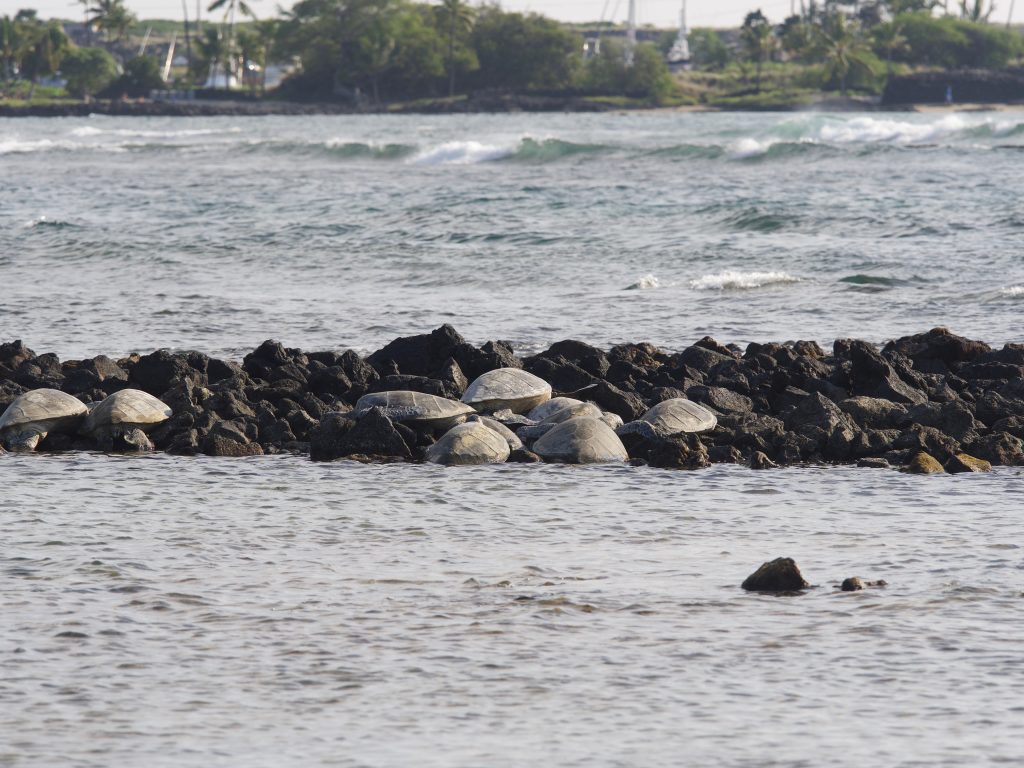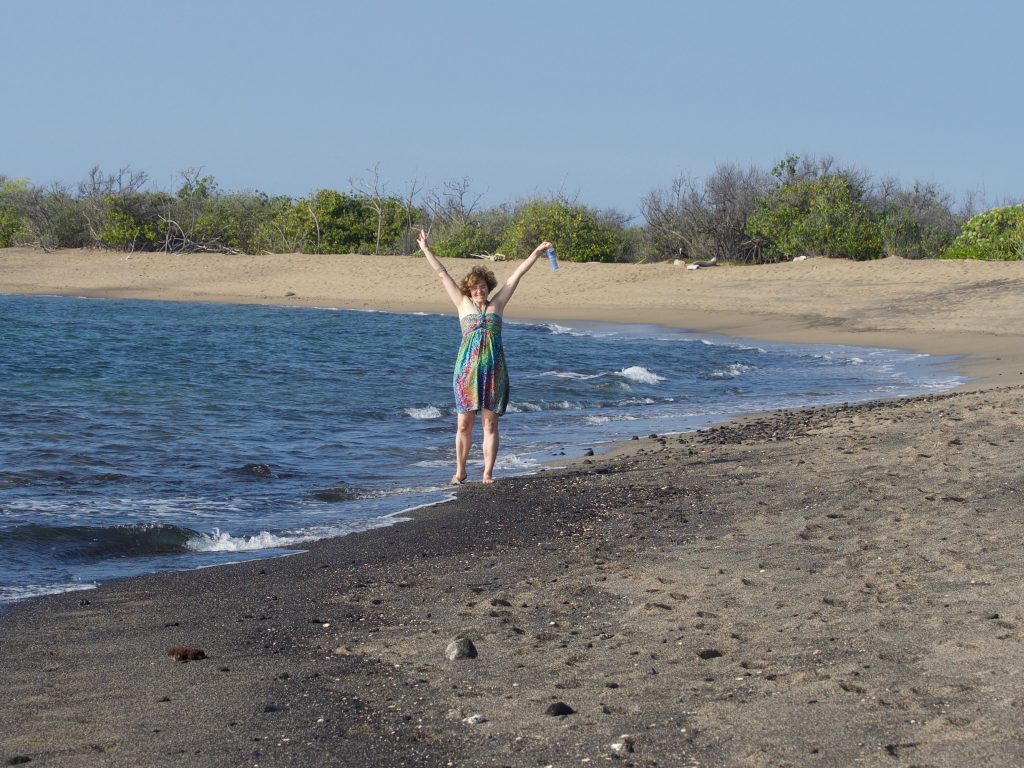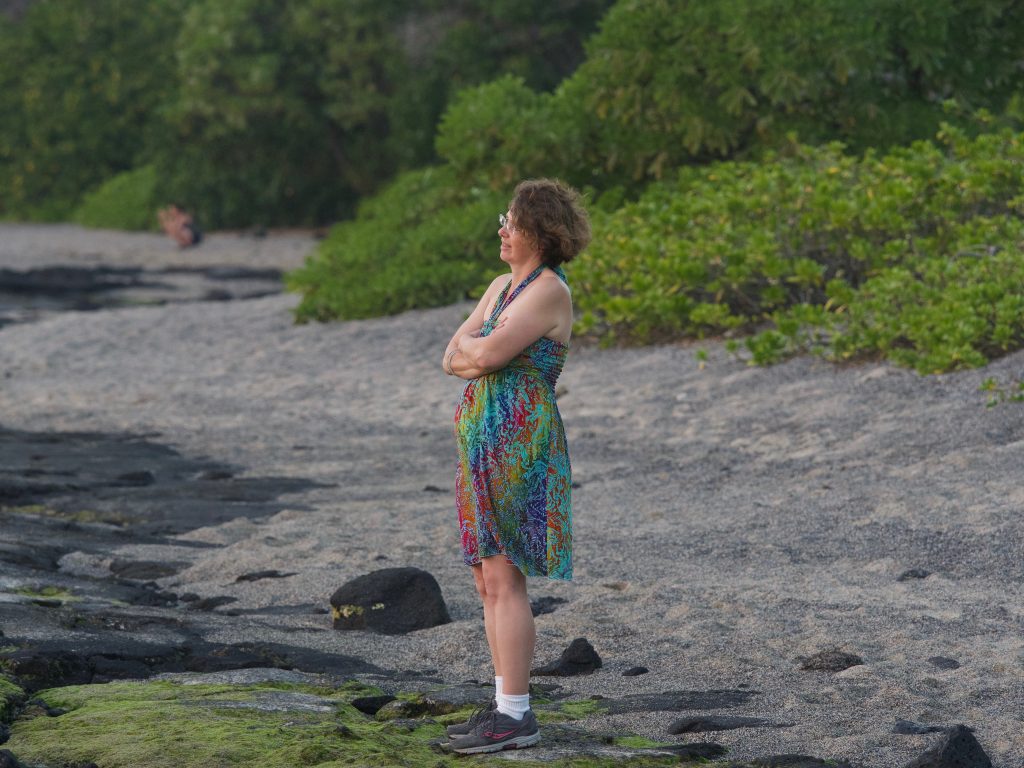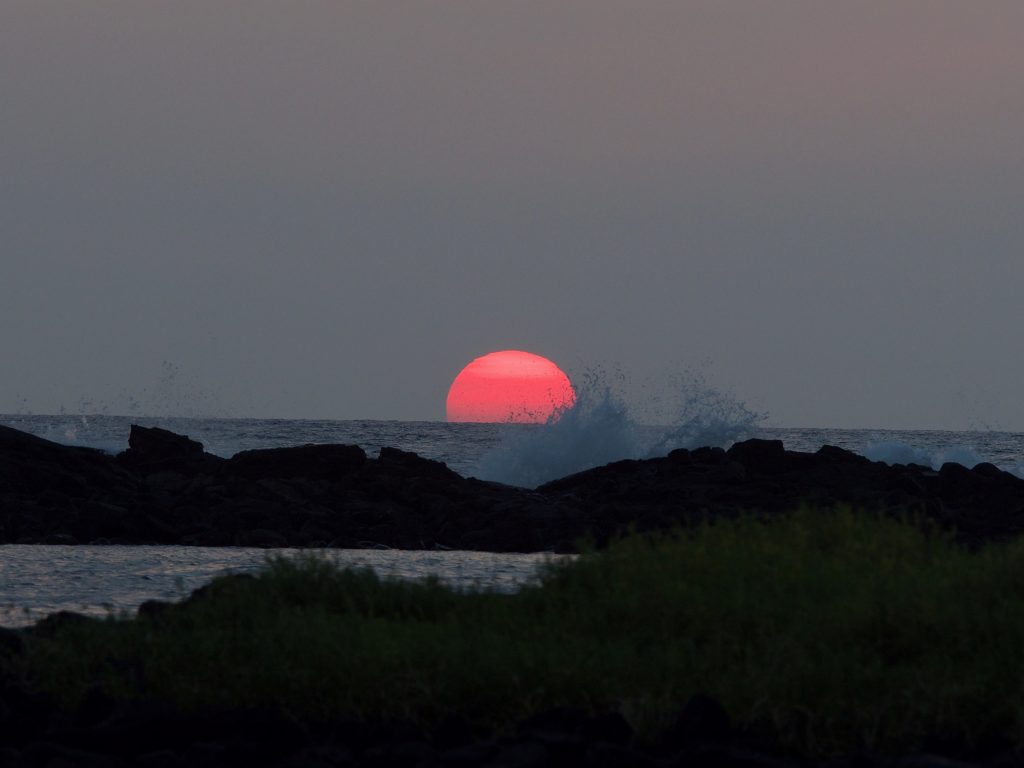 Our departure day was much more of a real vacation day than I have ever had, I think. Our plane wasn't scheduled to depart until 9:15, and the rental owner had kindly extended our checkout time until 2 pm.  So we were able to pack and clean up after ourselves at a leisurely pace in the morning , and while we were doing that, we noticed a lot of boats, snorkelers and boards out in the bay not that far away–and figured out that there was a sizable pod of dolphins out there! So we watched dolphins along with them for over half an hour from the lanai (balcony), and while we were doing so, the two adorable Java sparrows that have been coming to the lanai. one of the ubiquitous zebra doves, and a gecko all came to hang out with us. We left for what was really our only unsuccessful endeavor in this entire trip. I had found a botanical garden in Kona on-line, and while it did exist, it was teeny and not really very well maintained, so we couldn't figure out much about the various trees and flowers we wanted to learn more about. At first it looked like there was another promising garden just a few miles further down the coast, but we learned from the internet that it closed a while back. The botanical garden we passed by yesterday and decided not to stop for would have been our only real shot! Oh well. At least Mark found a totally cool-looking spider.
We made up for this (relative) disappointment with fabulous animal watching later on in the day (see below), but first we did our duty as tourists and parents and did a bit of shopping. We started with lunch at a Hawaiian fast-food place (L & L BBQ), where Mark had sesame chicken with rice and the ubiquitous macaroni salad, and I had what I can only describe as fake sushi–rice and a piece of meat wrapped in sushi wrap–with the piece of meat being (1) a slice of sausage, (2) a rectangle of spam, and (3) a piece of breaded chicken. It was pretty flavorless and, above all, vegetable-less.  Then we walked the main coastal Promenade one more time in search of a pan flute for Kai, a sarong for Kati, and little Hawaiian dress for Jupiter, and –not planned but anyway–a batik dress for me. This tried our patience a bit, especially since it was the hottest and most humid day of the entire trip ("feels like 86"), and we made it back to the apartment only three minutes after 2 pm. But we got a new apartment key code and got to retrieve our suitcase, bags, and last food items.
With those safely stowed in the car, we drove to the Kaloko-Honokonau National Historical Park, which sits between the former old airport that is now a park and beach, and the actual airport, and where we had heard earlier this week that there was good sea turtle watching. NO KIDDING!  It was not always easy to stay at the required 20 feet distance, as there were gigantic sleeping turtles all over the beach and the rocks . Strangely enough, we also saw a lonely Brandt goose and five bright green parakeets, as well as some sort of grouse, a tree full of snowy white cattle egrets, and, at a traditional fish pond, a strange-looking large bird with yellow feet and red eyes that, on further investigation, turned out to be a juvenile black-crowned night heron.  At about 5 pm, we headed out of the park, and I reluctantly put on socks and sneakers after my last barefoot beach romp.  We tried to look for dinner nearby even as it took a little bit of  extra searching ( I really didn't want to go back downtown!!), and ended up at a locally sourced Thai restaurant. We split a drunken chicken dish on rice that I loved, with super fresh vegetables and a very aromatics sauce made with kaffir lime leaves, lemongrass and ginger, all of which we got to fish out of the broth.  Mark wasn't as impressed, but I loved this fresh, veggie-loaded food and was also happy with the vegan coconut gelato I had for dessert.  We finished just in time to drive back to the turtle beach and station ourselves in a glory spot for our last sunset over the ocean.  It was our first sunset to really meet the ocean at the horizon, and truly beautiful.  Once we had watched the sun go down as red fireball, we took off for the airport, got through security, and then reluctantly changed into our travel/winter clothes, since it will be in the teens in Colorado and Nebraska tomorrow.  The wait at the airport was uneventful, although it was fun to be in an airport that is almost all outside /open air, with some roofed areas but open on all sides, and with the  old-fashioned staircase to the plane. It was not as full as planes usually are theses days, and we were actually able to sleep through most of our long flight to snowy Denver.