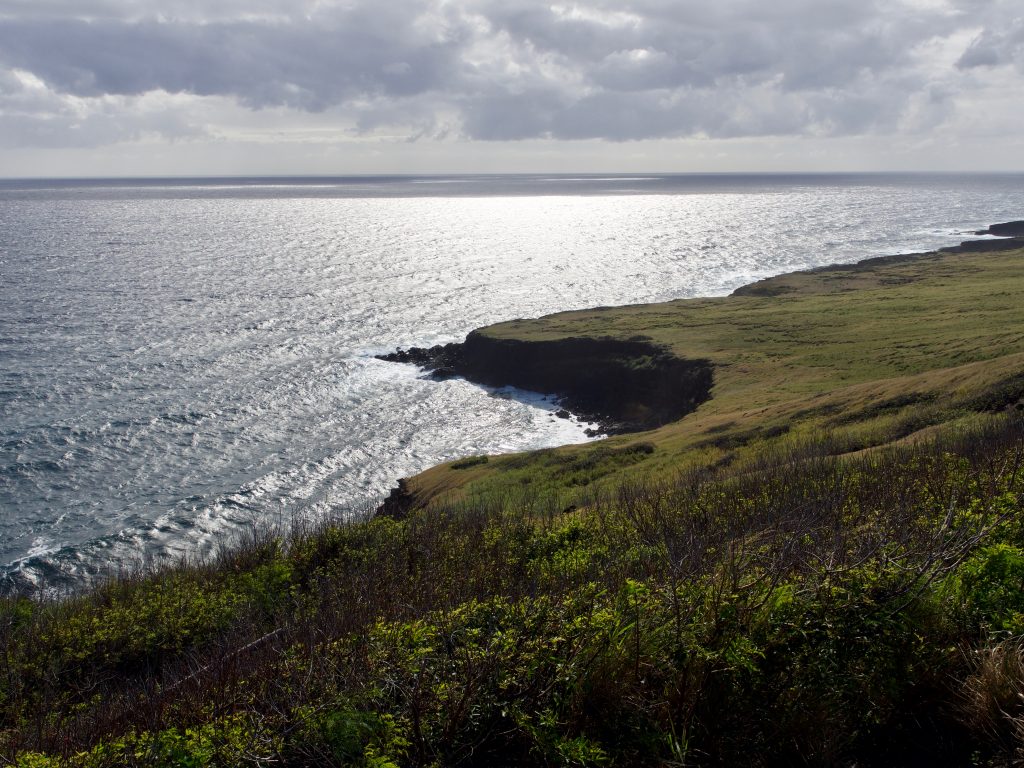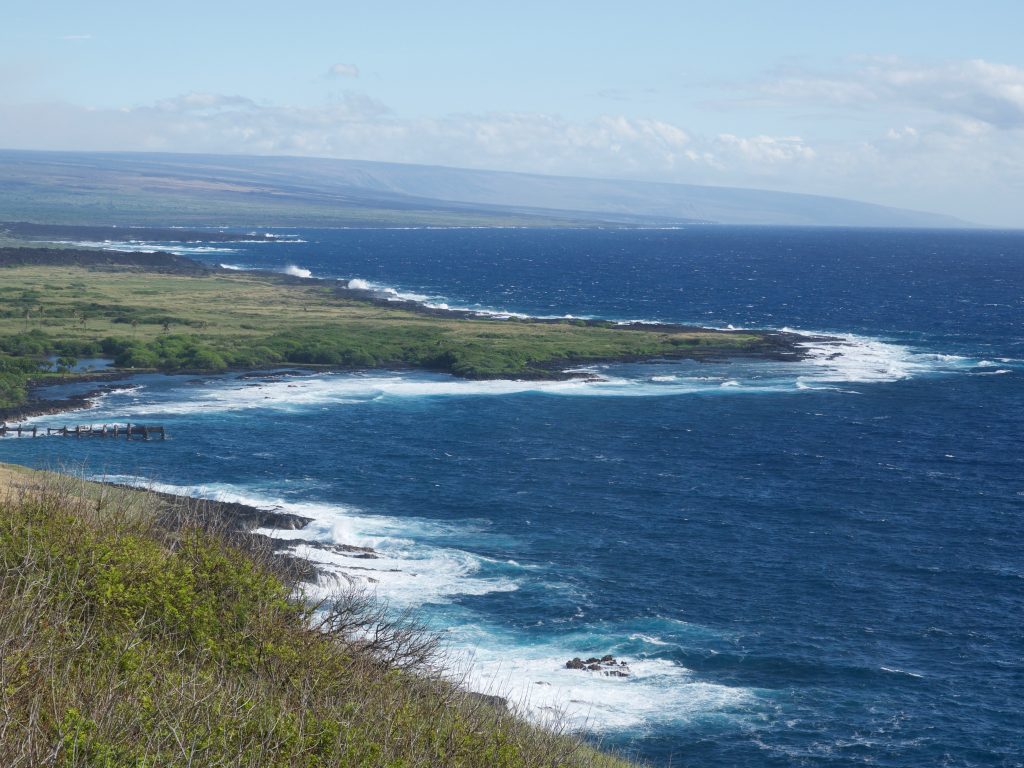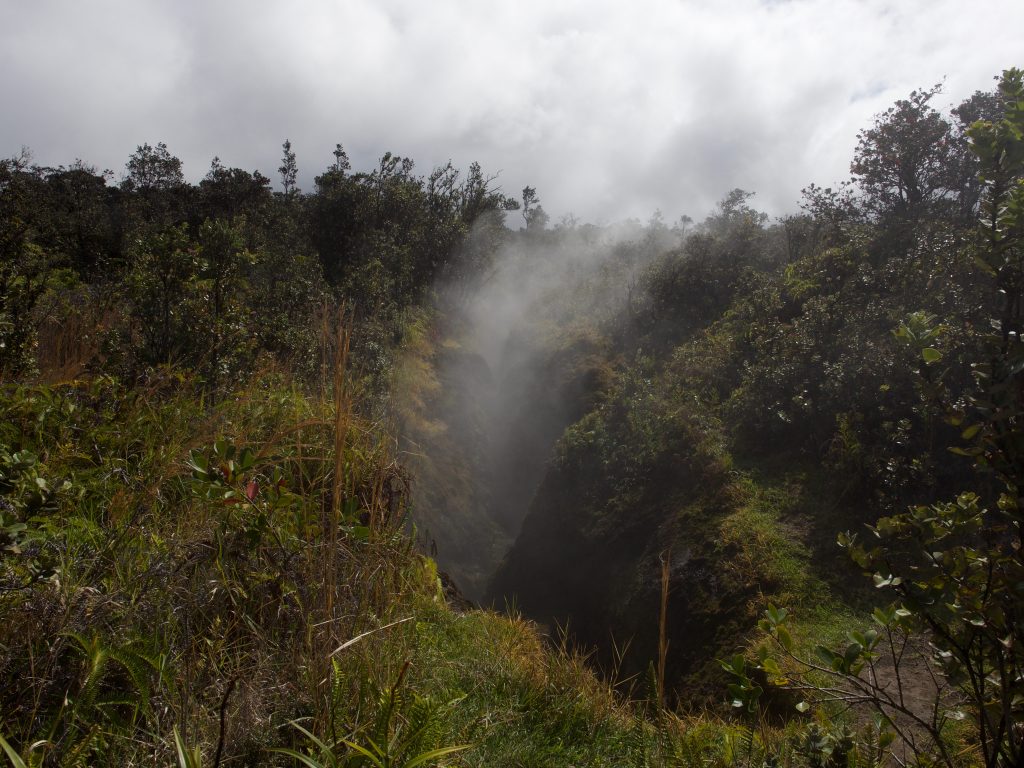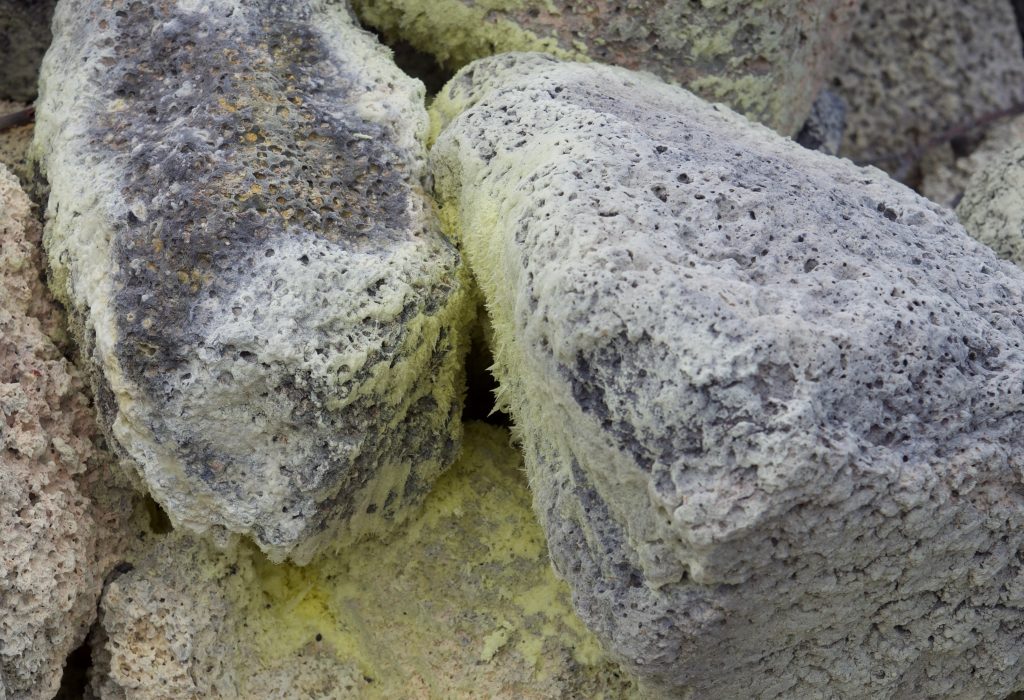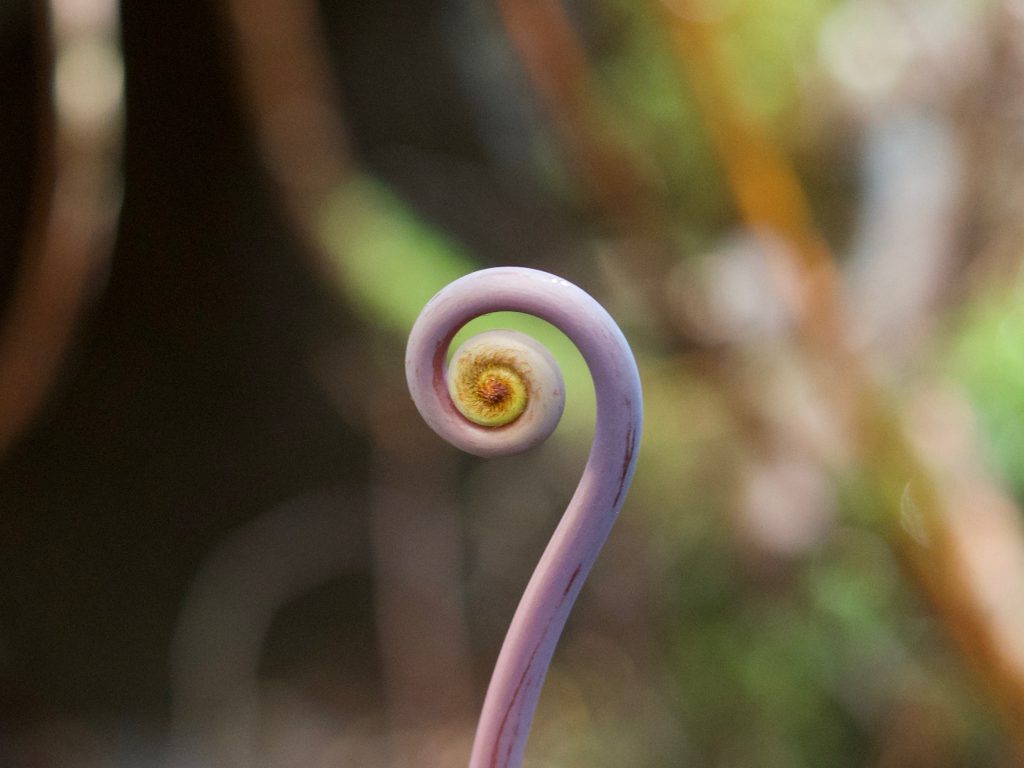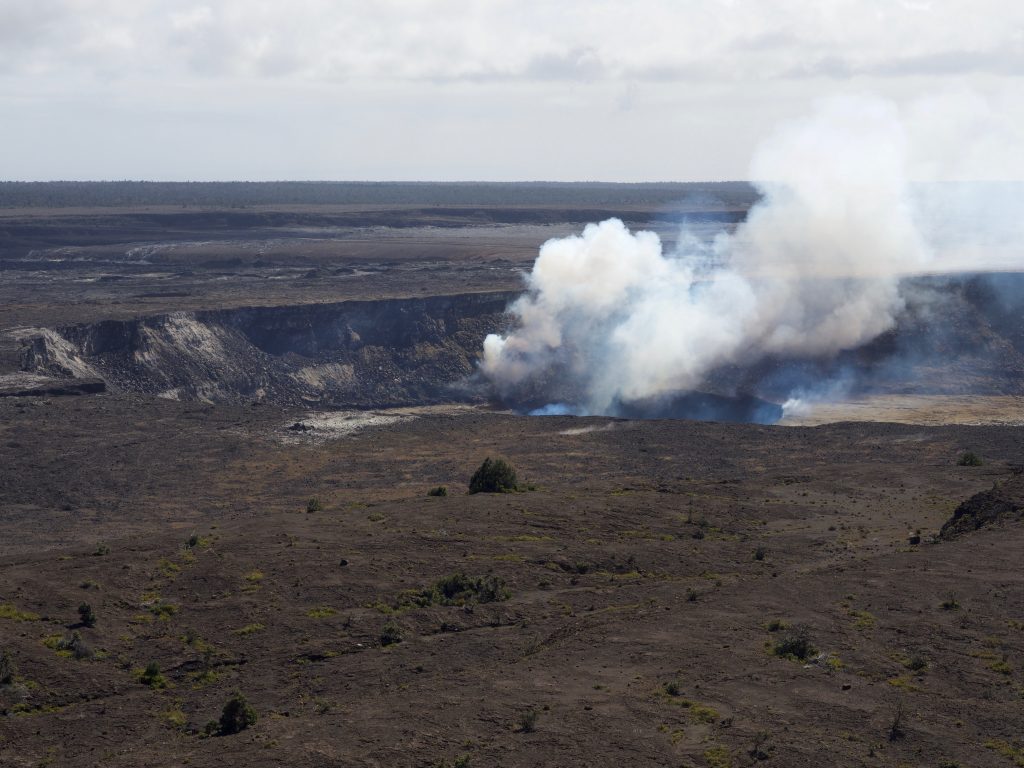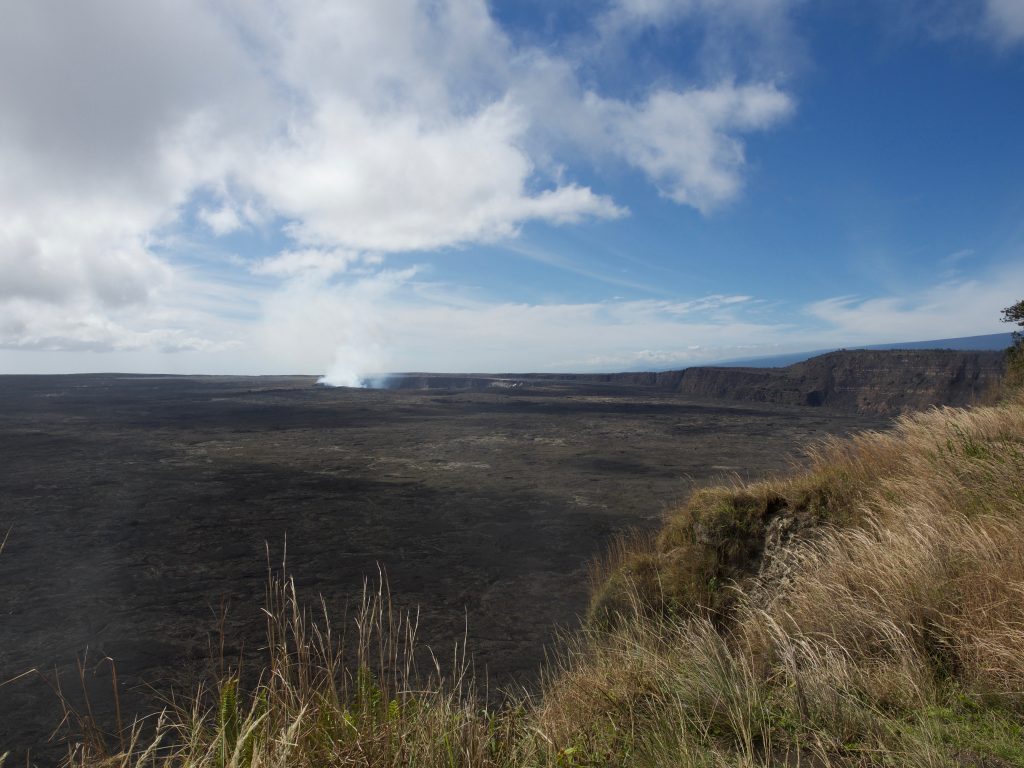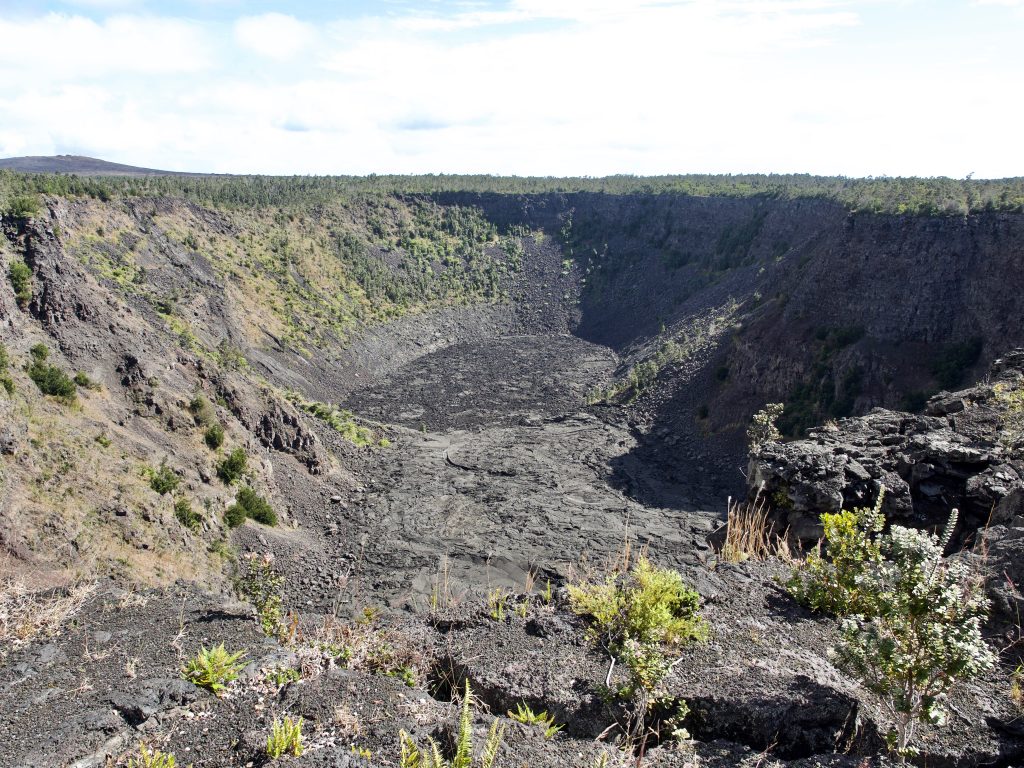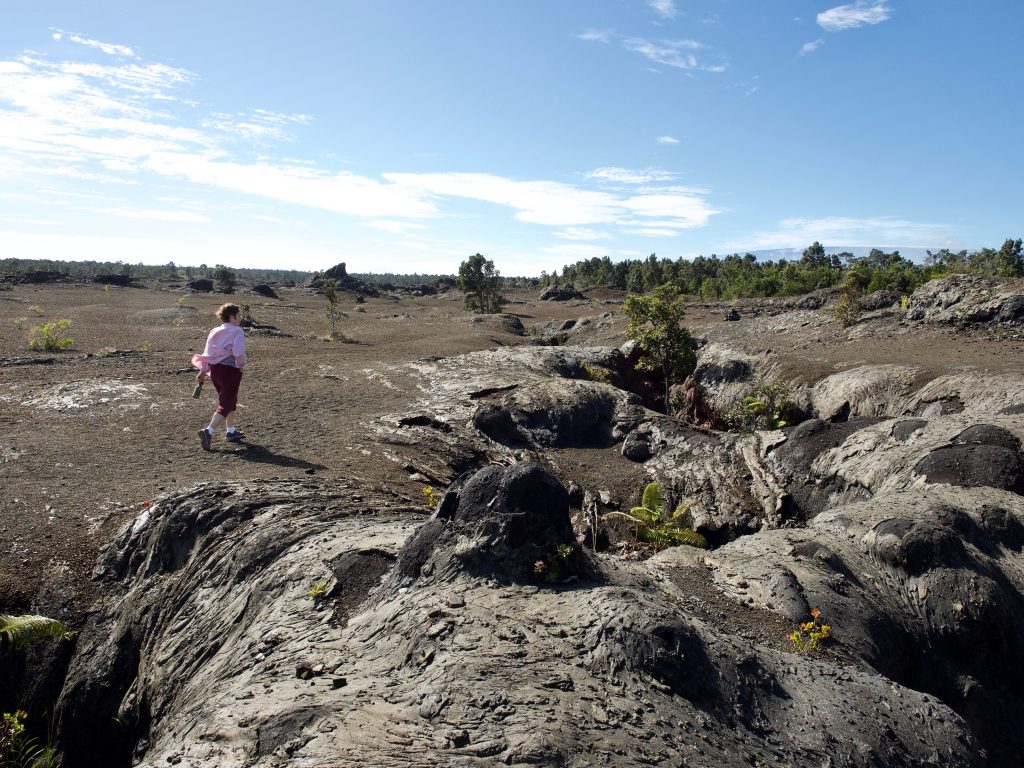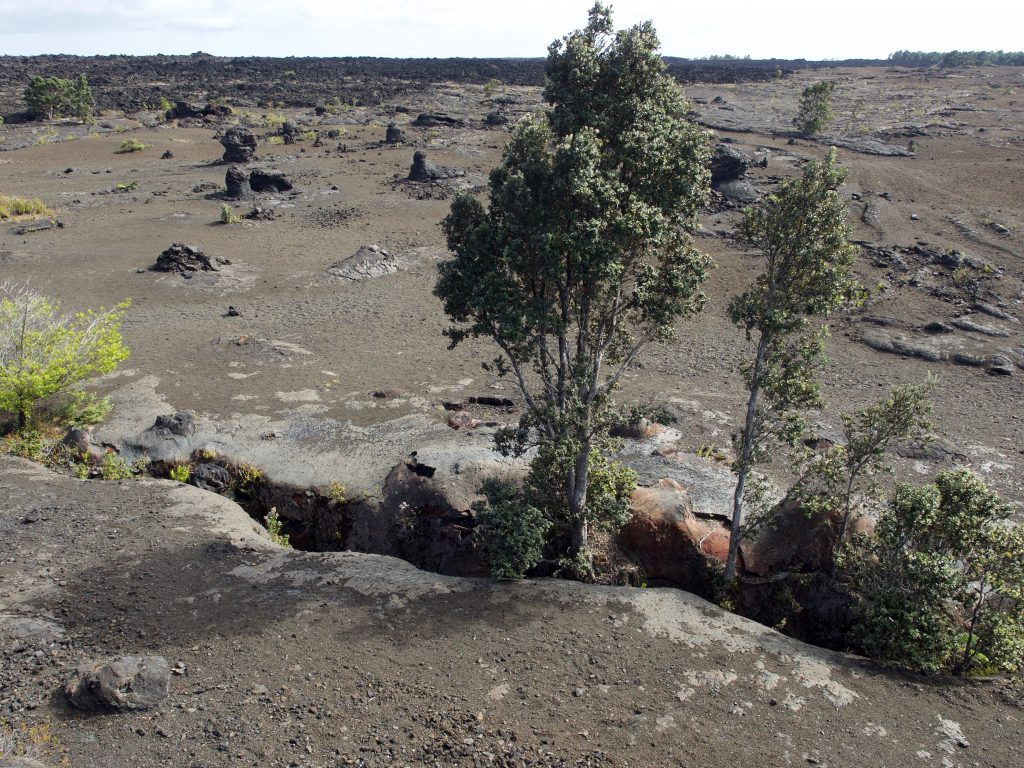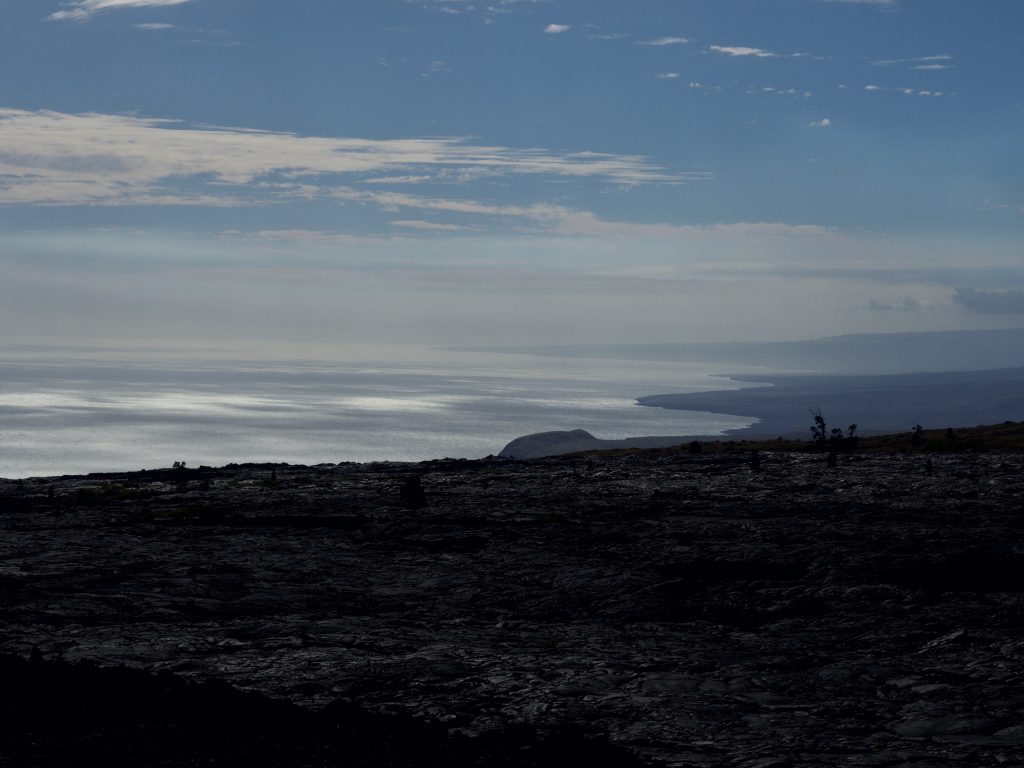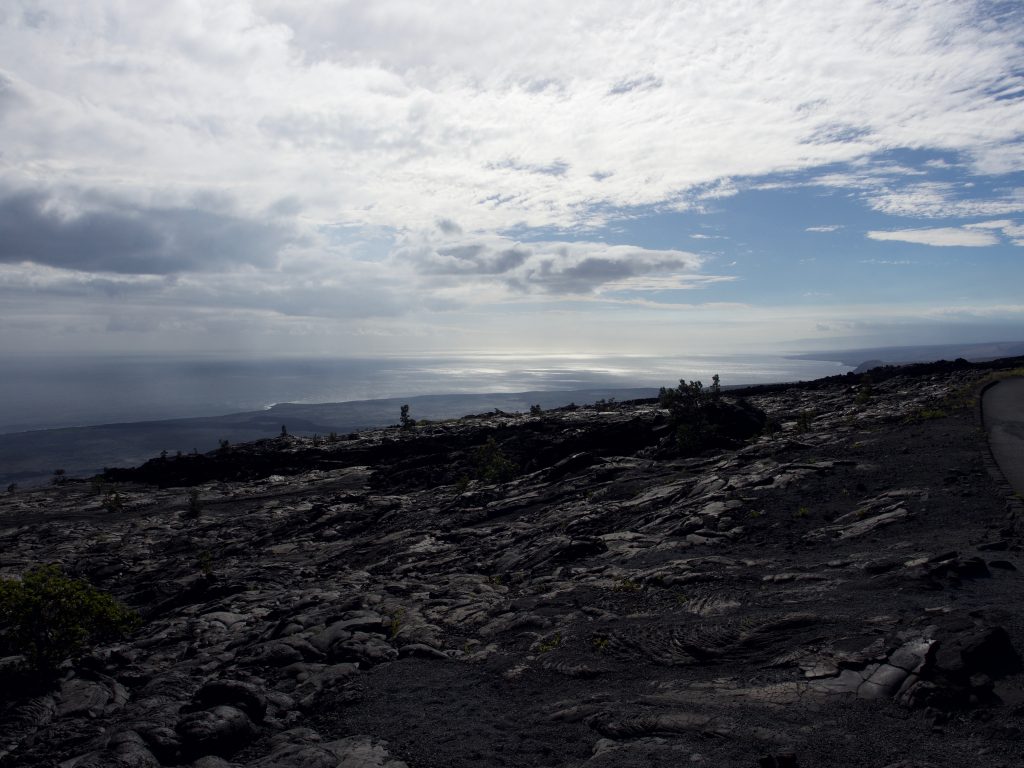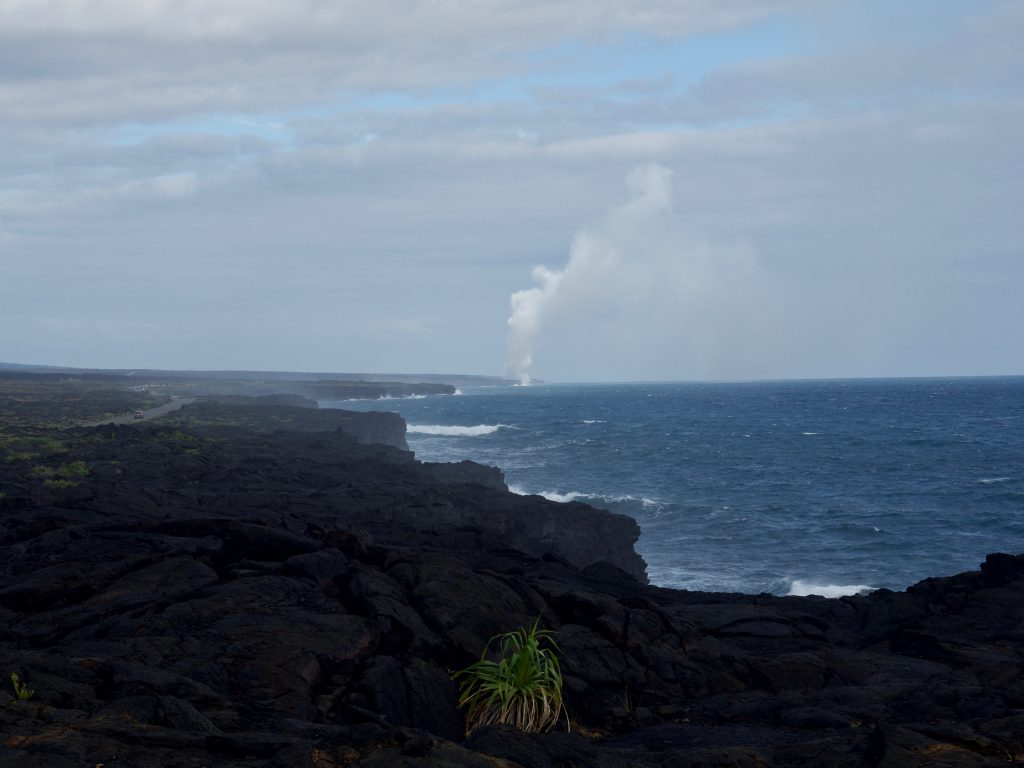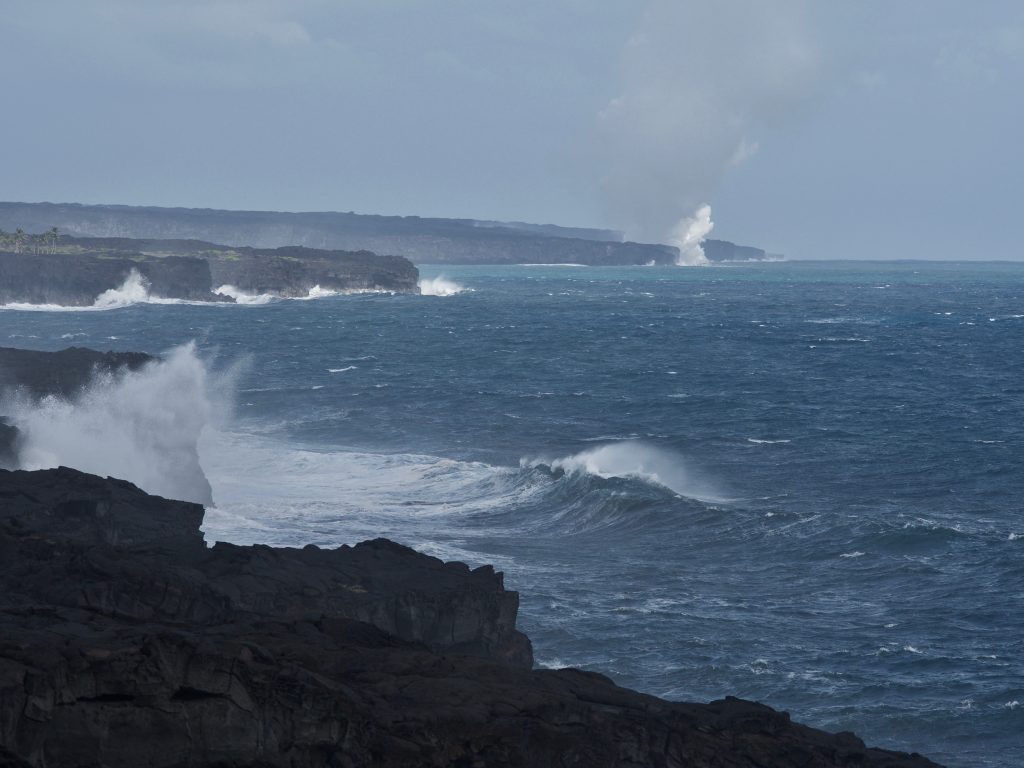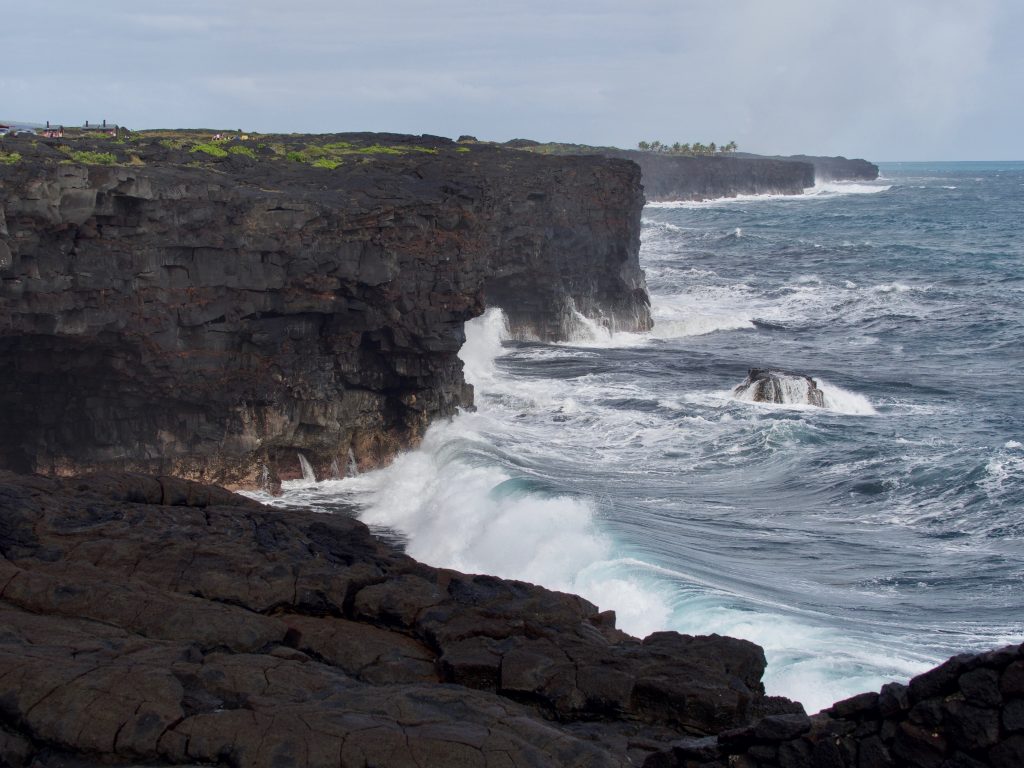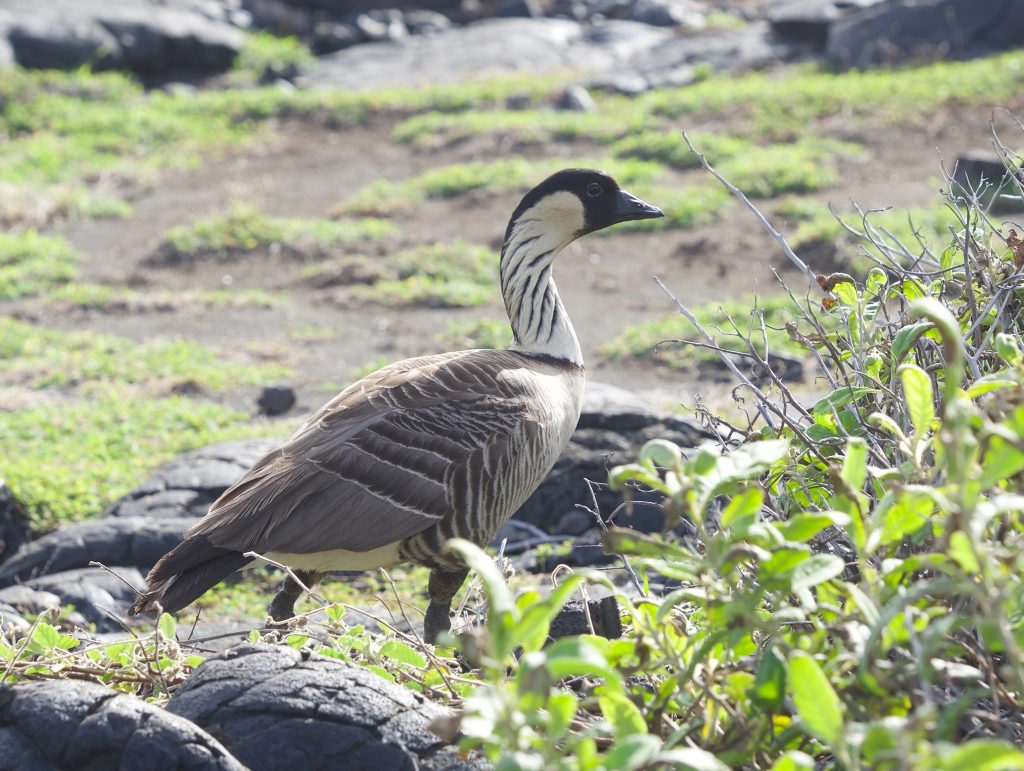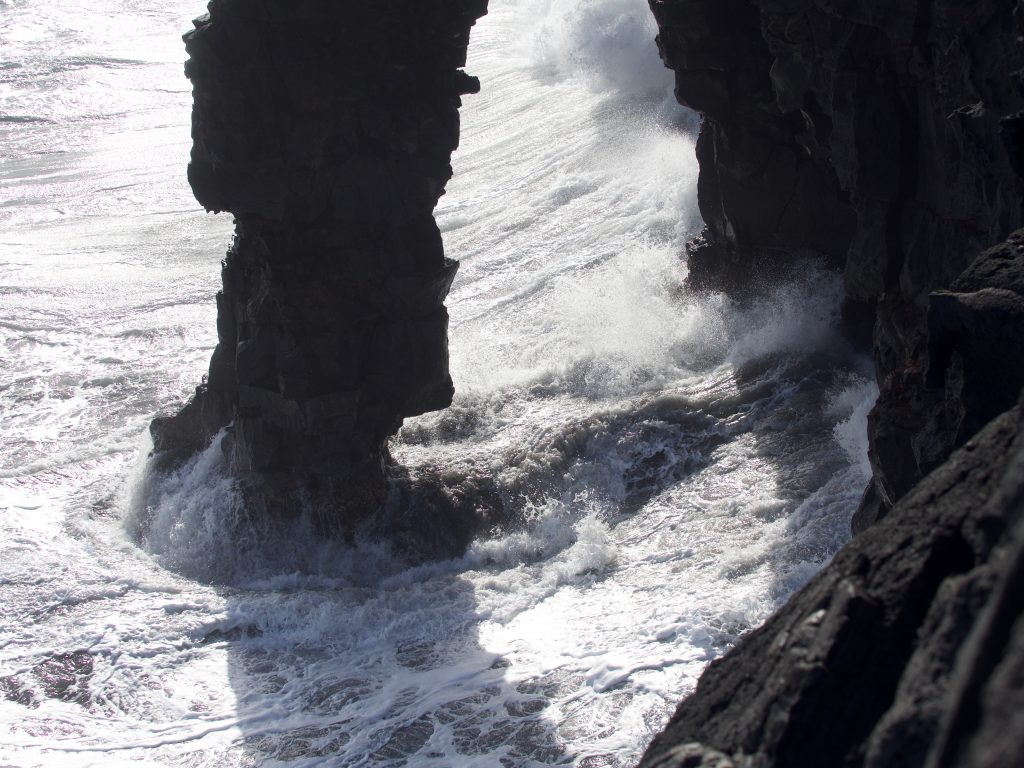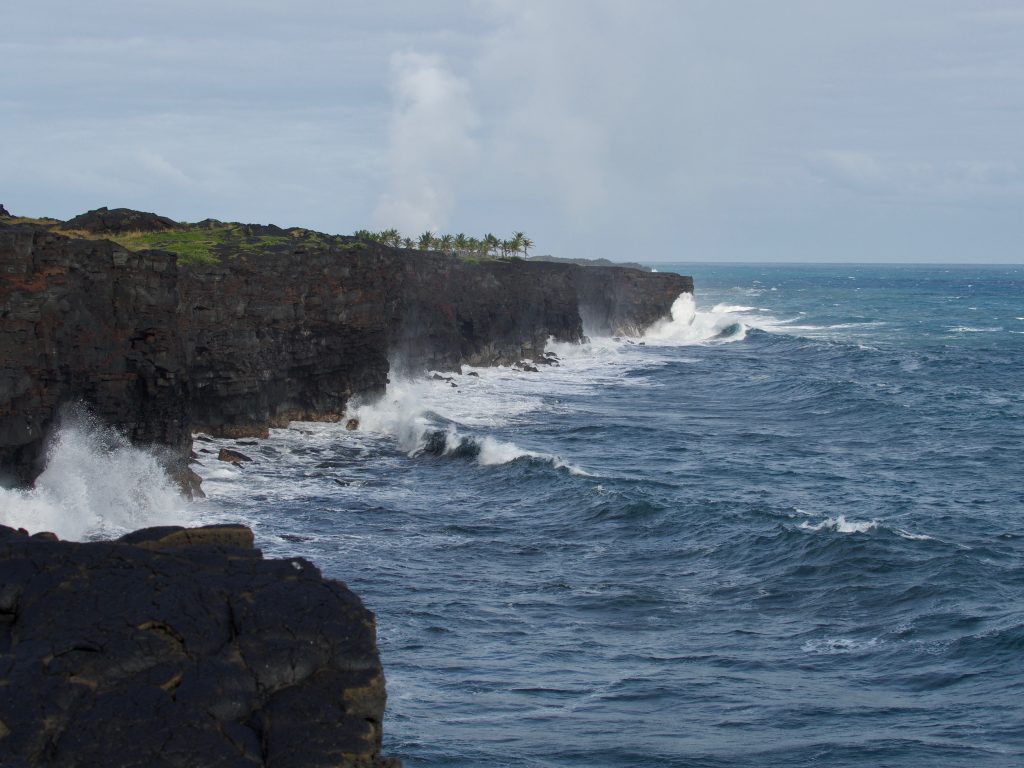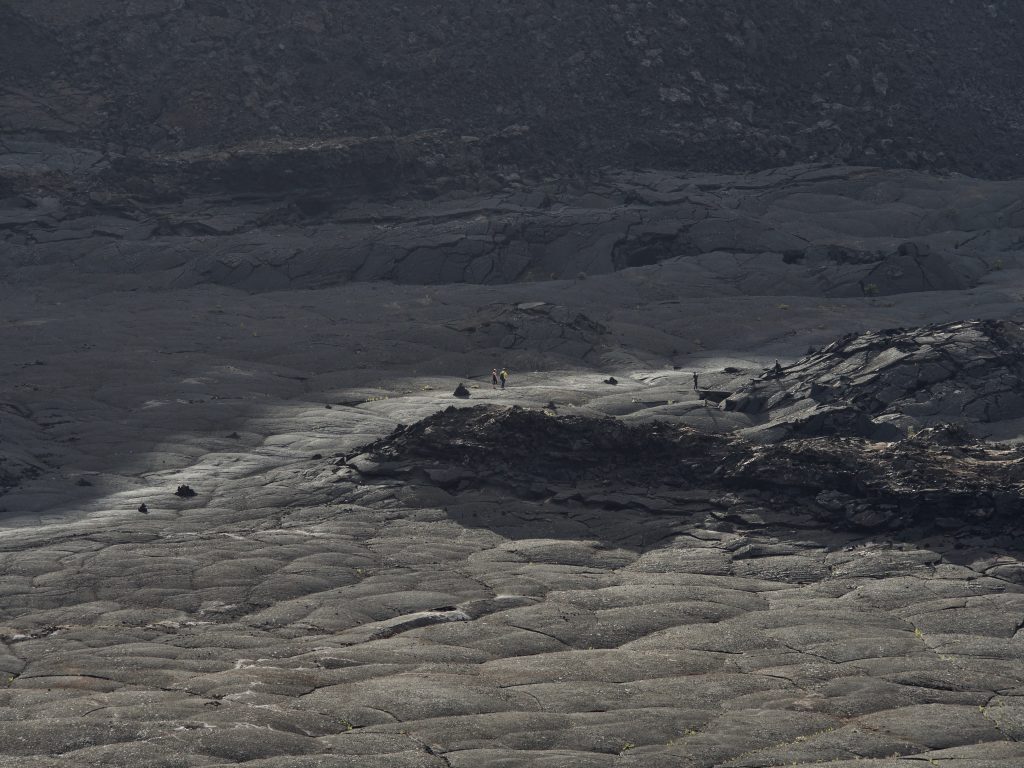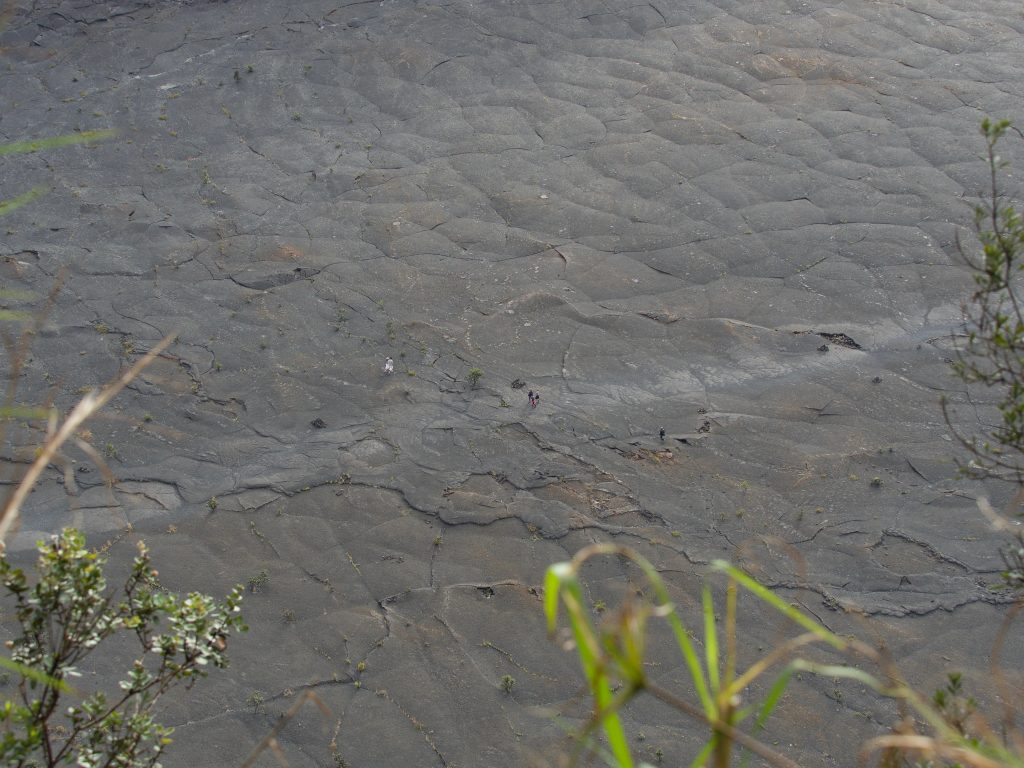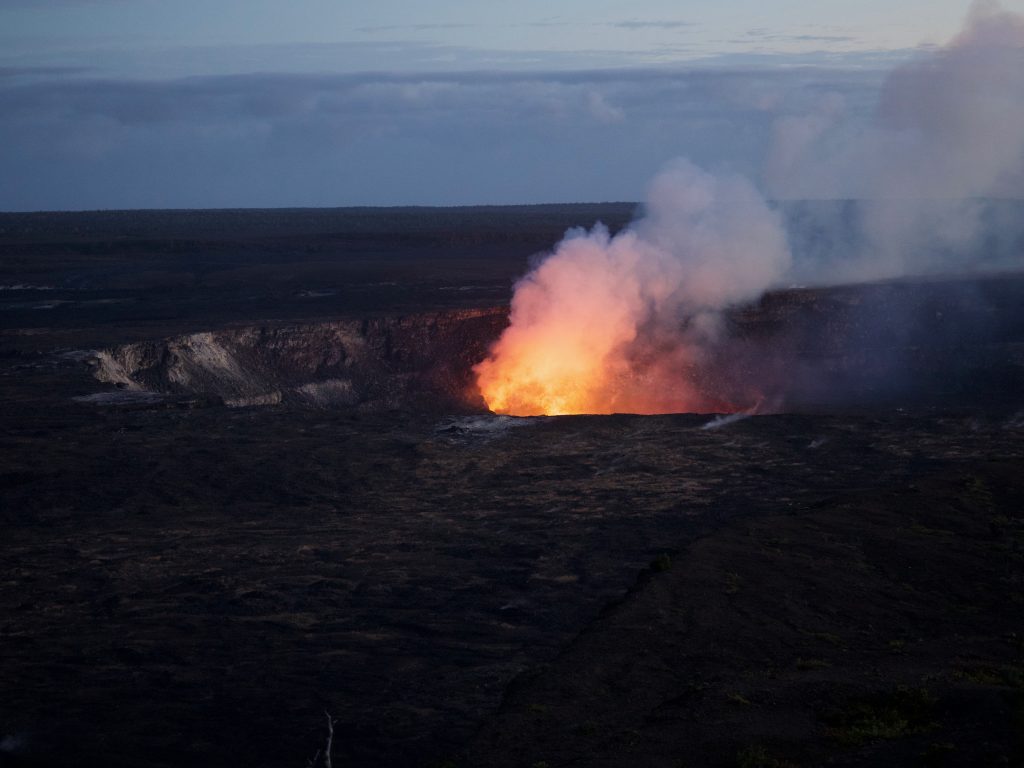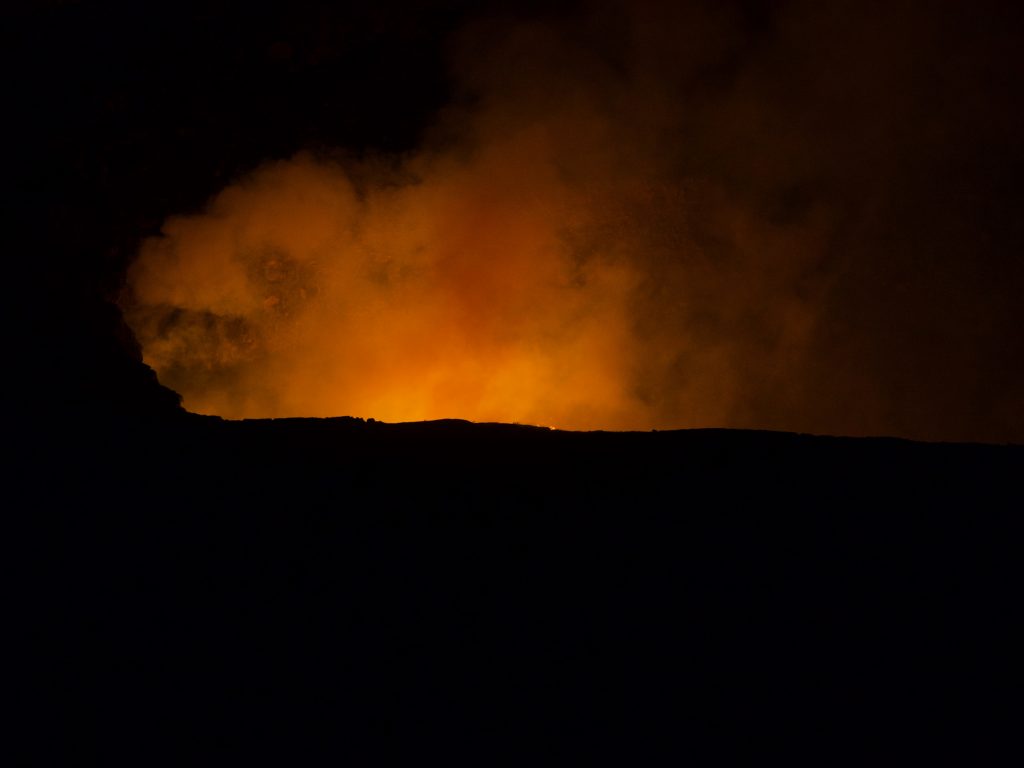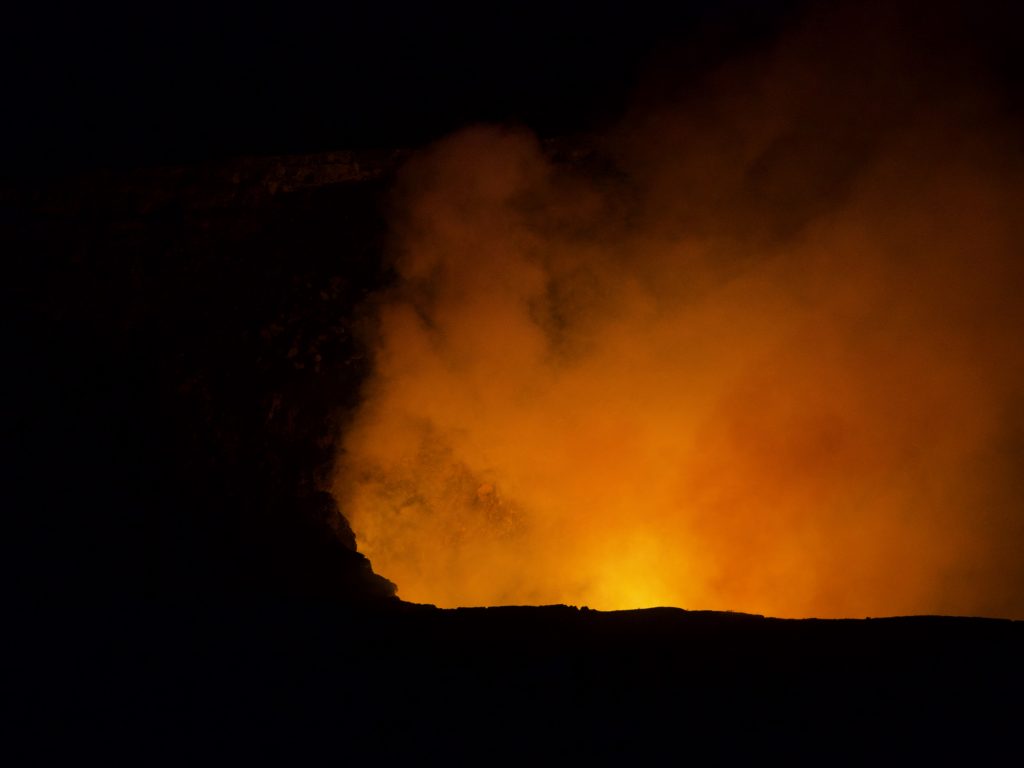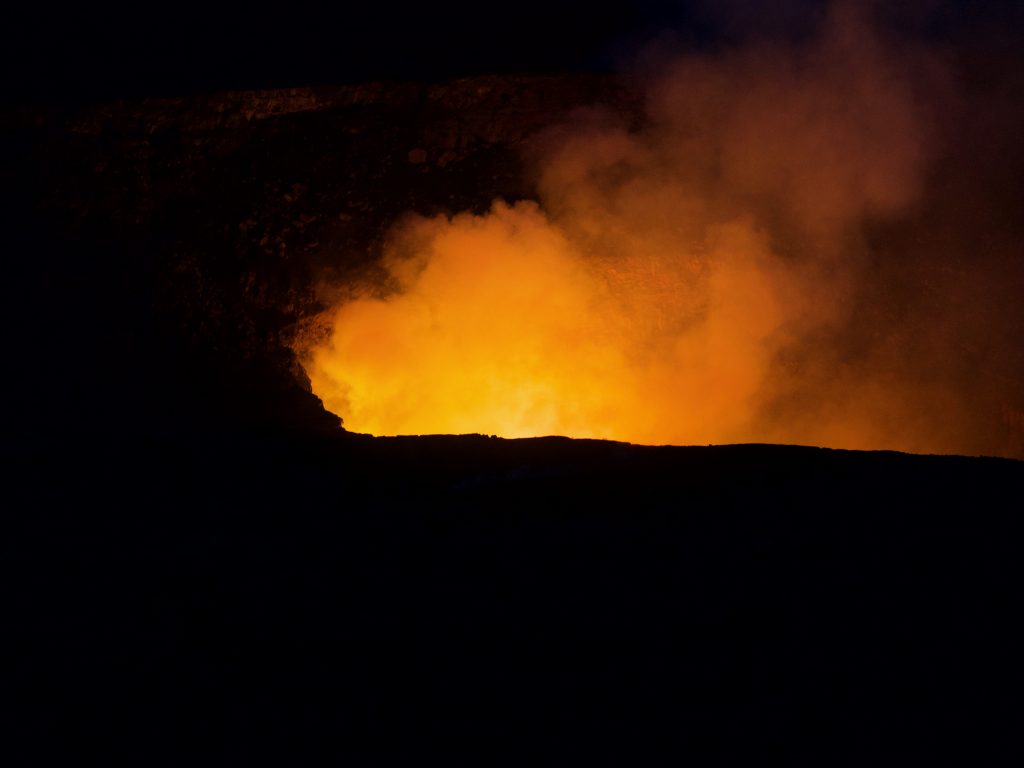 This was a big, adventurous day!  We drove from our place to Hawai'i Volcanoes National Park, which takes about 100 miles and a bit more than two hours going around the south side of the island.  The highway is smooth / looks news but is also winding and requires some concentration, so yay for Mark's driving skills.  We had some fabulous views, since the road goes pretty high up the slopes that are this island early on past the coastal stretch, and we could look down over lots of green, and occasionally LOTS of black, to the ocean.  We had gotten up fairly early and arrived at the park a little after 10.  We went on a small exploratory walk that was already stunning: to the sulphuric banks and an array of steam vents that were near the big caldera of the Kilauea volcano that we'd mostly come to see.  Then we got to stand on the rim of the larger caldera and walk along a gorgeous bit of rainforest trail back to the visitor center.  The museum and main overlook are a little drive away, so we went there next, to look at a bunch of steam coming out of the actual active crater.  We learned that the first goes about 300 feet down, and the second another 400 or so.  And because of the current activity, no one can get closer than the outer rim, so the steam is all we could see.  Very cool, though.  We had brought our picknick lunch and we had it right there on the terrace of the Jaggar Museum that explains everything and has web cams.
After lunch, we had planned on a hike that a ranger had recommended, but the parking was so crowded that we decided to drive down the "Chain of Craters Road," a 19-mile drive from Kilauea's Rim Drive (which is partly closed because of fumes) at 4000 feet to the coast, with many stops along the way to look into smaller craters, look across at the active spot at the small new volcano, Pu'u O'o, and climb around on lava fields from a fairly recent (1969) lava flow that started at Maura Ulu.  It was fascinating to see the different patterns in the lava, partly caused by splatter, partly by the push of the flow, etc.  I knew vaguely about the volcanic activity on the island, but I had no idea how much of its southern coast is simply covered with lava, some of it with no vegetation on it at all yet.  Even a hundred years isn't much in terms of vegetation coming back, and so huge swaths of land and coastline are this fantastic moonscape of black and gray, with little pockets of green where the lava just didn't happen to flow.  Down at the end of the Chain of Craters Road, it was especially impressive, because the lava there has formed into dramatic, gorgeous cliffs where we could watch (and feel) the surf crashing against the feet of the cliff.  And looking east, we could see the steam plume from the spot where there is currently lava flowing into the sea.  It's a hefty hike to get close from this National Park side (5 miles one way) and so we were not quite up for that today, but we probably will go back and try to go from the other side (we hear that's currently a 6-mile round trip hike, so more manageable for us; it changes all the time, of course).  We drove back up the crater road and stopped to look down at the small "Little Kilauea" caldera, which we might also hike some other day.  For today, we just hiked along the caldera's rim for half a mile through some beautiful rainforest to the huge walkable Lava Tube and checked that out.  Also very cool, although (as almost everything in the park) very crowded.
We then left the park to go have dinner in nearby "Volcano Village" at a Thai restaurant (classic island prices but very good, fresh food), and went back into the park just right around 6 pm (sunset time) to see the caldera at night.  That's when it actually impressed us (and the hundreds of others who had come to see it) most: the lava illuminates the steam plume from below with a spooky reddish glow, and every now and then we could see a bit of lava splash up!  How awesome is that–short of the helicopter ride that is so insanely expensive that we decided to forego it, that's as close as one could get to an active volcano.  We left a little before 8, thoroughly wowed and a little cold (I had wrapped myself in a towel, but Mark just had a t-shirt on, and it got a bit nippy after dark).  Then Mark drove the entire 2+ hours back in the dark, while I fell asleep within minutes in the car!  We were too tired to look at our photos but crashed pretty much right away after getting home.