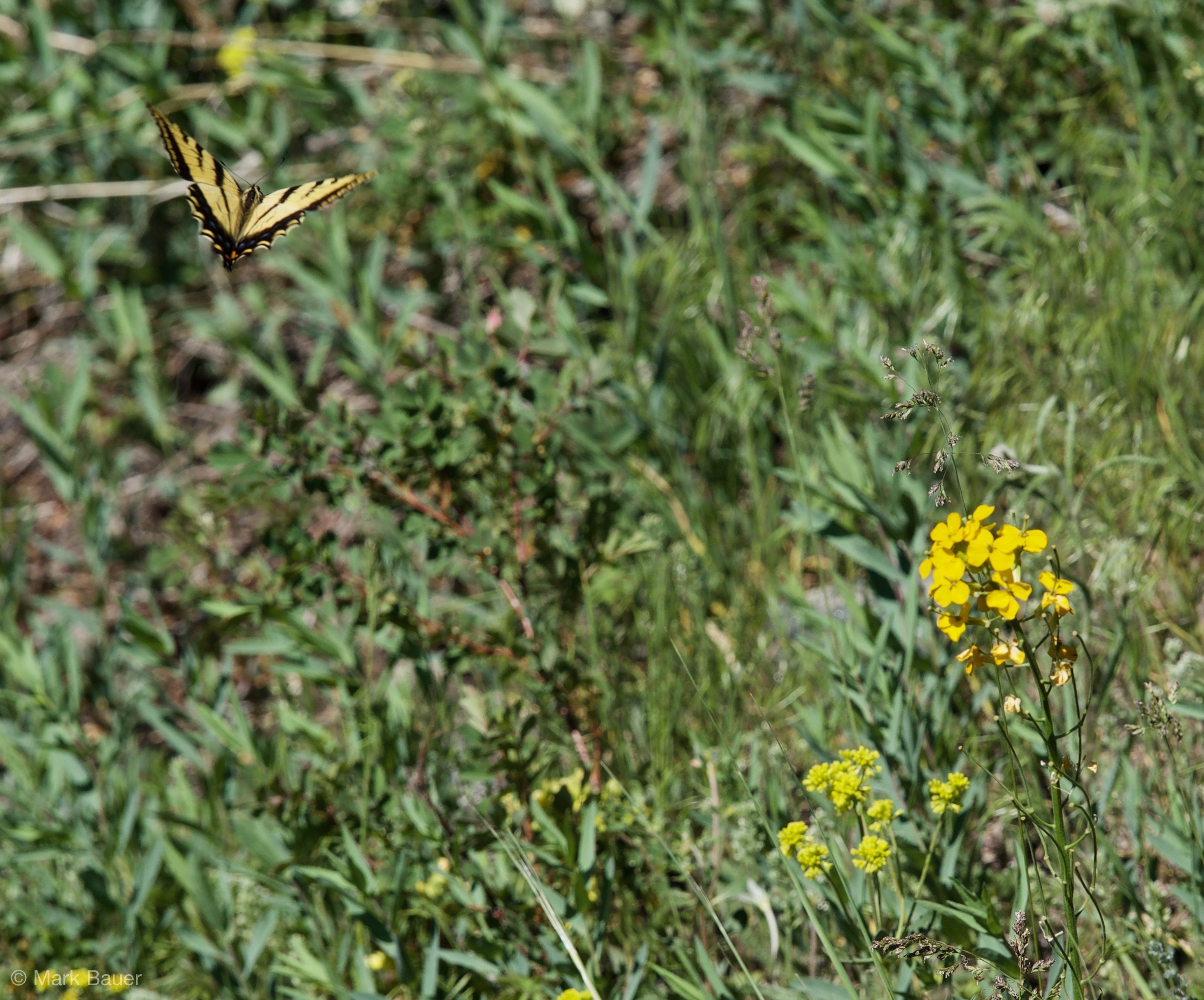 We woke up very early (5:30 am), partly because one of the cats, Tattoo, was outside our window, and seemed rather confused–we tried to lure him inside, but weren't successful–and because we didn't realize he isn't allowed outside, we didn't try harder to get him back. A couple of extra attempts to find him before we left didn't work–we hope he turned up later in the day!
We left about 8:30 am or so, and Alan had given us excellent directions for mountain roads to Estes Park, so that we didn't have to go back East to Fort Collins and Loveland.  The drive was very pretty and got us to Thompson Canyon, so that we could just drive up to Estes and on to Rocky Mountain National Park from there.  We were in the park by about 10, and went straight to one of our favorite places, the alluvial fan that was created after the catastrophic dam break of 1982, and then changed again 3 years ago when major rains caused another flood above the area.  We clambered around the big rocks around the rushing river that comes down there, and then drove to a nice shady picnic area right off the spot where the Fall River Road starts.  It is still closed until early July, but I really wouldn't want to go up there with the Prius, anyway! Five years ago we did take the Mini that way, and that was pretty adventurous.  Two years ago, when we visited again, the entire area was still closed because of the flooding the fall before.  It's fascinating how the landscape changes so much even in the Rockies, with all that eternal granite!
After a picnic lunch, we took off for other familiar haunts in the park:  We drove up the one and only road that goes through the park, past Alpine Visitor Center to the continental divide, and then turned around (since we are driving the rest of the road tomorrow).  We did spend some time at Alpine, and took the very short but steep hike up to the top of the meadows (11,796 feet or 3595 meters).  I'm glad we weren't the only ones huffing and puffing, but it is still always frustrating to feel so out of shape in high altitude. I even got a bit of a headache.
The day in RMNP was all-around gorgeous despite of this.  It was unusually warm even high up (in the mid-70s; in Estes Park later in the 80–we were glad we had driven out of the heat of the plains, which the day before had had temperatures in the upper 90s. Up here in the mountains, the wild flowers are in full bloom, so we saw everything from teeny tiny alpine flowers to Indian paintbrushes and forget-me-nots.  And apart from small wildlife (chipmunks, a couple of marmosets, a wild turkey) we also saw quite a lot of elk.  It's calving season right now, but I don't think we saw any babies.  And since there was a pretty hefty snowfall in late May (about 3 feet–all our Colorado friends had snow days and road closings), there is still quite a lot of snow, which gives the mountains in the distance beautiful contrastive contours and, closer by, made for all kinds of snow melt "waterfalls" down the sides of the mountains.
We drove back down into Estes Park around 3:30 pm, checked into our hotel, and rested up for a bit before making our way to the touristy downtown for a totally simple pizza dinner and some ice cream for dessert.  Estes' popularity as a tourist attraction makes it pretty boring to us–knickknack stores are just not our thing, and neither is overpriced hiking equipment.  There are at least 10 ice cream/taffy stores on the main tourist street, and while the taffy "machines" are fun to watch, it is pretty repetitive.  But the walk along the back promenade by the Big Thompson, which runs through town, is mostly really pleasant with the rushing water always by our side, and we revisited a crazy old movie theater (Park Theater) with a totally useless but awesome Art Deco tower with neon lights.  We picked up some necessities from the Safeway and called it a night before 8 pm!