We took off very early this morning from Marfa, when it was still blissfully cool (just as the 95 yesterday had not felt quite that hot, with the breeze, the 61 this morning felt warmer than that, too, and very pleasant), and drove a bit more than 3 hours to Las Cruces. We stopped a couple of times to take pictures of the mountains that surrounded the plain that we were driving through, and which look so interesting and alien–like huge rounded sand piles that seem like they could just drift off or flatten themselves like beach sand, until the Interstate goes through a cutout and it is clear that they are made of pink and gray-blue granite, while the sandstone that is all around is what has already eroded. Otherwise, there wasn't much to the drive–I napped for quite a while; the only major city on the way from Marfa to Las Cruces is El Paso / Ciudad Juarez, where we could see the border in the distance from the I-10 at several points. It must have been so different here when people were just going back and forth with ease. Shortly after that, we crossed into New Mexico, and arrived at about 10:30 mountain time in Las Cruces.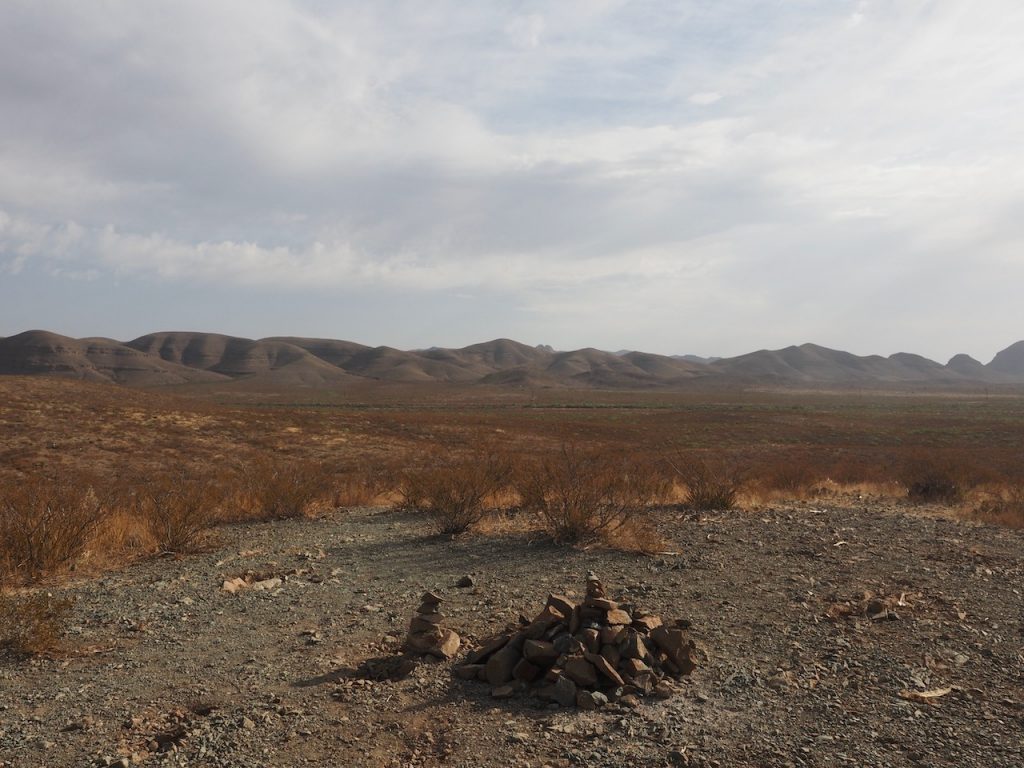 Our friend Randy, who lives in Las Cruces, had given us some great tips about trying to do a few things today that we would otherwise have missed: the market in the downtown area (which used to be pedestrian, but had car access reintroduced in the early 2000s), and, in the same area, the three main city museums (the Museum of Art, the Museum of Science, and the Branigan Cultural Center), which are not open Sundays or Mondays. So we started with the long stretch of farmers' market, which was 80% tchotchkes and snacks and 20% produce and meats (including large bundles of dried hot peppers–people hang them on the walls everywhere, we discovered). It was already swelteringly hot, so after we had wandered up and down and had a mediocre breakfast burrito from a food truck in a shaded area on the main plaza, we checked out the three museums, which are very small, but AIR-CONDITIONED. The science museum had an interesting permanent exhibit about the nearby fossil tracks (with replicas of the tracks), the art museums has changing traveling exhibits and was showing American impressionists–the kind that are minor enough that even I, with my decent grasp of American art, had not encountered most of the names. But there was an interesting semi-impressionist John Sloan piece included, as well as a Robert Henri portrait of a little girl, and I did like a true "impression" of the ocean in Monterey Bay that I had not encountered before. The Branigan Center, formerly the public library, had a couple of small exhibits on New Mexico aviation and on the Japanese internment camps in this area, and a little bit of contemporary local art (quilts and paintings by a Native two-spirit painter). But it did not take us long to go through all three, and after a little bit more milling around and having a Mexican-style lemonade (hibiscus for me and pineapple-coconut for Mark), we decided to find the historic area near our Airbnb and explore that.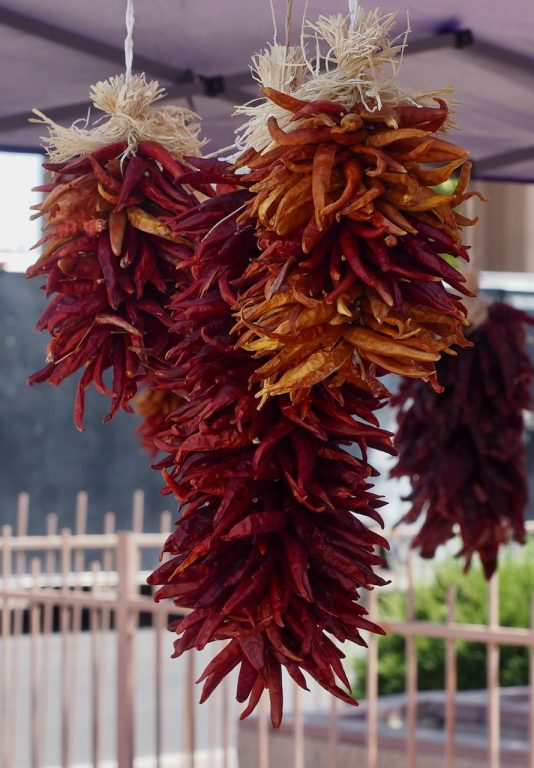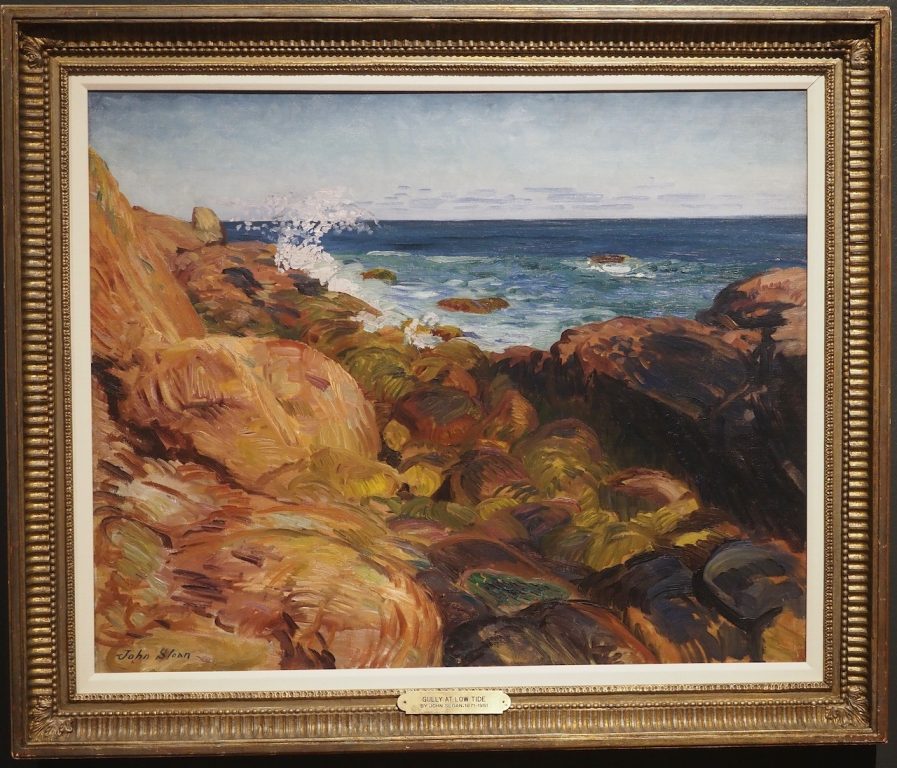 So we drove about ten minutes to historic Mesilla, the town that was across the Rio Grande from Las Cruces in the 19th century, and almost exclusively built and inhabited by descendants of Mexicans that had lived here before the area became part of the US, in the classic adobe style. But later the area became fully absorbed into Las Cruces (as the Rio Grande also shifted its course, presumably by human intervention, so it was no longer physically separate), even as it retained a distinctive Mexican style. Today, the little market square with the village church (San Albino) is a tourist attraction, and the surrounding mini city blocks are full of boutiques and bars and restaurants, intermixed with small, one-story residences and a few run-down deserted adobe structures that are falling apart and haven't been gentrified yet. The forerunner to the Wells Fargo Pony Express, the Butterfield, had a stage stop here at Mesilla, and the stagecoach inn is now one of the more popular restaurants, La Posta. We wandered around the main square, since it was still way too early to go to our lodgings (2:30 pm was our check-in time, and it was only about 1 pm), but it was unpleasantly hot and windy. ("Bread oven," my friend Randy says.) So we eventually fled into a gelato-and-wine store that I had spotted (wine-tasting is apparently a must here wherever you go), and got tips from the woman who ran it about places to see while tasting the gelato and sorbet, which is made by the culinary arts division of the New Mexico State University, which has its main campus here). Yum.
Finally, it was time to check in and we settled into our lovely little "casita"–which is really just one room with a bathroom built onto a garage, but a) very nicely set up, so that there is a little kitchen "kiosk" with plates and glasses and a microwave + fridge that includes a freezer, and b) very very new and clean. We were very happy with it and spent the next hour or so just resting and recovering from the heat; we both took a little nap. Around 4 pm, our friends Randy and Laurie came by and brought us an adorable and wonderfully practical welcome package: some fresh bread that Randy had baked, some local cheese, honey, and pecans, and some lemon marmelade and apple butter that Laurie had canned. We were set for a charcuterie dinner, and very happy! We chatted for an hour (even as there was just barely enough room for all of us) and got lots of additional tips for where to go and what to do in our two days here (and at what time of day).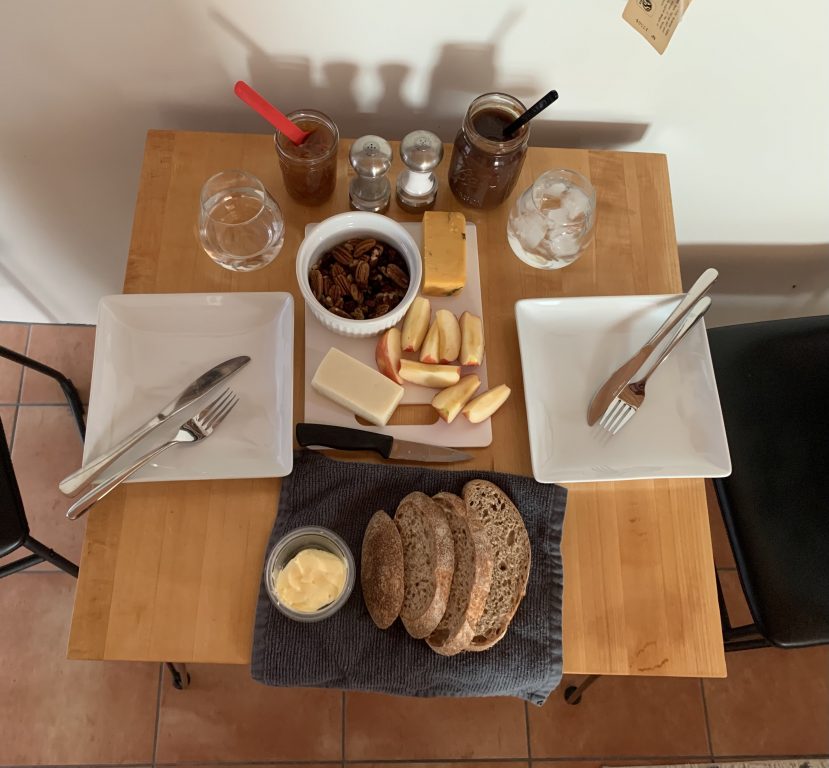 When they left, we had our fantastic "Abendbrot" with everything they brought us, including these fabulous little cinnamon cookies called biscoches (or biscochitos) that are a local specialty, as a dessert. We then went for another walk around the neighborhood, now that it was cooler and we could truly enjoy it. From some spots a little further down the avenida de Mesilla, we could see the mountains really well, as well as some of the fantastic cacti and enormous yucca plants in some of the front yards; when we returned to the town plaza, the live music from a bar provided background sound as we just sat and enjoyed the evening air. It was pretty quiet (partly because this is the weekend of the wine festival, which draws everyone to the fairgrounds) but we enjoyed it, as well as our return to the cozy casita where we'll be for a few days.