Our walks were short today, but it was still a very good day for being outside and watching animals, and we got to see more family & friends!
We took off this morning around 9 am with a box full of brunch food, and headed up through Boulder and the gorgeous Boulder Canyon just beyond Nederland to my niece Nicki's house–which used to be my kids' grandma Ginny's house. We got there at about 10:15 and I got to meet Nicki's baby, Griffin, 14 months, for the first time, and could say late happy birthday to Gavin, who just turned six, and whom I hadn't seen in four years. Jacquie, Nicki's mom and my former sister-in-law, got there just after us, and we had a very late breakfast / early lunch (who knows what to call it? I made salad, dished out cheese and meat, cut up baguette, and served strawberries, mini cinnamon buns and scones with the savory foods–my big regret was that I didn't get to bake any of this myself). We caught up and talked and talked while we ate, but Mark kept wandering out onto the deck–because a young male moose and his mom (chilling out in the undergrowth) were hanging out in the meadow at the back of Nicki's house! Jacquie couldn't stay long (because she has an ailing, aging dog at home) but when she had to leave, Mark and I went for a little walk to the nearby dam, with Gavin riding his bike ahead of us in his big rubber boots, while Nicki put Griffin down for a nap. It was gorgeous and sunny, much warmer than forecast for the altitude (over 9,000 feet at Nicki's house).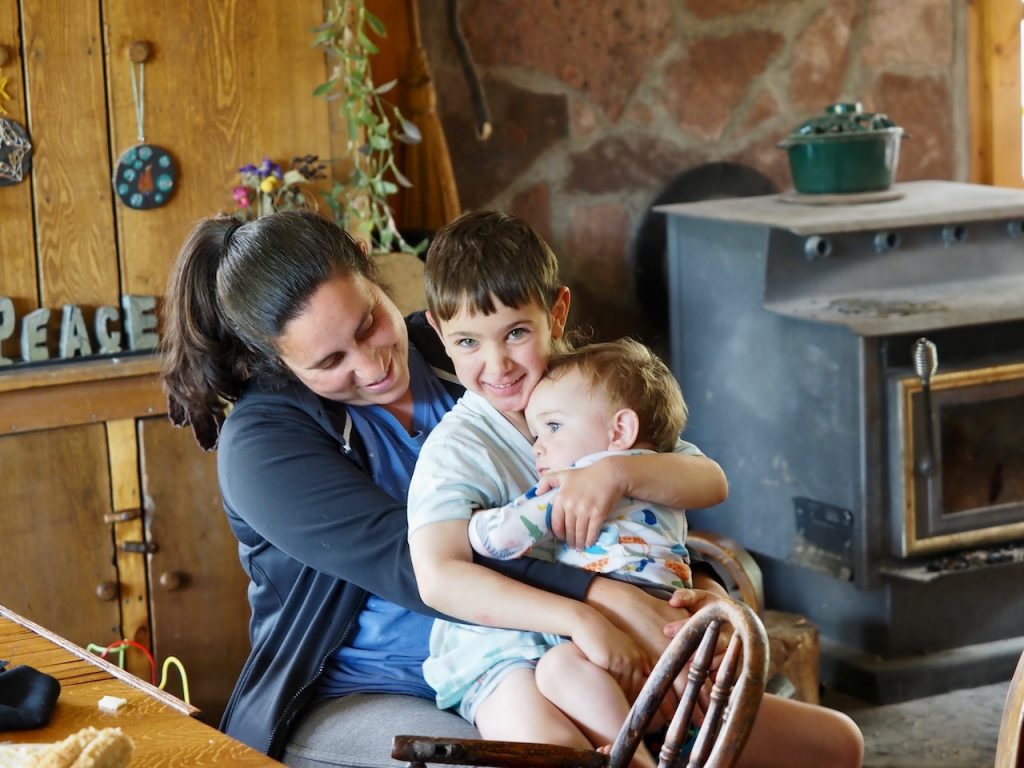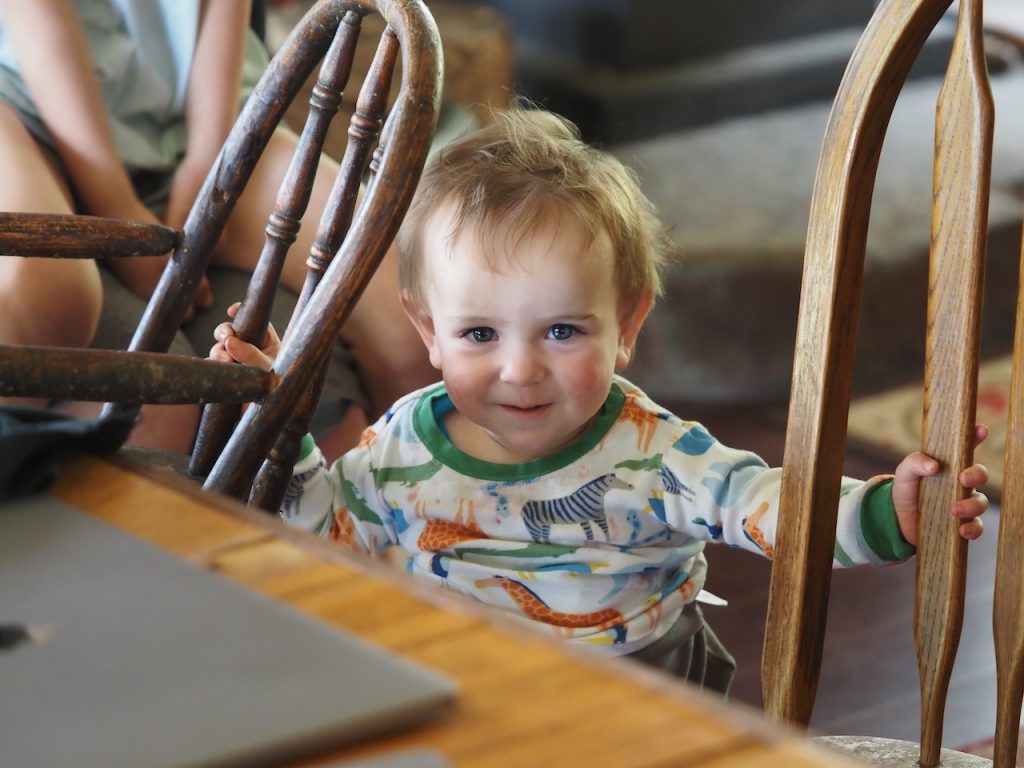 Then Nicki, Mark and Gavin walked the other way into their "backyard forest" (which borders on two sides on National Forest land), while I held the fort with Griffin napping upstairs, and watched the moose chewing placidly on the leaves, and the hummingbirds and other birds that came right up to the bird feeders on the porch. I have come to this house ever since it was built by Kati and Kai's grandparents, who had bought the land in the 1980s and, after camping there in the summer, started on this more permanent abode in the early 1990s. We even got to briefly see the chief designer and builder of the house, Nicki's dad Geno, who happened to come by just as we were getting ready to leave (he had to wait in his car for a while because young Mr. Moose thought that the driveway was a particular fun place to hang out and take a drink from a mud puddle.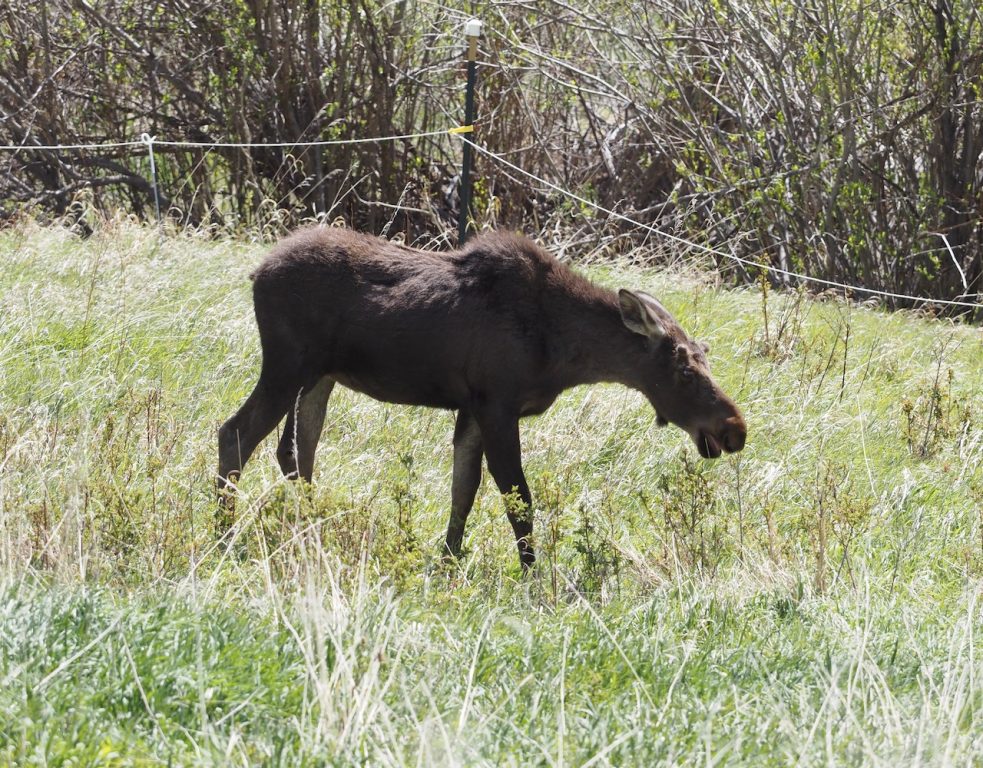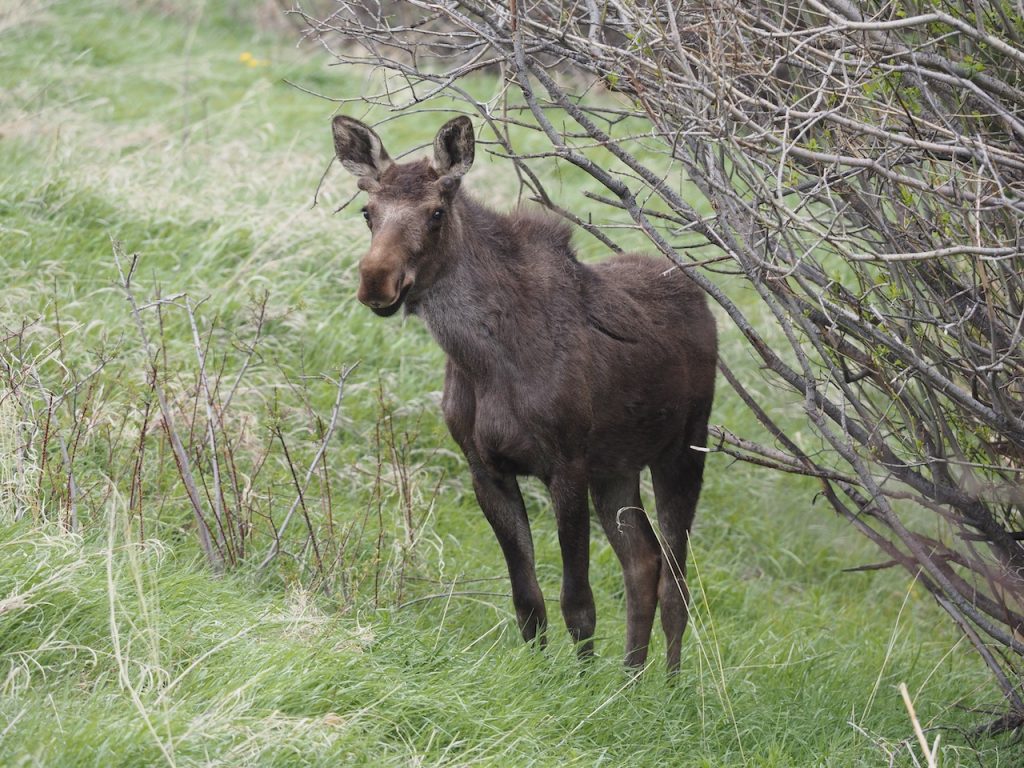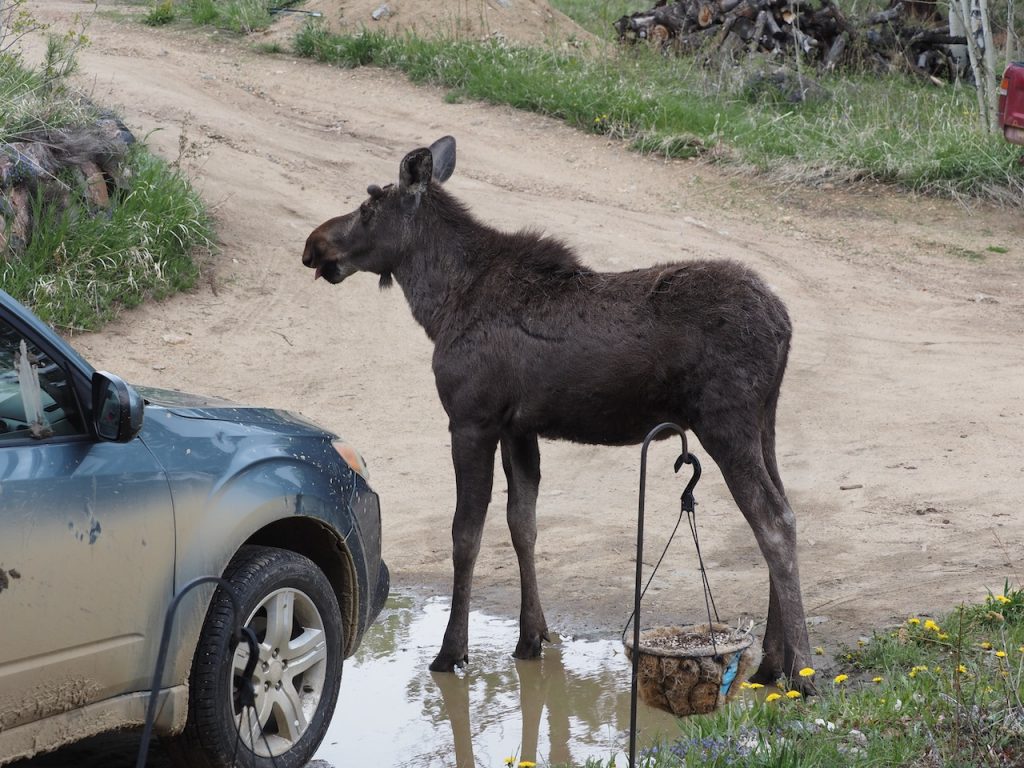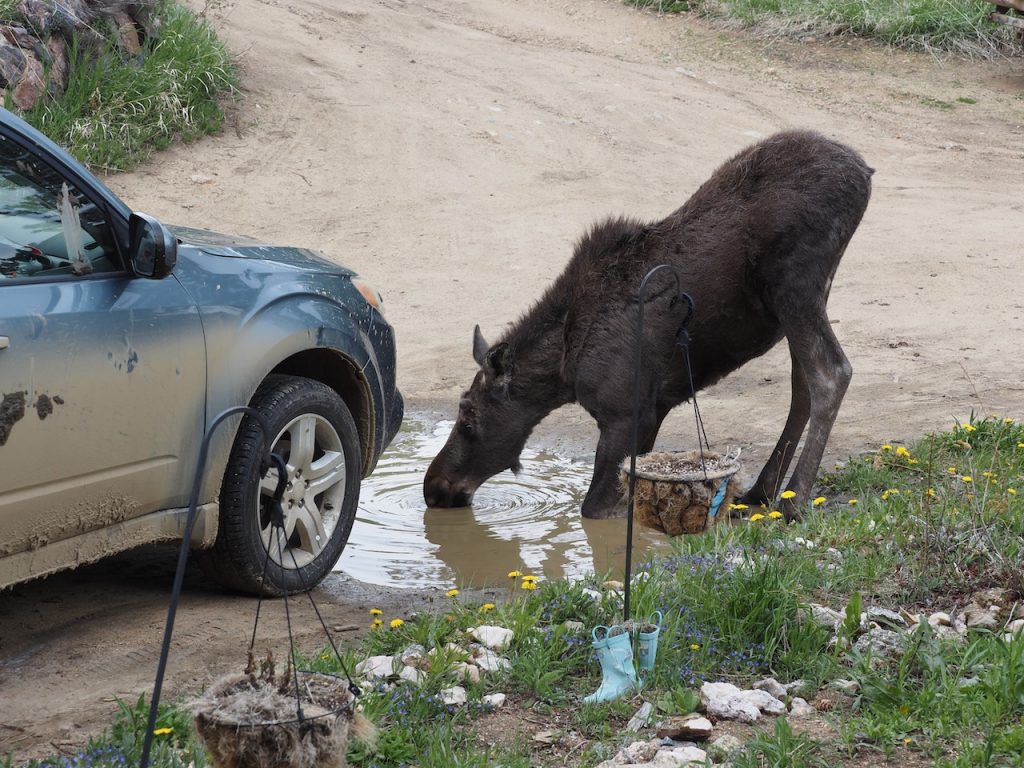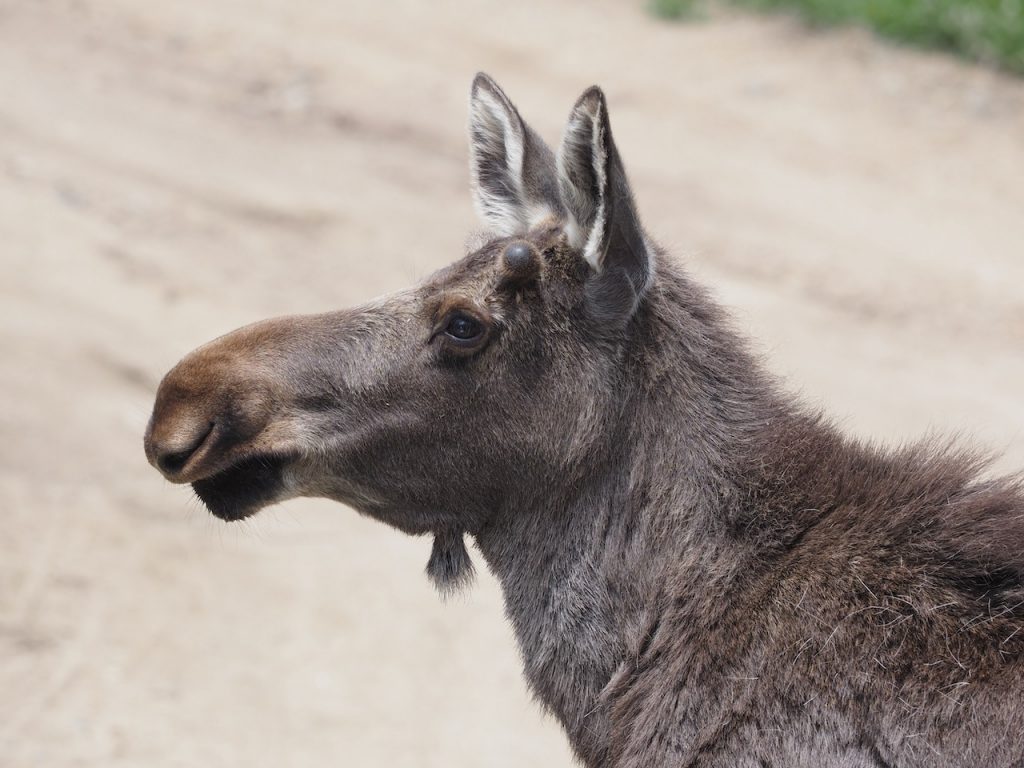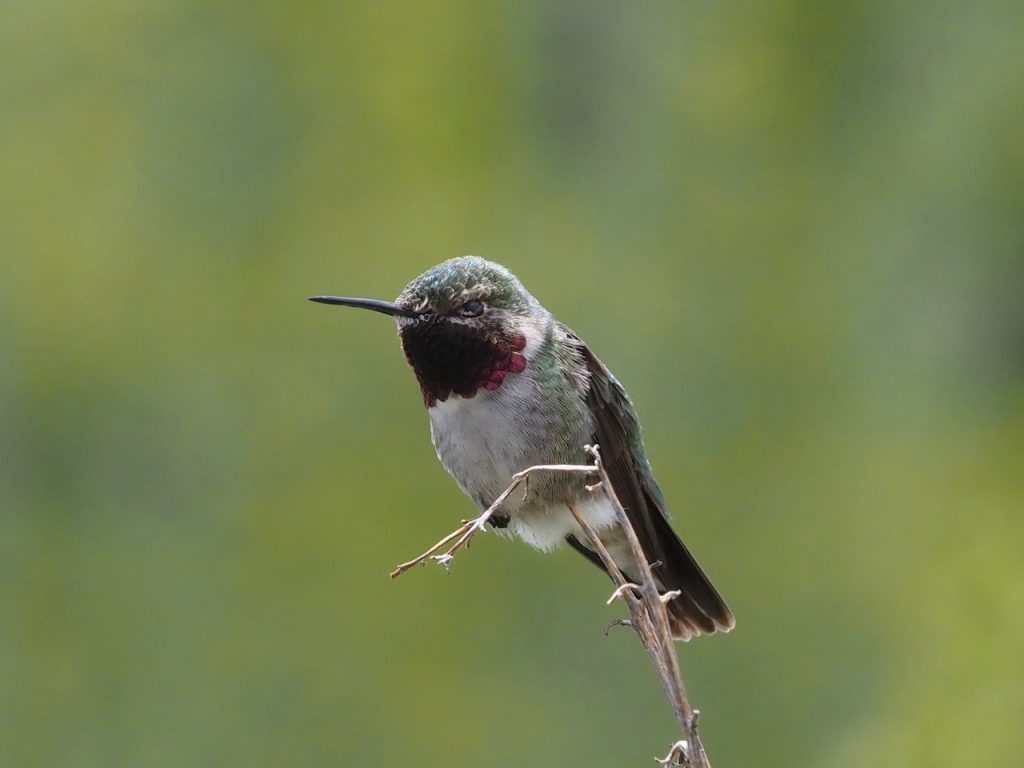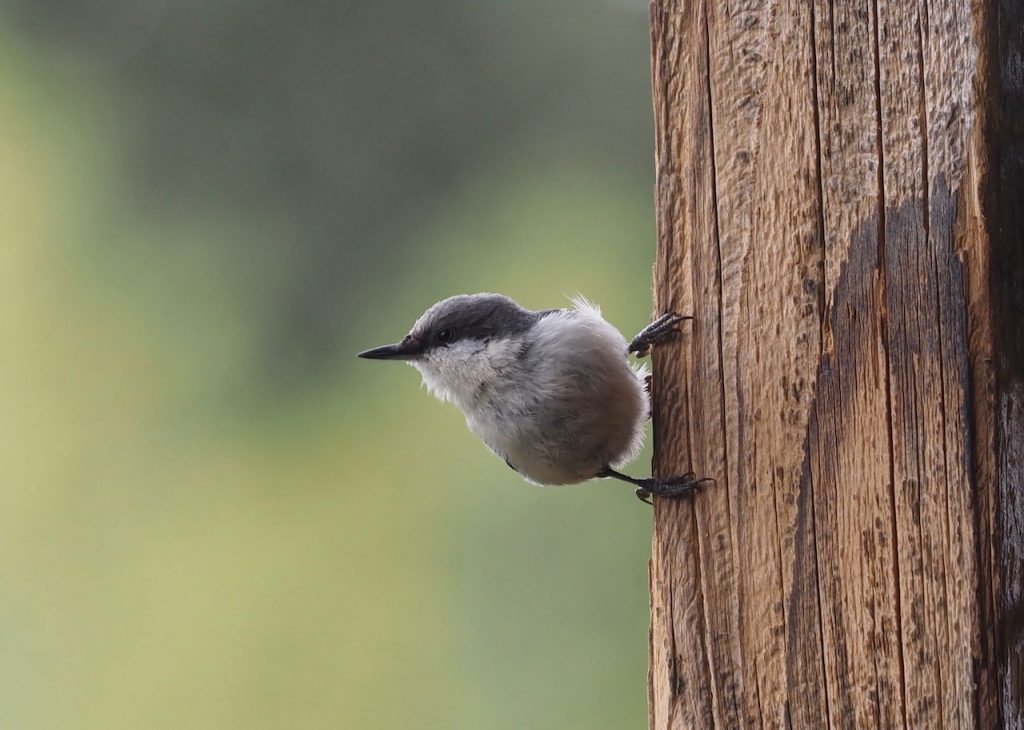 We left Nicki's around 2 pm, and stopped in Nederland (5 miles further down the Canyon) for a brief stroll by Barker Dam, but then continued right on to my cousin Malva's house in Boulder, to catch up with her and her son Benjamin. (She is the daughter of the aunt and uncle we visited yesterday, and I hadn't seen her in four years, either!) We just missed a rain shower in Boulder, so we got to sit outside on their deck once it dried up and show photos of our trip so far, as well as older pics from our trip to Germany last year. We stayed until almost 6 pm, and when we left, we definitely felt it was time to eat–we had had lunch before 11. At a nearby Indian restaurant that we knew from previous visits, we had some of the delicious samplings from their buffet. It was a bit downscaled from what I remembered (I especially missed the fantastic carrot-raisin pudding that they used to serve), but what was most noticeable was that they had a "no-waste policy"–on a little note and in person, they asked that guests took no more than they were going to eat, and reserved the right to charge extra for food left over on one's plate. I really liked that. It's terrible when people heap food on their plate at buffets and then leave half of it because their eyes were bigger than their stomach!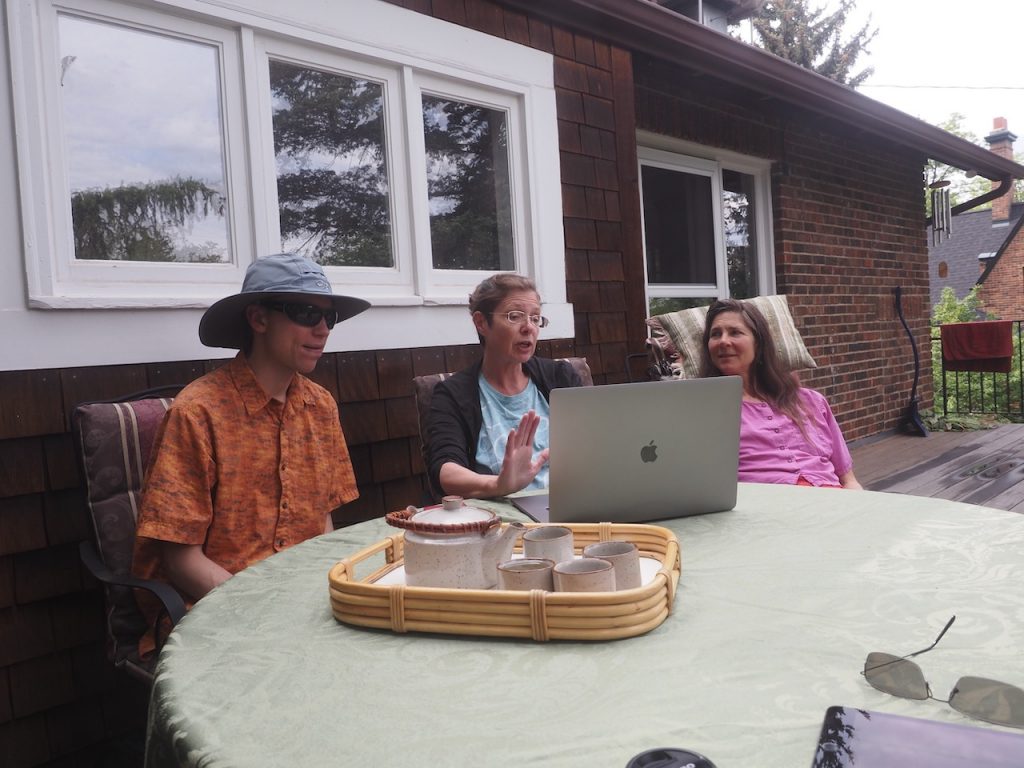 We got back to Louisville at about 7:15 pm, and went for a lovely 2 1/2 mile walk on a nearby trail with Stan–with Kathy picking us up at the end (with the help of her "Find My Friend"–or as Stan calls it, "Spy on your Spouse"–app, she timed it quite exactly and drove up to our meeting spot exactly as we arrived there. We called it a day shortly afterward.