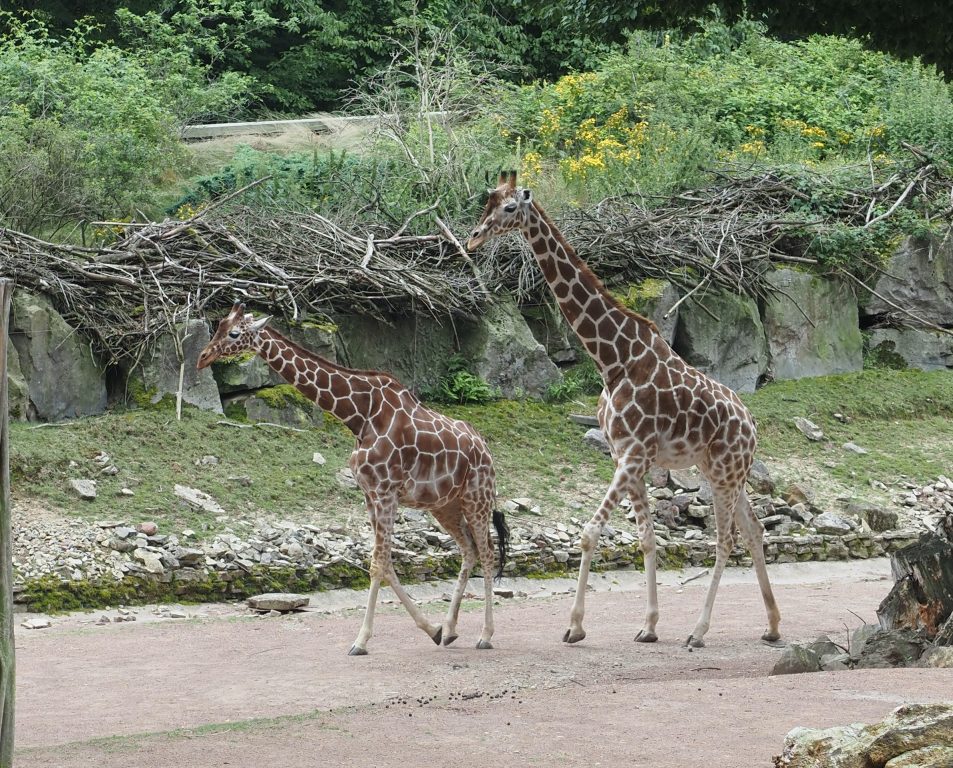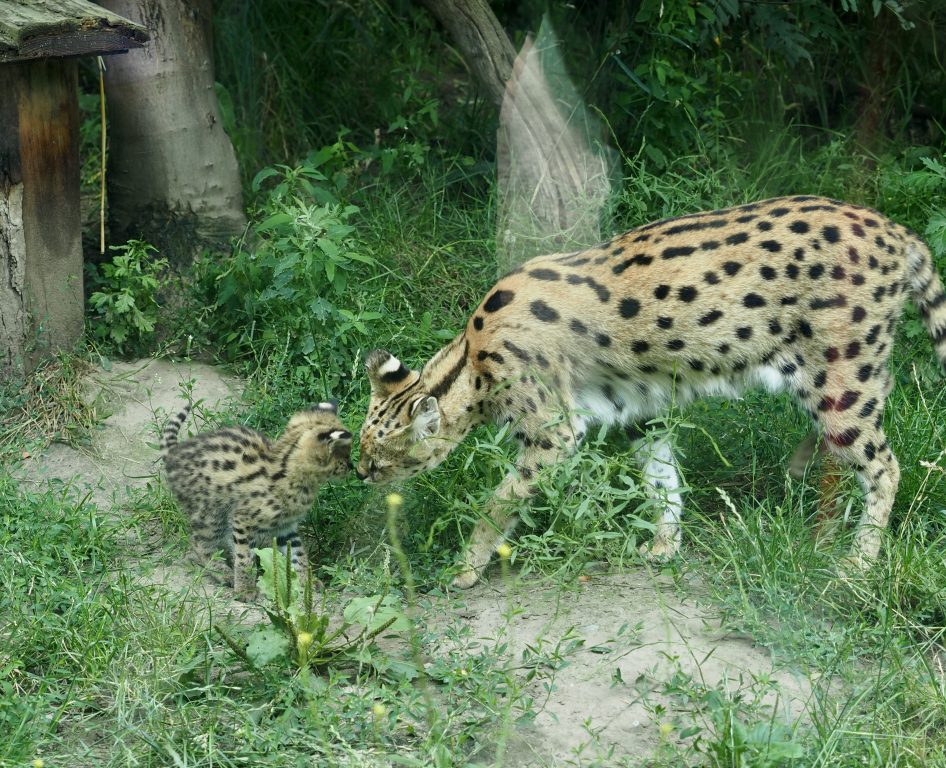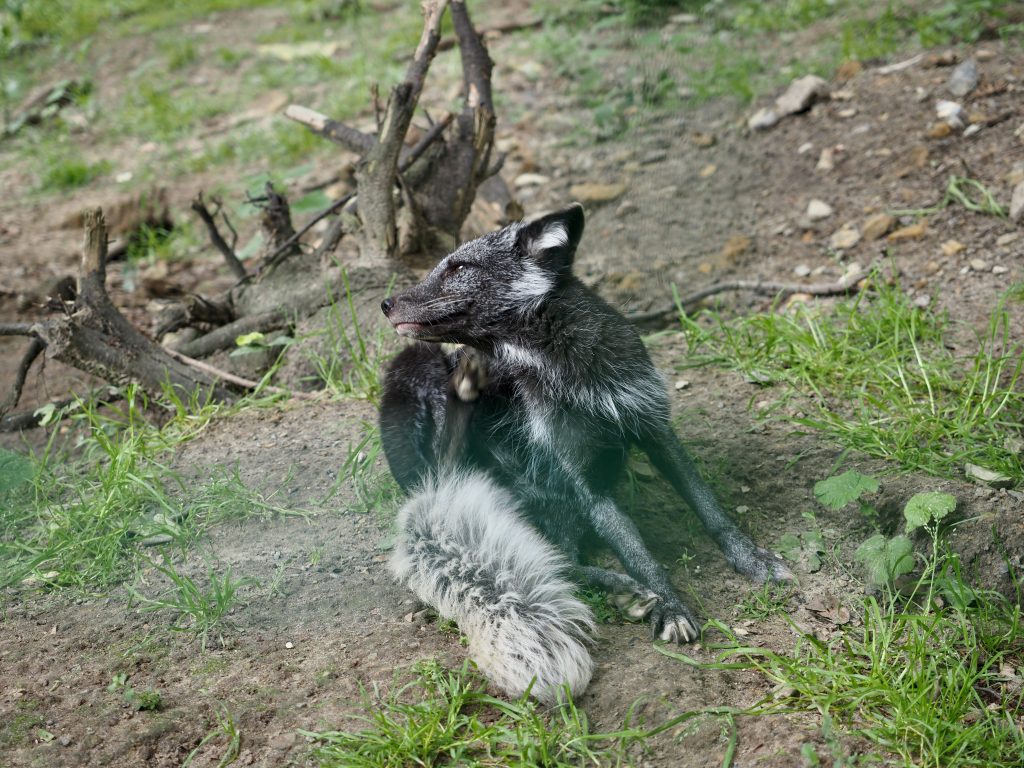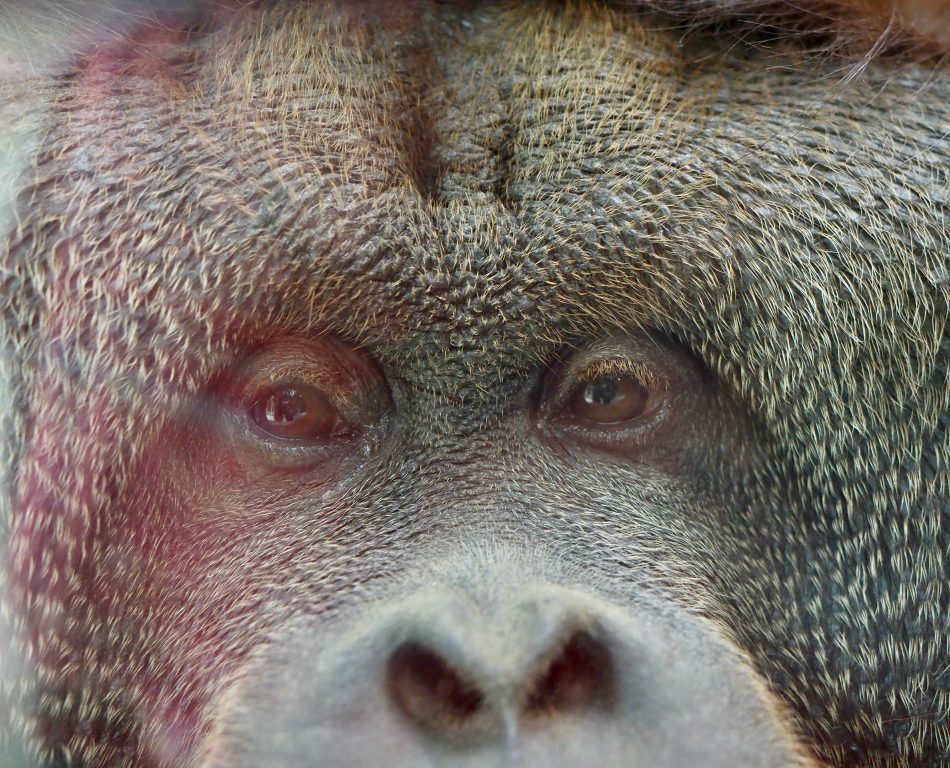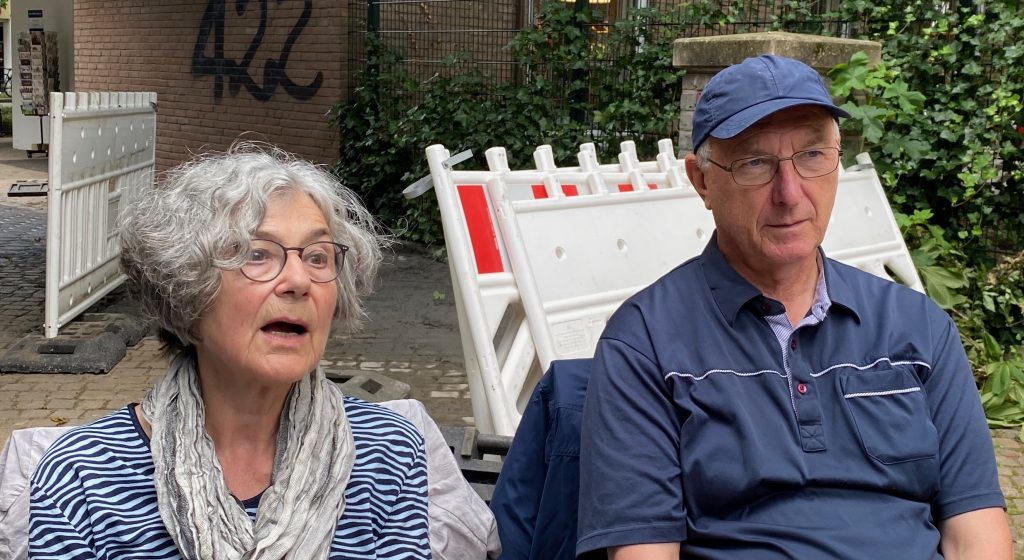 Today was, first of all, our 6th wedding anniversary. That was lovely, even though it's never going to be our *real* anniversary (that's actually 10 years later on in August). But we went to the zoo and out to lunch with Imke and her significant other, Klaus, who was visiting from his home in Bremerhaven, and that was a lovely way to spend the day. Klaus came shortly after 10, and we all met him at the train station and then took a taxi to the zoo, which is in a bit south of town and hard to get to by bus.
I have known the zoo here in Osnabrück for half a century (the first photo of me on a bear sculpture in front of the zoo was taken when I was 5, and I went with the kids multiple times, and with Mark once before), but it had been a few years since our last visit, and they added some segments, and others that were very newly built with young plants when we were last there, and are now quite overgrown. And Klaus had never visited this particular zoo, so it was all new to him. Most of what we saw was the usual zoo stuff, including everything I find so maddening about contemporary zoos. They keep emphasizing how much more space they provide for the animals and how much better they are than the old prison-style zoos with their cages and concrete walls, but of course certain terrains are still ridiculously small, or wrong in terms of the climate the animals need. And the fancy new features are always about the human visitors, and also the worst colonialist kitsch. Of course, there was an "Angkor Wat" area for baboons, tigers, and Indian elephants that looked like it was right out of Disney's version of The Jungle Book. And the African region with the giraffes and the zebras had the inevitable fake broken jeep and "hut" for a cafe/snack store. And, just as in the Henry Doorly Zoo in Omaha, there is a really sad ape (in this case a orang-utan) who sits close to the glass.
That said, I DO like to see animals up close and have no opportunity to do so in the wild, so seeing the beautiful patterns on the giraffes, the baby elephant with his mom, and the elegant swimming style of the seals, the soft antlers of the reindeer/caribou and a pack of Hudson Bay wolves lying around sleeping (with two lookouts, one left, one right) was still fascinating. And it was funny to see a range of American animal species presented as exotic zoo animals: That made sense for bison and arctic foxes, but there were also skunks and tree porcupines, and a colony of prairie dogs. The most fascinating exhibit was a serval family–mother, father, and two kittens that were still very tumbly and stumbly (we did not find out how old they were), and there were also a couple of young chimpanzees being educated by a group of older ones.
We stayed for about 3 hours, and then took a taxi back to the downtown area (both taxi drivers were very talkative and had eye-opening things to say–with the one, there was another discussion about politically correct speech that made me a bit uncomfortable, although it would go too far to say anyone was being racist; with the other, there were stories about Turkey, since he was a second-generation Turkish-German immigrant, but had also played soccer for (and been the captain of) a fairly prominent Turkish team early on in his life). We went to a restaurant at the edge of downtown ("Alte Posthalterei"), where we could sit outside, and Imke treated us to a lovely late lunch (at about 2 pm). I finally had what I have at least once every visit to Germany: pickled herring with a sour cream and onion dip and roast potatoes. Mark had Leberkäse, a hard-to-describe dish that is a bit like fried bologna, but with an egg on top and potatoes. And Imke and Klaus had goulash with spätzle, but Mark tasted it and said mine was better, so all his well with the world.
Then we walked home and OF COURSE had coffee with some delicious sweet thing (one of my personal favorites, and, as it turns out, also one of Klaus', something called "Bobbes"). We sat outside in Imke's garden and talked until it was time for Klaus to leave. Imke walked him to the train station and we took a nap. Later in the evening, around 7 pm, we went for a little walk and we had our anniversary moment that we'd been looking forward to: we had gelato in our favorite gelateria. Mark especially enjoyed the super dark chocolate and I had a concoction that included malaga ice cream (with rum raisins), tiramisu-flavored ice cream, and ice cream that tastes like a Mozartkugel–which both in its real form as a fancy truffle-type thing and its gelato form is really quite indescribable. We had a wonderful time, but we also agreed that we need to scale way back on all this lovely food we are eating here! We came home before 9 pm and I finished some reading and writing that I was determined to get done before my War and Peace reading group met, even though I didn't participate at 2 am in the morning. I was done shortly before midnight, but I was actually up until about 12:20, which is very unusual. But it was a wonderful anniversary day!