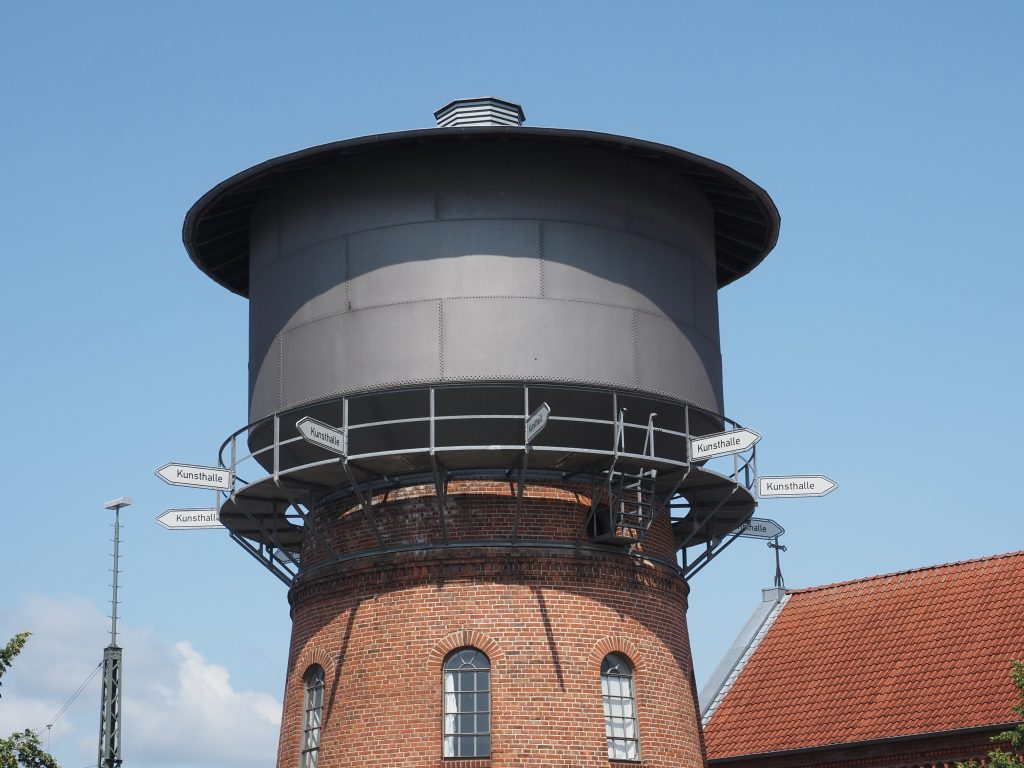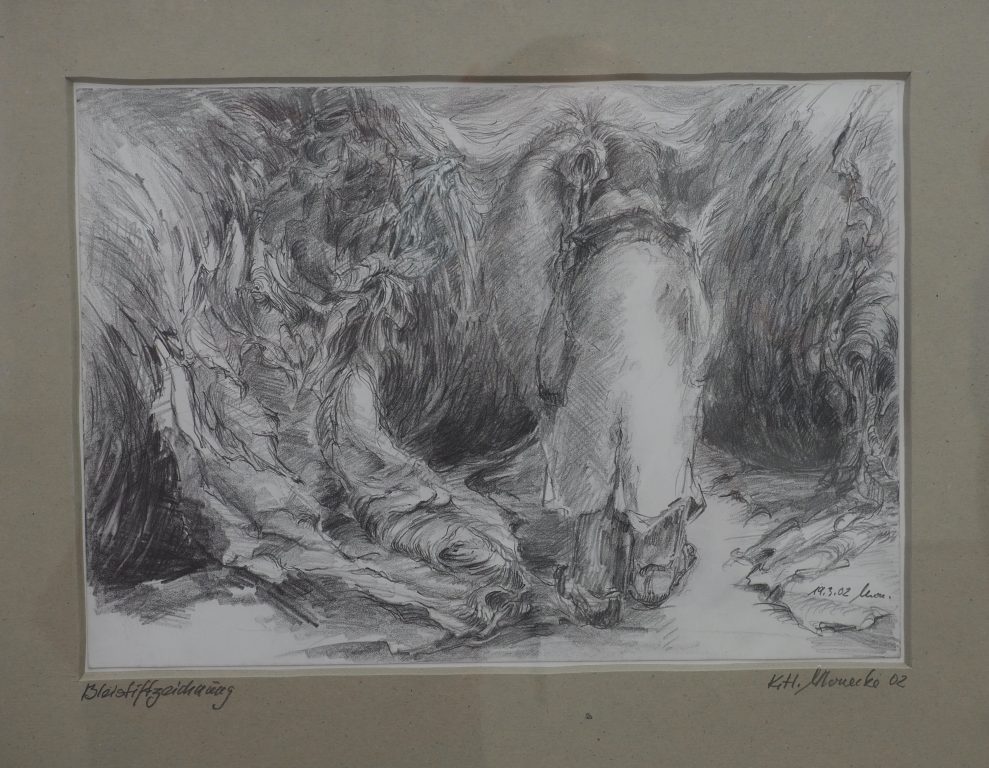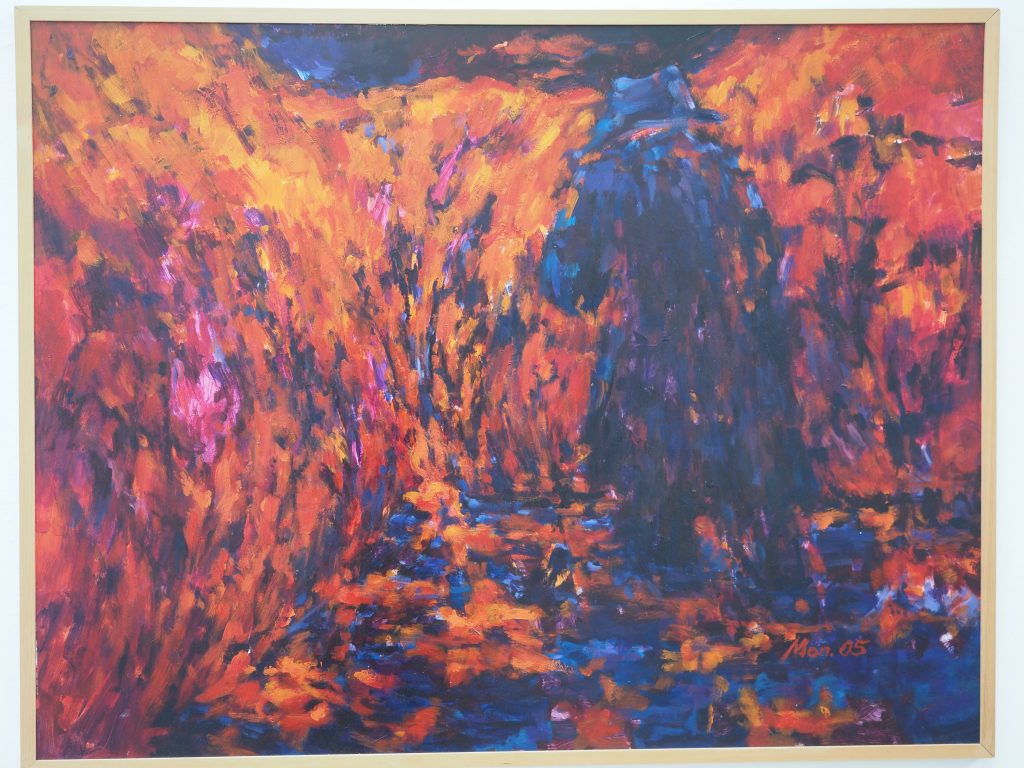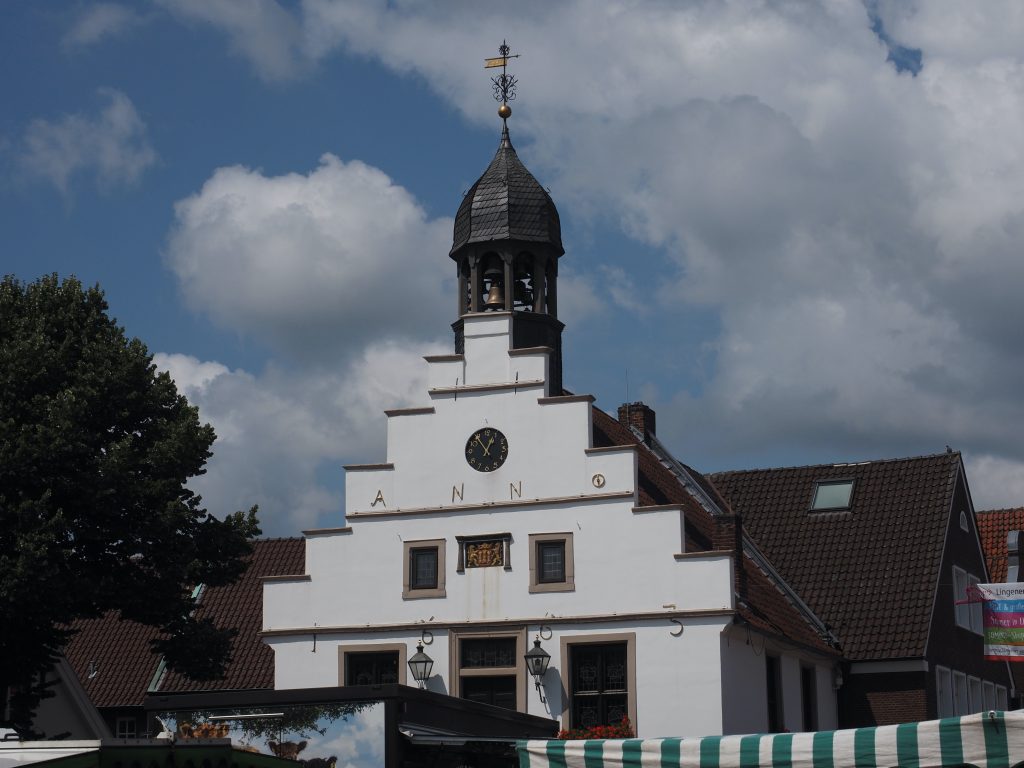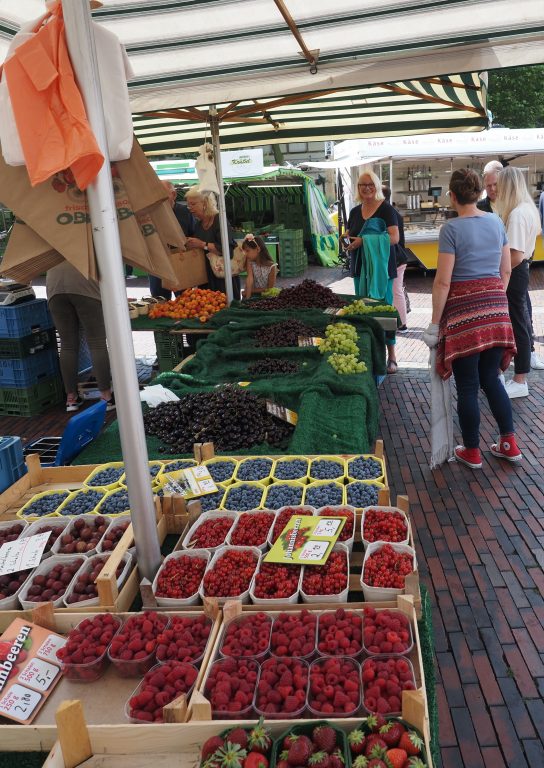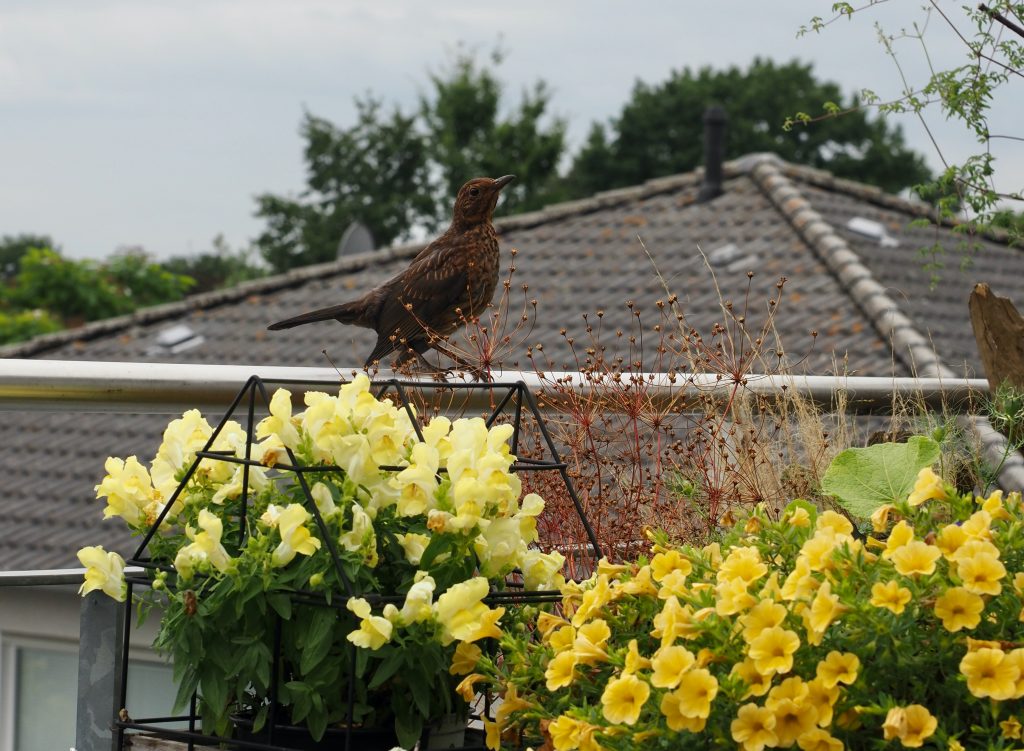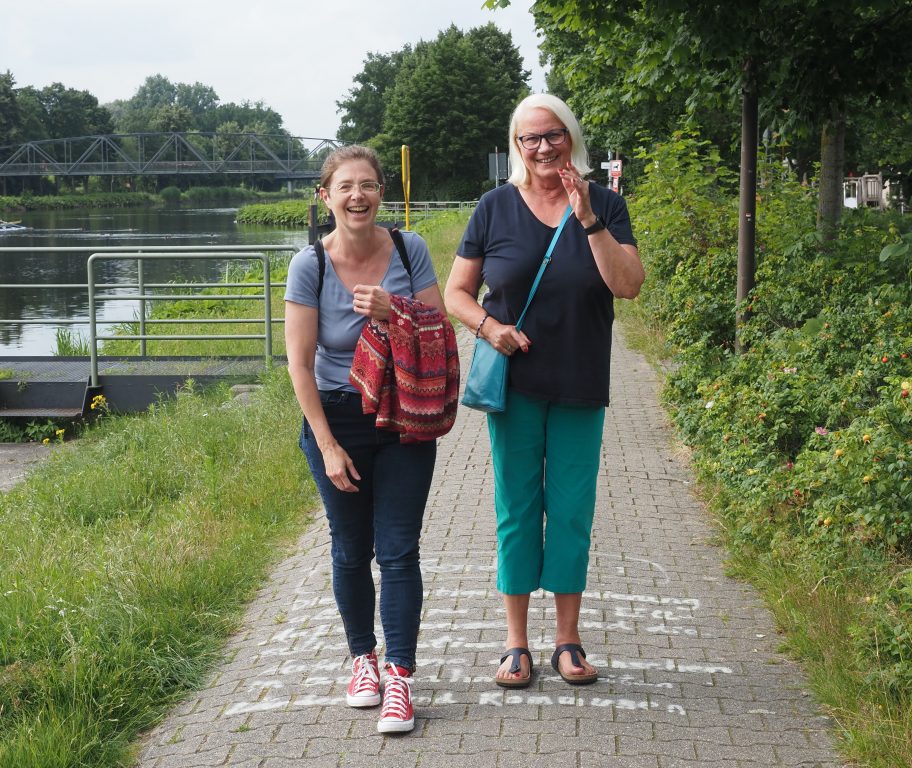 An unexpectedly eventful day! We took a bus to the main station after a predictable morning routine of a run, shower, and a breakfast of yogurt and fruit (with granola for a change). The destination was the town of Lingen (about 35 minutes from my home town of Fürstenau, but much bigger, with ca. 50,000 inhabitants) to see a former teacher of mine, Irmgard Monecke, known as Momo. She was my German teacher in grade 11 through 13, and had a huge influence on my entire career path, because she was the first to point out to me that it was possible to major in literary studies and become a professor in that field. She even arranged for a meeting with a professor at the university of Münster in the days before campus visits were a thing in Germany.
It took about an hour by regional train to get there. Momo and her second husband, Hans-Georg, picked us up and showed us the art exhibit which they helped put together, a retrospective of the work of her first husband, Charly, an artist and art teacher whom she had divorced in the 1990s, but who, when he died in 2015, left a lot of his art to her–some of it we got to see not in the exhibit, but later at her house. The exhibit and the space for it, a revamped former repair station for steam-engine locomotives that closed in the 1970s, were really interesting–very colorful, and done in contrasting and complementary colors (blue/orange; violet/yellow) with stark, energetic brushwork that I liked a lot. Then we walked through downtown Lingen—I used to go shopping there occasionally as a teenager but did not really remember what the area looked like. We stopped for ripe, sweet cherries on the market square (lucky us–Wednesday is market day), and on to her house, which blew us away. They live in a penthouse on the third (for Americans, fourth) floor of an apartment building of their own design (with elevator), which has windows to the west, south, and east, and a view of the canal that connects the river Ems to the industrial region, the Ruhrgebiet. There was a huge balcony with gorgeous flowers and many birds congregating at the bird feeder, and the apartment was all purple, teal, and bright yellow—plus, full of paintings in bright expressionist colors (but a range of different styles). It turns out that in addition to being retired principals who worked together at the Gesamtschule Lingen from the time of its founding, they collect art, support an important women's art club in Berlin founded in the 1860s, and spent a lot of time designing their apartment and the whole house it sits on just the way they wanted it. We talked quite a bit about the design, including both the technical and the aesthetic aspect, and really enjoyed hearing about how it all came together.
We had a late lunch of rolls, delicious cheeses, cold cuts, and cherries—Hans Georg joined us after he returned from another commitment. The conversation kept covering a lot of ground, with SOME translations for Mark: about our old school and other schools, sexism, language, art, mutual acquaintances, losses, travel, books–you name it, we talked about it. After his return, with Hans-Georg we also chatted about their apartment in Berlin, about hunting, and about welding (all hobbies of his). It was just a lot of fun all around, and we got a full tour of the apartment and its art. They sent us off with a catalog of the current exhibit and one from another with his aunt's art–really fascinating! Momo walked us all the way back to the train station, on a different path than the one we came on, so we got a good impression of Lingen as a whole–a small but quite a lovely town, and, as Momo pointed out, a better place to be than Berlin during the pandemic year.
Our original plan after getting home had been to get cheap Asian noodles at the train station and take them home, but it turned out that they closed at 7 and we arrived at 7:15. So we bought a couple of rolls at the train station bakery and took those home instead. But I think I really did hit my contingent of bread for the day! After Imke watched the news at 8 pm, she and I talked to Judith on Jitsi (her favored alternative to Zoom), and we sat outside for a bit, but we all went to bed pretty early.