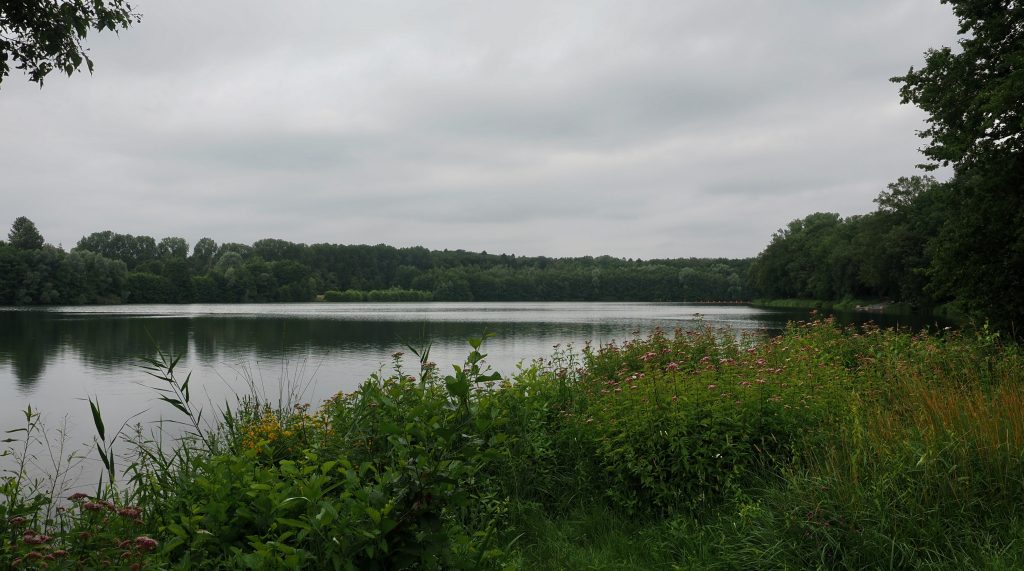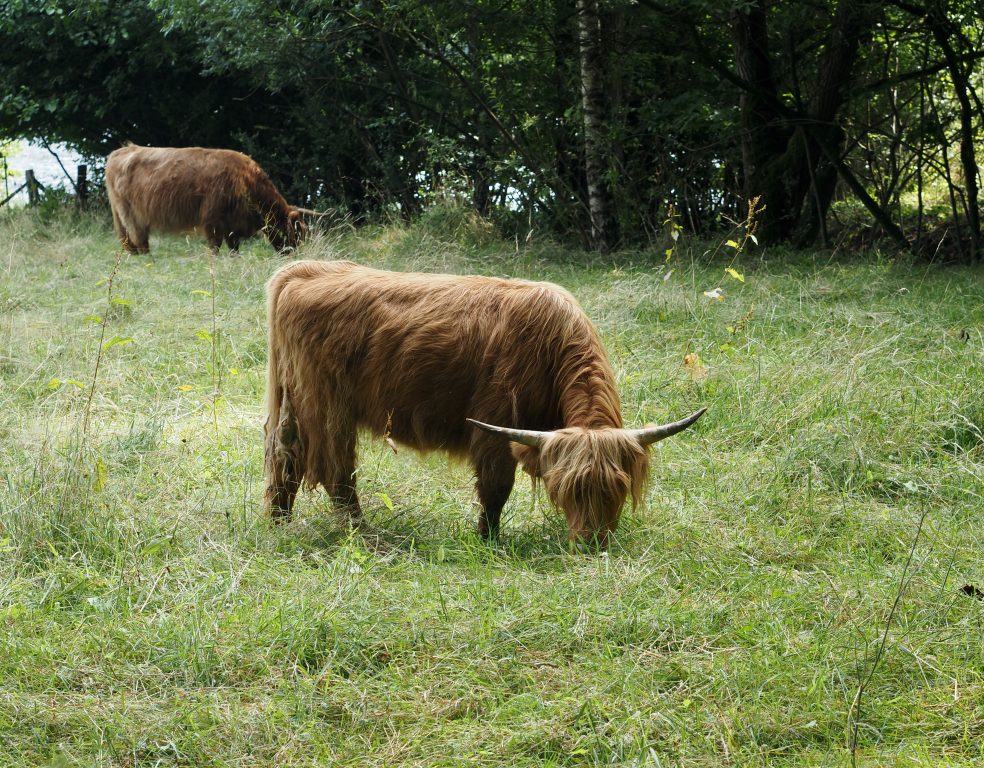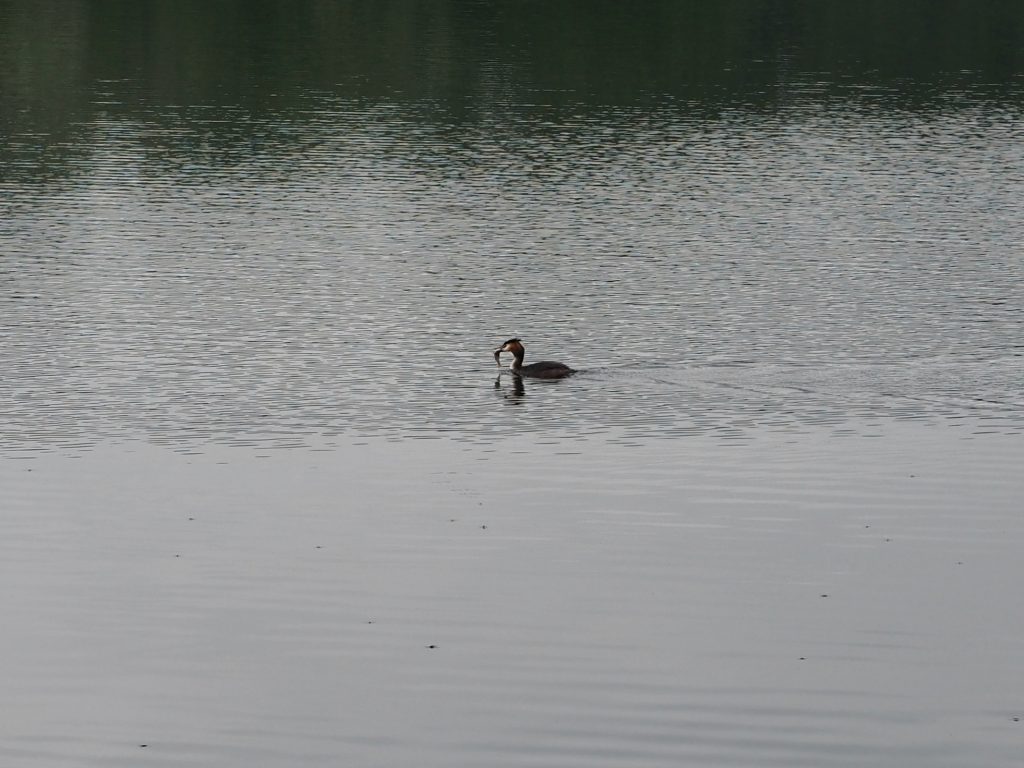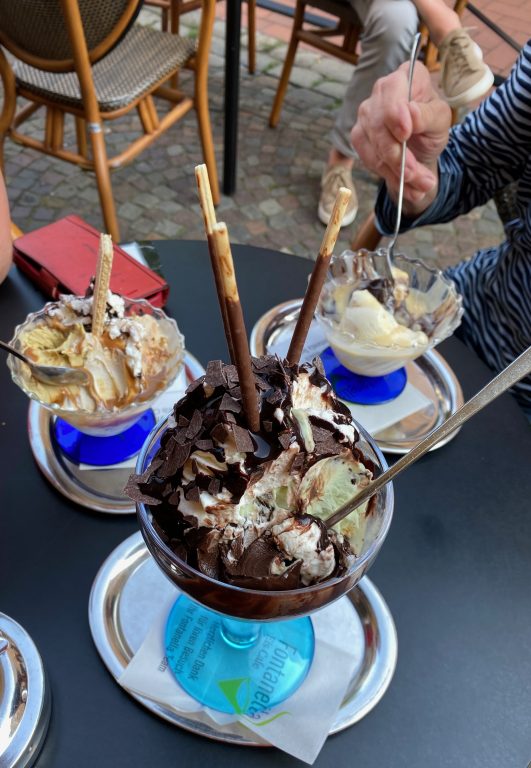 Today was a quiet day with no visits or visitors! The first in two weeks, I think! It started with a run for me (I even varied my route a little bit!) and then a breakfast of fruit and a slice of bread with cheese (me) and yogurt with granola (Mark). It was cool-ish, but only partly cloudy and very promising, with more sun in the offing, so Mark and I decided we would go for a short hike/long walk to a nearby forest and lake that we used to visit more frequently when my mom lived a little closer to it. It was still only 2.5 miles TO the lake, and then 2 miles around it, so we were gone for about 3 hours and walked 7.35 miles (yes, Mark had his GPS on). It was gorgeous, with a little bit of sun and lots of open areas all around the lake, and it was nice to do something that was just for the two of us. As before, we really enjoyed this walk, with lots of green and the lake, of course, plus there are a couple of Scottish highland cows in a fenced-in area at the lake that work as lawnmowers and badly need their bangs cut. They are very cute!
After we got back home, I made pasta and added some pesto to a veggie dish Imke had made for herself the day before, so we actually had a change from our usual German bread diet. We rested for a little while, and then we embarked on a series of projects for Imke–changing a complicated lightbulb, finding a spring for a complex door handle that has been broken for years, so Mark could fix it for her (Imke was so excited!), and showing her some of the most important tricks for the new iPad that we gave her to replace her ancient model (it's my old iPad, since I got a new one). I also did a load of laundry (the last, I think, before our departure), talked to Kai about his newest musical project on FaceTime, and bought an Osnabrück mug for Jupiter to go with the bread board I already got for her.
Around 6 pm, I had a quick dinner of "Schnittchen" (which is where you fix your open-face sandwiches ahead of the meal, with many different toppings, instead of serving yourself at the table. Ingredient-wise it is basically the same as Abendbrot, but it has a different feel! all three of us walked downtown, because we had invited Imke to the gelateria Fontanella for ice cream. That was lovely, yet again, and we walked around for a bit afterwards. But it got a bit chillier than we expected (none of us had a cardigan or sweater) and so we were home again before 8. But not before the owner of a shop that sells old Osnabrück photographs told us all about the photograph in his display window, a shot from a balloon taken in 1912, where we had a hard time recognizing landmarks.
It was another very nice day, but I am sad how fast the days are passing!