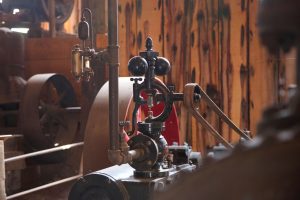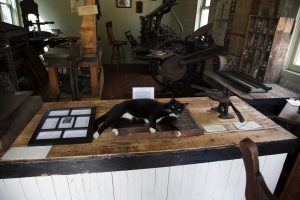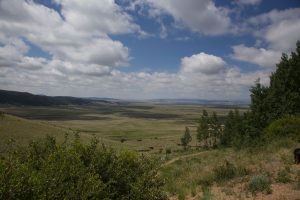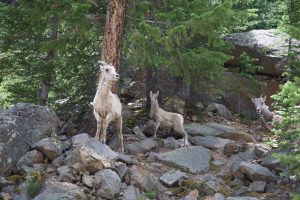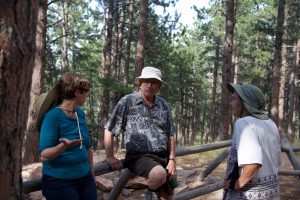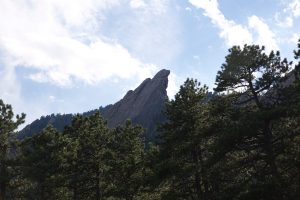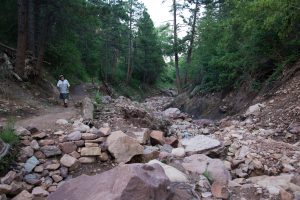 We got up reasonably early, around 8, and packed up fairly soon after that, hopefully leaving Stan and Kathy's cabin in good order. We drove back into Fairplay, had coffee and tea at the much-recommended Java Moose, and then went to "South Park City," a reconstructed little mining village (about 30 buildings) / museum that was part what you'd expect from any such place (what did a pioneer cabin look like, how was the mayor's living room decorated, etc.), but partly also specific to the area. There were a number of mining sheds, pieces of equipment, and explanations, and since we had seen what they look like after a 100, or 50, years of neglect, it certainly gave us a good idea what things were like in the heigh-day of mining, when Fairplay was founded by the people who came just a little too late for the first rush of surface mining. For the last few buildings, including the general store and a print shop, we had a very nice guide, a very friendly black and white cat that showed us from place to place and hopped on all the counters. 
After our walk around the little town, we left Fairplay and went the slow but glorious route that Stan and Kathy had recommended for a back way to Boulder–from Grant on the 285 to the I-70 at Georgetown, there is a scenic route across Guenella Pass (a little under 12,000 feet), and although it was 25 mph for most of the 26 miles or so, it was well worth it taking it slow. The view from the pass was awesome, and we even encountered a mountain goat family that had just crossed our road and was willing to be photographed. We came out in Georgetown, a very cute little place with lots of restored Victorian houses and cabins, at about 1 pm, had a picnic lunch, and then took the Interstate for about 20 miles before turning toward Central City / Blackhawk and then on to Nederland. The road was again gorgeous and scenic, but CC/Blackhawk always infuriate me. 
I am not anti-gambling(that wouldn't get me very far with the Bauer family, anyway), but the way those two places became these hideous tourist attractions with casino after casino and Las Vegas-size hotels that almost dwarf the surrounding mountains in parts really frustrates me. CC was cute when it was a run-down gambling town with slot machines and $2 dinners 20 years ago. Now every single historic building has been gutted, only the outside preserved and completely disneyfied, while the mountainsides get dynamited and fortified with steel and concrete to make room for more casinos and parking lot. Ok, rant over. 
We drove on through Nederland without really stopping (we'll see my "outlaws," my ex-husband Bruce's family, in the course of the next few days), but we did park to look at Barker Dam, because for the first time since I can remember, it was flowing into Boulder Creek over the top. It's been a very wet summer, and we could see that everywhere, since the meadows all during our drive were still so green in mid-July. In Boulder, too, everything was very green. We got there a little after 3 pm, got gas and wandered briefly to the Pearl Street area just to get some coffee (I knew my aunt doesn't serve any), then drove up just before 4 pm at my aunt and uncle's place. Karin and Peter have lived there since 1967, in a lovely brick Victorian with gorgeous woodwork and a huge garden that is an enormous amount of work (about half of it is vegetables, enough for 10 or 20 people probably! although there is only the two of them). 
We didn't stay home long, though, because I really felt like I needed a walk. So they took us to the Chautauqua Park area, and we went on a little (3 miles or so) hike up around the meadow at the bottom of the Flatirons, where you can look up at the Flatiron formations and down at the whole valley into which Boulder was built. We walked by two of the creeks that flooded so badly last September, when the area experienced a historic flooding after 10 days of heavy rain, and the debris that was brought down from the mountains was still very impressive. Hard to imagine that the two trickles we could see swelled to such power as to pull down enormous boulders halfway down their path! At the end of our hike, we also saw the actual Chautauqua part of the park, with cabins and the big concert hall which features a summer music festival each year. We got home about 6:30, and had a very simple, very German meal (brats, potato salad, and a green salad that I contributed) in the back yard. Around 8 pm, my cousin Malva, her husband Rick, and their son Benjamin came to join us, and we had gooseberry tart and squash bread for dessert — it was Rick's birthday and the gooseberry tart was in his honor. They stayed for about an hour, and we had a good time catching up a little. Benjamin entertained us with jokes and was intrigued by Mark's videos of the lemur and of some of his students' projects. After they had left, we went to bed pretty quickly–we had the only room that has an air conditioner, so we felt pretty special!