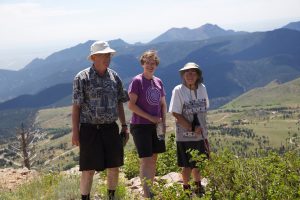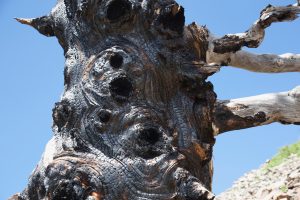 We woke up around 7 and very quietly got ourselves ready for the day, since Karin and Peter were still asleep or at least quiet. When they came downstairs, we had actually had our tea and read our news, and went for a little walk while they got themselves ready for our day together. It was lovely outside, lower 70s and sunny, and we walked to Eben Fine Park, right at the bottom of Boulder Canyon, since that's just a few minutes from my aunt's house. You can walk along Boulder Creek for quite a while there, and we enjoyed the noise and the masses of water that keep coming down. When we returned after about an hour, we were almost ready to go and drove up to Sugar Loaf mountain–to hike, but also to stop by and visit my cousin Florian, who is working on a building site about half-way up the mountain–he does excavations and has all kinds of fun equipment for that. We spent about 10 minutes talking to him, and then went on to the hiking trail up Sugar Loaf. The hike is short (1.5 miles round trip) but steep over a very rocky trail (with tons of mica and other glittery quartzy rocks along the way). It was really rewarding–gorgeous views en route and from the top, where one can see a huge chunk of the continental divide, from Mount Evans in the South to Long's Peak in the North, and looking East, the enormous stretch of the flatlands right behind Boulder. Below us, we could also see the excavation site where Florian was digging. In addition, there were tons of butterflies all over, since everything is in bloom. It was a gorgeous walk all around. 
After our hike, we decided to drive to Nederland and have Indian buffet lunch at the Kathmandu restaurant–we'd all been there before, but I thought it was especially delicious. We then drove around a little, first to the huge log house ("cabin" is not the right word) that Florian is in the process of building on one of his several plots of land, and then to Karin and Peter's cabin in Eldora, which is also being renovated. Around 2:30, we drove back down the mountain to Boulder, and we quickly gathered our things, because at 3:45, we were meeting with my niece Nicki right outside of Boulder. We went for a little walk up the canyon, timing it just right to be under a big overpass when it started to rain for about 20 minutes. Nicki caught us up on her life and adventures, and we had a wonderful time. Around 5 pm, we got back into our cars, and Mark and I drove off to Estes Park, while she got ready for a 2-year anniversary dinner with her boyfriend Adam. 
We took the road from Boulder to Estes Park via Lyons, which was not just the shortest route but also the area that was so heavily affected by the major rains and flash floods last September–Lyons was the town of 2,000 that had to be evacuated. The road has been almost completely reconstructed, but we could still see a lot of the devastation along the St. Vrain River, which runs right along the highway for quite a while. We got to Estes Park at about 6 pm, checked into our hotel (we got a corner room with a very nice view), had a quick dinner at a Mexican restaurant, and even took a dip in the hotel pool before turning in. A busy day!